This home project is my favorite upgrade EVER! I've been hinting at a shiplap fireplace like this for years but, Kasey was hesitant. This Mother's Day I was able to talk him into doing it. We are both in love with it, and it's so funny because when people come over they're like 'this looks like it's always been here." The shiplap fireplace was meant to be!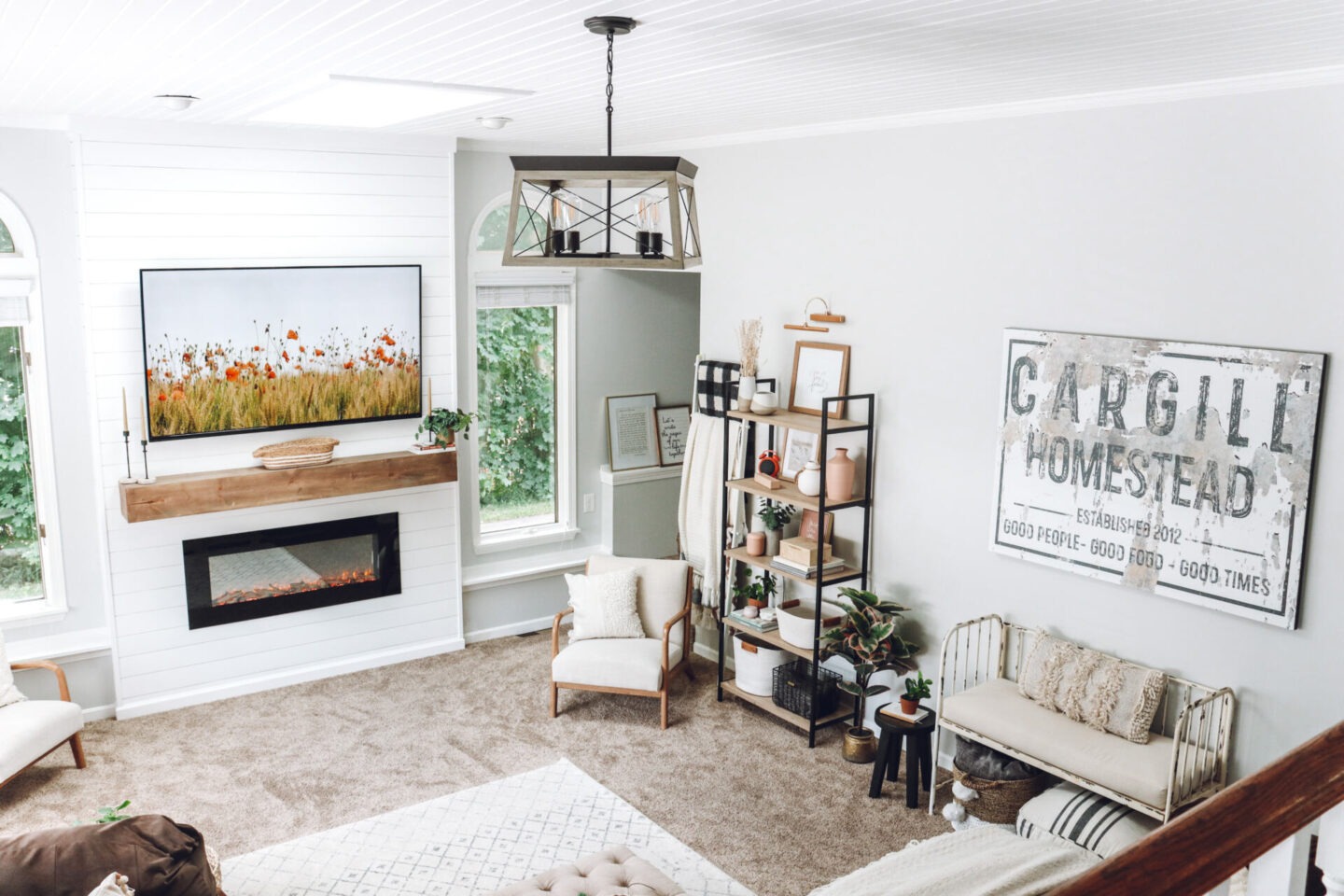 Shiplap Fireplace Inspiration
We were inspired by Nesting With Grace's fireplace, you can see here and The Blooming Nest's here. I love looking to other home bloggers for design ideas and inspiration. This space in our home has always been a bit difficult to decorate. It was a garage that the previous owners turned into a family room. The wall with the windows has a ledge that comes out a bit that is actually a footer. So, it was something that we had to work with and built the fireplace out to be even to the ledge.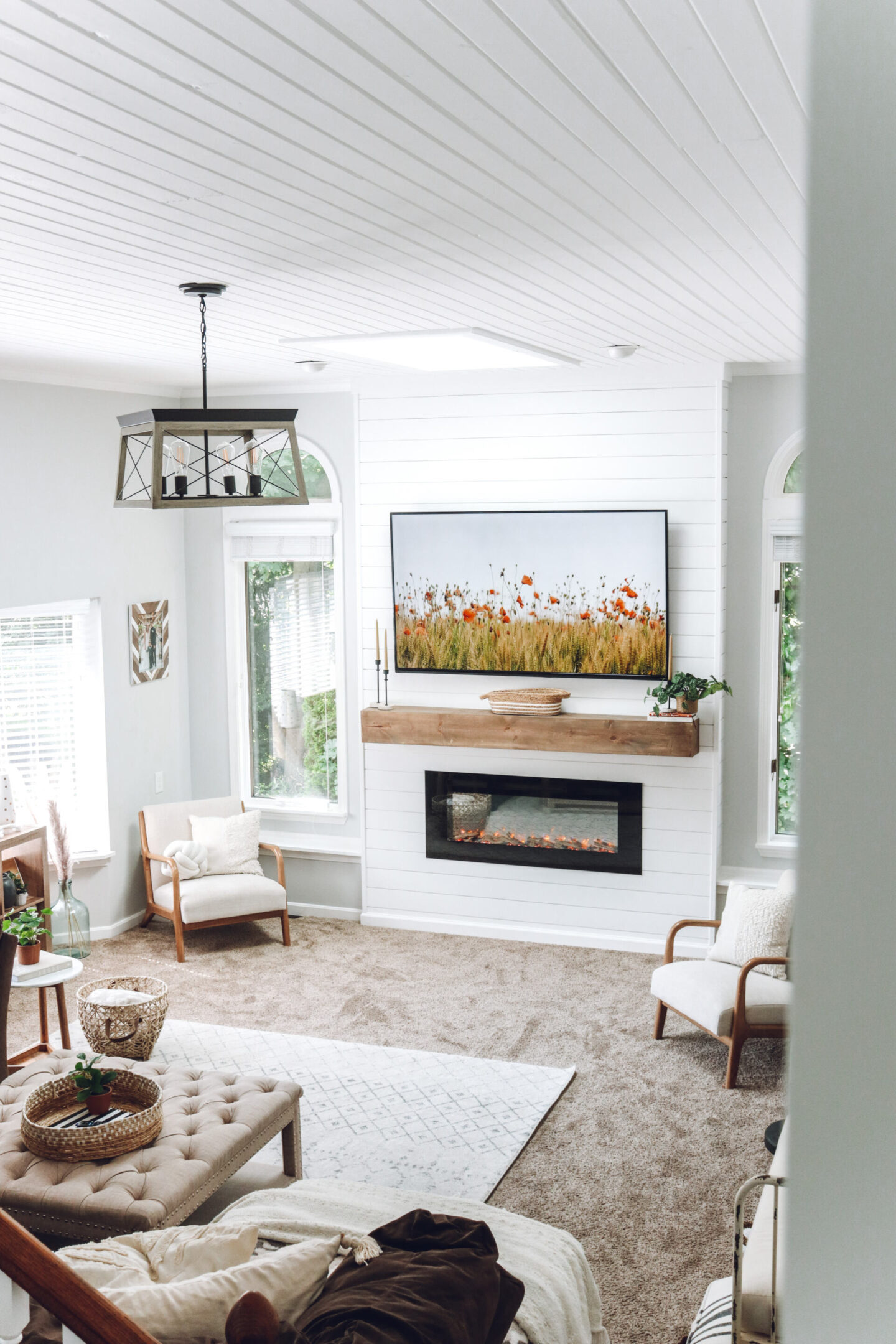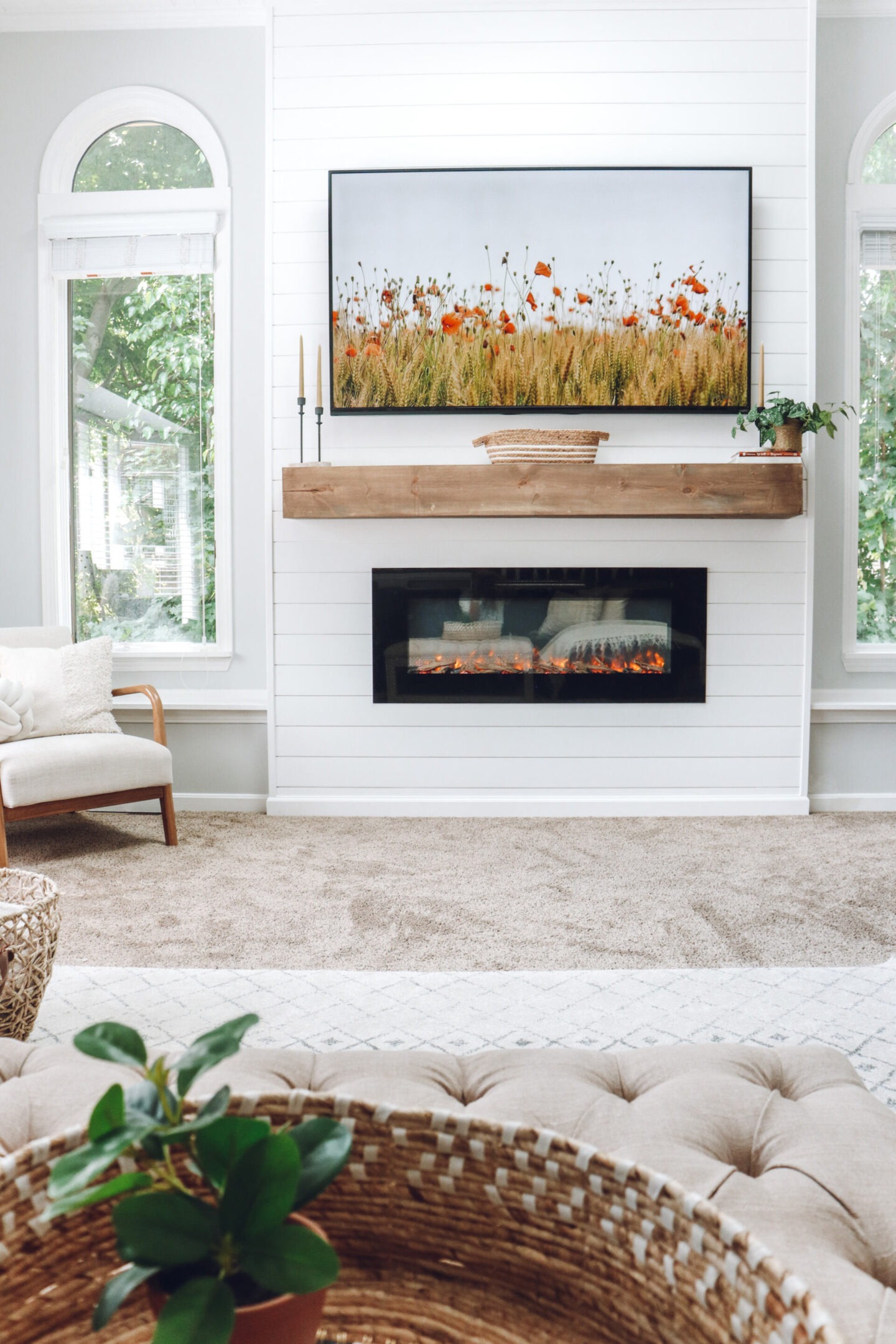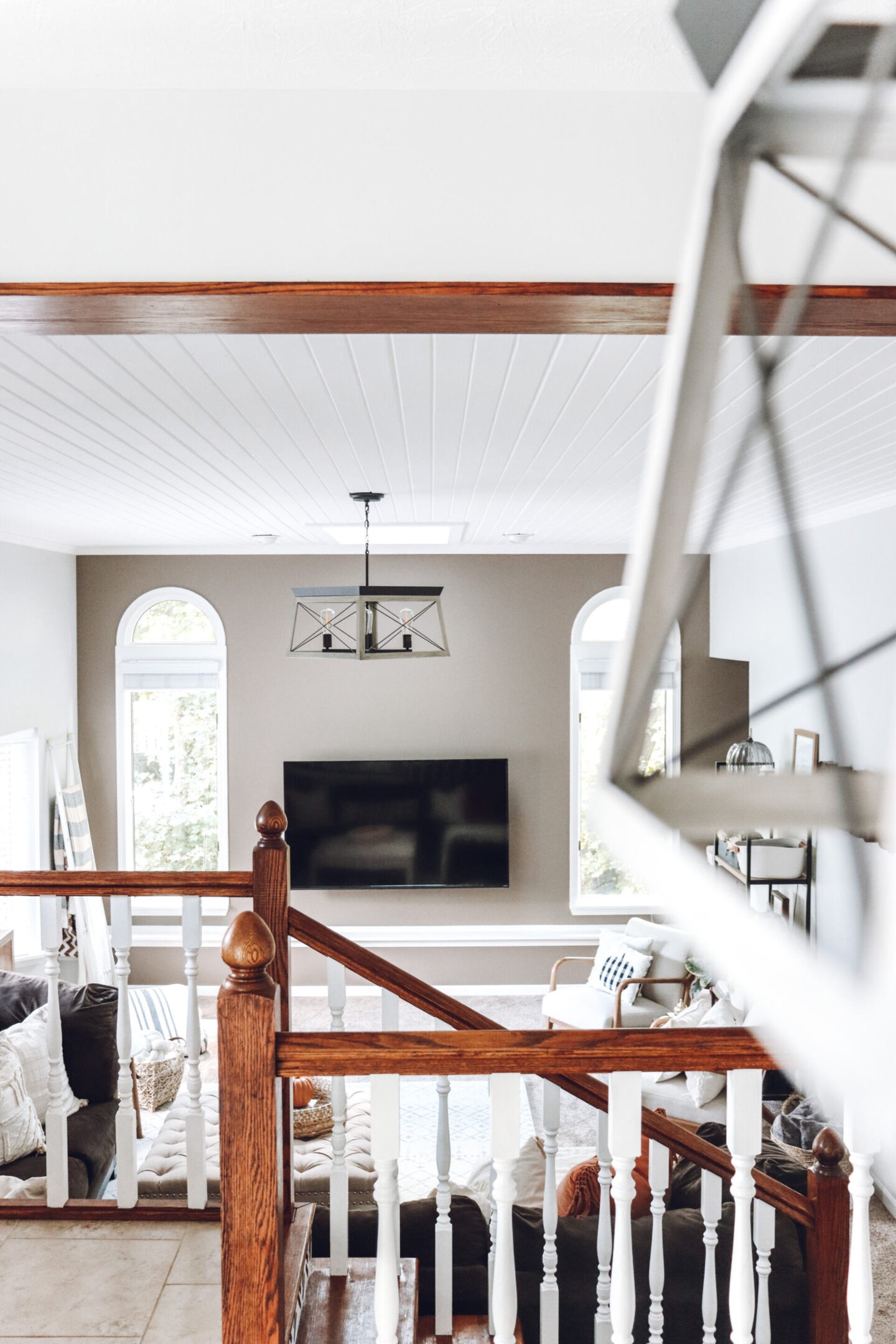 DIY Steps & Tutorial We Followed:
I showed my husband the blog posts that inspired me and he pretty much made it come to life!
We did buy the wood stickers to give the ends of the mantle the finished look, they however were not extremely sticky and we had to use wood glue to keep them down. Even with that issue they still work really well and look seamless.
During this project I used a saw for the first time and helped cut shiplap, YAY!
We chose to stick with the Pura Flame brand for electric fireplace insert. We have this brand in our playroom, and have loved it.
We also painted the wall Silver Tradtion by Behr to match the rest of the walls– previously it was an accent wall color. It makes the space feel larger and more cohesive being the same as the rest of the walls.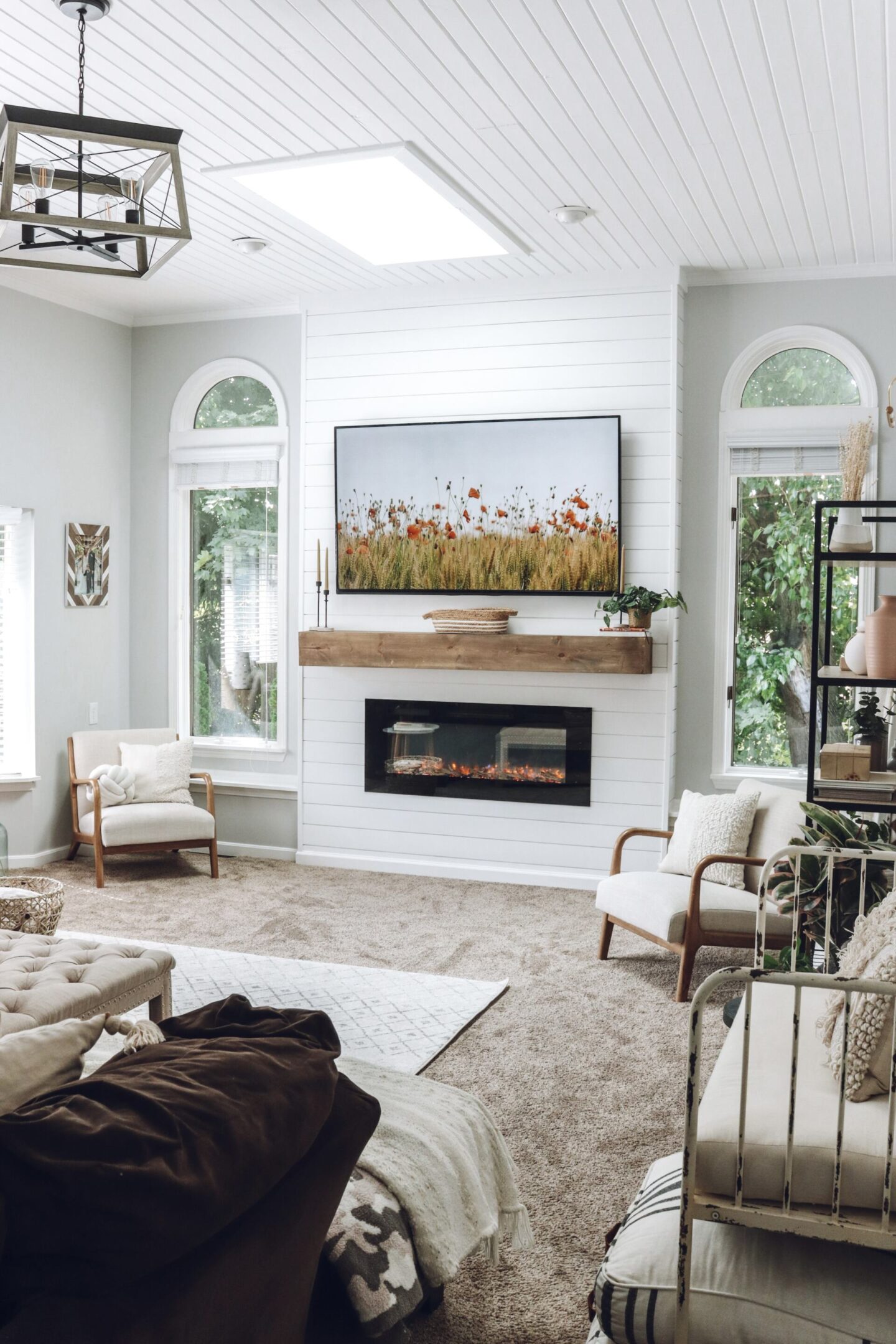 Fireplace Mantle Decor
I kept the mantle decor simple and classic because I didn't want the decor to be distracting or overwhelming. I mixed candlesticks, a faux plant and books. The long basket in the center holds remotes. As much as I love summer, this fireplace mantle makes me so excited for winter! I can't wait to decorate it for Christmas. I just picture cozying up next to it with a cup of coffee while the snow slowly falls. This is one of my favorite new spots to decorate.
Shop The Post: