Home makeovers are my absolute favorite. I love taking a space that needs some TLC and making it welcoming. I recently made over my nieces shared toddler girl bedroom. My brother bought his home pretty recently and his kiddo's rooms were spaces that needed to be decorated. I wanted to give my nieces a bedroom that they loved. Somewhere that feels cozy and fit for a princess. So, while they were on vacation I made over their bedroom, on a budget of course!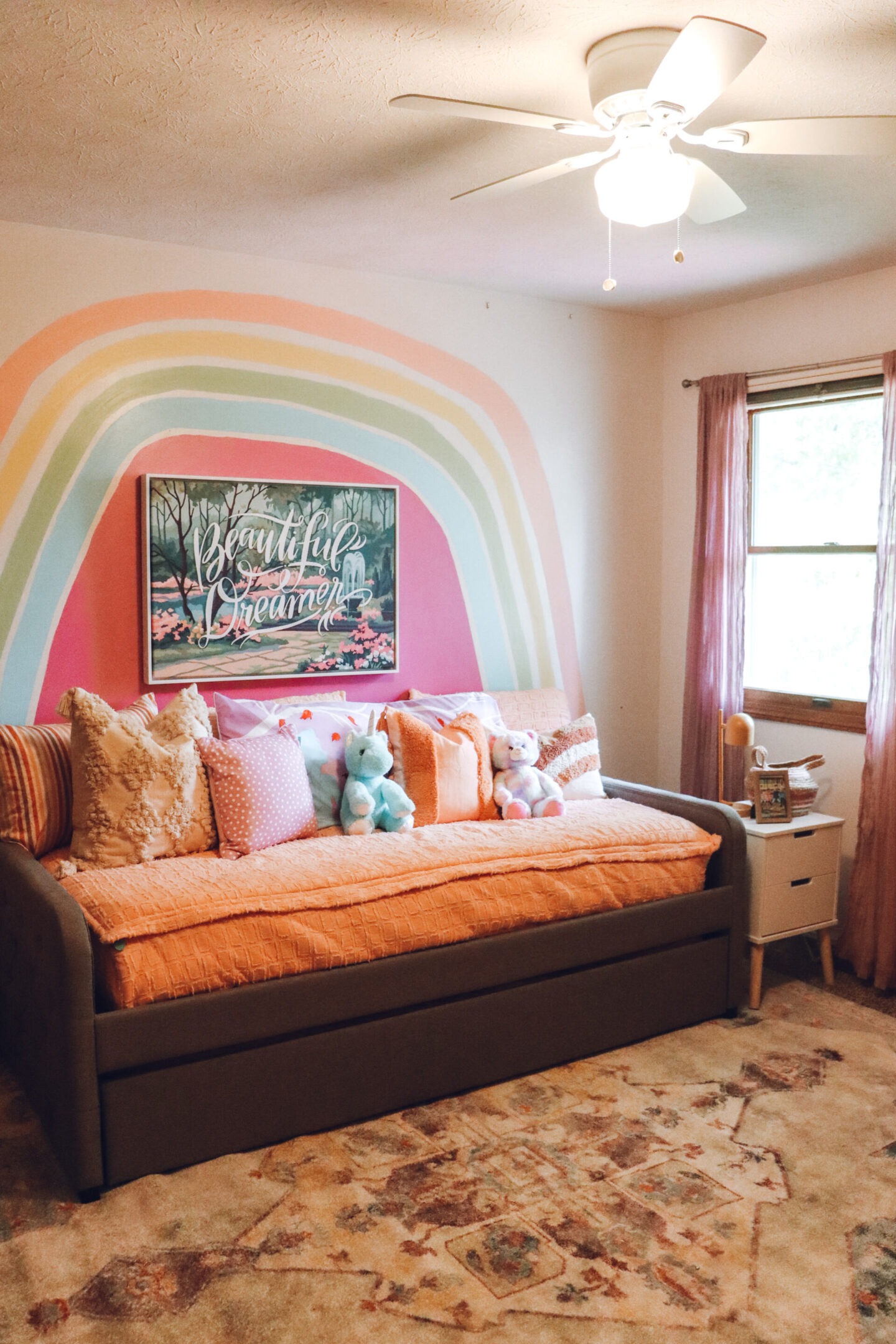 Contributing Brands
I am always so thankful for the brands that are willing to partner on these projects! They truly make it possible for the makeovers to happen. In this space I am featuring bedding from Beddy's, a rug from Well Woven and art work from Lindsay Letters. These are all brands I truly love and stand behind.
Best Toddler Bedding
Beddy's is my all time favorite bedding. Use my code TINAC for 20% off your Beddy's purchase. It's especially great for toddlers because it teaches independence. Beddy's are also high quality and meant to last for a long time. It is a one piece zipper system, almost like a sleeping bag for your bed. You unzip and get cozied in. Cece and Vinny both have them and love their Beddy's. They are the only option for bunk beds– I wrote an entire blog post dedicated to it. You can check that post out here. I used their Rainbow Luxe Beddy's and the coordinating accessory set in the girls bedroom. The accessory sets come with pillow cases, inserts and downloadable/printable artwork. We used a trundle bed for this toddler girl bedroom and I feel like Beddy's is the only bedding that would work for this because it fits tight to easily glide the bottom bed open and closed.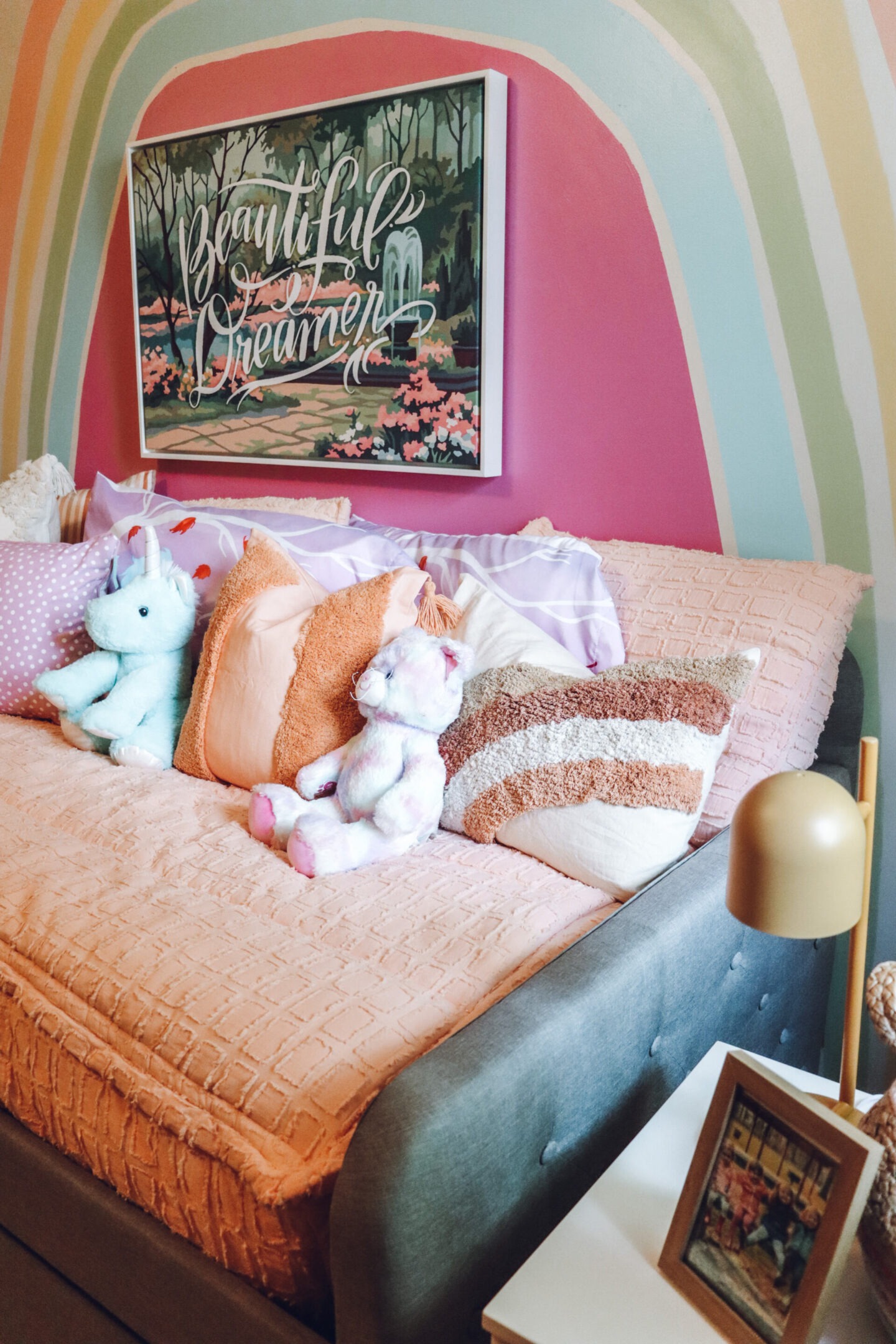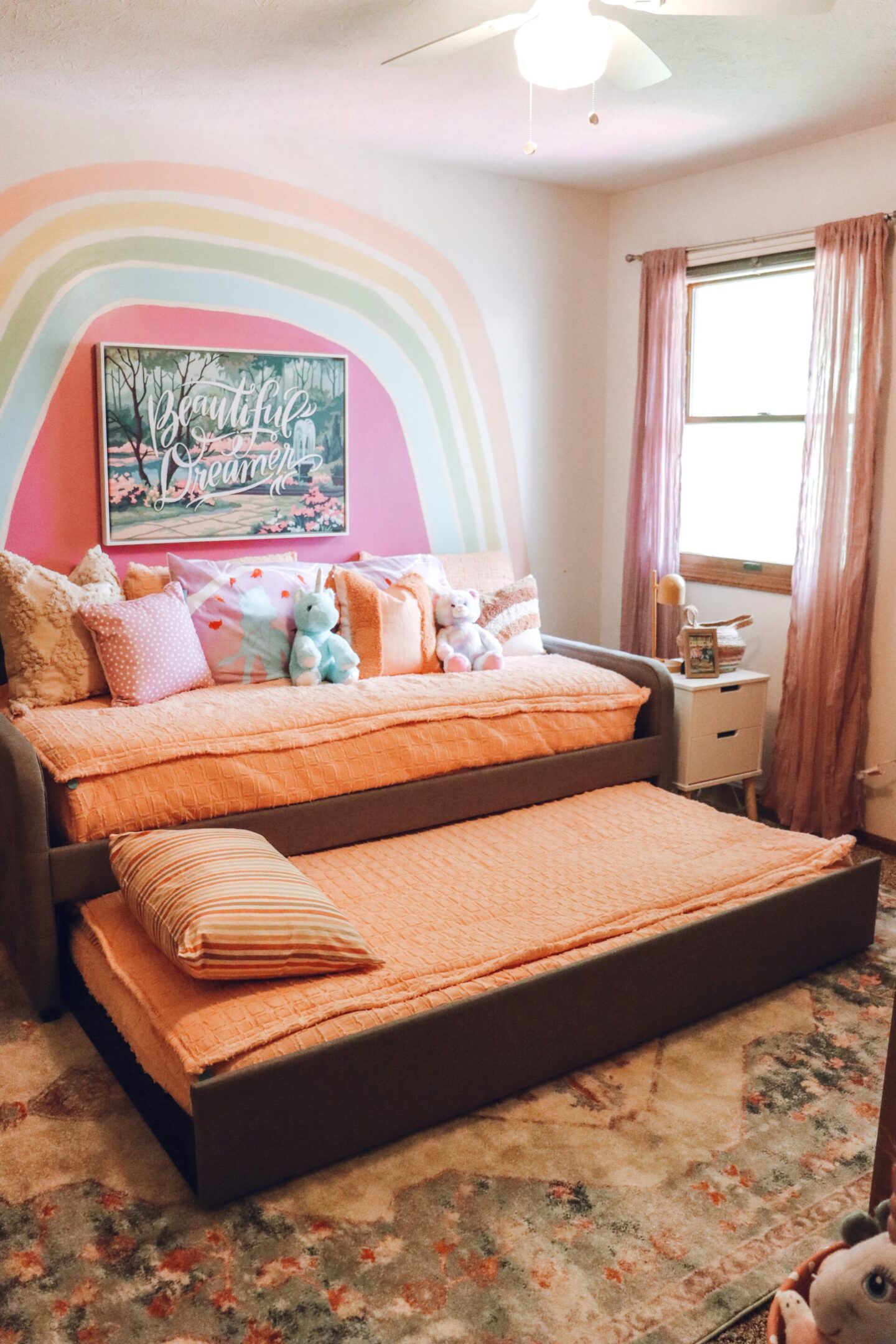 Always add a rug
I personally think every room should have a rug in it! It makes it feel so cozy and adds interest to the floor. So, whether you have carpet, hardwood or tile; add a rug! Well Woven rugs are always my go to because they have affordable and quality rugs. They also work with designers and add new designs frequently. In this space I used "Mesilla Bohemian Aztec Tribal Light Blue Rug". I chose this rug because of the variety of colors. My nieces love the movie Frozen and this rug incorporated a lot of the Frozen colors within it; so it was perfect.
Shop The Post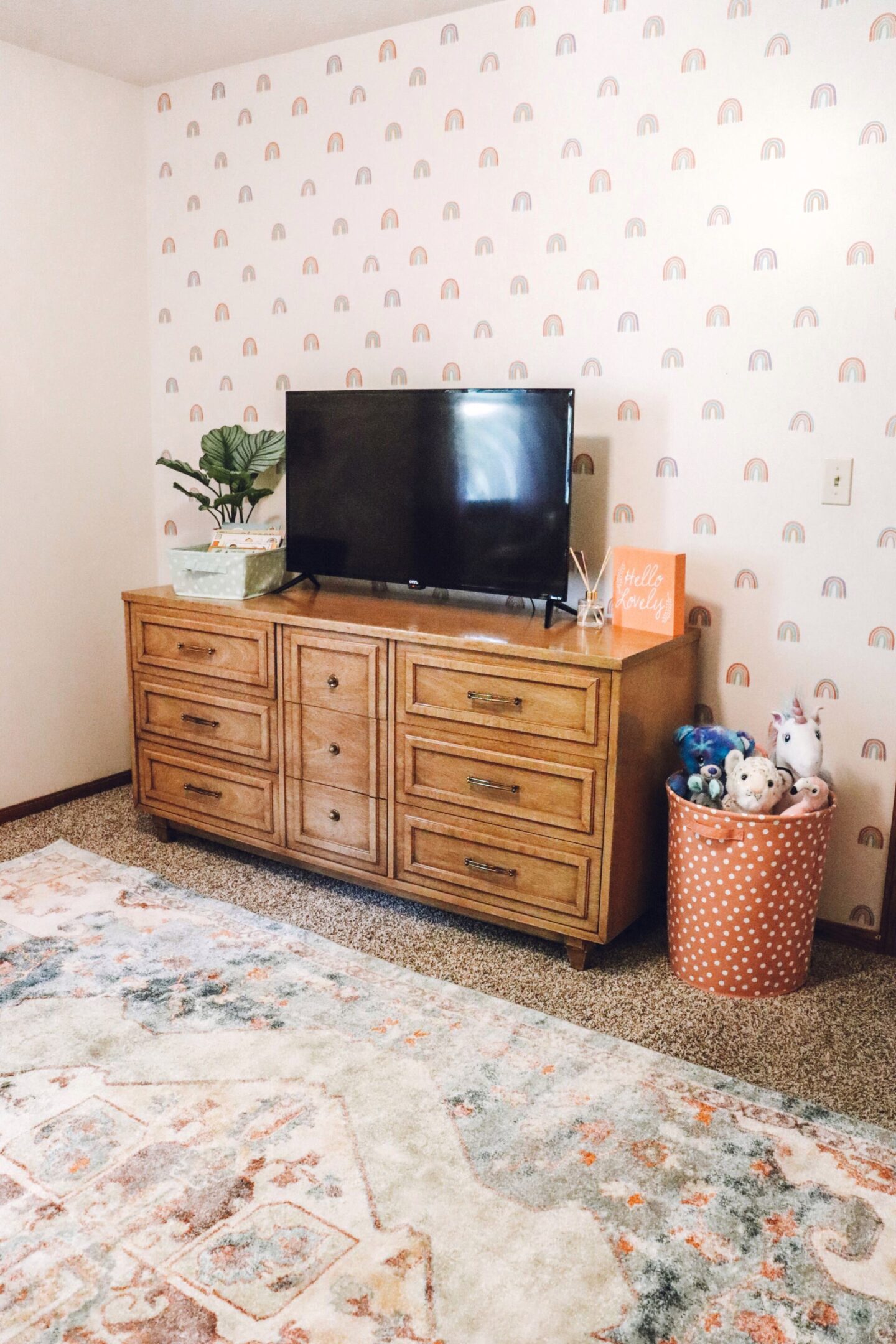 Affordable Accent Wall Ideas
Adding small wall stickers in a pattern to a wall is one of my favorite affordable ways to make a big impact in a room. Check out another space I did this in here. This entire wall only cost $30 to do! It adds so much interest to the room. On the wall across I hand painted a rainbow. I did a combination of taping and free hand painting to get the rainbow just right. My vision was a perfectly imperfect rainbow. I bought sample paint colors at Home Depot and that wall only cost $20 to complete. You don't have to spend a lot to create an accent wall that makes a statement. I added in the Beautiful Dreamer artwork to the rainbow for a fun finishing touch, but you could always just leave the rainbow too!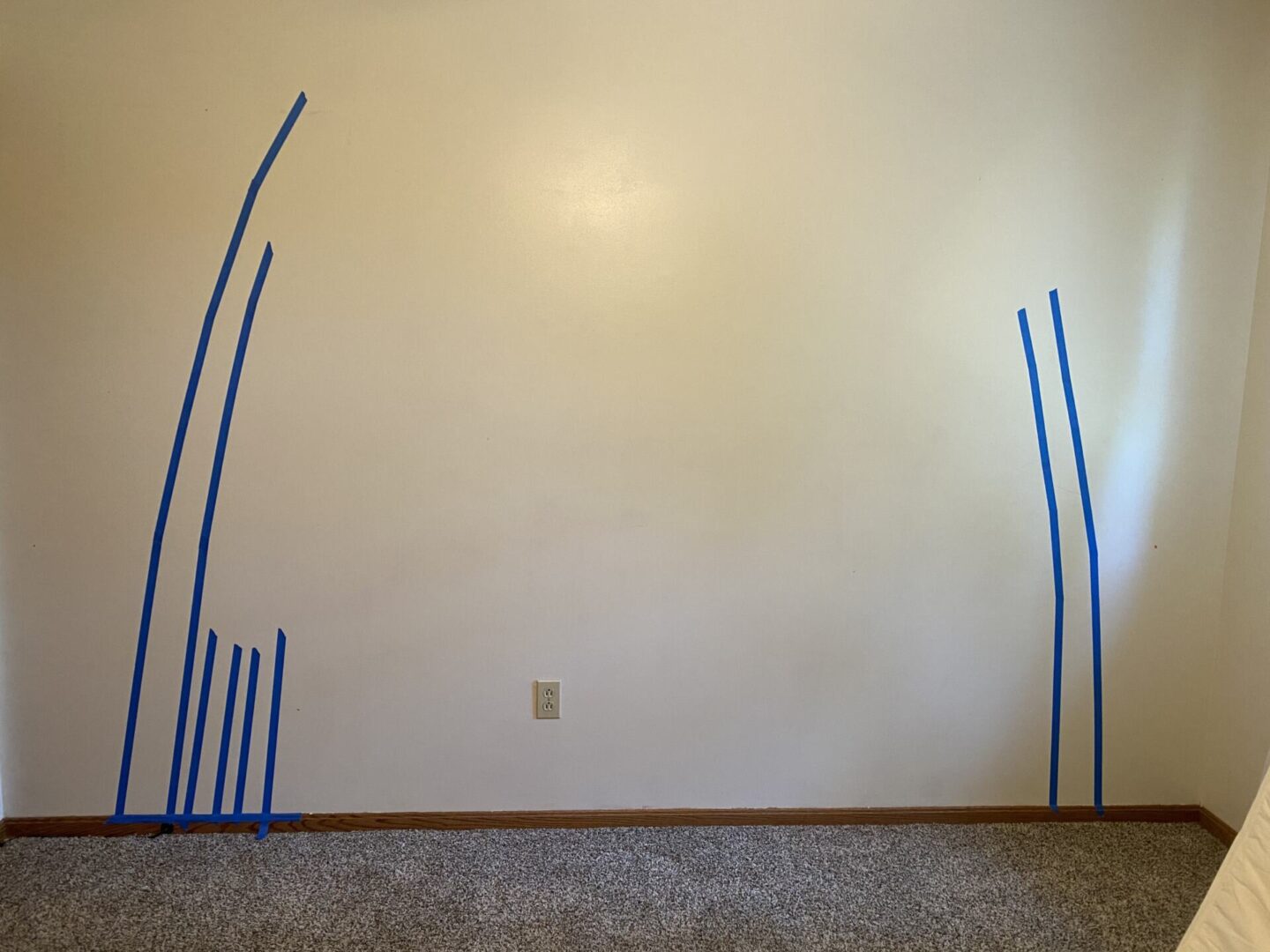 Tips for Hand Painting A Rainbow
Buy sample colors at Home Depot only $5 each
Tape it off but don't worry about getting it perfect– think of the tape as a guide
Use a 2 1/2 in brush to paint
After you remove the tape go over the top outside edge of each color/hand painting to soften the lines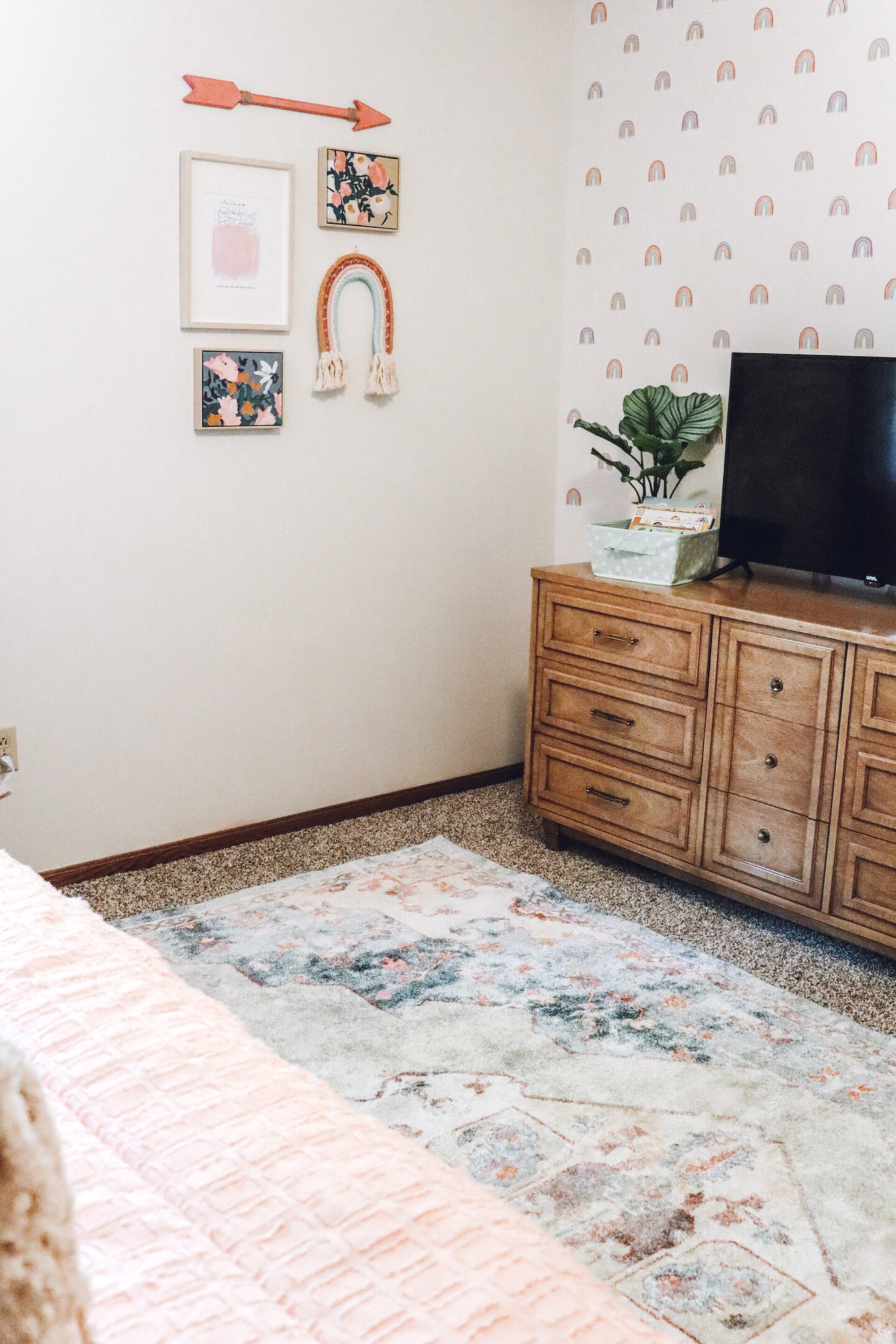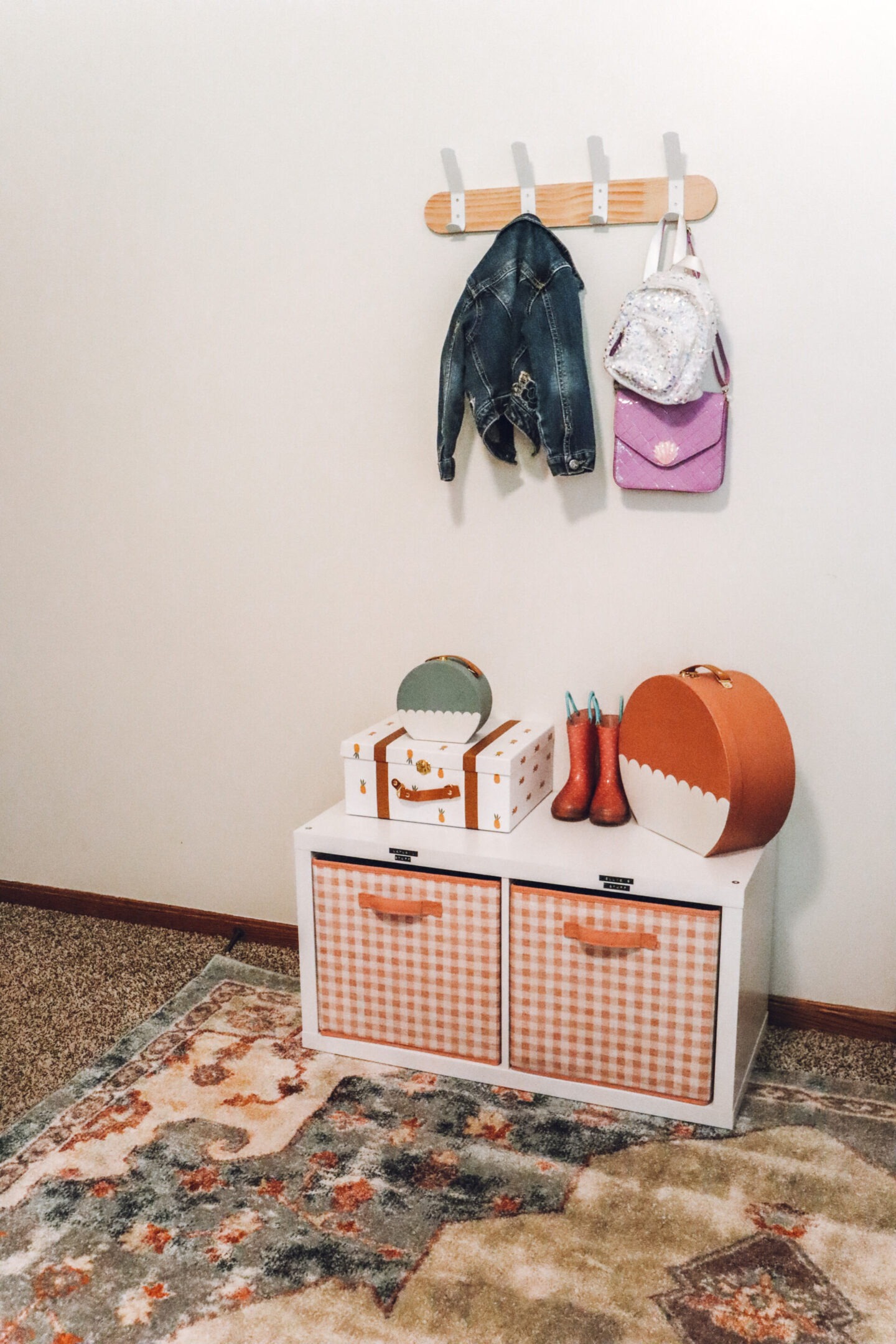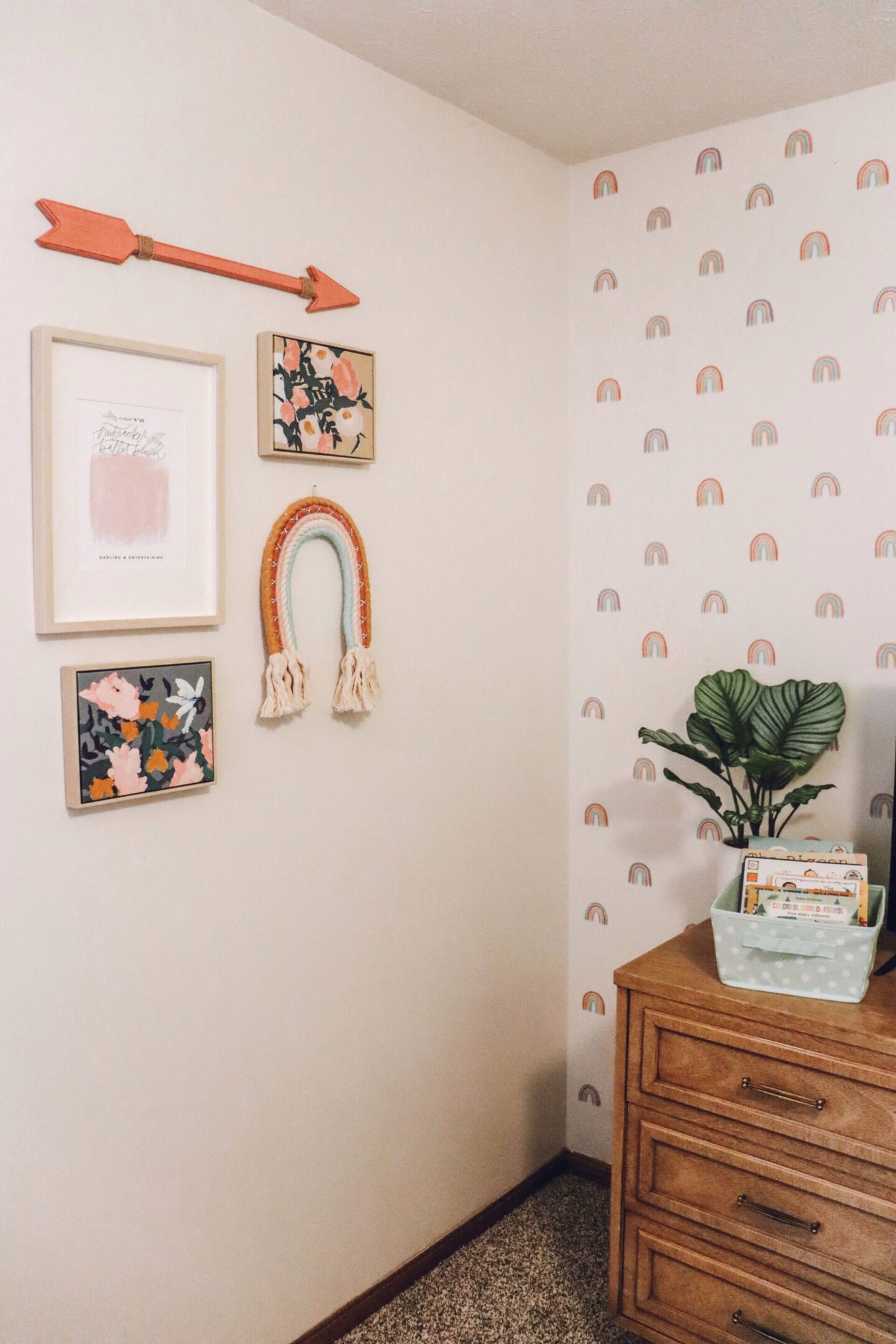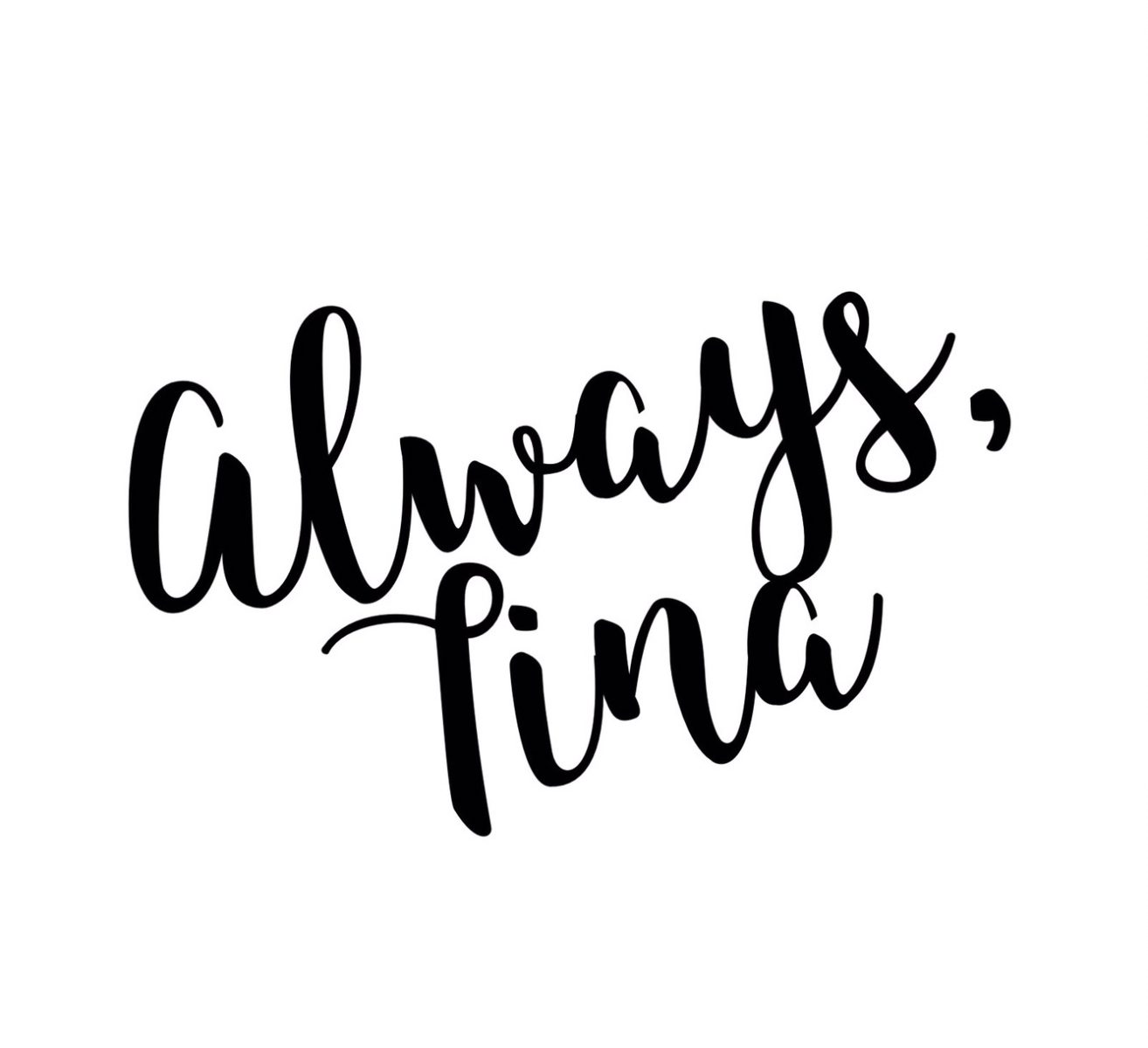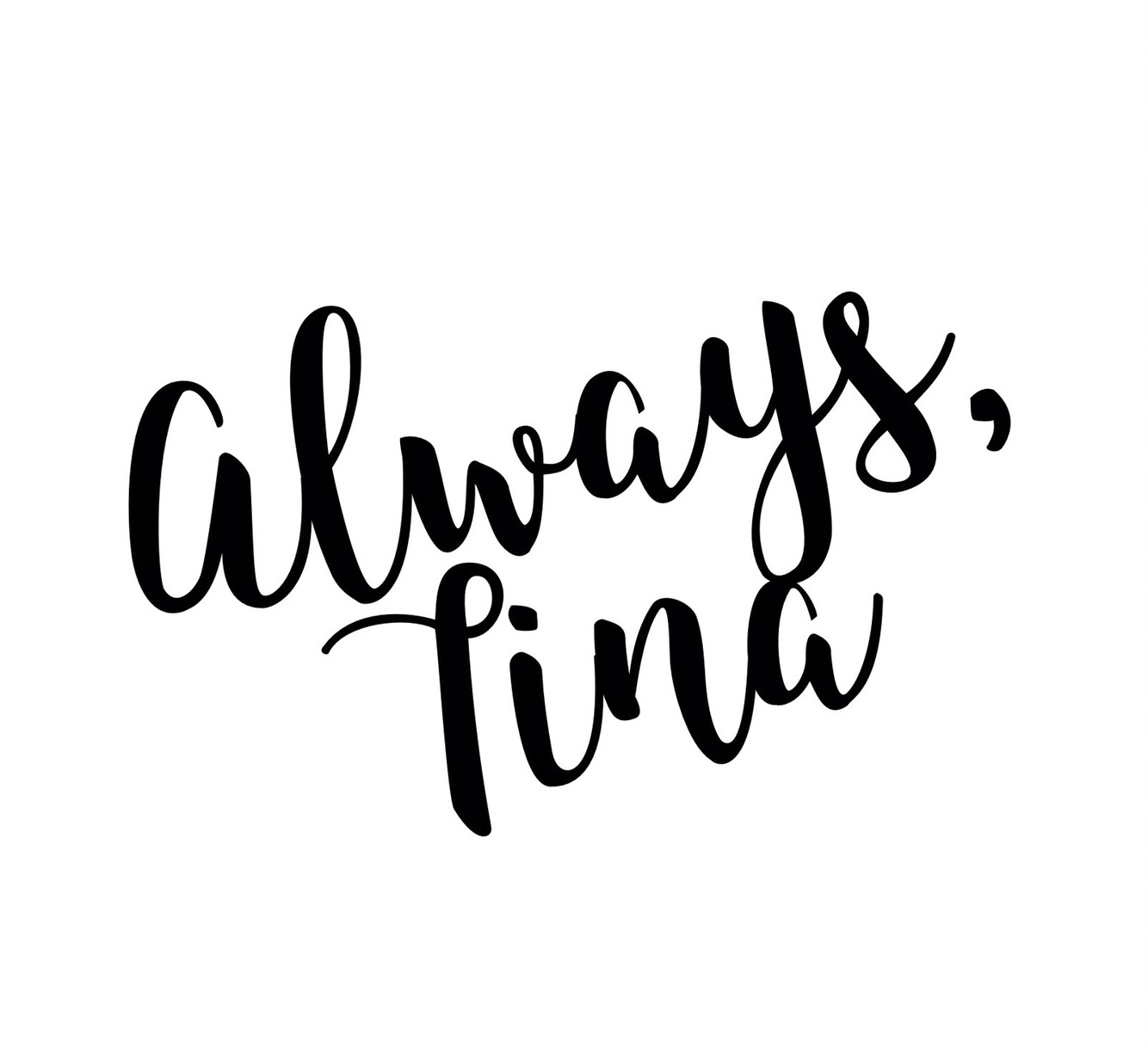 Shop The Post