I am so excited to share this tween girls' bedroom makeover. This was my first interior design job. Since I began sharing home decor on my blog about three years ago, y'all reach out and ask me to help with your spaces. Typically, I say no because my plate is already pretty full but this time I said YES. I am so glad I did, it was such a fun project.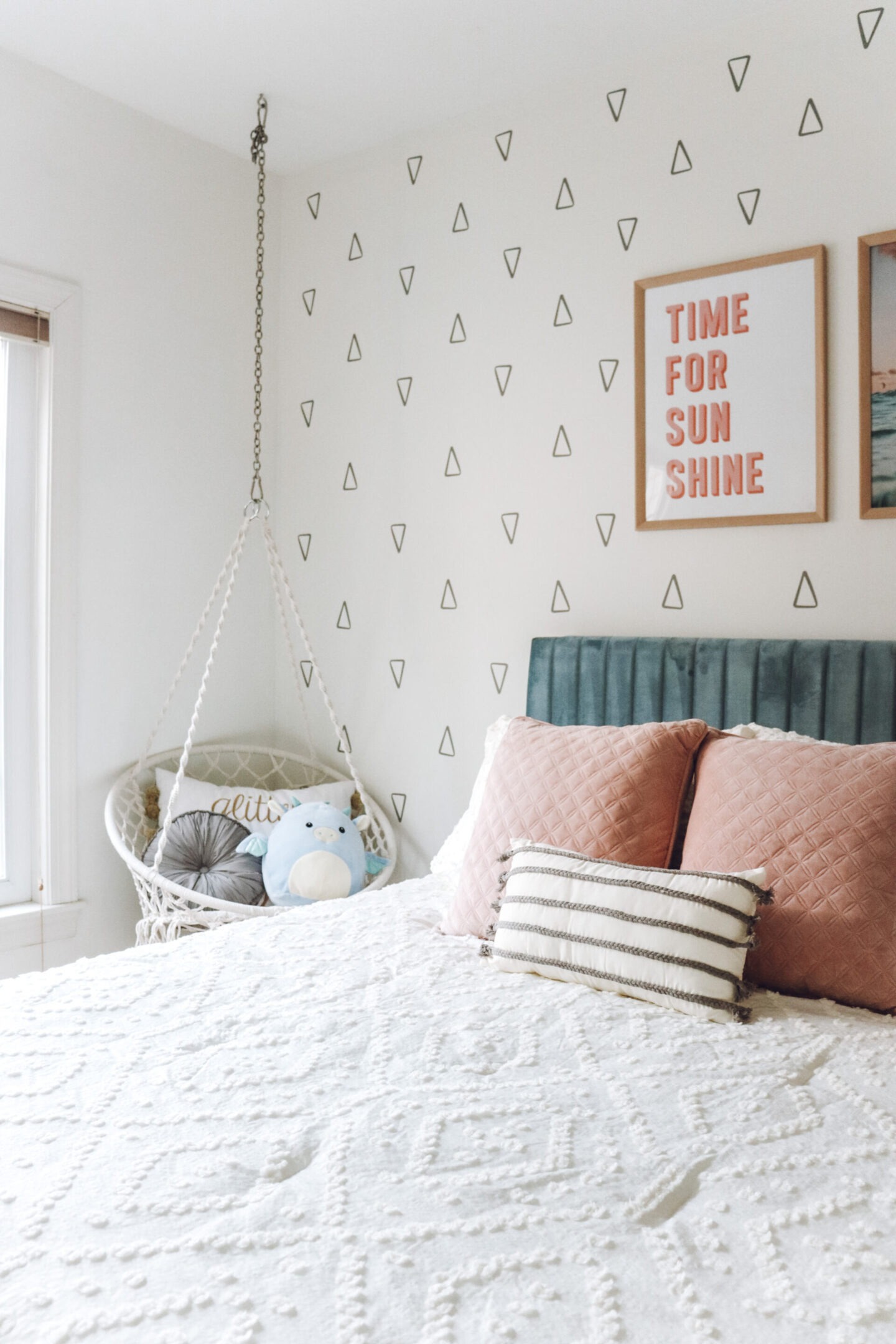 Shop the post
About the Design Process
I met with my client at their home to see the spaces they wanted decorated.
While at the meeting I photographed the spaces, we discussed budget, items needed and the overall vibe for the space.
After that we continued communicating about the project and I sent over ideas and mood/design boards. I helped with choosing paint colors for the space.
Once, budget and items were finalized I shopped for all of the items.
Lastly, after the items were delivered I completely made over both rooms. The design job took about six and a half hours.
The vibe for this room was boho, coastal, and beachy. I wanted to incorporate pinks, blues and really bright walls. I recommended the paint color Whipped by Clare paint because it is the perfect warm white. The old furniture in her room was her nursery furniture so it was definitely time for an upgrade in this space. The client found an antique dresser/desk and chalk painted it white. I spray painted the hardware gold. I also repurposed a shiny silver lamp by spraying it gold, I love when you can reuse old items.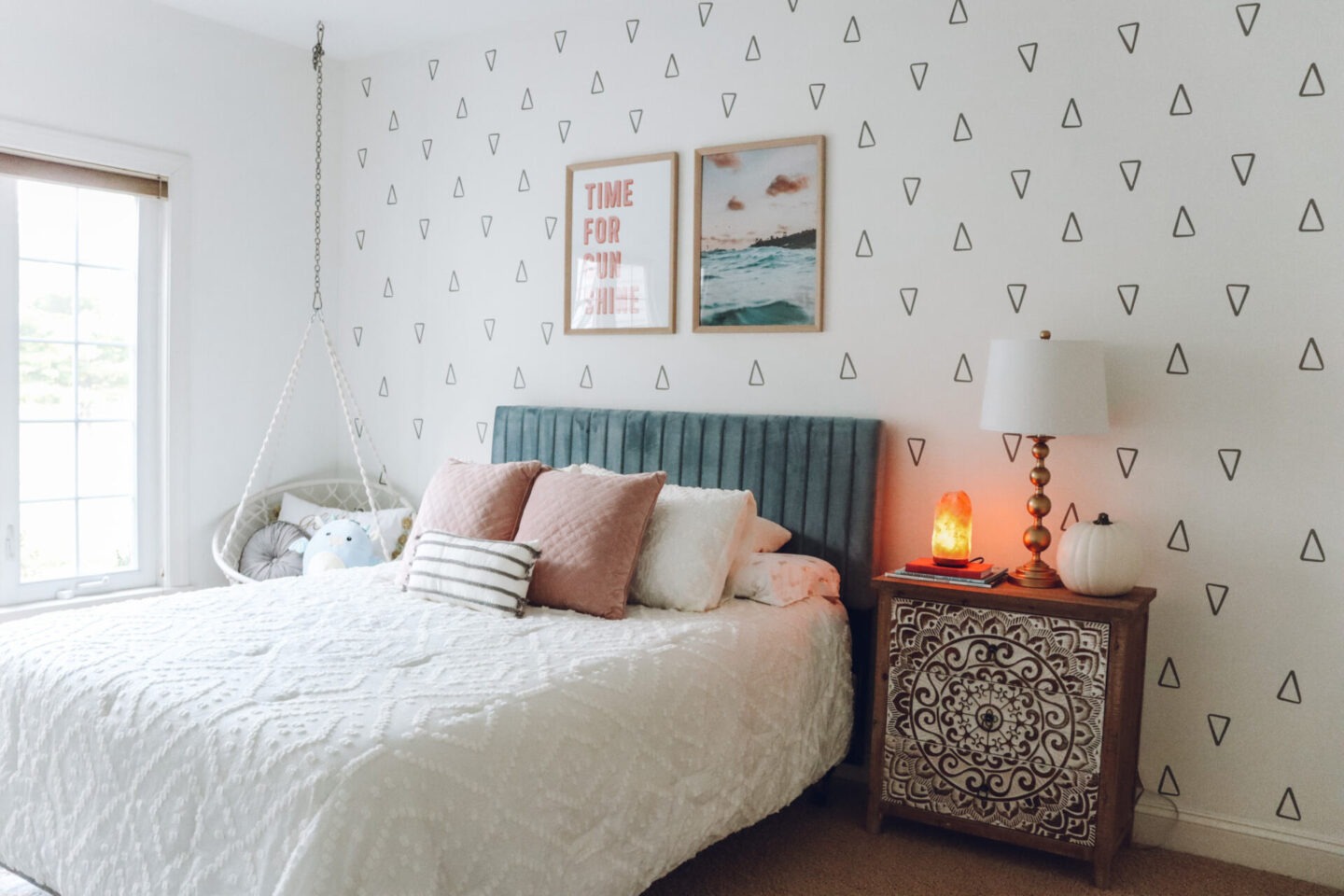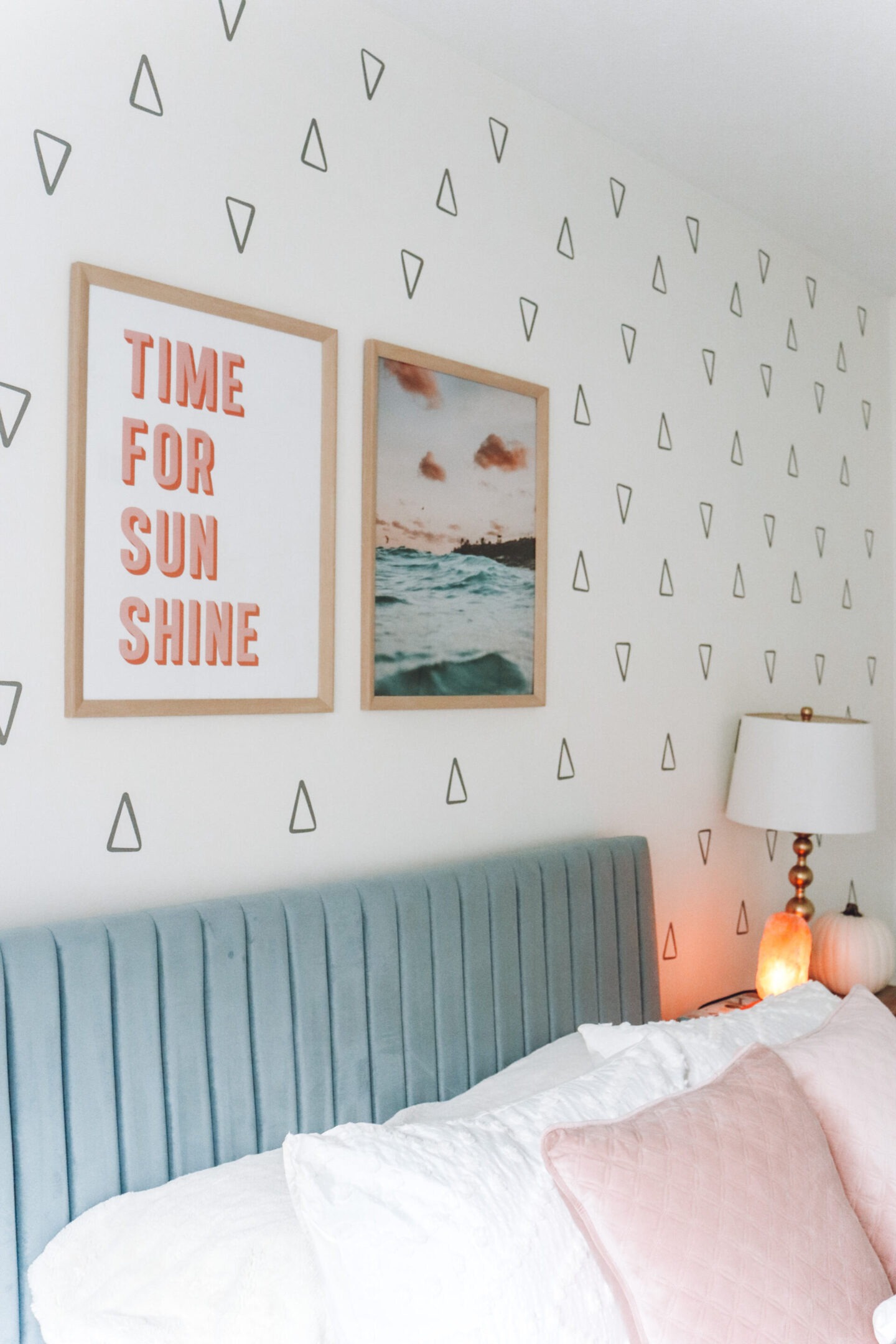 Budget Friendly Accent Wall
They really wanted an accent wall in this room but we also had a tight budget to stick to. Wallpaper or a shiplap/wood wall detail would have been really pricey. So, I kept brainstorming and found these adorable wall stickers. Would you believe me that the entire wall was under $30? I individually stuck on each triangle and it gave the look of wallpaper at a fraction of the cost. It was essentially foolproof and anyone can do it! The accent wall was the perfect finishing touch for this tween girl's bedroom.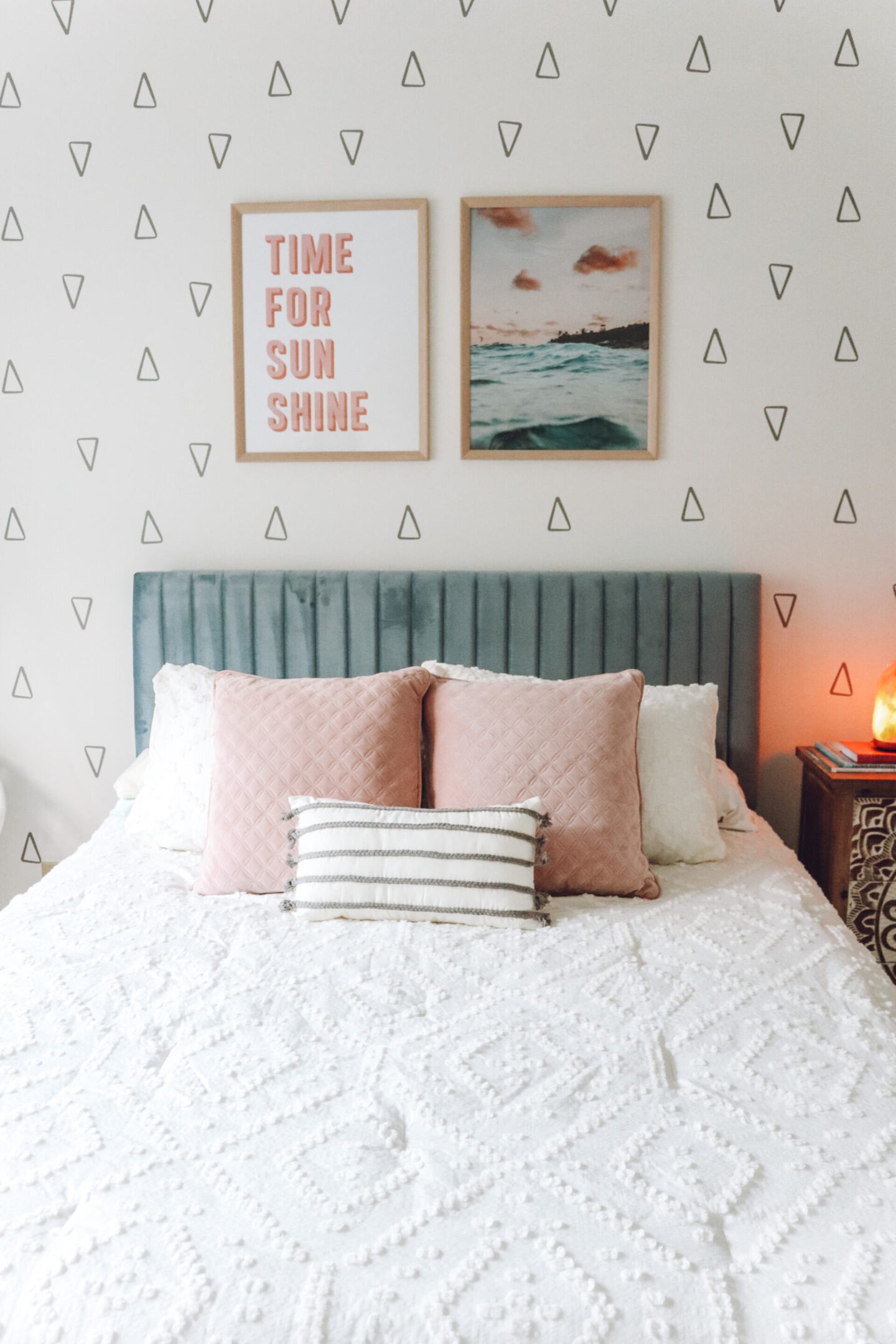 Affordable Framed Art
Society6 has some of my favorite printed digital art. I love it because you can get super affordable poster prints. I framed the poster prints in large natural wood frames for a statement piece above the bed. On their site, you can also search for any type of artwork. For example, I searched the keywords "beach" and "coastal" for this project.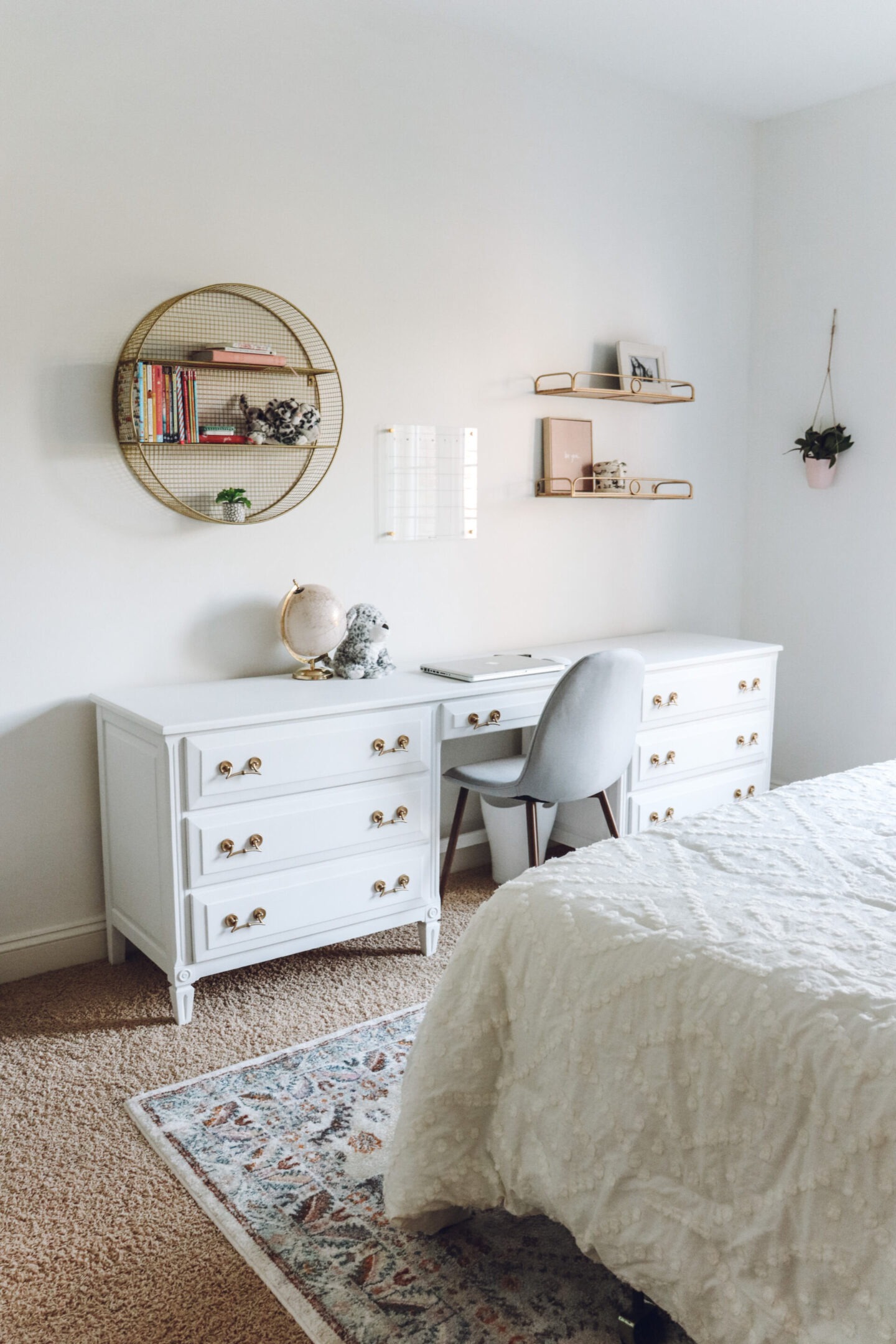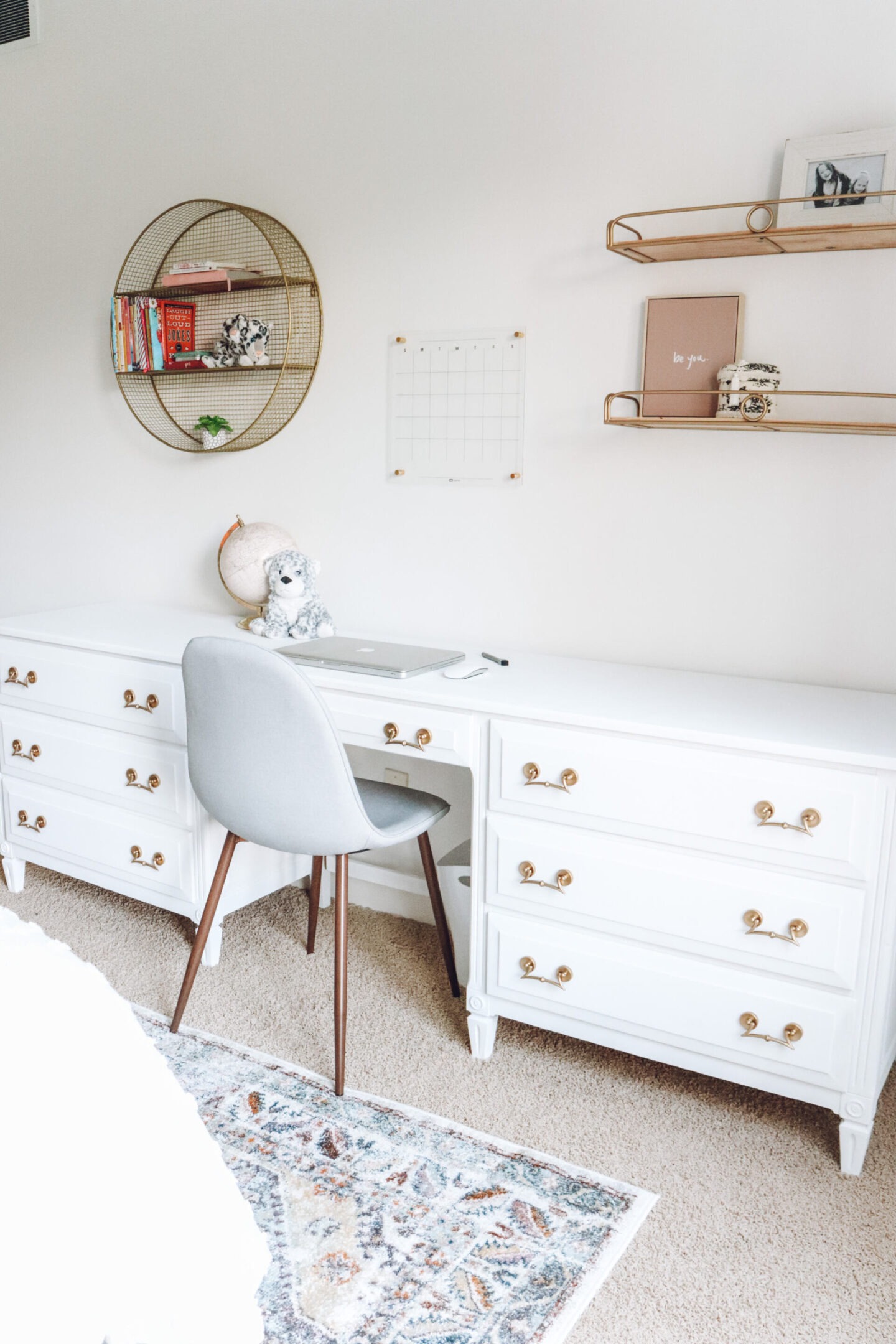 Desk/Dresser & Open Shelving
I used items she already had to style her shelves. Her mom told me she loves to display random knick-knacks and toys. So, I wanted to leave extra open space so she could make the shelves her own. I am totally obsessed with the desk/dresser that they found on Facebook marketplace.. seriously such a good find. The hanging plant, an acrylic dry erase calendar and a globe were all some of the finishing touches.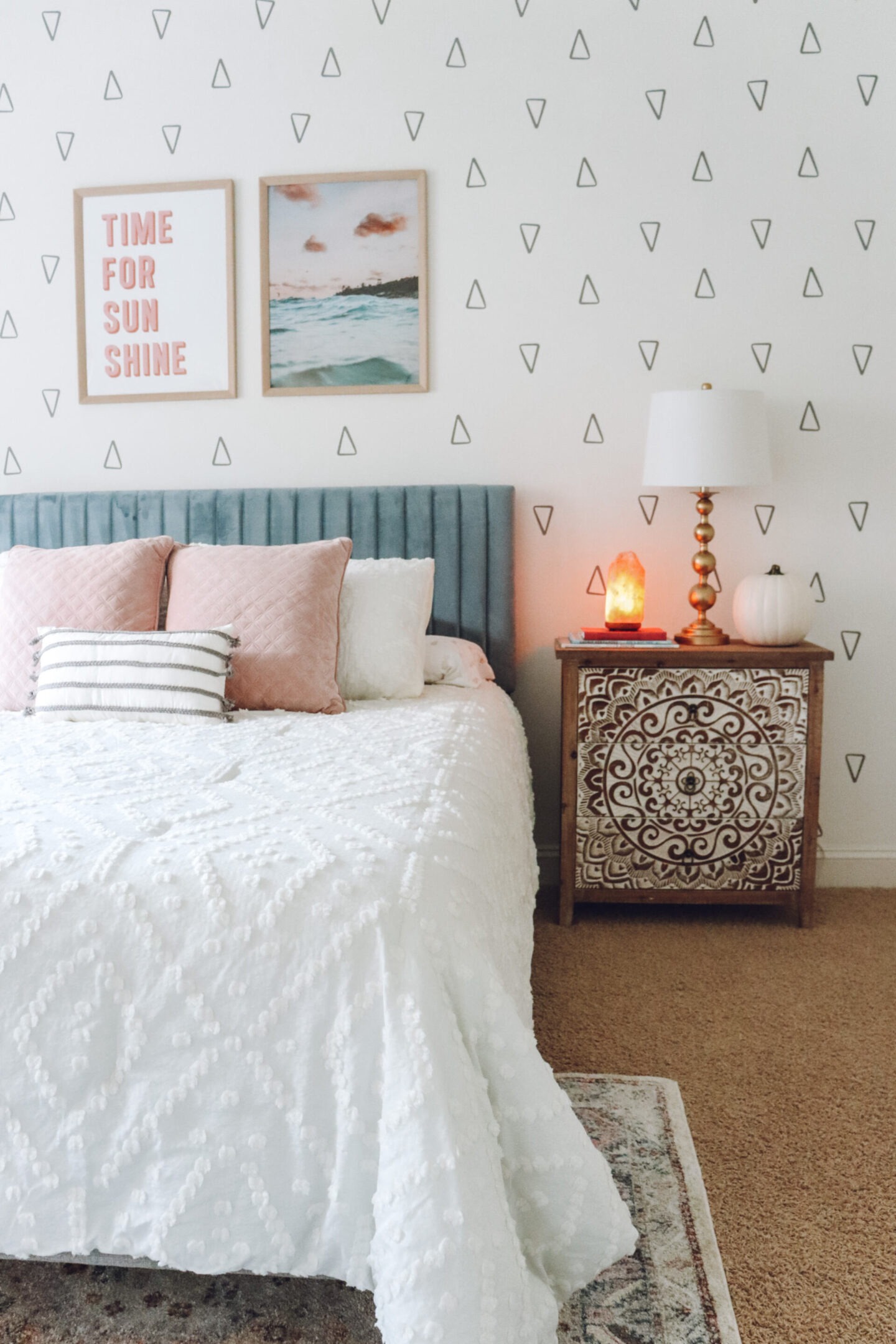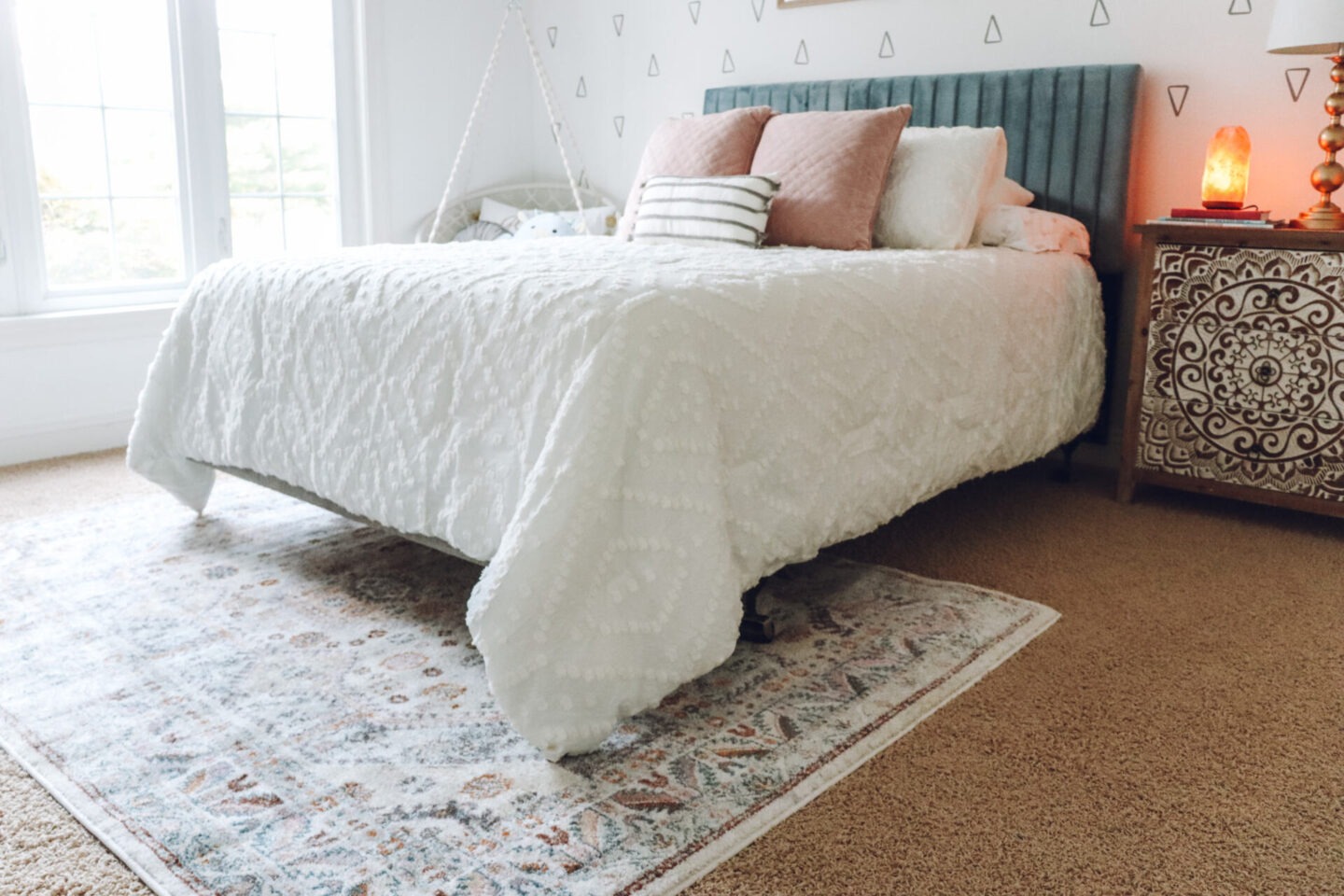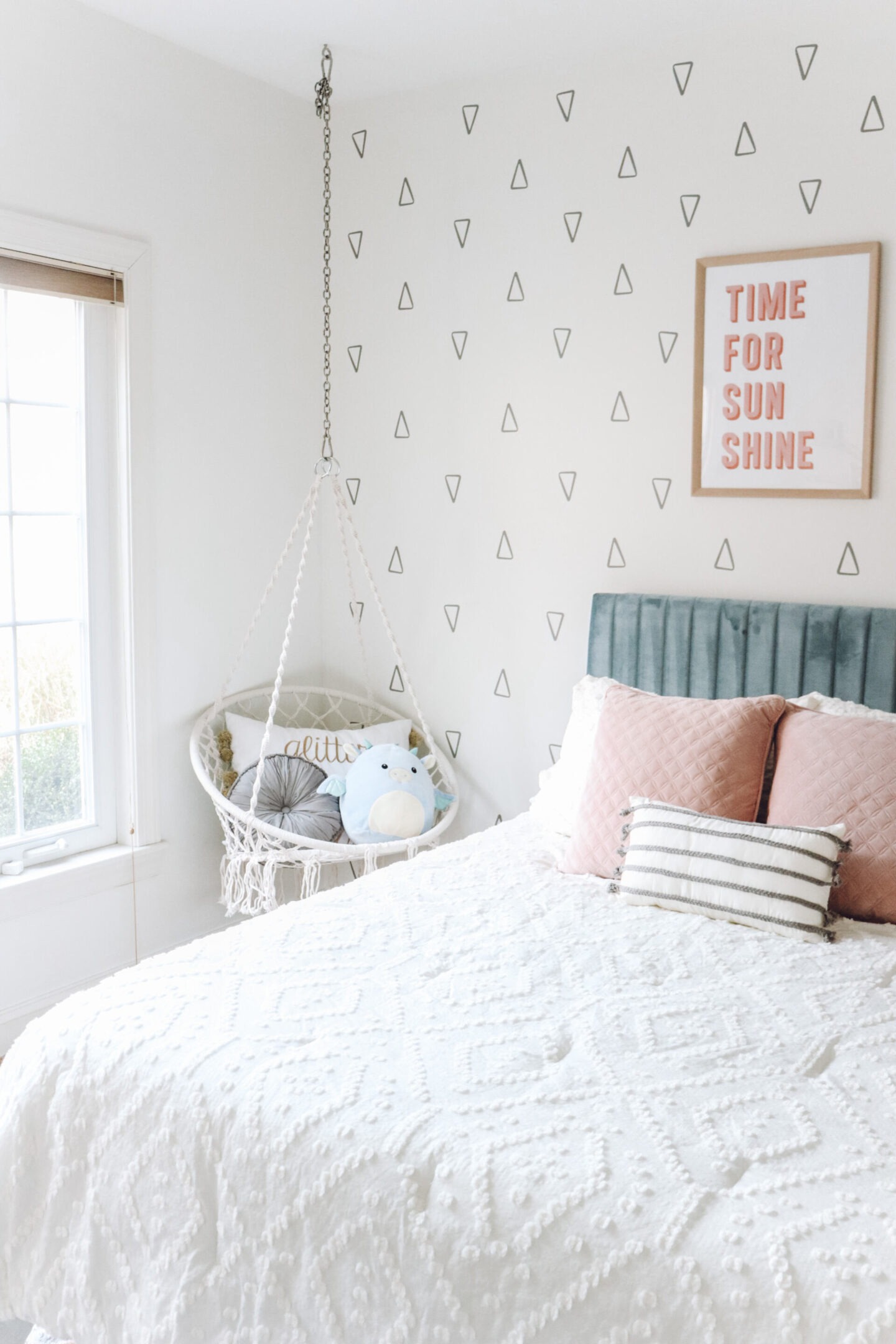 Tween Girls Bedroom Details: Nightstand, Swing, Bedding & Rug
How beautiful is the medallion wood-engraved nightstand? When I found this piece I thought it would be SO PERFECT for her room. Since there were already a lot of bright whites I wanted to warm up space with some wood tones and it did just that. The medallion detail is also super boho, which I love. The bedding has beautiful detailing and was so affordable. BONUS: it came with the smaller throw pillows. The pink velvet throw pillows are some of my favorites and so affordable from Wal Mart. When I met with this family one of the things their daughter really wanted was a boho swing in her room. I had to make that come to reality for her and it looks perfect in this boho tween girls bedroom. I love this rug from Boutique Rugs. It was affordable and has perfect pastel colors. The name is Thornley Area Rug.
This design project was SO FUN and I can't wait to share their master bedroom that I did too! I'm so glad that I stepped outside of my comfort zone and said yes. If you're interested in learning more about my design services, shoot me an email or a DM on instagram! Or, if you want to see more of my home makeovers check them out here. Thank y'all so much for your support.
Shop The Post