The playroom is probably the most used room in our home. Yet, it's a room I rarely share. Mainly, because it's usually a mess! But, I recently did some major decluttering and refreshed the space. So, I decided I would share a playroom tour. We refreshed the space in simple ways that make a big impact. My goal for space is to have lots of open flooring for play, organization, and of course cozy vibes.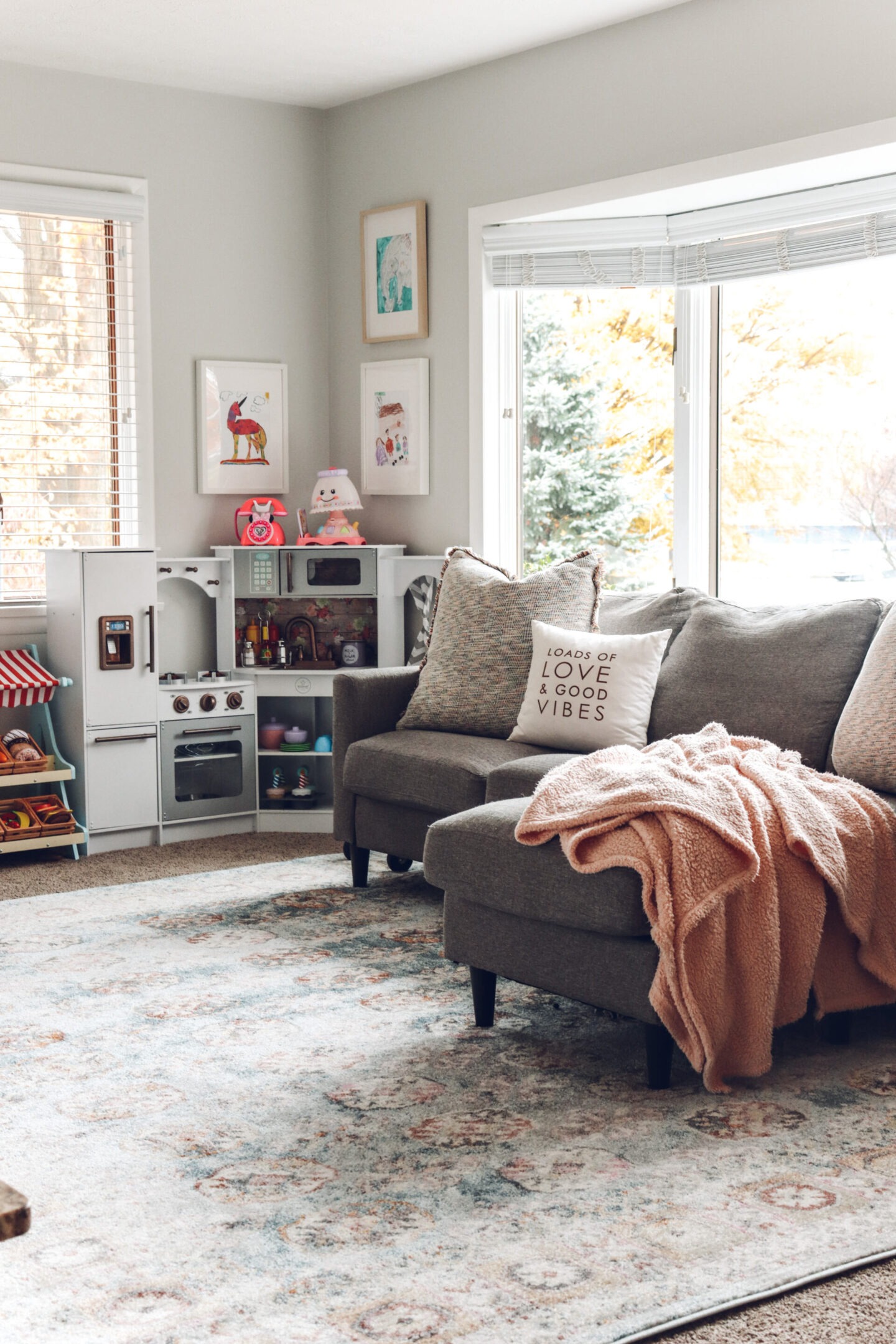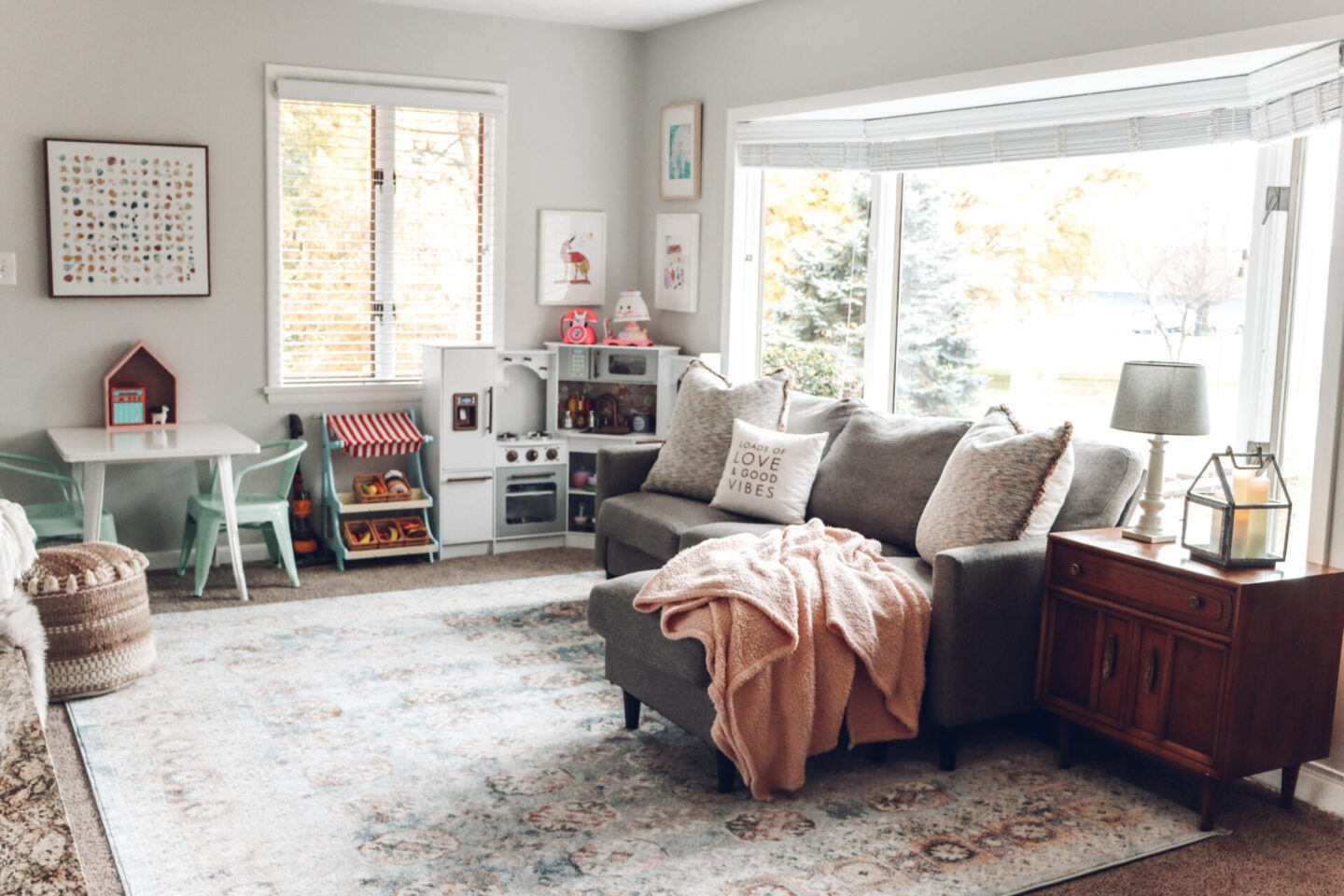 Playroom Couch Details
We have a super affordable small "apartment" sized couch in here. I wanted something that gave us a spot to sit, didn't take up too much room, and wouldn't break the bank. Kiddo's honestly ruin everything- it's the truth! So, we loved that the cushions both top and bottom are removable and washable. This has been the perfect couch. A huge perk about this couch is that the chaise is reversible so you can put it left or right facing. My light grey couch is sold out but, they have it in charcoal and navy! It's under $500.
Shop my couch here.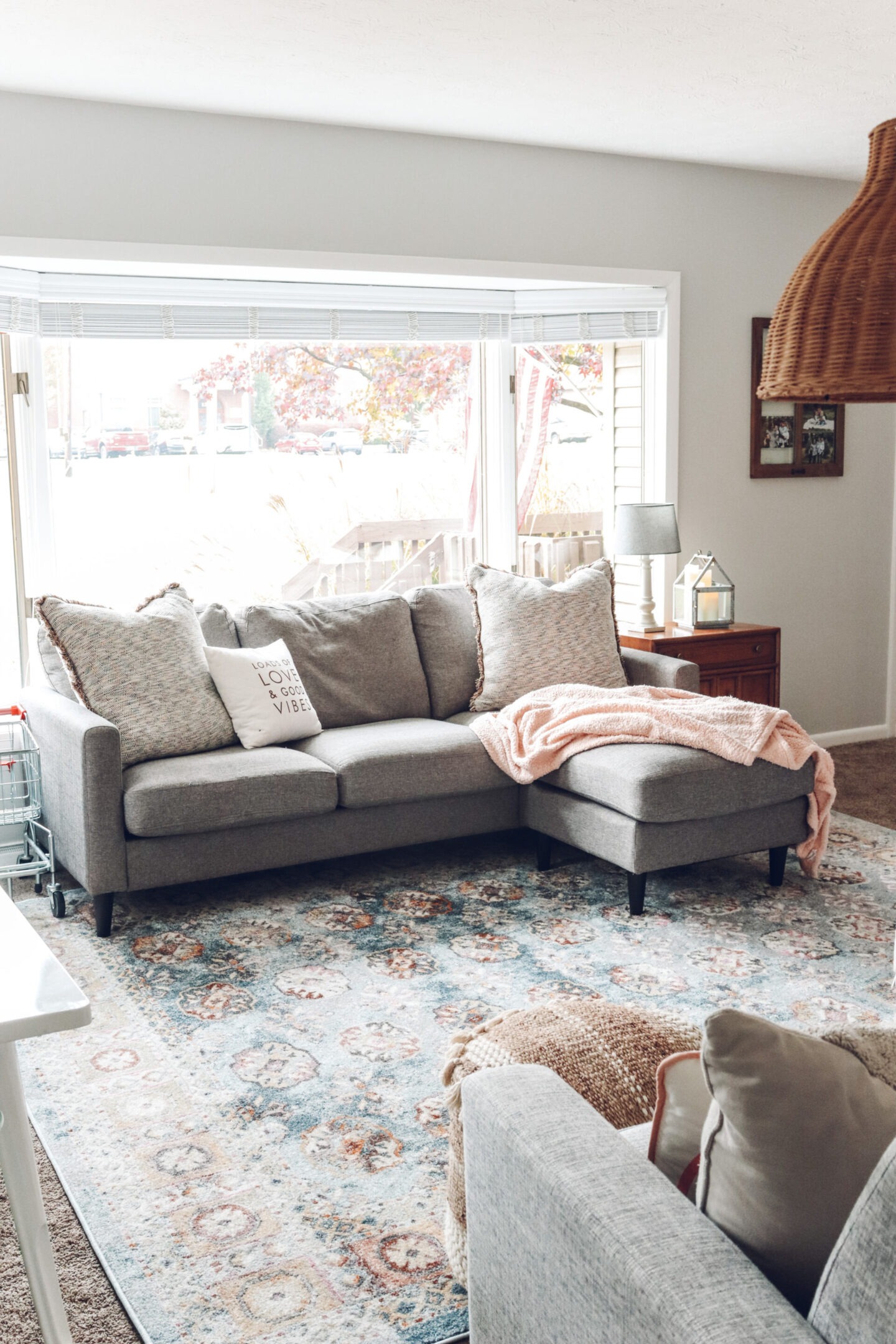 New Playroom Rug
One of the easiest ways to change space is with a new rug. When I saw this beautiful rug on Well Woven I had to have it. I love the mixture of colors. I felt like the navy blue was so cozy. I have the 8'x10′ sized it is just over $150. Well Woven is my favorite for rugs because they are high quality, affordable rugs.
Shop my rug here.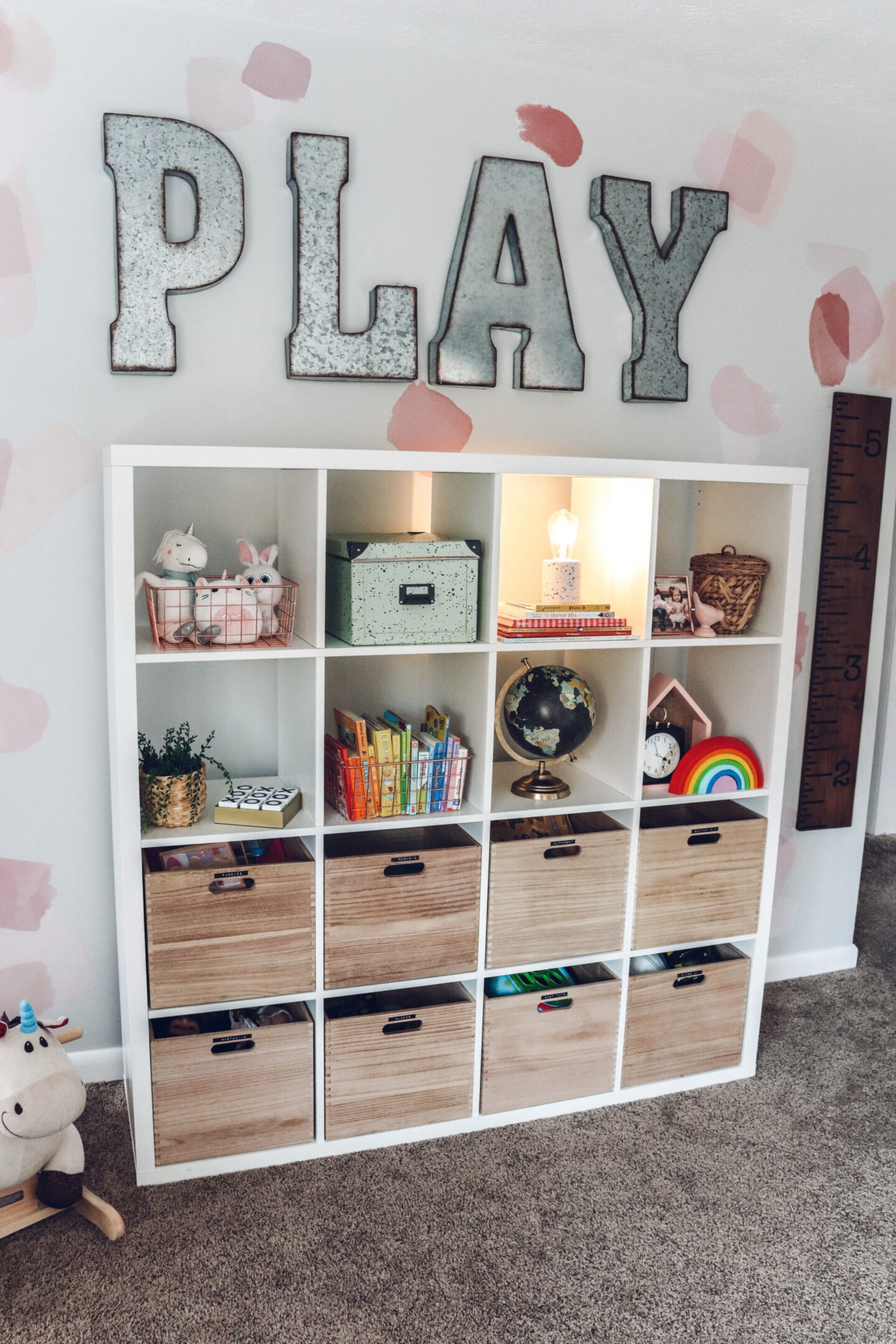 Playroom Organization
These wood crates are my favorite way to organize the playroom. I made labels for each one that says what's inside. They make cleaning up much easier (for me) ha! I also like the idea that if other kiddos come over or we have someone watching the kids they can easily figure out what's inside. Bonus: labels are a great way for kiddos to become familiar with words. Cube shelves are a great way to maximize storage. This large shelf is from Ikea.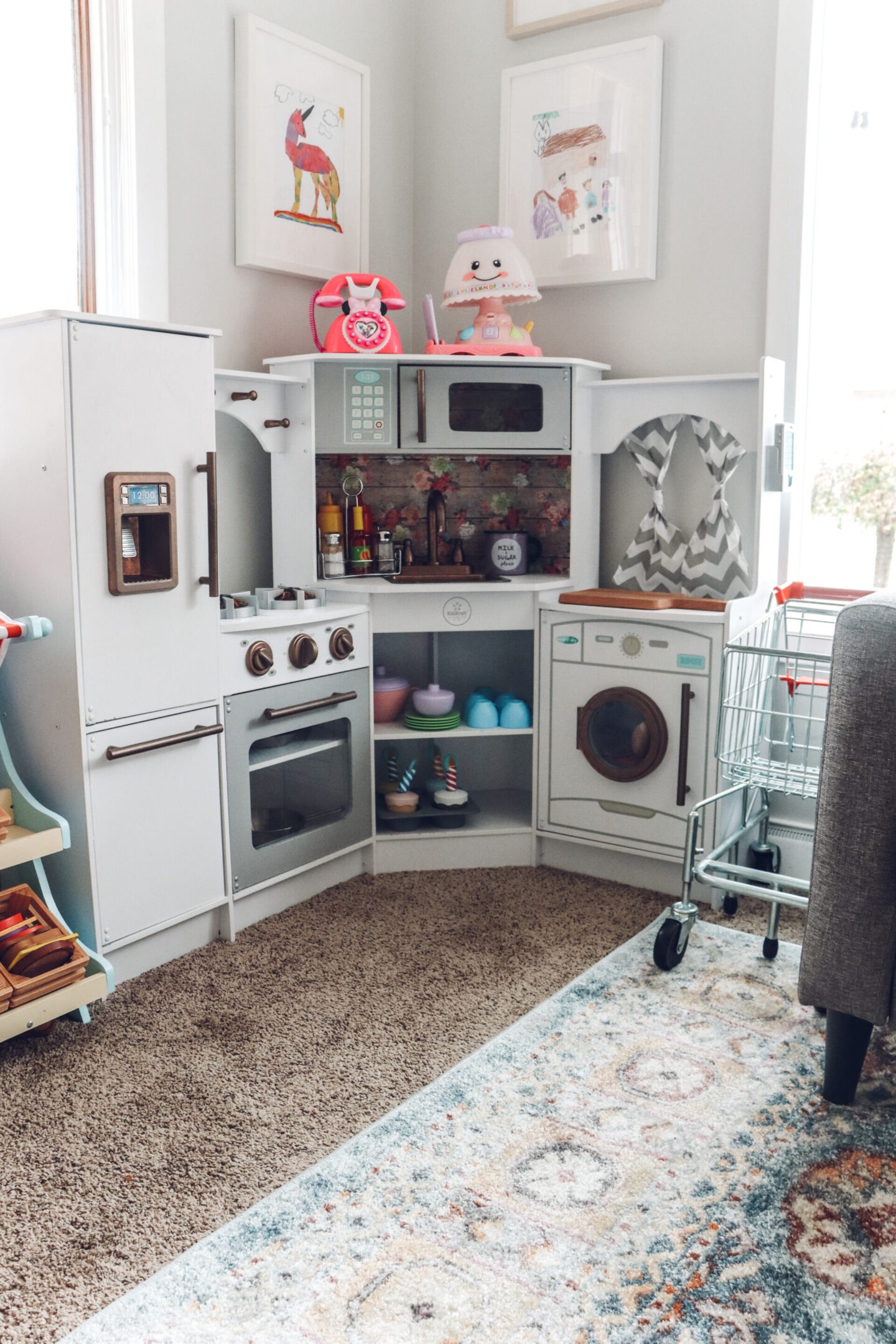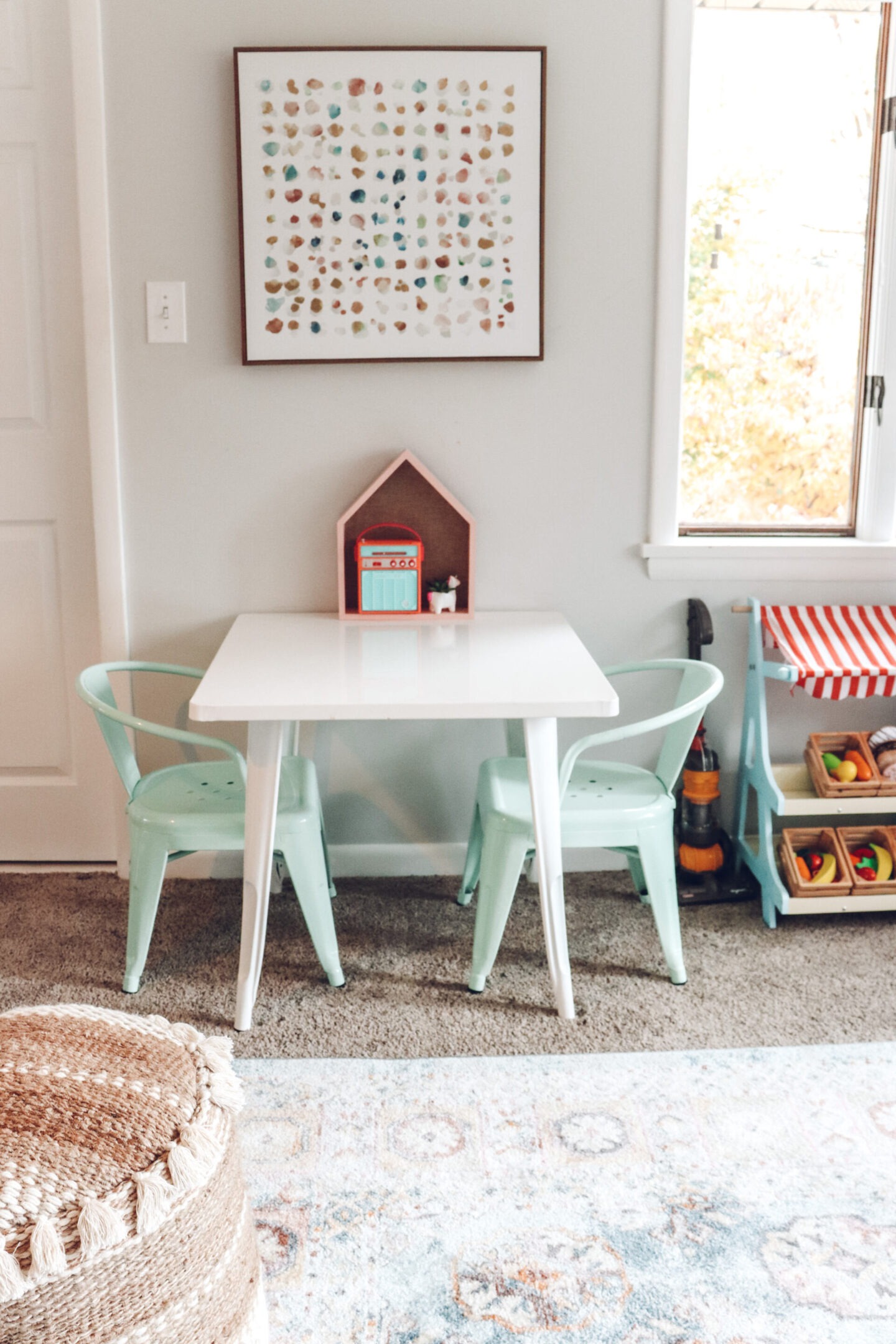 Play Kitchen
I cannot recommend this play kitchen enough or really just any kitchen in general. My kiddos and all the kids in my family love playing with this. If you're looking for the "big gift" for Christmas this is a great option. Our exact food storage stand is sold out but, this is a similar one.
shop the post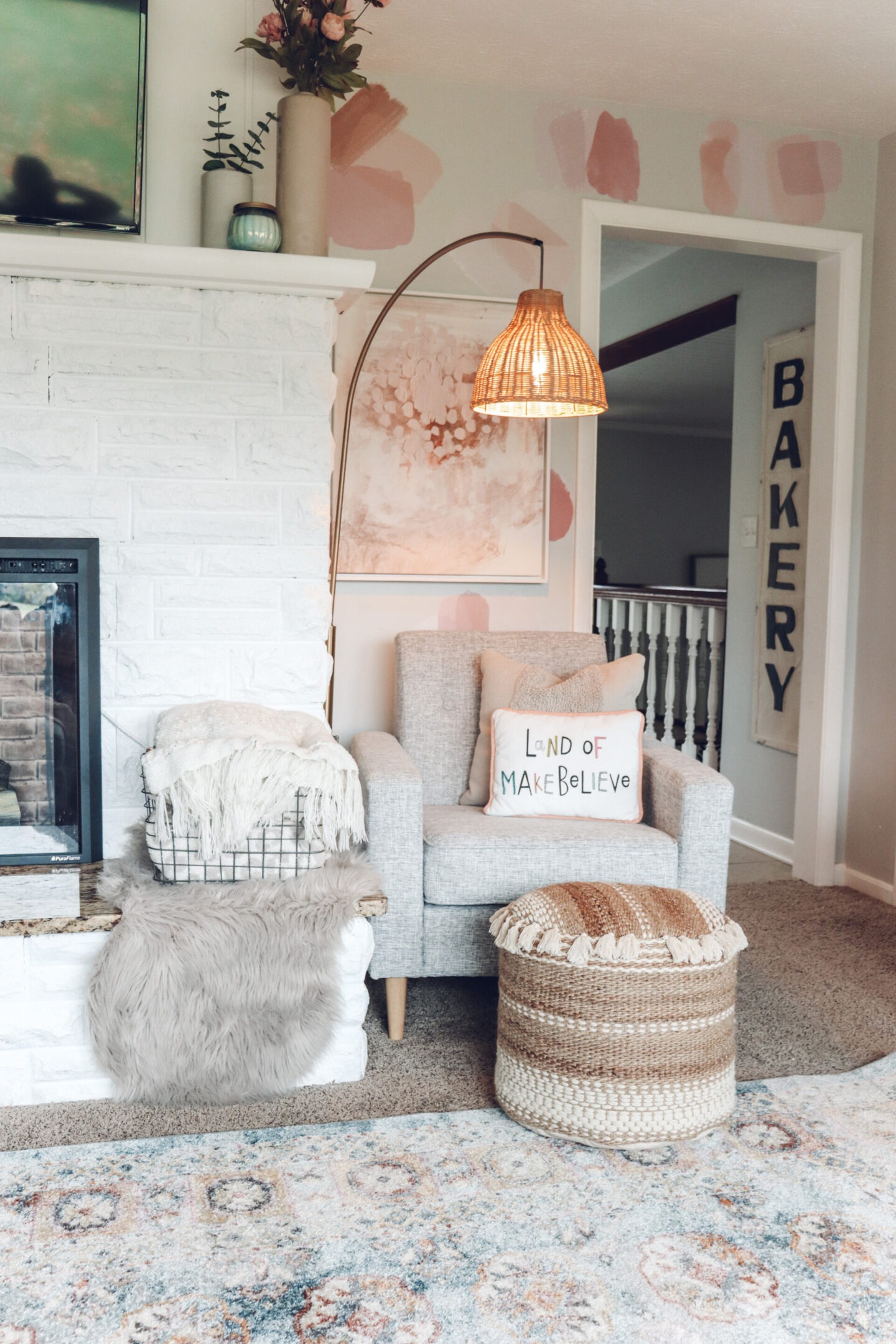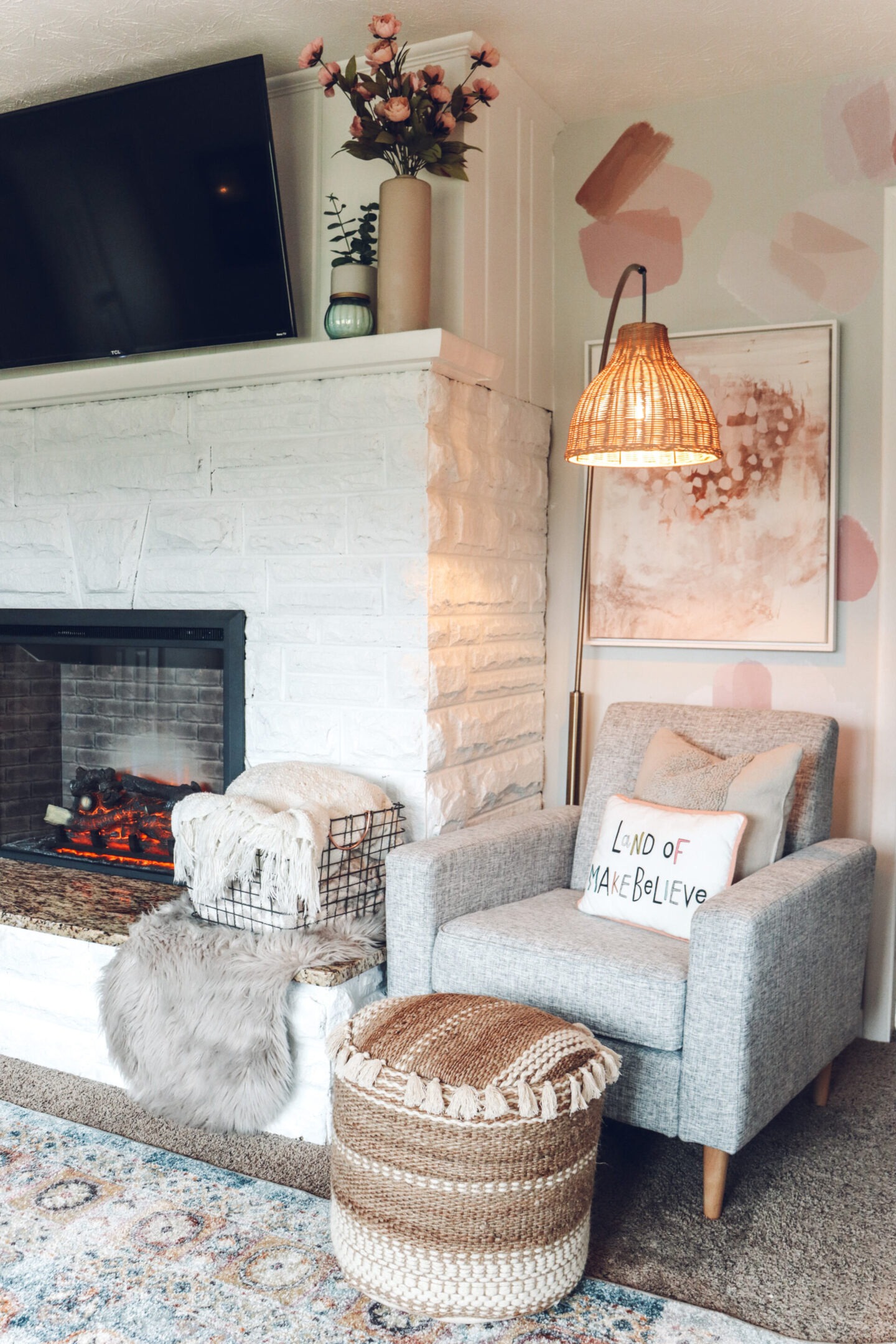 Cozy Corner
This space used to have a small desk but, I wanted to make it a little more cozy and functional with additional seating. I found this chair for such a great price at Target and it comes in multiple colors. The tweed texture and the natural wood legs are my favorite. What makes this space extra cozy is the fireplace. We did this update last year, check out that post here. I cannot recommend this fireplace insert enough. It can put off real heat, make crackling noises, and is electric so it even comes with a remote. The beautiful pink abstract art is by Lindsay Letters. Shop Blush Bungalow Abstract Art here. This is probably my favorite spot in this playroom tour. Shop the brushstroke wall decals here.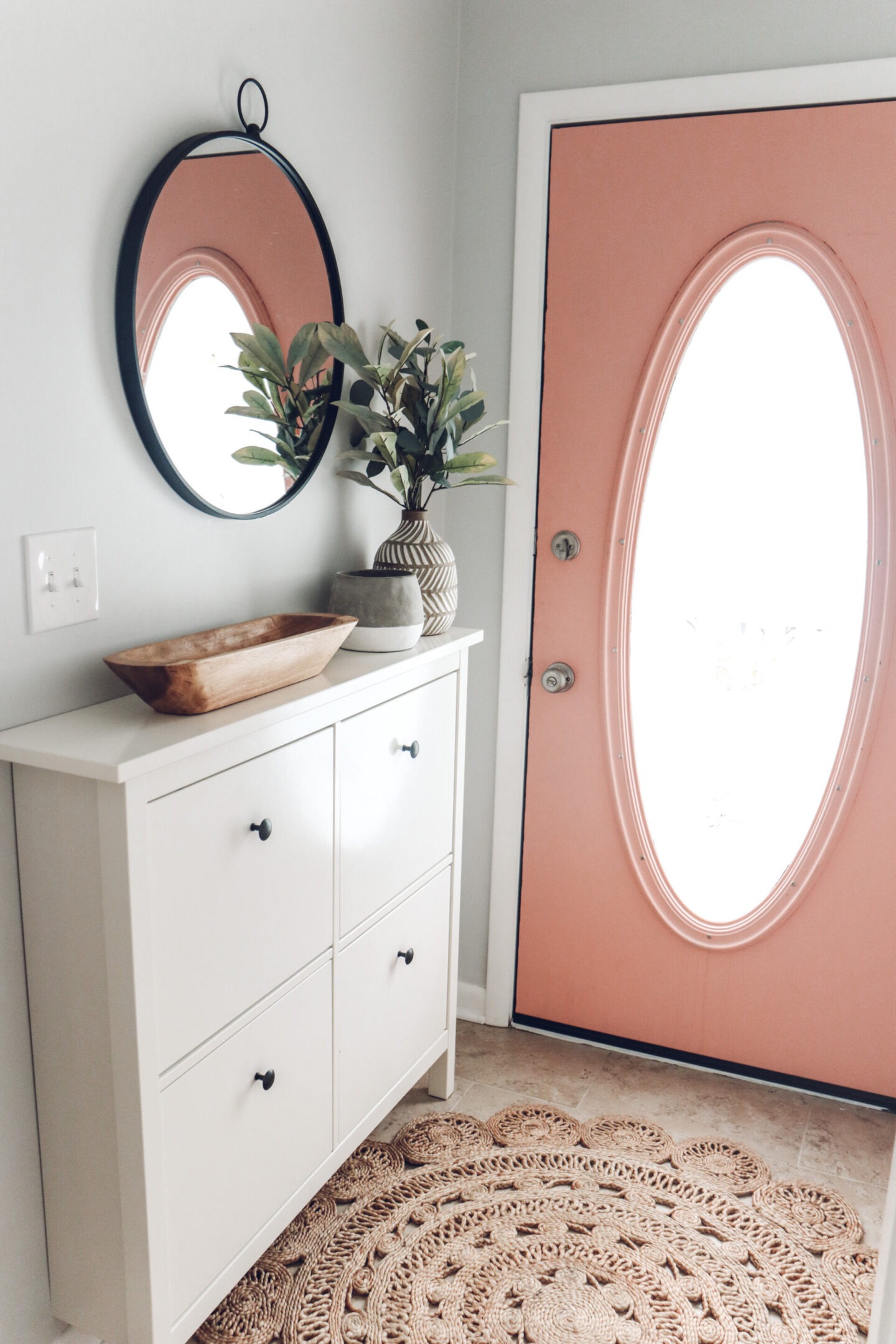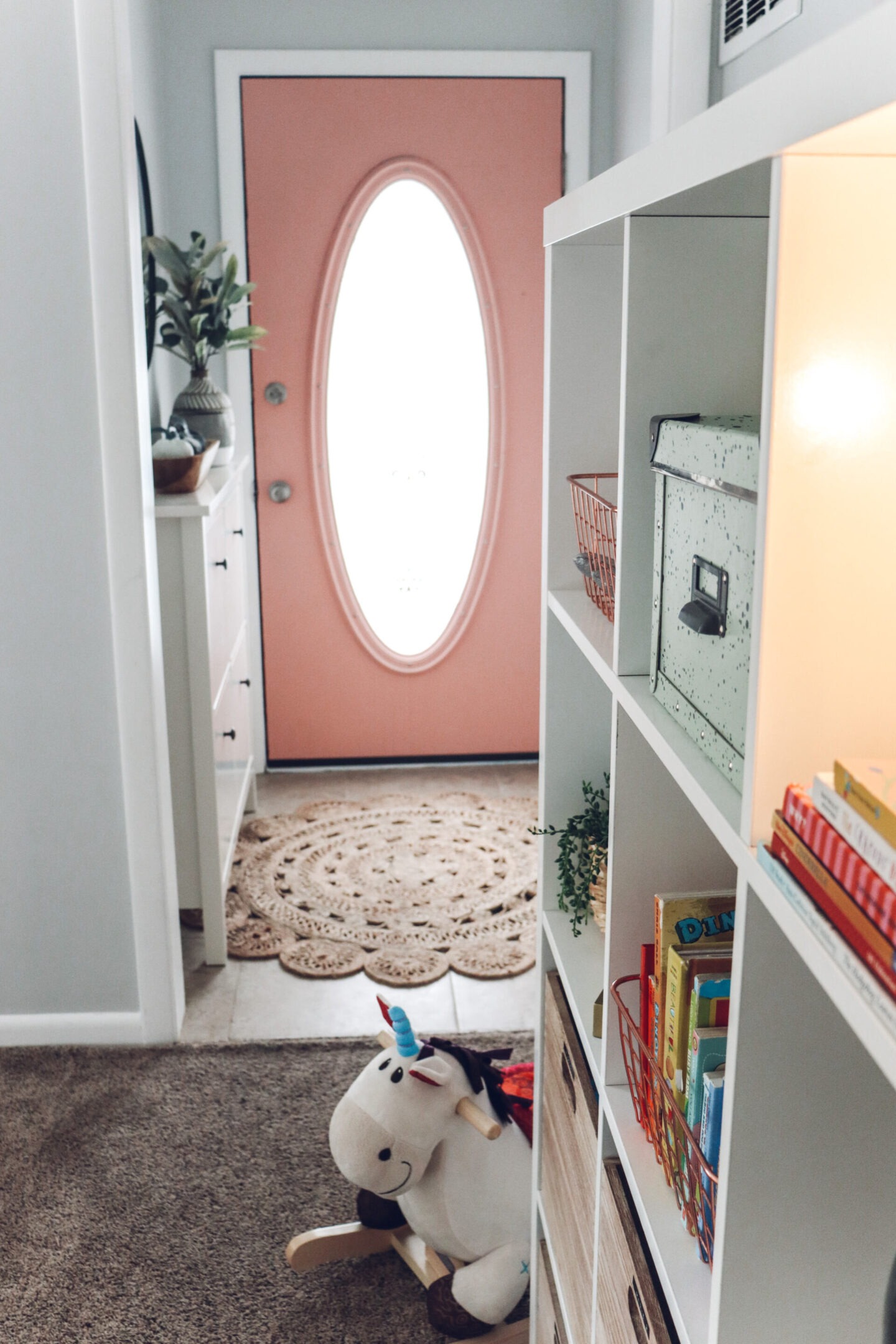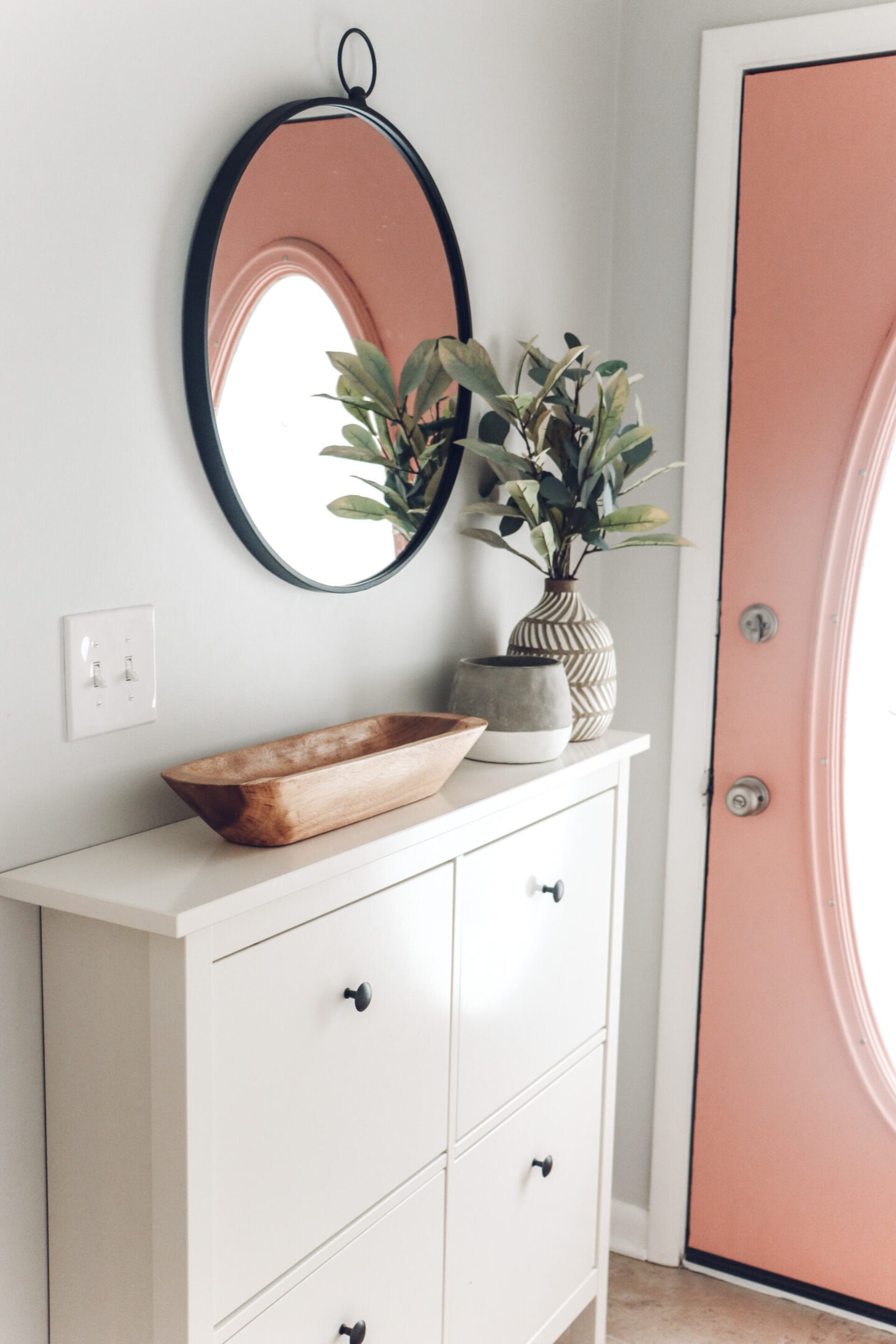 Small Entryway Details
Our front entryway opens into the playroom. It's a super tiny space but we wanted to add some charm and functionality. This Ikea shoe rack is really flat to the wall and maximizes the space for storage. The pink door makes it fun and gives it some character. The jute rug is also a fun way to add in some texture. Decor Tip: mix round and square items when decorating. You'll notice the room is square but the rug is round. The shoe storage is a rectangle but the mirror is round. It creates a great balance.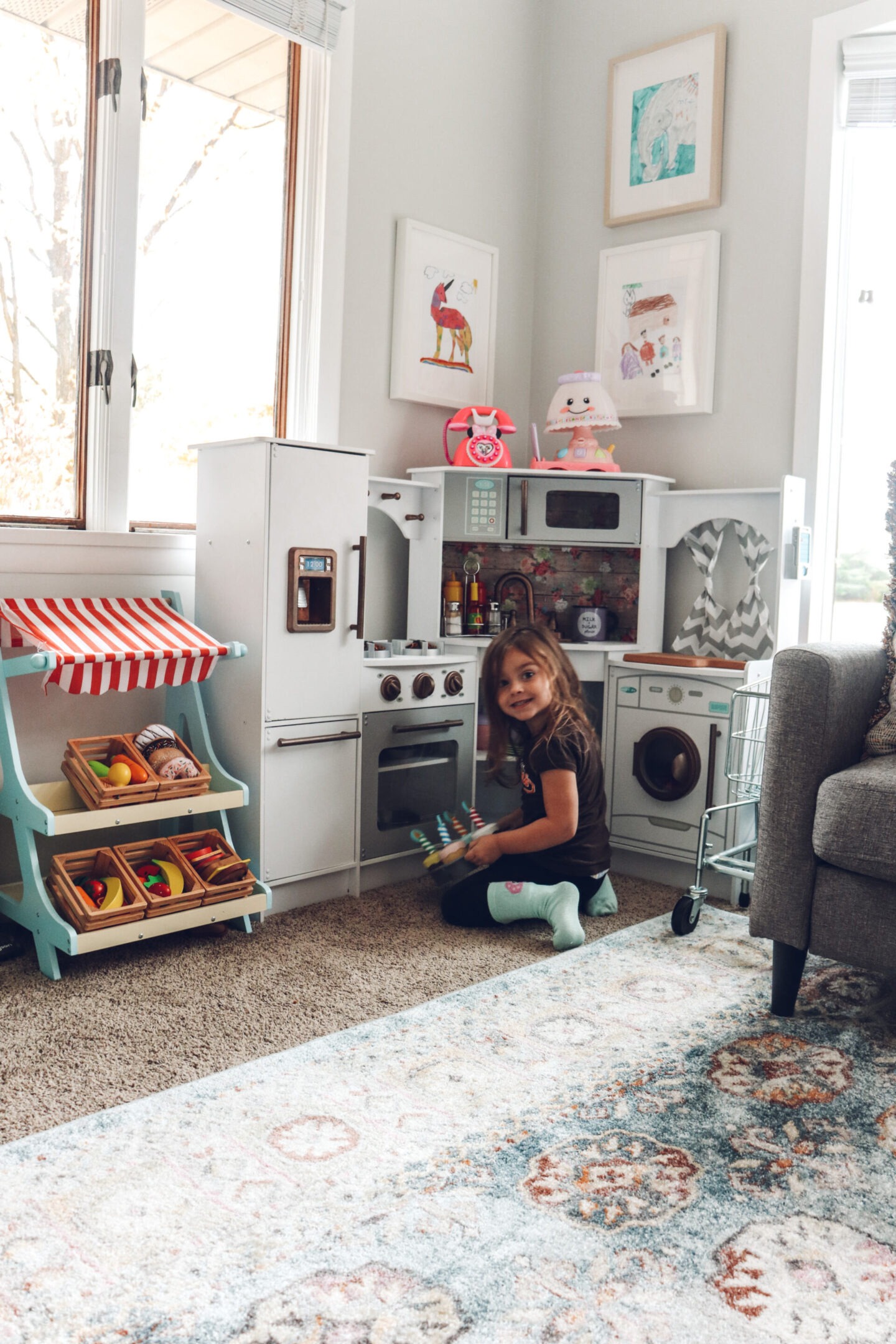 I know this was A TON of information and details but this space is pretty large. I didn't even include my office space area, which is also in this room. If you want more details of that check that post out here. As always, feel free to send me a DM on Instagram if you have any questions. I hope you enjoyed this playroom tour.
shop the post