Today I am revealing the master bedroom home makeover for the Shriver Family. In case you missed it, you can check out the Shriver Family story here or the kids shared bedroom home makeover here. This process has been so rewarding. I really feel like it is exactly what I am meant to be doing. Home design is something I am passionate about and to be able to create spaces that families in need love is such a great feeling. Knowing that Mason and his sister now have a room they love and functions better makes me so happy. Along with that, Tiffany and Brian are so deserving of a calming space to relax and enjoy.
Quick Little Back Story
Tiffany was nominated by a few of my followers to have her master bedroom makeover. Unbeknownst to Tiffany and she had also got on to nominate her children. I thought that was just really showing of Tiffany's selfless personality. So, then I decided to makeover the master bedroom and kid's shared bedroom. The Shriver's are just good people who do their best to provide a happy, loving environment for their children. I am so grateful to be apart of their story.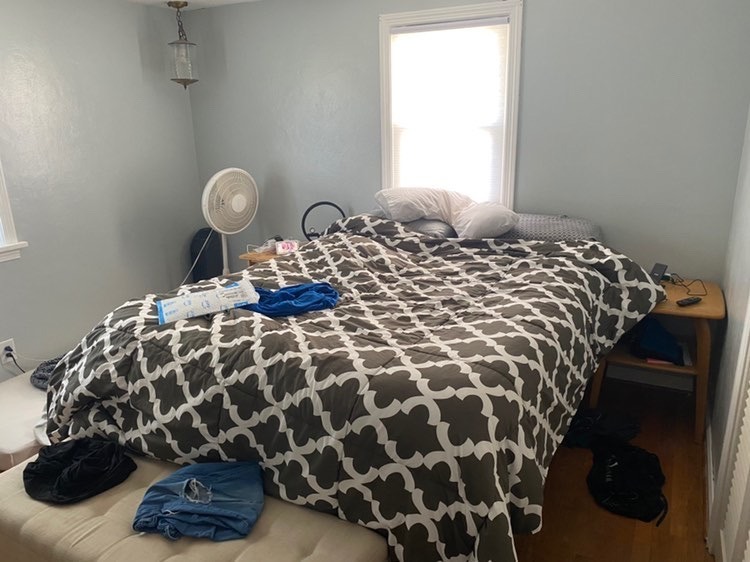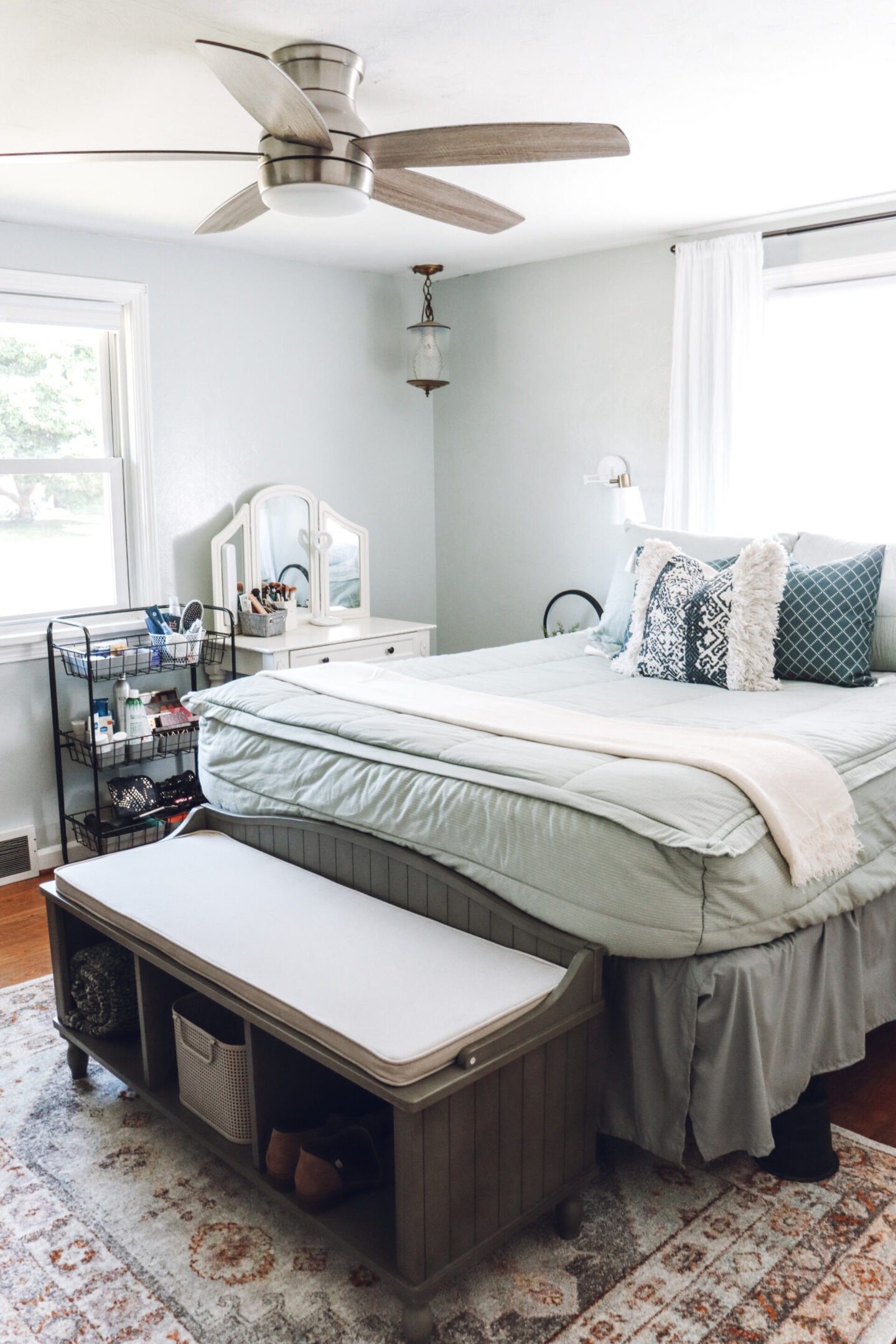 The master bedroom makeover was much easier than the kiddos because it didn't need paint. Before, I came Brian also installed a new ceiling fan which made a huge difference. By replacing some old furniture and adding in finishing touches it really transformed the room. My vibe for this space was a serene, coastal, farmhouse. I wanted hues of green, blue and neutrals. I tried to keep it simple, functional, clean and bright.
Tips & Tricks
Hang drapes high and wide to create a larger looking window
Use lighter drapes to keep the space light & bright
Add an area rug to make the space feel cozy & homey
less is more, try and consolidate artwork and knick knacks to only those pieces you truly love or are functional
if you hate it, paint it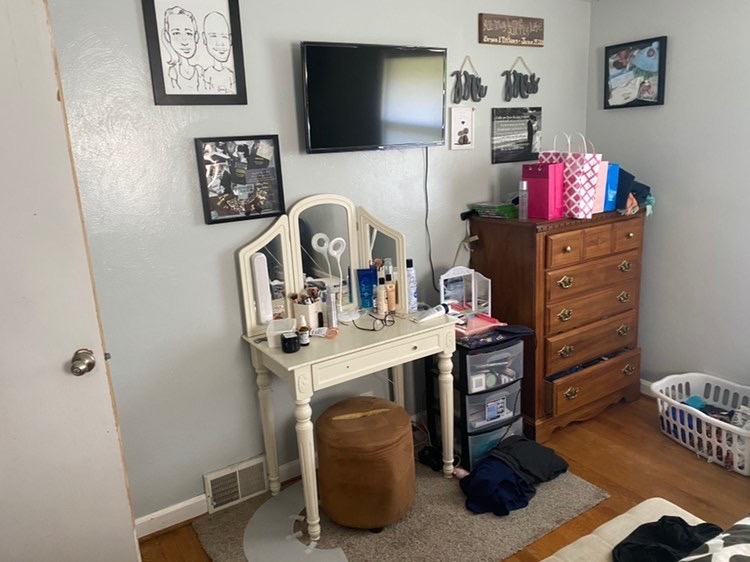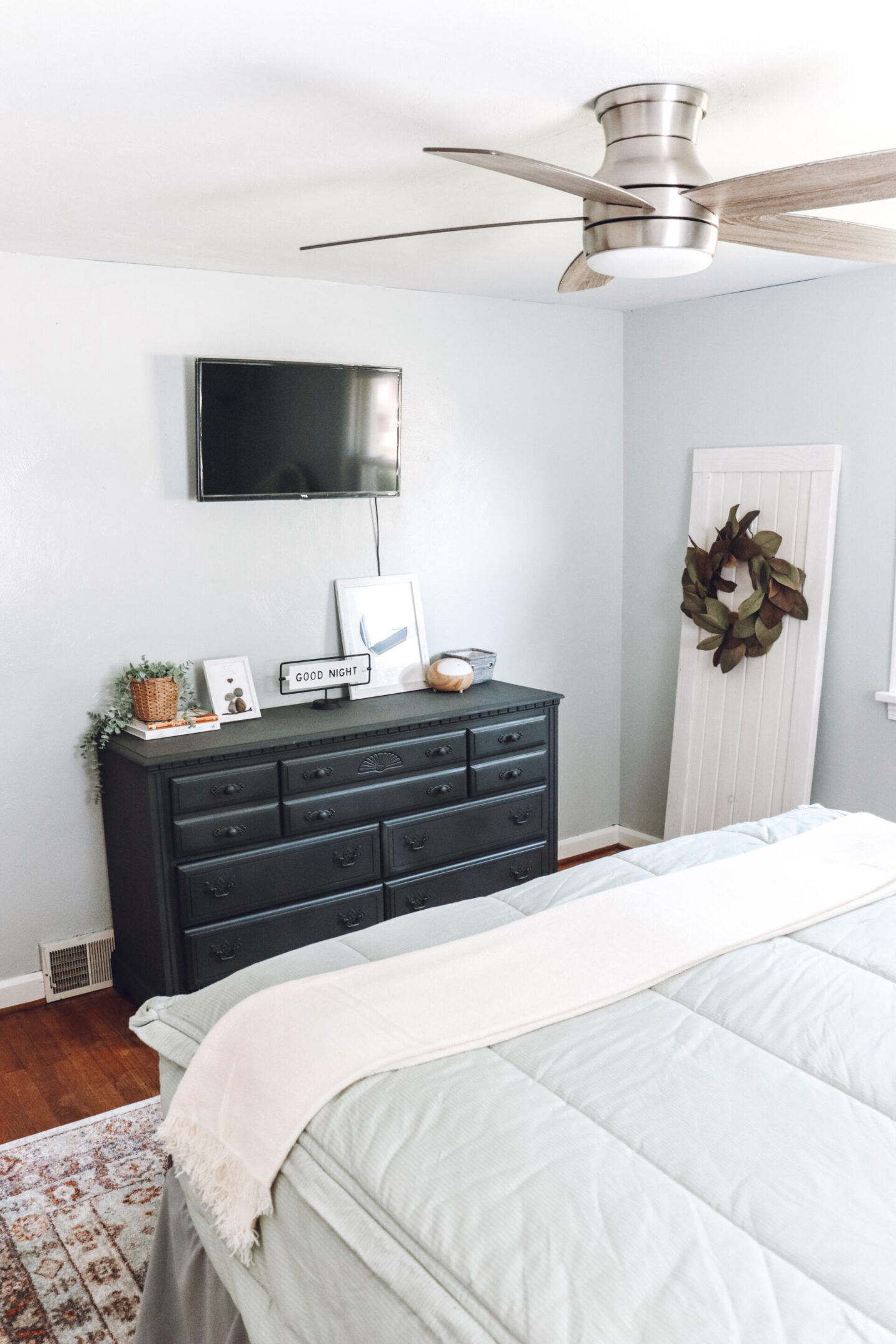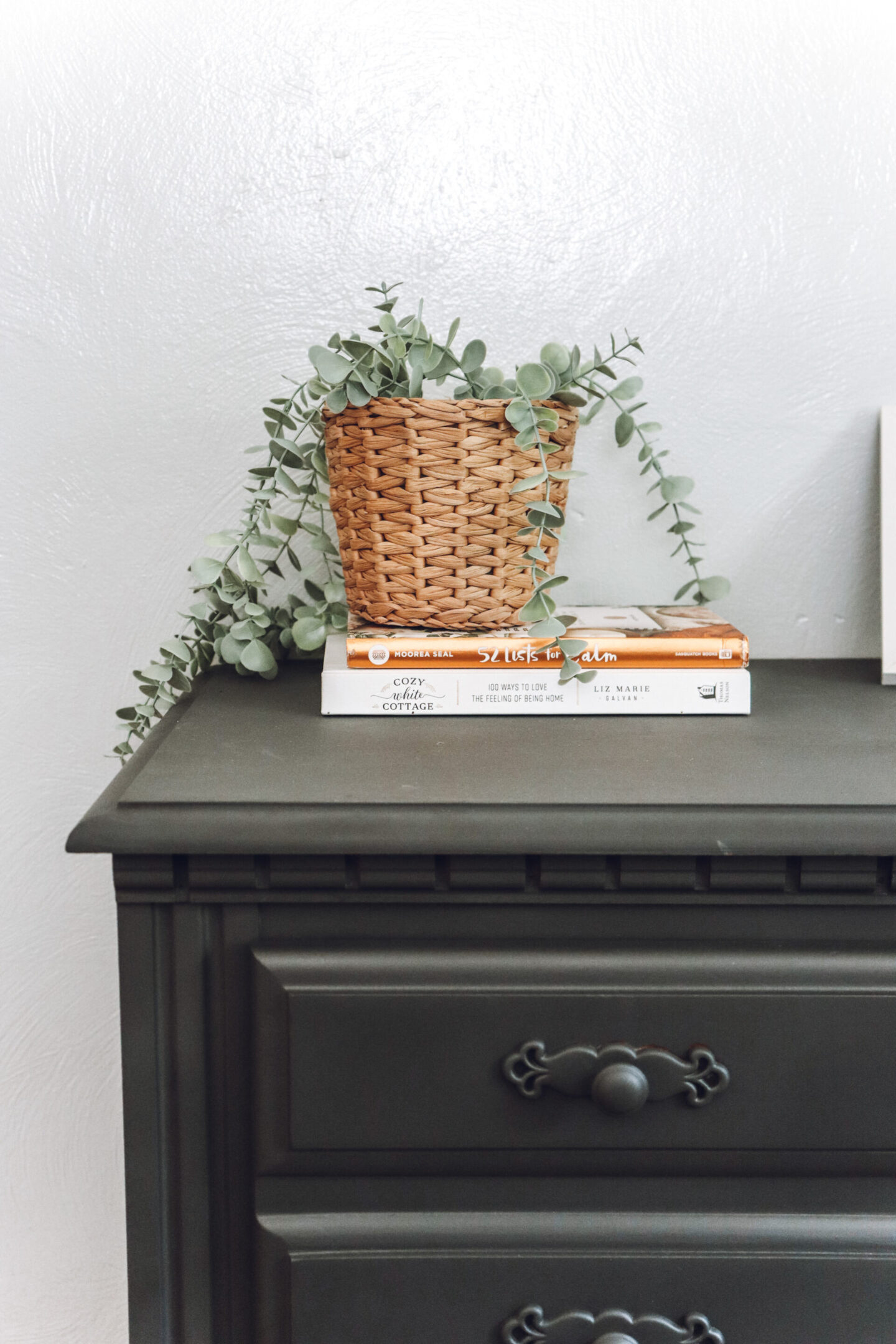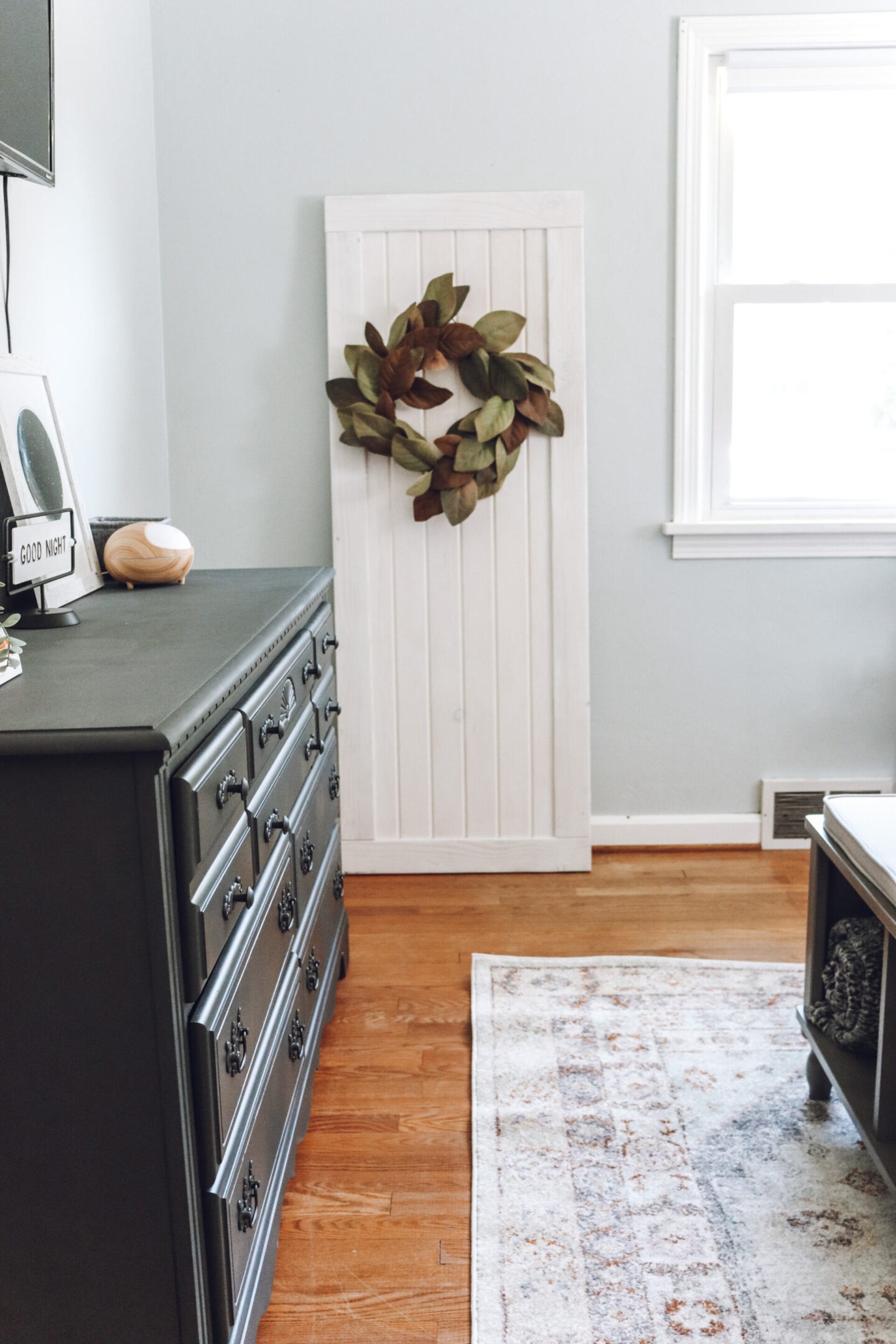 On this wall you'll see it was cluttered and the furniture didn't fit the space. I searched for a longer and shorter dresser that would fill the space better and the TV could center above. If you have an old dated piece of furniture try chalk spray painting the whole thing, hardware included! This trick is from Brooke from Nesting With Grace. I used Rust-Oleum Chalked Spray Paint in color Charcoal, you can find here. I did two coats of paint and zero prep work before or after. Simply spray and its good to go! If you want added protection you could do a top coat, which also comes in a spray paint.
The pretty white washed faux barn door was gifted by A.M. Woodworks. Our original plan was to use it as a head board but with the way the bed is in front of a window with a ledge there wasn't a way to securely attach it but, I love the way it fits perfectly against this wall. I added a wreath to it to make it feel like a barn door.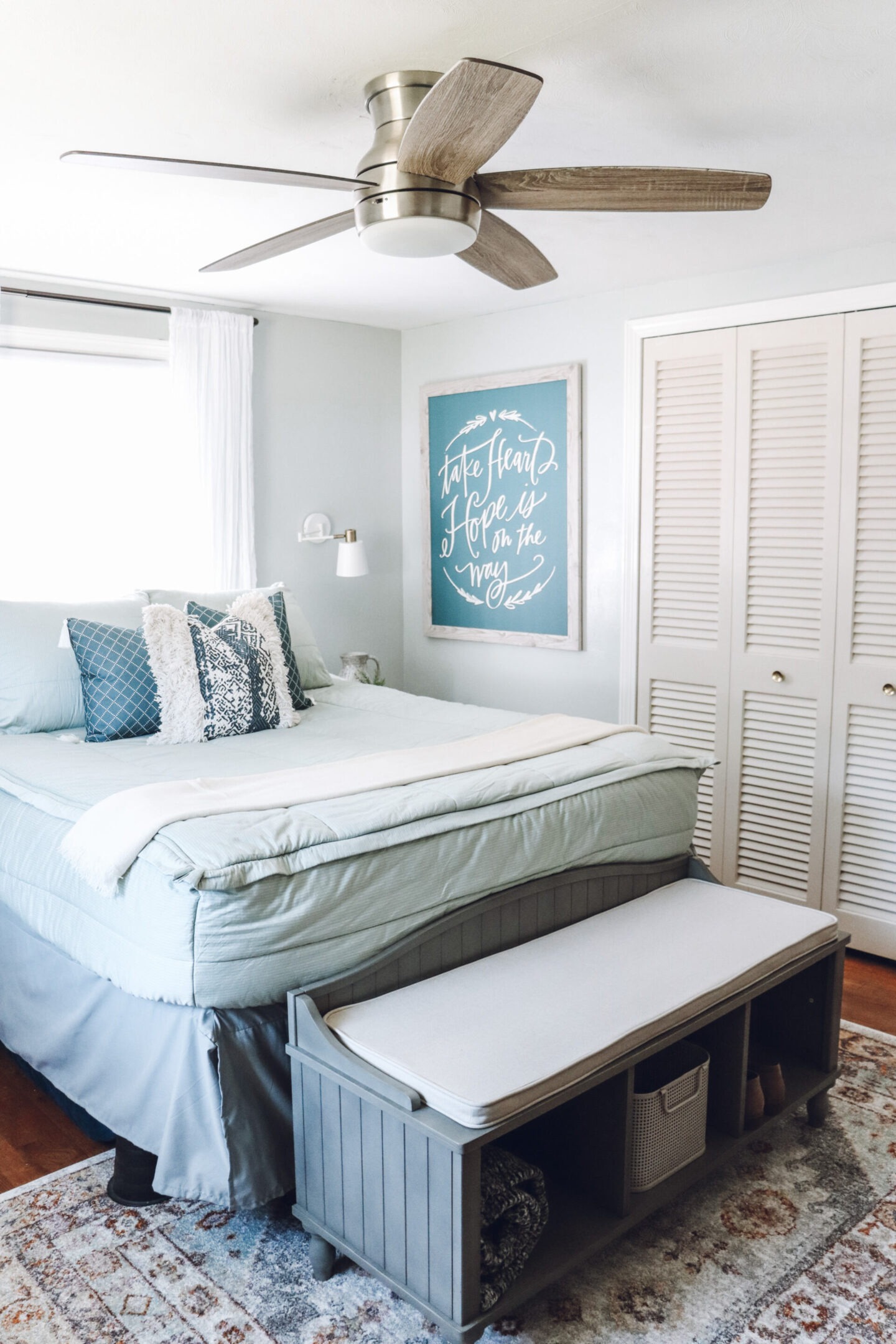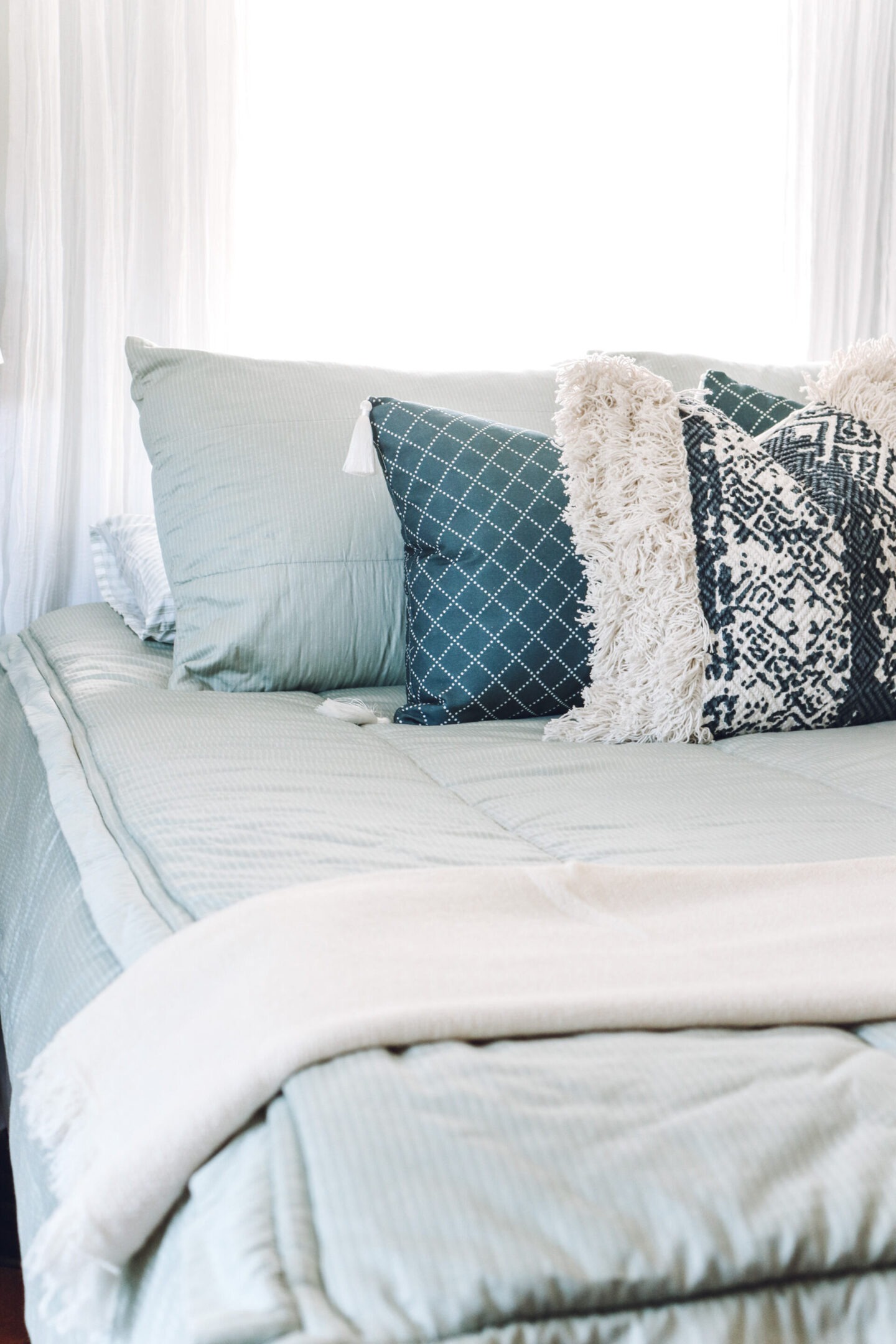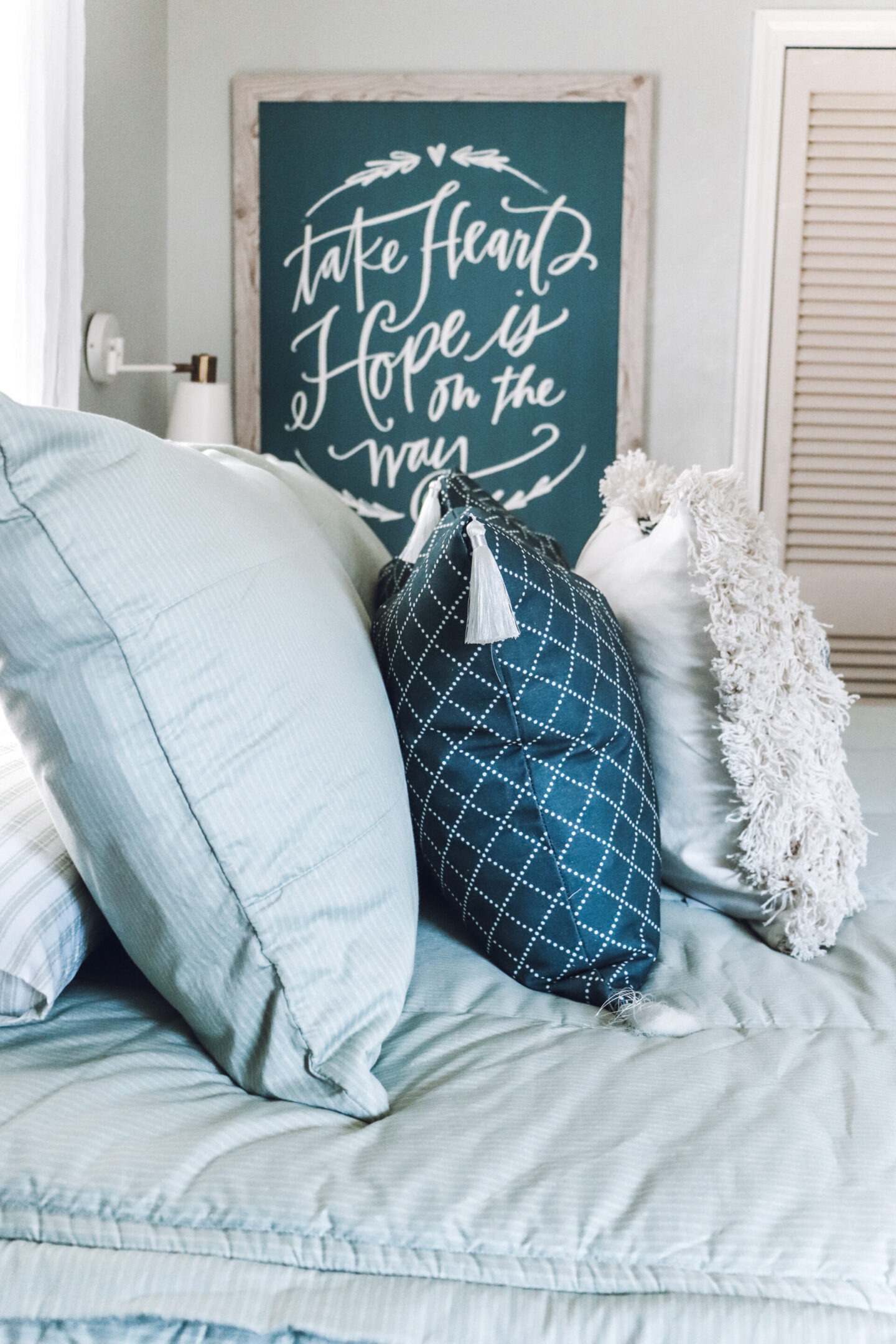 New Bedding
We replaced their old bedding with Beddy's our favorite bedding company! I chose this pretty sage green to go with the coastal vibes. Beddy's has high quality, easy to function one piece zippered bedding systems. They come in all cotton or a soft minky lined one. I always choose the plush minky lined bedding. All of the shams and throw pillows are also made by Beddy's the quality and detailing are gorgeous. You can use my code TINAC to get 20% off your Beddy's purchase.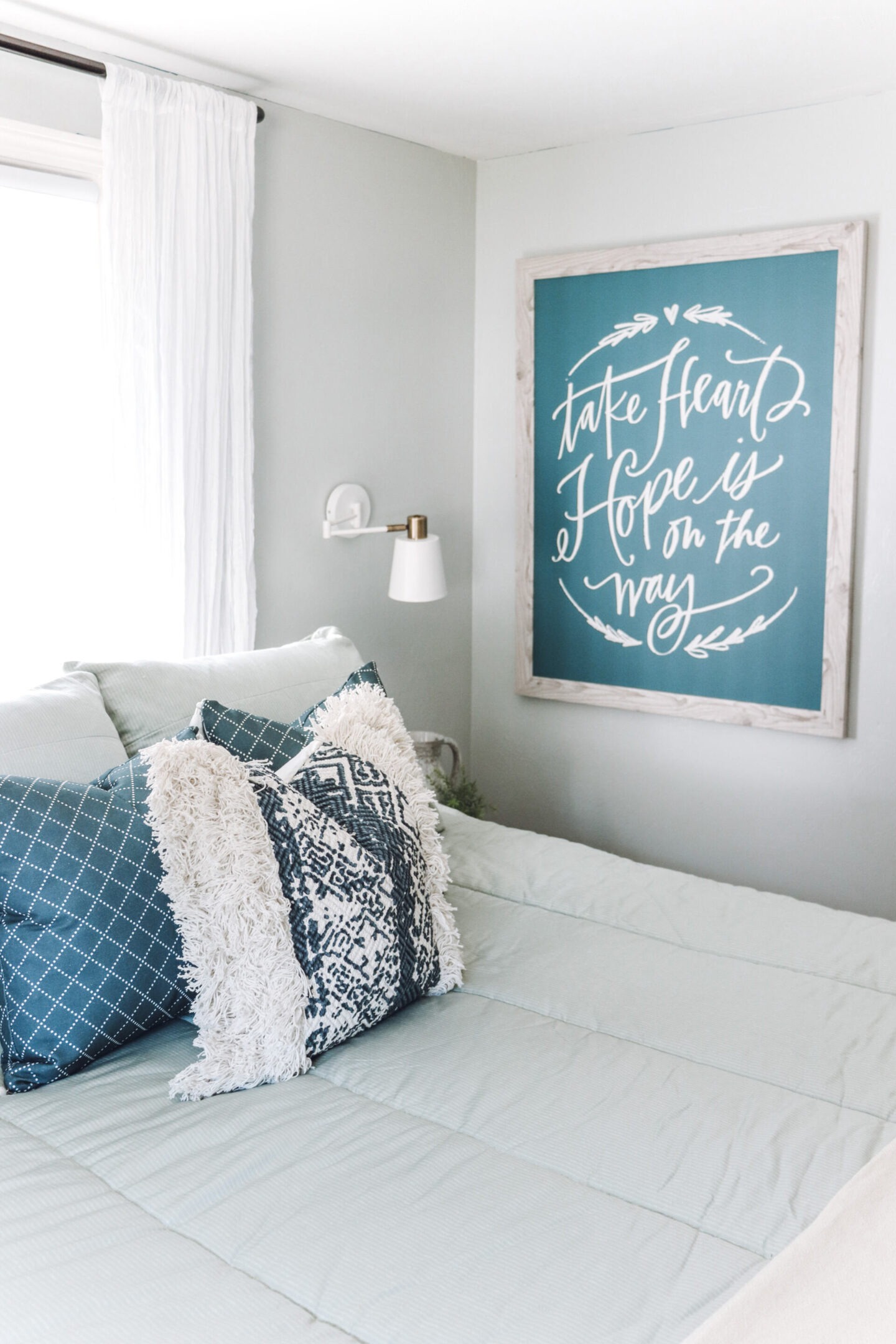 Artwork
Lindsay Letter's provided the artwork for this bedroom makeover. She creates high quality, one-of-a-kind art. I have some of her pieces in my own home, truly my favorite place to get artwork from. "Take Heart Hope is on the Way" I thought this quote was perfect for the family. With Mason's syndrome there can be a lot of unknowns but this family always has the highest hope for Mason and his future.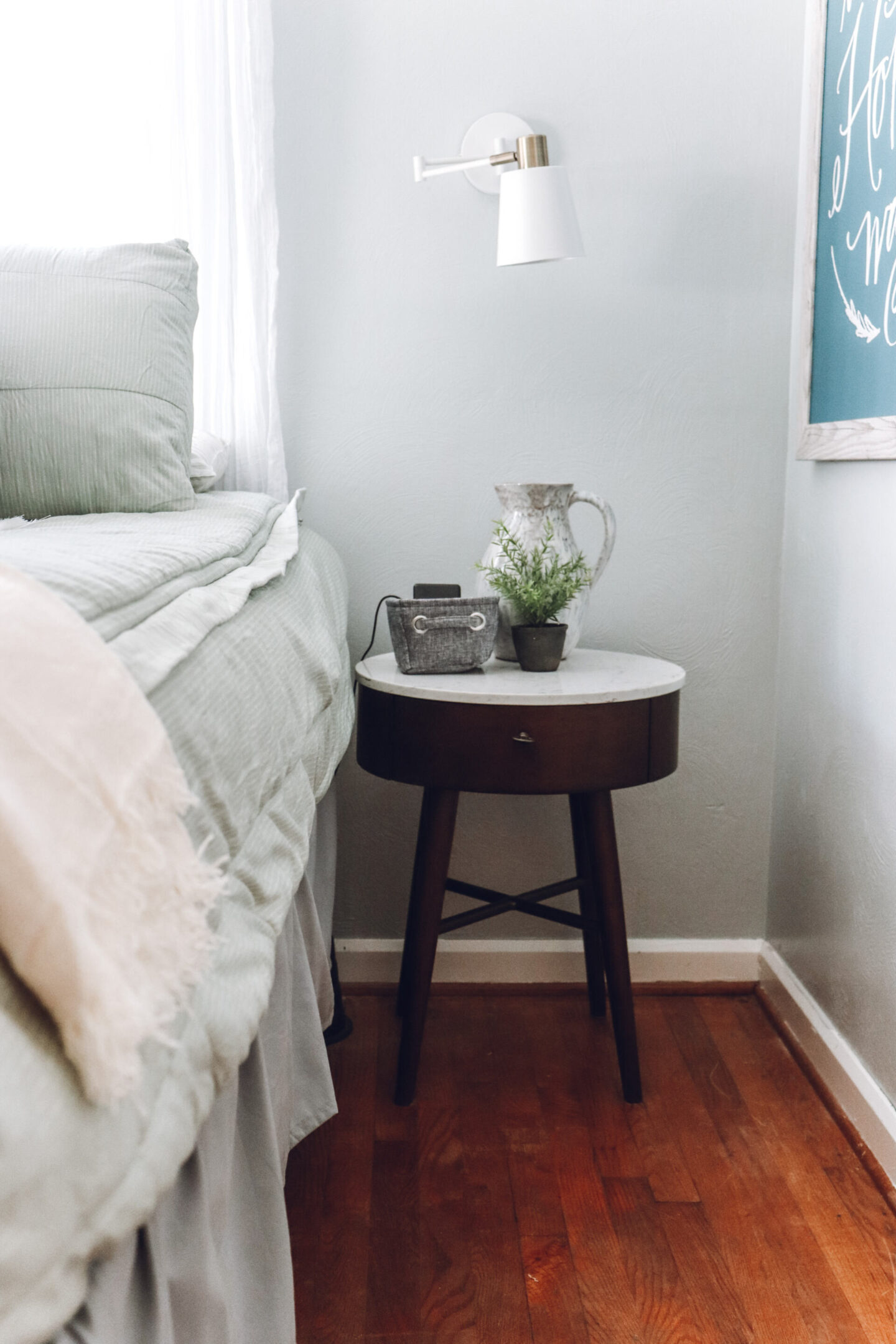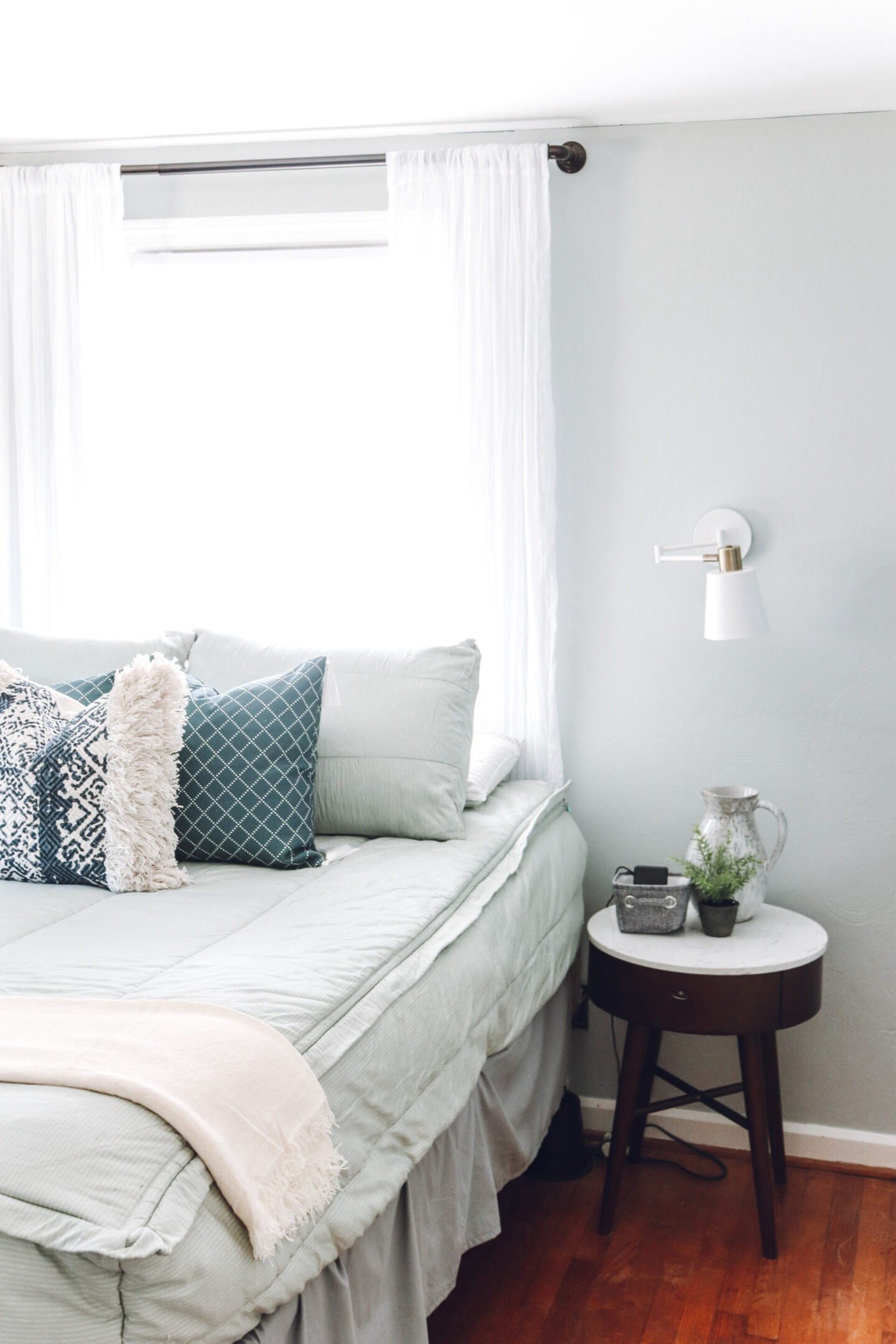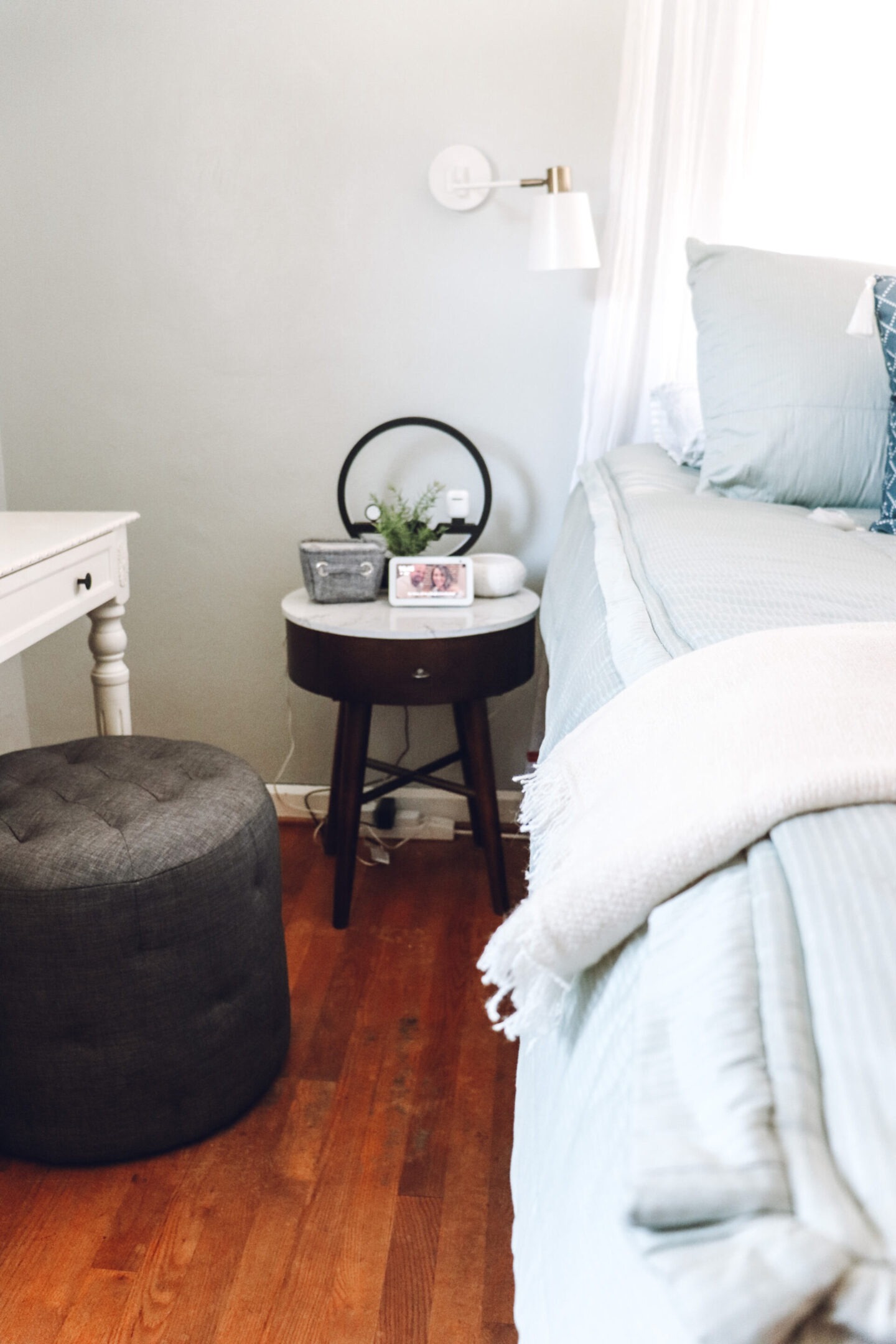 Finishing Details
The side table and light sconces were generously donated for this home makeover by Poly & Bark. If you've been following along for awhile you know I love Poly & Bark. They are a digital furniture store that has quality on trend pieces perfect for any home. The Andover side table is one of my favorite pieces. I love the dark wood and marble contrast. Poly & Bark also has a huge variety of different light sconces. They have hardwire light options or plugin too! I chose hardwire lights for this project and then used Nesting With Grace's magic light trick. Check it out here.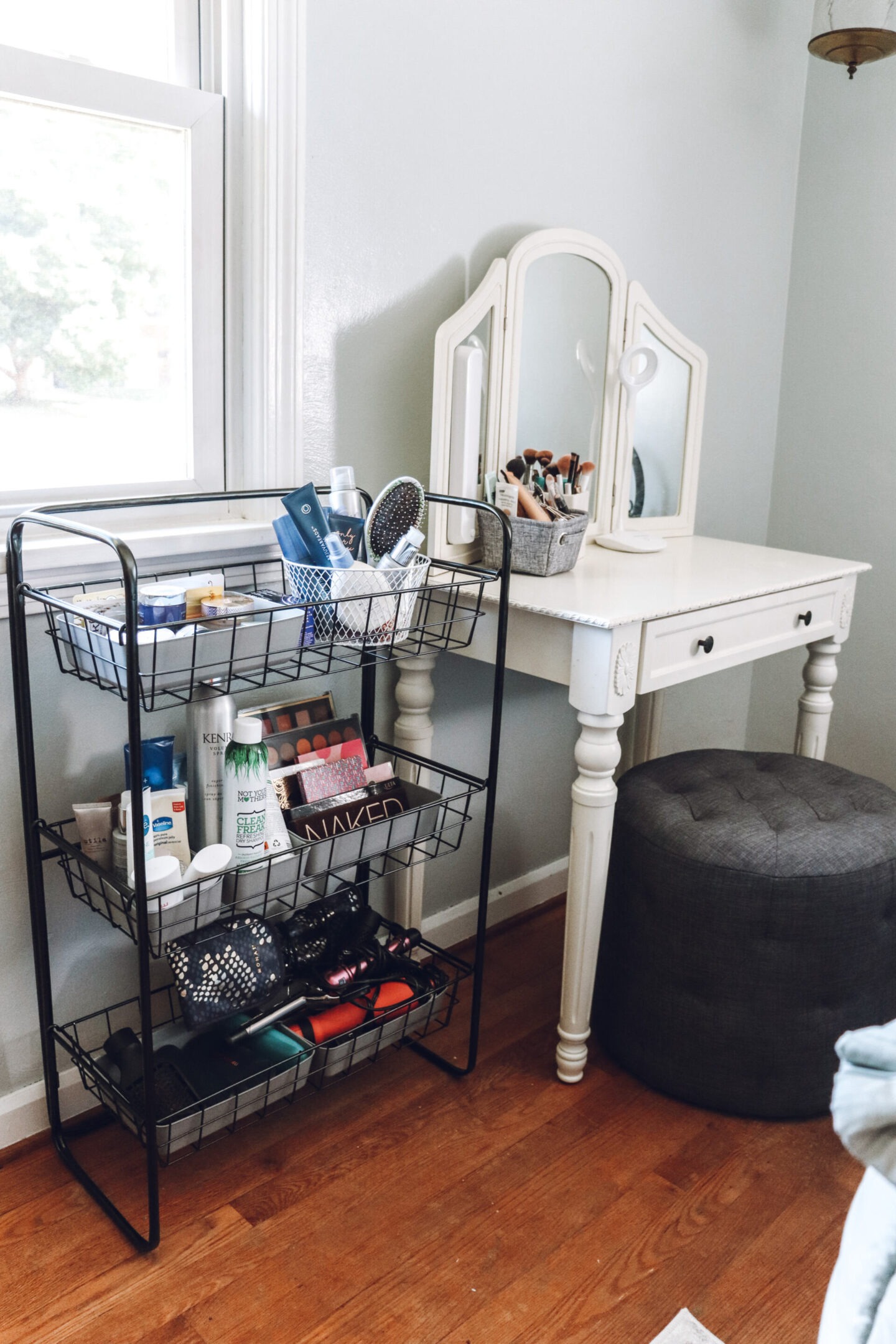 Organization
Blue Sky Environments Interior Decor (BSEID) really helped us get organized for this project. I love that Tiffany has a spot to get ready and keep all of her personal items with a vanity. However, she was needing more storage for the extras. BSEID sent us this black metal shelf and it was a perfect way to organize her makeup and beauty products. I scooped up a few organizing bins to place in it and it makes the space much more functional. BSEID is a mother and daughter owned interior design and online store. They have a huge variety of unique pieces, make sure you check them out!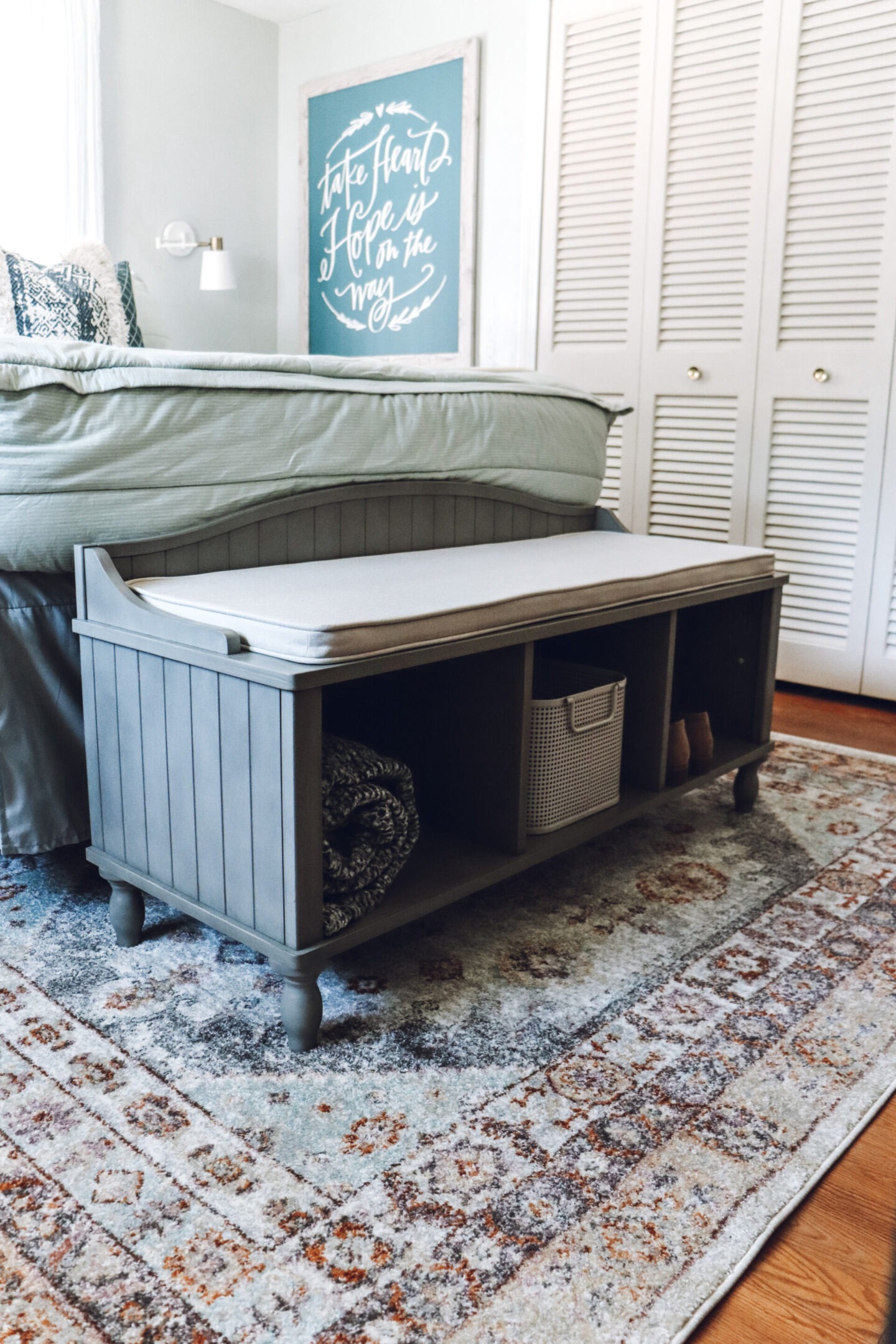 Make it cozy
The Well Woven rug made this space all come together and feel really homey. What I love about Well Woven is that they have a huge selection of AFFORDABLE high quality rugs. Whatever your rug style is, they have it! I chose this rug that was designed by Cotton Stem you can find it here. It is such a beautiful rug and I actually want to find a spot in my home for it too! The end of bed bench is by Better Home and Gardens for Walmart and I think it also makes the space feel really cozy. I love that the kiddos can use it to climb into bed and get snuggles or curl up and read a book on. It is super functional too with the extra storage beneath. I hope this post helps inspire you to create a master bedroom you love! It has been such an honor completing the Shriver Family home makeover. Stay tuned for more makeovers to come and keep up with them here.
Links & Sources: