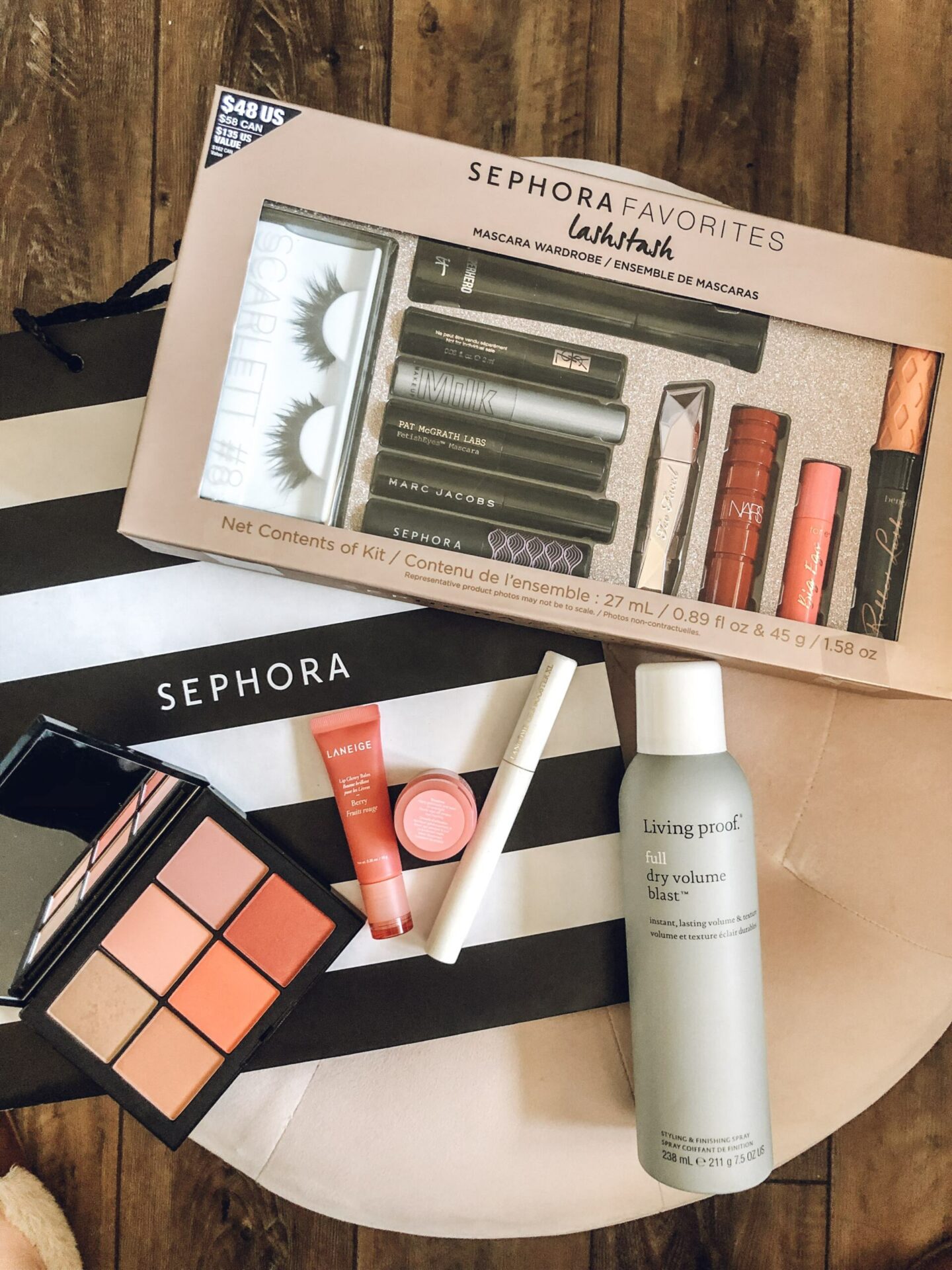 I wanted to give you guys a round up of my Sephora picks | winter edition. Some are newbies and some are oldies but all are goodies. I shared only the splurge worthy products, if you're looking for some new beauty products.
Sephora favorites LashStash- unfortunately sold out, I will keep my eyes open for a restock or similar option!
Laneige Lip Mask + Glowy Balm– I have been loving these since my lips get so dry in the winter months, these help out so much!
Lancome Lash Primer– this primer is a GAME CHANGER I have tried budget friendly options and they just don't give the same results. This is a splurge but totally worth it.
Living Proof Dry Volume Blast- va-va-volume!! You know that day three and four flat hair!? Yeah not anymore. This in combination with dry shampoo completely lifts your hair. Absolutely love this stuff.

Nars Free Lover Cheek Palette

– I love the different shades of blush + the highlight gives the perfect glow. A splurge item but I know this will last me for years.
Sunshine Drops– Not pictured but I absolutely LOVE these drops. They have been giving me life, literally one drop mixed in with your serum or moisturizer and you have an instant glow. They also help improve skin tone/texture and protect against harmful toxins in the environment. You need to add these to your skincare routine. What I love about these is that they are way more forgiving than sunless tanner and you instantly know what you're working with. When I use sunless tanner I think I did great and then once it develops its spotty, these wash off when you take off makeup and as you rub them in you know exactly how it's going to look. Seriously, I cannot speak highly enough about these.
Looking for more beauty info? Check out my post that shares some of the best in clean beauty skincare and beauty gift sets here. I love sharing this content with you guys and I appreciate when you shop through my links. As always, thank you so much for being here.