I'd like to start this post with a moment of silence for all the pieces of clothing we bought and never wore…. Okay, now that that's done let's move on and start buying items we will actually wear! All too frequently I find myself staring into my over stuffed closet thinking, "I have nothing to wear." I know I am not alone in this feeling and that's why I decided to go back to the basics and put together a capsule wardrobe. My friend Alexa with Mats and Mutts introduced me to this concept a few months back and she is also putting together her take on a capsule wardrobe today. She does a great job explaining why it is important to not have an attachment to physical items and how to appreciate what you have. Not going to lie, I never even heard the phrase capsule wardrobe until this year. So, if you're like me and not sure what this means… the gist of it is a few essential items that can be worn multiple ways/dressed up or down. Sounds simple enough, right? Well, It's not always the easiest, especially if you are easily inspired by fashion. A few important things to keep in mind while creating your capsule wardrobe are:
Back to the basics
Quality over quantity
Items you feel comfortable in
When I think about a celebrity influence for my capsule wardrobe I picture Jennifer Aniston. She has the classic, put together look down! Even though I love to splurge on certain pieces this post is going to be all about practicality. So, most of the pieces will be under forty dollars. Ballin' on a budget!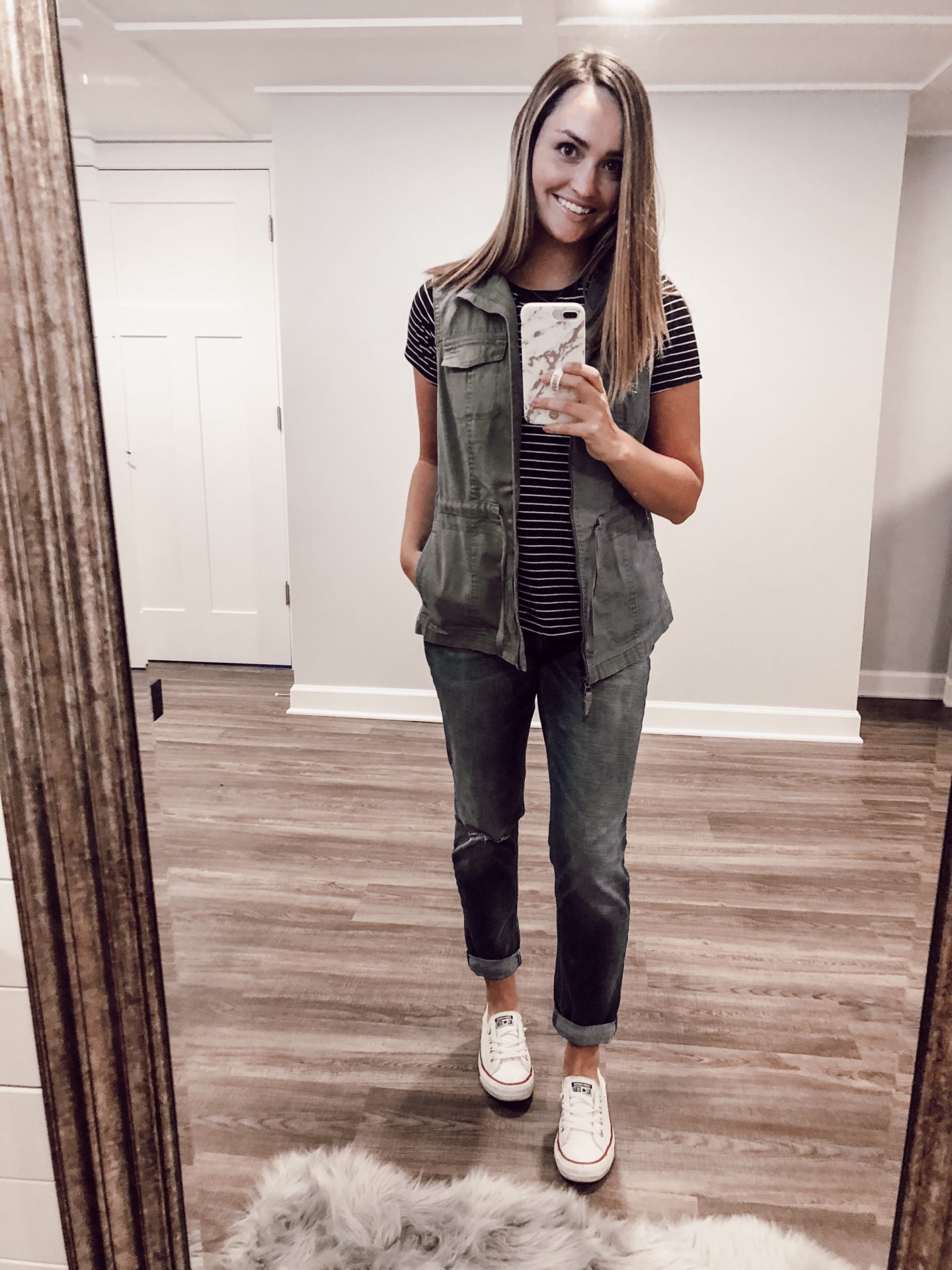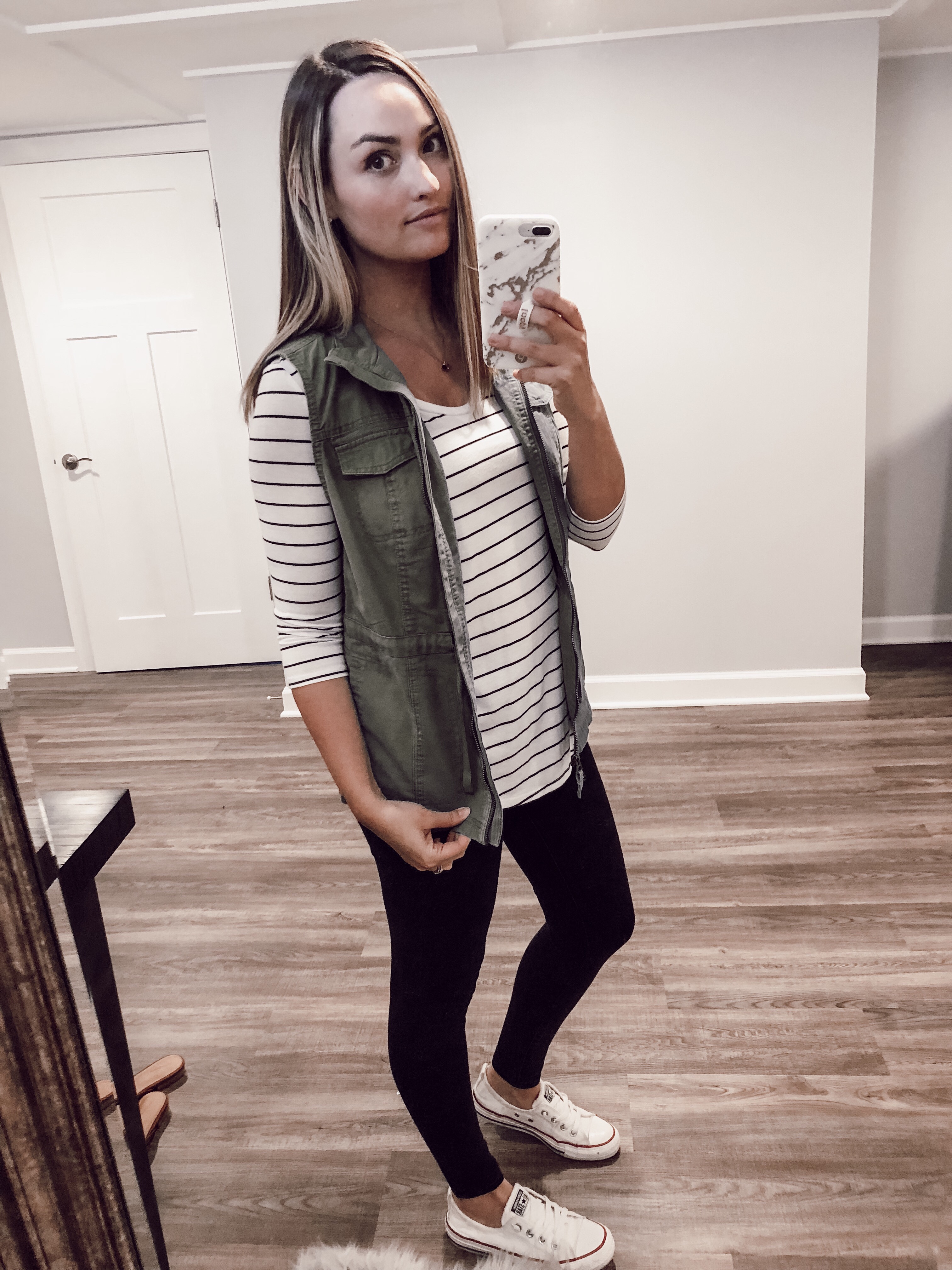 Denim:
As far as bottoms go, I think every wardrobe needs a pair of classic denim along with black and white denim too. If you can't get both right now, no worries! I would start with white denim for now since it is springtime. My favorite white denim are from Express. I love that white denim can be dressed up or down. If you don't feel like wearing a dress I think white denim are a perfect substitute. I also recommend having a good pair of black denim. They are perfect to dress up any basic outfit. Back in the fall when I was only 12 weeks postpartum my black denim with a v-neck and converse made for a perfect concert look.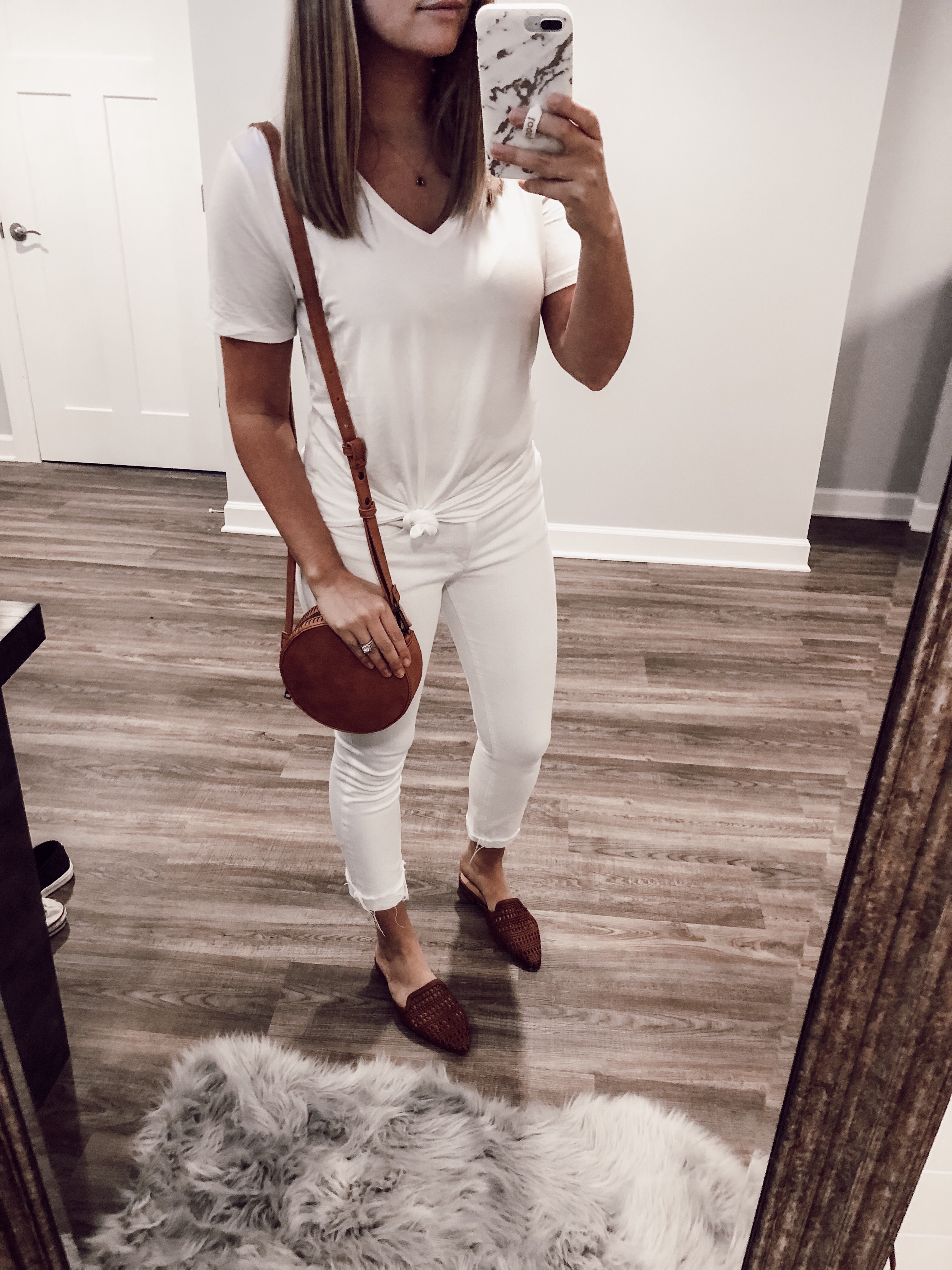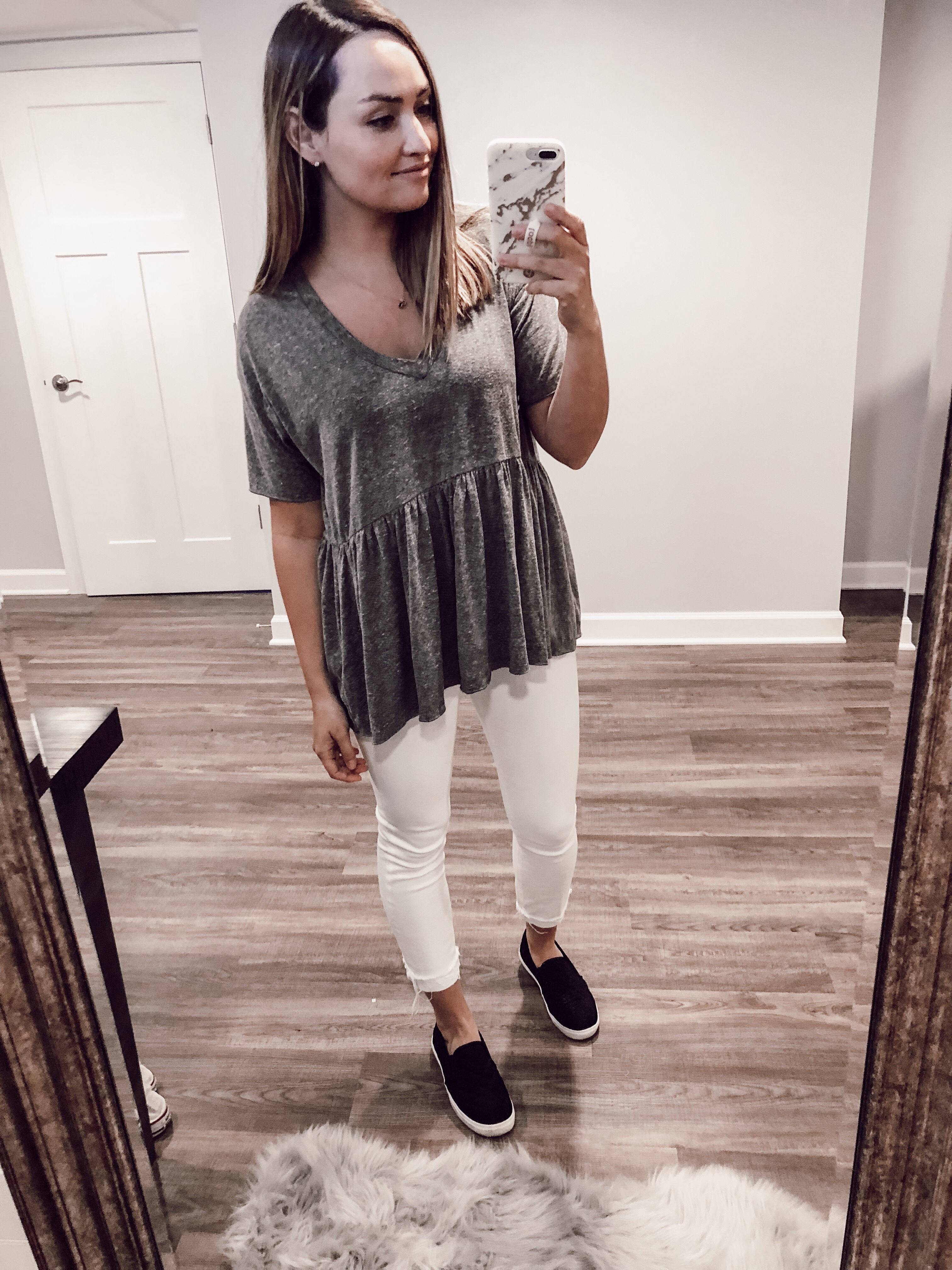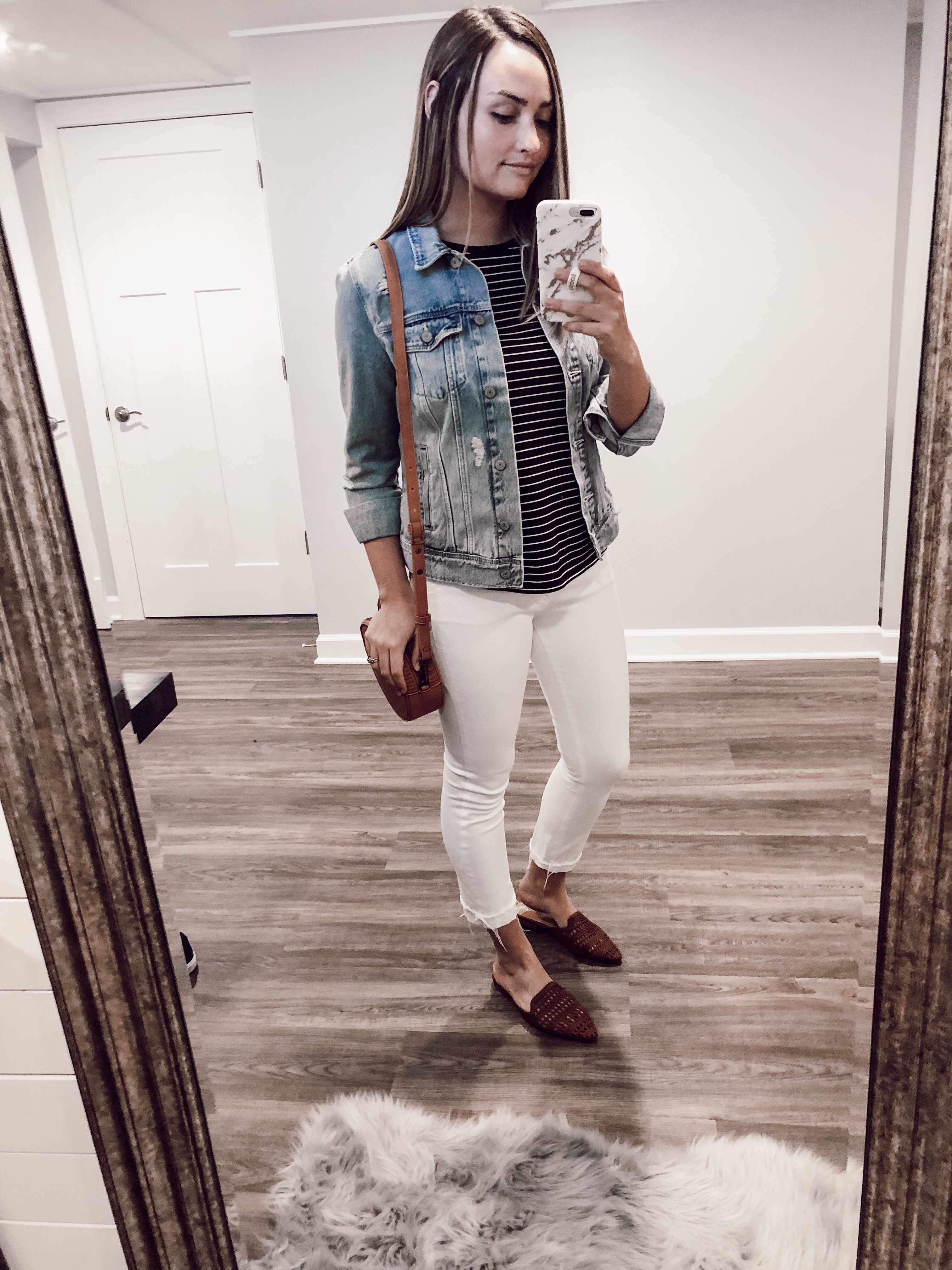 Tops:
Tops are the heart of your wardrobe. They can make or break an outfit.  It is key to find your favorite basic solid colored v-necks. I have tried out so many basics and I tend to gravitate toward Old Navy's tops. The white v-neck pictured is from Old Navy and it's one of my favorites. It is the perfect length and comfortable material. It can be worn tied up, tucked in or as is. It is a very versatile basic. A good striped top is also an essential for my wardrobe. I think pairing it with a jean jacket is such a cute look. Old Navy has my absolute favorite denim jacket. It looks structured but still has stretch to it. It's super comfortable and I really believe every closet needs a jean jacket. Especially, here in the Midwest where the temperature can go from 30 degrees to 70 degrees in one day.. layers are key! The Truly Madly Deeply babydoll tee has been my go-to top this spring. I'm debating on ordering another color. I have it in grey. Madwel also makes a great basic v-neck. I have one in white and the first time I wore it was to a crayfish boil in Houston. Thank goodness for tide to go pens haha!!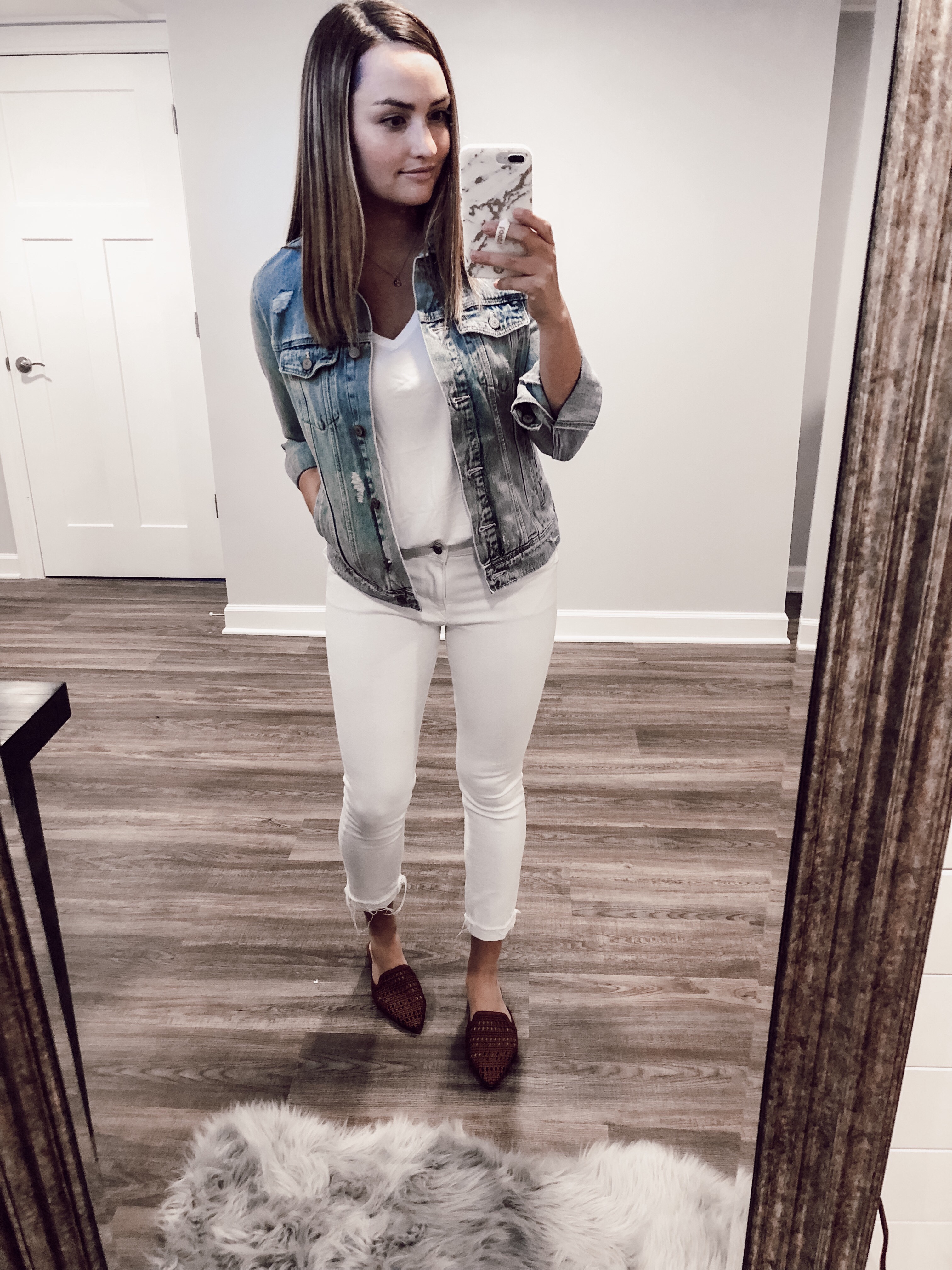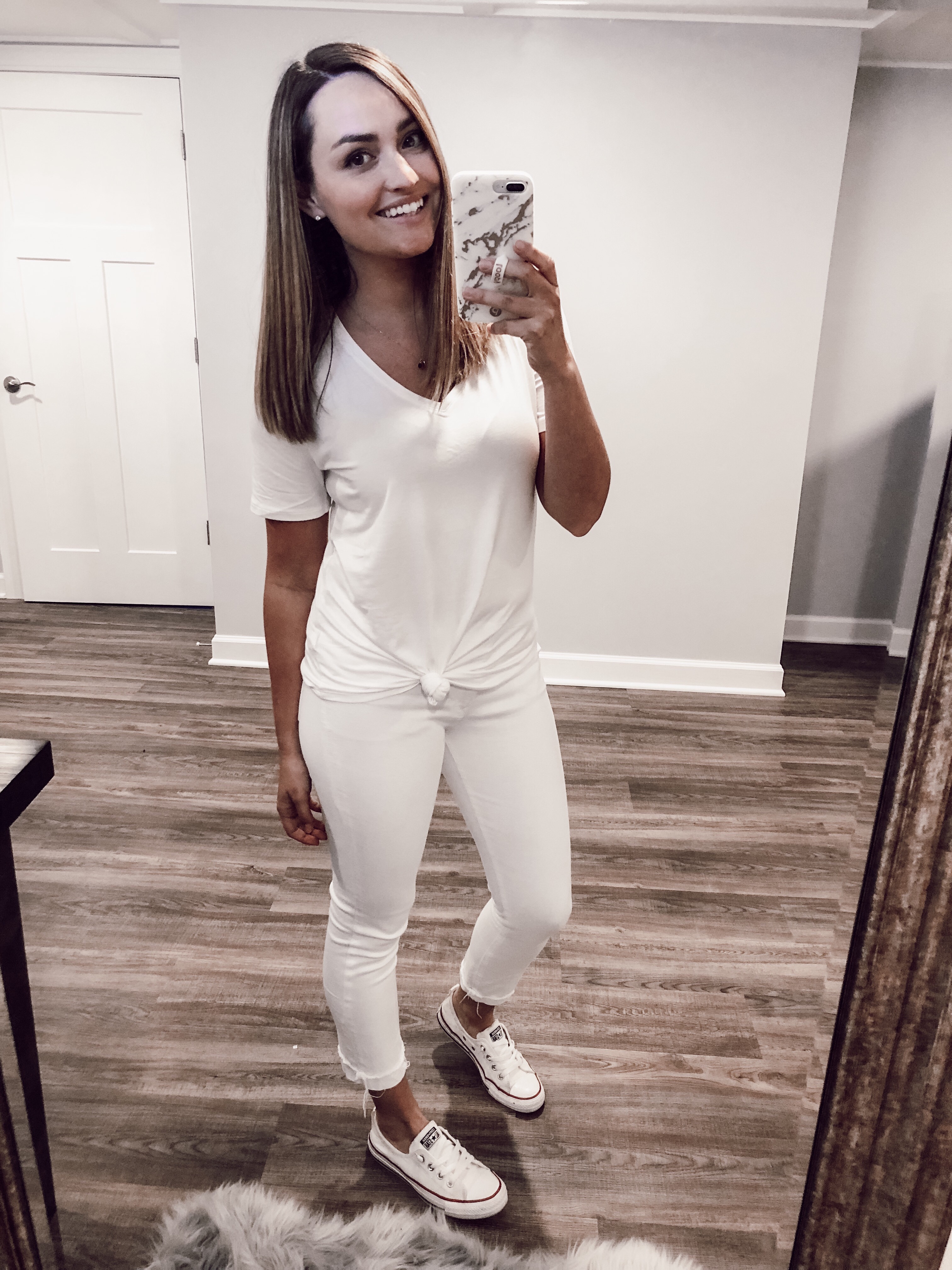 Shoes:
I kept the shoes to basics because it is what I tend to throw on. When you're a mom and you're just trying to get out the door you need something quick and easy that goes with a lot. If you look at my Small Entryway Organization post you'll see I don't have much room for a ton of shoes. So, again I stick with the basics.  Make sure you snag some no show socks too. I've found American Eagle has the best that hold up and don't slide around. Keep swiping below to get the link for them!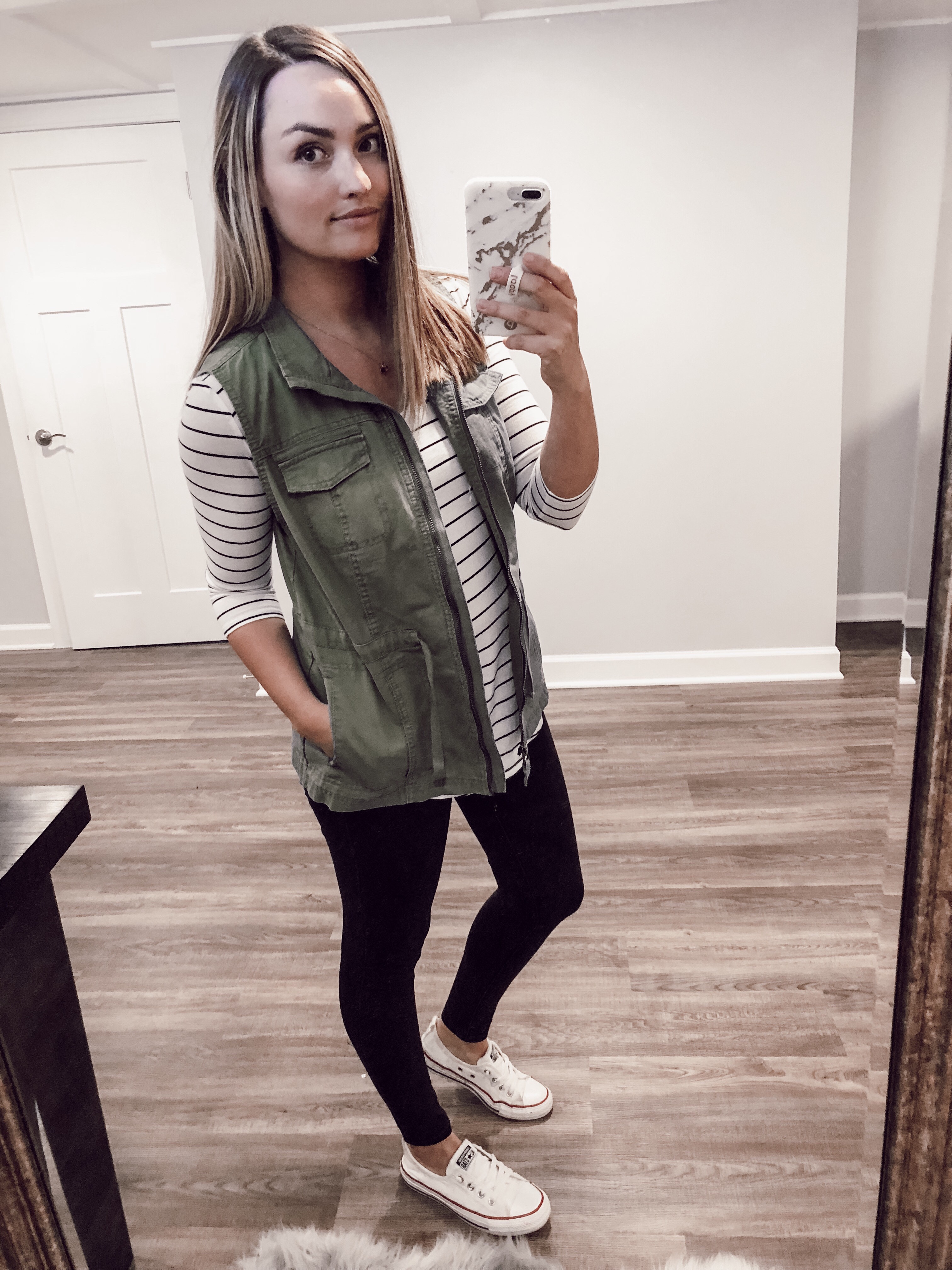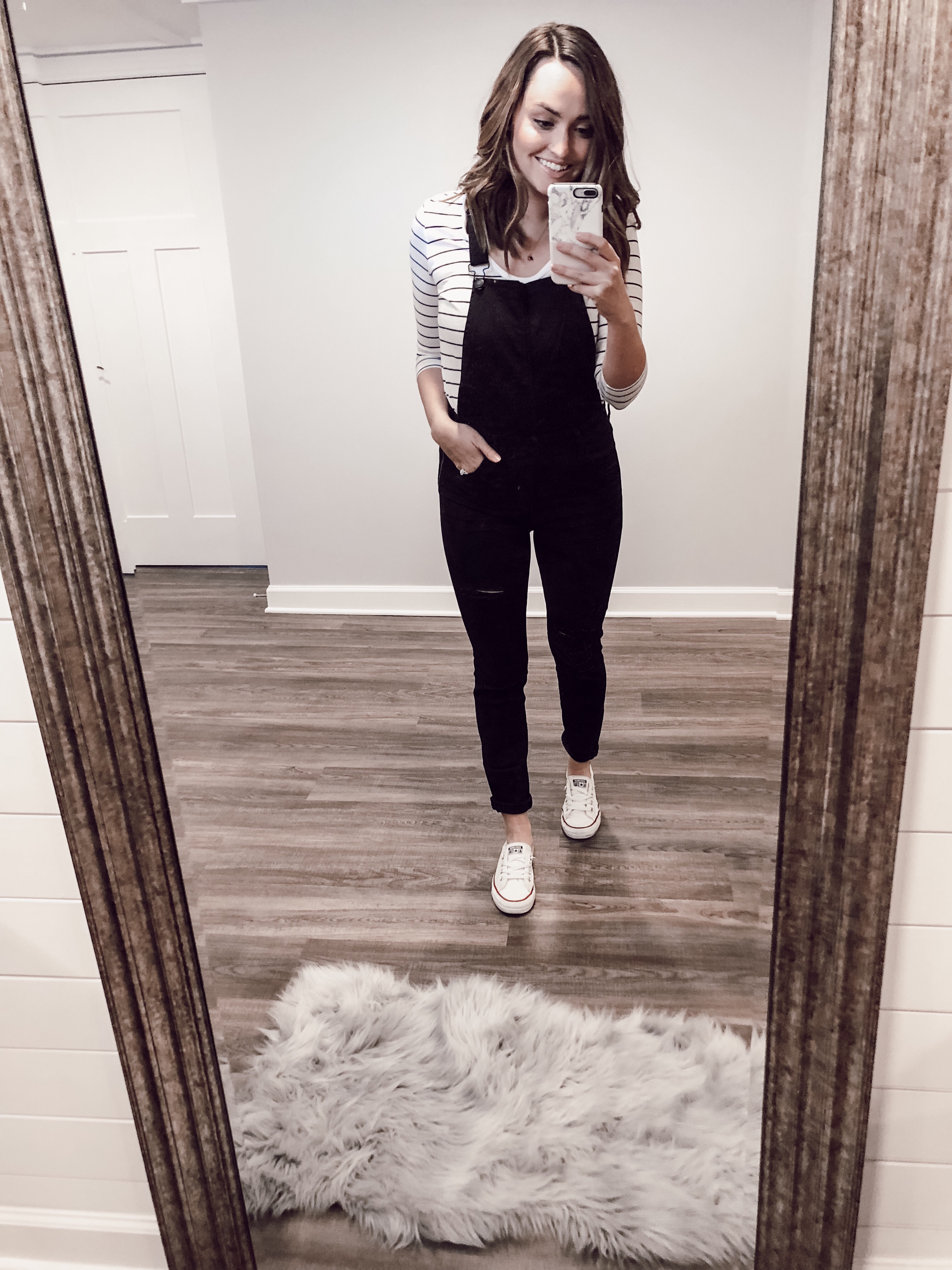 Extras:
Lastly, are just a few of my personal favorite go-to's. They aren't the most basic items but their pieces I love to wear. A utility vest is great for spring because it's lightweight. I love to have pockets for my phone and keys so these vests are perfect. Plus, I think a vest serves a similar purpose as a jean jacket and makes the outfit look more put together. A denim skirt is always a classic look and can be paired with a t-shirt and tennies for a more casual look. When you're sick of leggings and denim, overalls are a perfect choice. I can't wait for warmer temperatures to pair it with a tank top. Lastly, this round purse will make any plain outfit stand out. I love simple pieces that make my outfit not so boring. Round bags are totally on trend and this one doesn't break the bank. But, hurry up and snag it if you're interested because it has already sold out once! The Universal Thread line at Target is amazing but items do sell out quickly.
Similar items for those selling out:
 I hope this helps you put together your wardrobe with pieces you'll actually wear. When finding your basics make sure you think: quality and comfort! If you have something that can be worn multiple ways that you feel good in you'll always have something to wear.