When we bought our home five years ago, we gutted the entire thing, other than the bathrooms. Since then we have added two extra kids, a bedroom/bathroom addition and a new deck. So, unfortunately the bathrooms were put on hold. But, I just recently teamed up with Barton's Home Improvement to design a bathroom renovation on a budget. When we shopped the ENTIRE store was 20% off, we got so many great items at such low prices, more on that below. I am so excited to share my bathroom reno on a budget with you!
This post is sponsored by Barton's Home Improvement. The opinions and content are my own. I only work with brands I truly love, thank you for your support.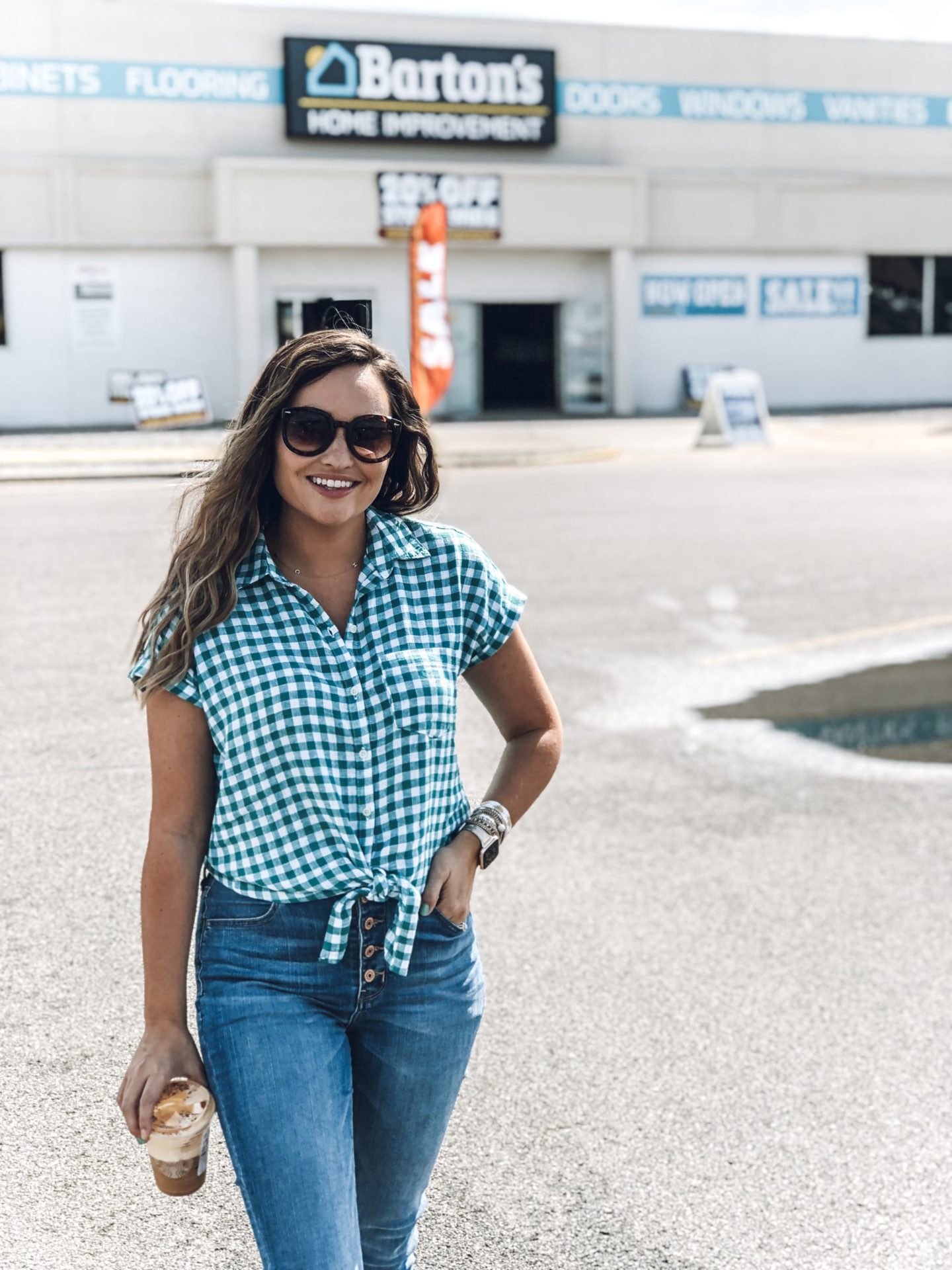 This bathroom needed A LOT of work. The floors are linoleum, there is oak throughout and basically the space is just deteriorating. Our goal with this bathroom is to make the space functional and pretty without breaking the bank. Barton's Home Improvement is a great place to find flooring, cabinets, hardware, and fixtures at extremely reasonable prices. I will give a cost breakdown at the end of this post. But, basically we got everything we needed to completely revamp the space for under $1500!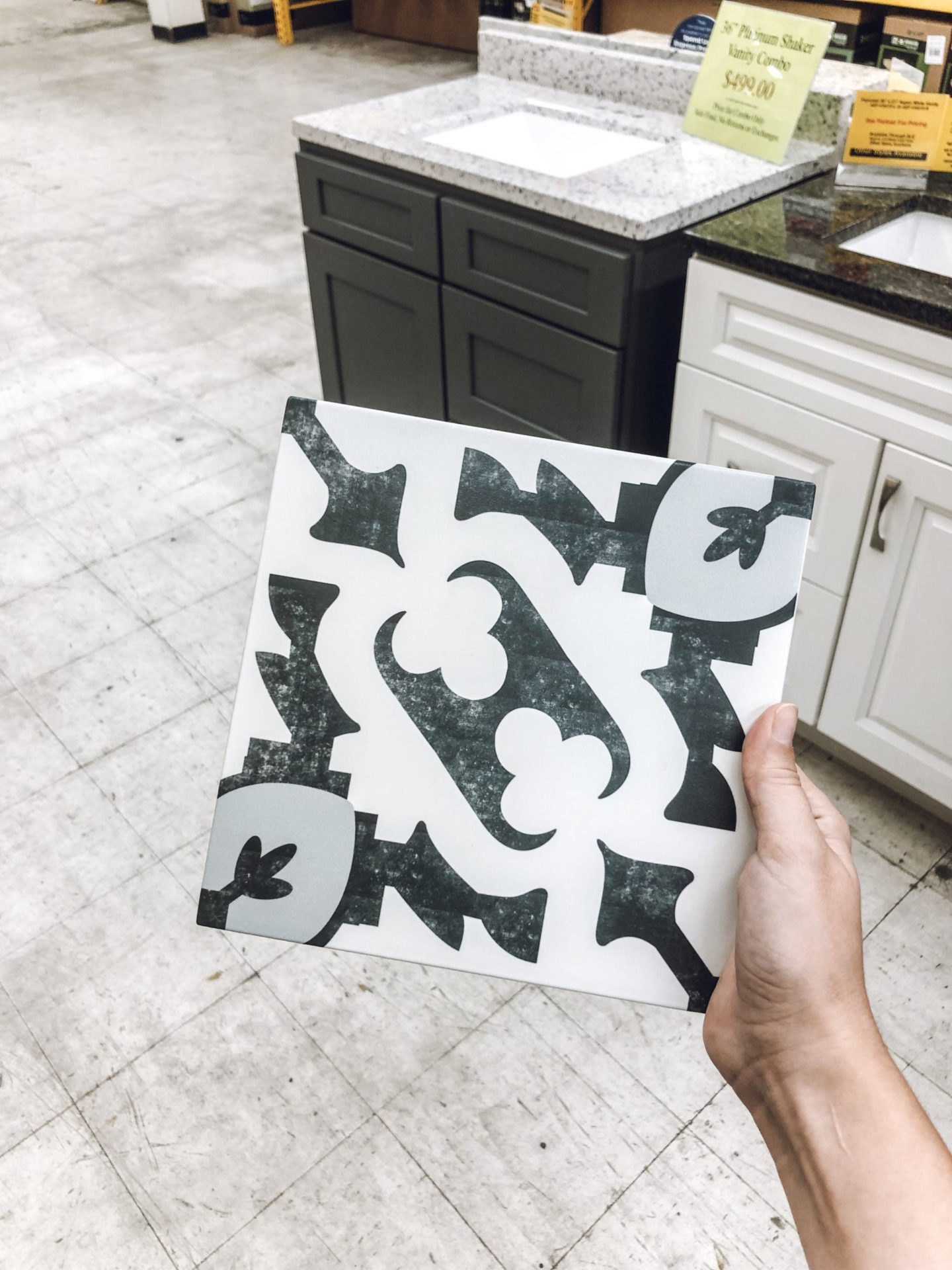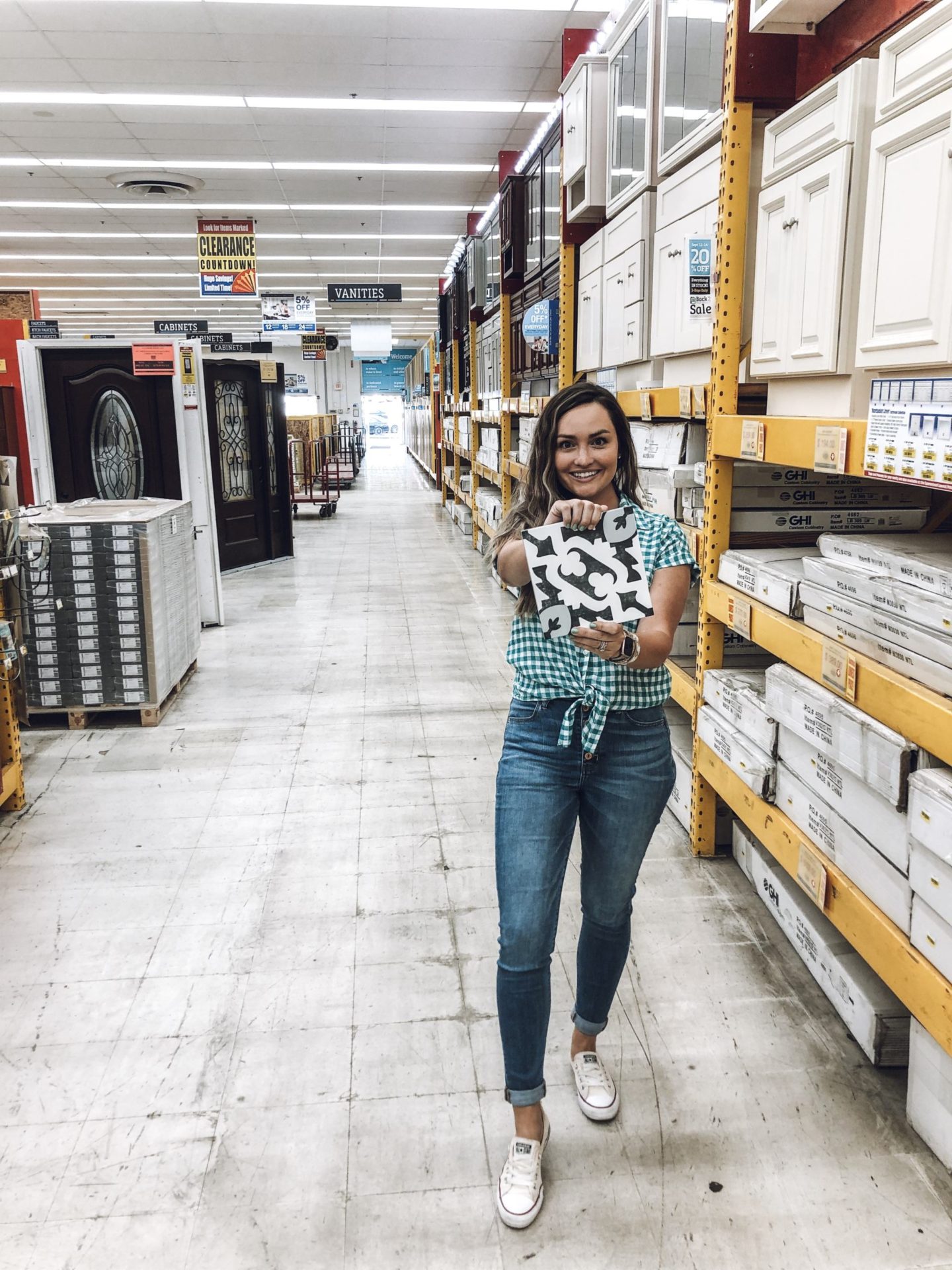 I knew I wanted a really pretty vintage tile for the flooring. We went with this porcelain tile and I planned the project around it. I love the mix of white, black and grey. This tile was a custom order, so I recommend researching the website for what items are in store and what items need to be ordered. I had the store order the tile in for me ahead of time so I could see it in person and hold it up to different cabinets/counters and make sure it matched. They were so helpful and accommodating when it came to ordering the tile before my visit.
Faucets + Fixtures
For our faucets we chose an Oil Rubbed Bronze finish. I want this space to have an industrial vibe and I think the oil rubbed bronze will be perfect for that. Here is a link to the shower head here and the sink faucet here. I love that Barton's Home Improvement is a one-stop-shop to get all of the essentials for an update.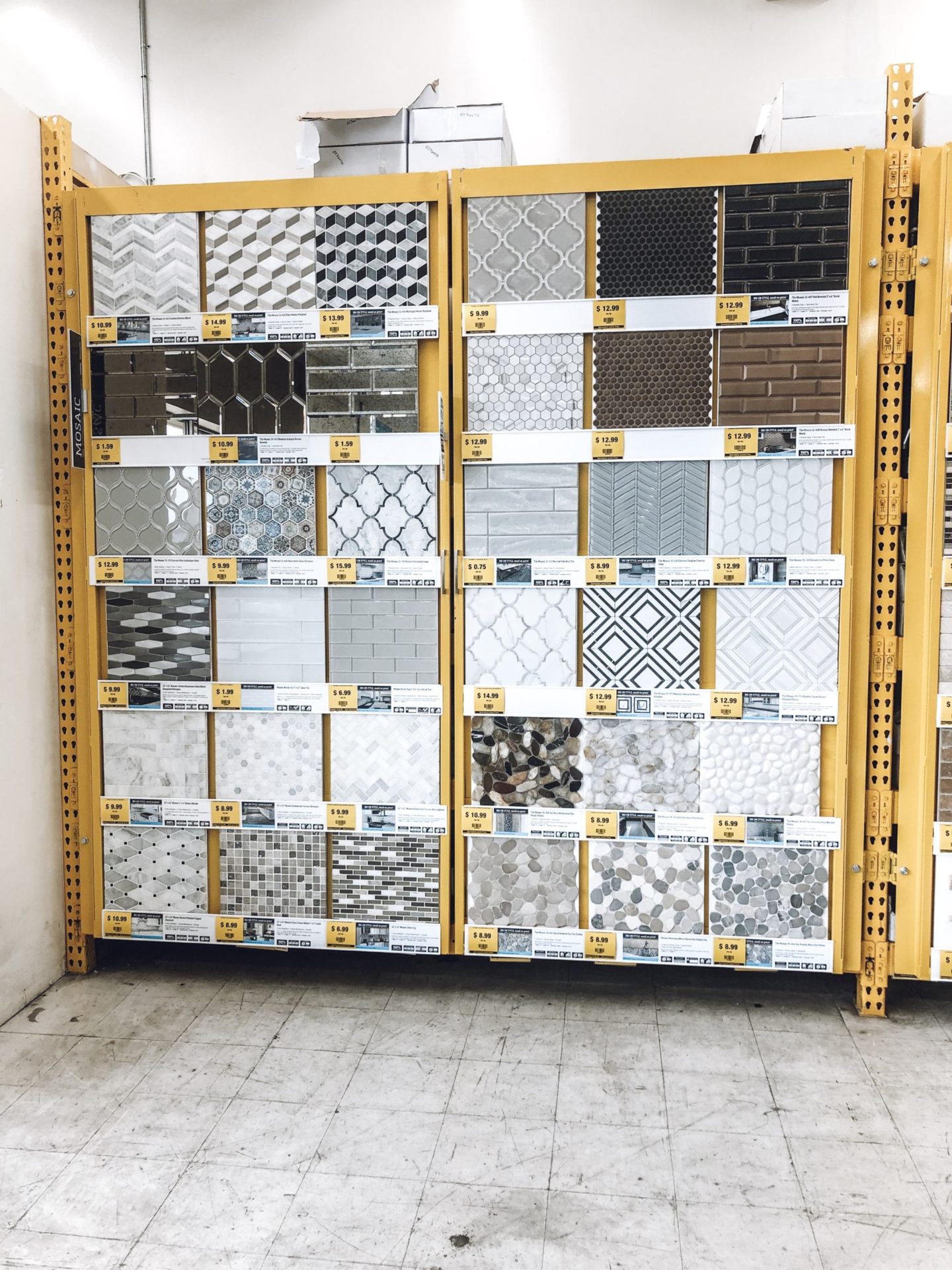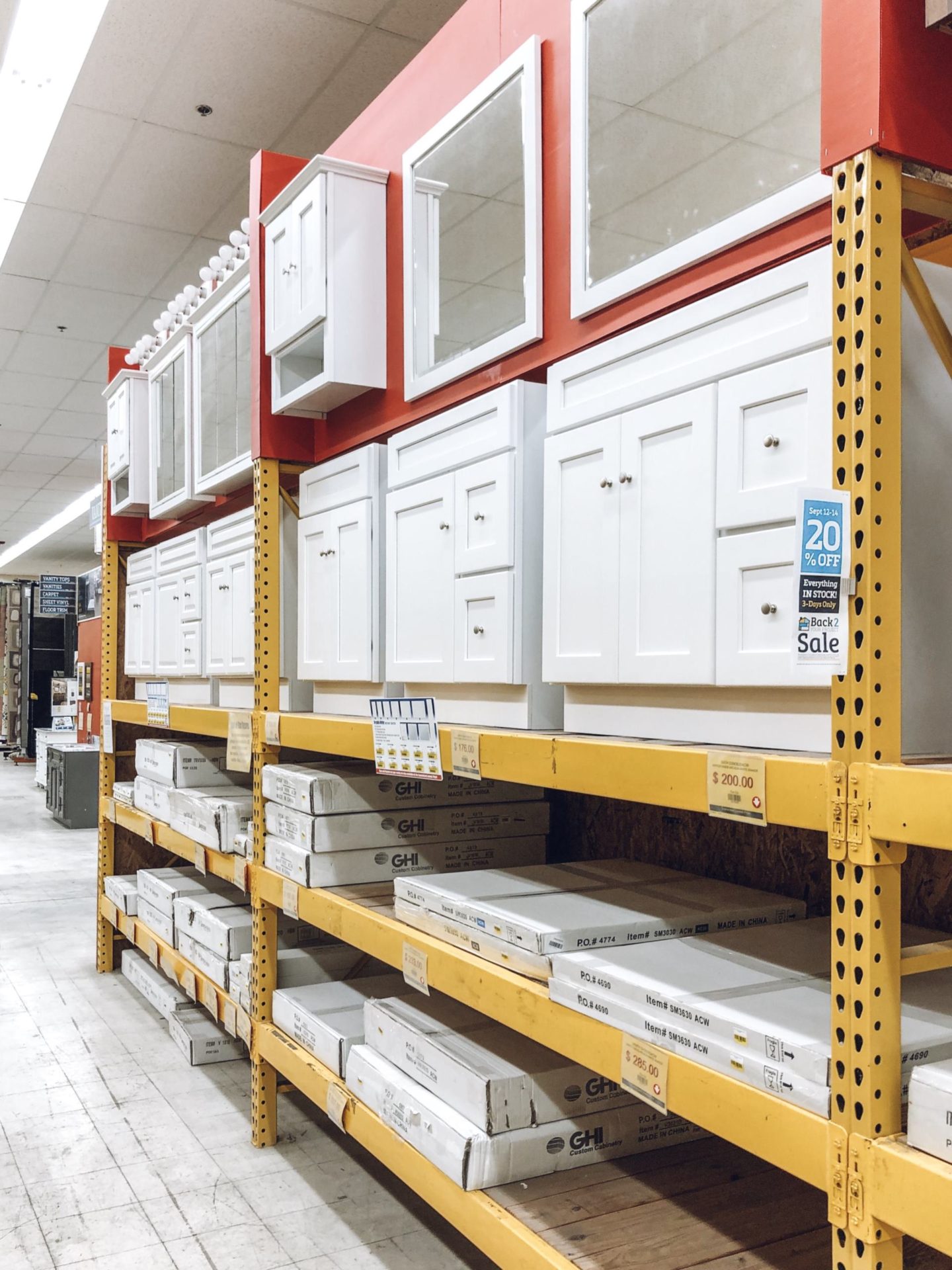 When it comes to budgeting, I do not like to sacrifice quality. They have such a wide variety of faux and real counter tops. We chose a Carrara Marble top for the vanity, it is beautiful, great quality and budget friendly. This is our vanity base in Harbor White. If you're looking for more bathroom inspiration check out my Farmhouse Master Bathroom Mood board blog post here.
Our Experience Shopping In Store
When we went into Barton's Home Improvement, Tim the store manager was SO SO helpful. He answered all the questions we had, helped direct us where items were in the store and custom ordered items for us. The store was super easy to navigate and there were lots of employees available help with any questions you have.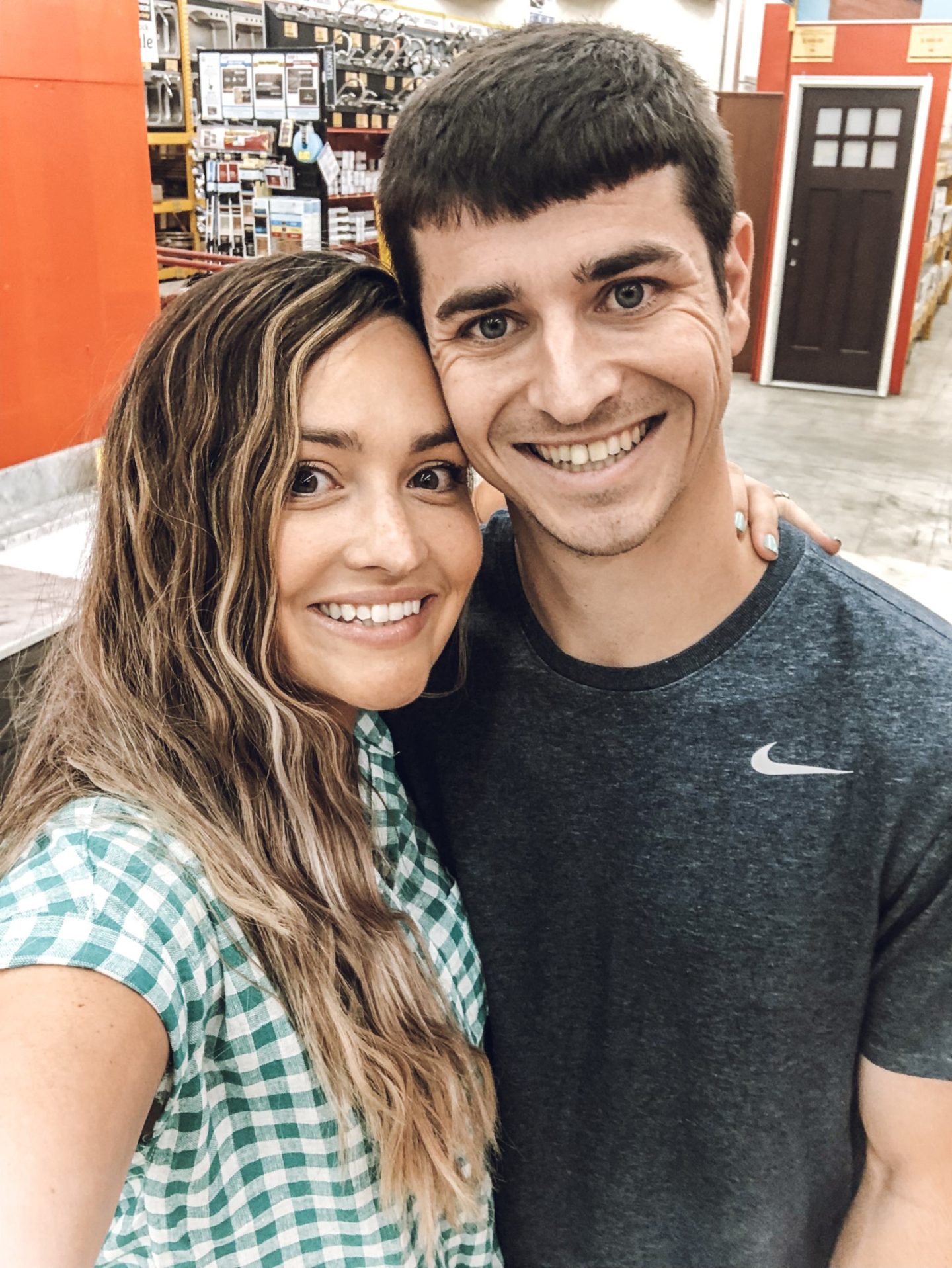 Items We Purchased & Pricing
Porcelain Tile Flooring (apx. 120 ft) $352.80
Vanity Base $228
Vanity Counter + Sink Combo $199.20
Sink Faucet $67.98
Rainfall Shower Head $77.74
Custom Shower Doors $397.33
Tax: $89.30
Total $1412.35
If you are planning any sort of updates around your home on a budget, I highly recommend checking out a Barton's Home Improvement store. They have over 105 stores in 17 different states. Barton's Home Improvement is a part of the E.C. Barton & Company family along with Bargain Outlet, Barton's, and Surplus Warehouse so any of those stores would be great options as well! We drove an hour to go to this store and it was absolutely worth the trip. The store gives you that family owned feel, lowest of the low prices and quality items. Stay tuned for my next post which will have before and after photos of our bathroom reno on a budget.