Today I'm sharing my inspiration for our master bathroom with my Farmhouse Master Bathroom Mood Board. If you've been following along for awhile you know we started our Master Bedroom and Bathroom addition late last year. It's mostly done but the bathroom has been the last spot needing finished up. My husband, dad and father-in-law are all super handy and have done most of the work. So, with that being said finding time in my husbands schedule to finish it up has been challenging. We have three kids, need I say more? HA! But, As we put the finishing touches on this space I wanted to share some of my ideas with you.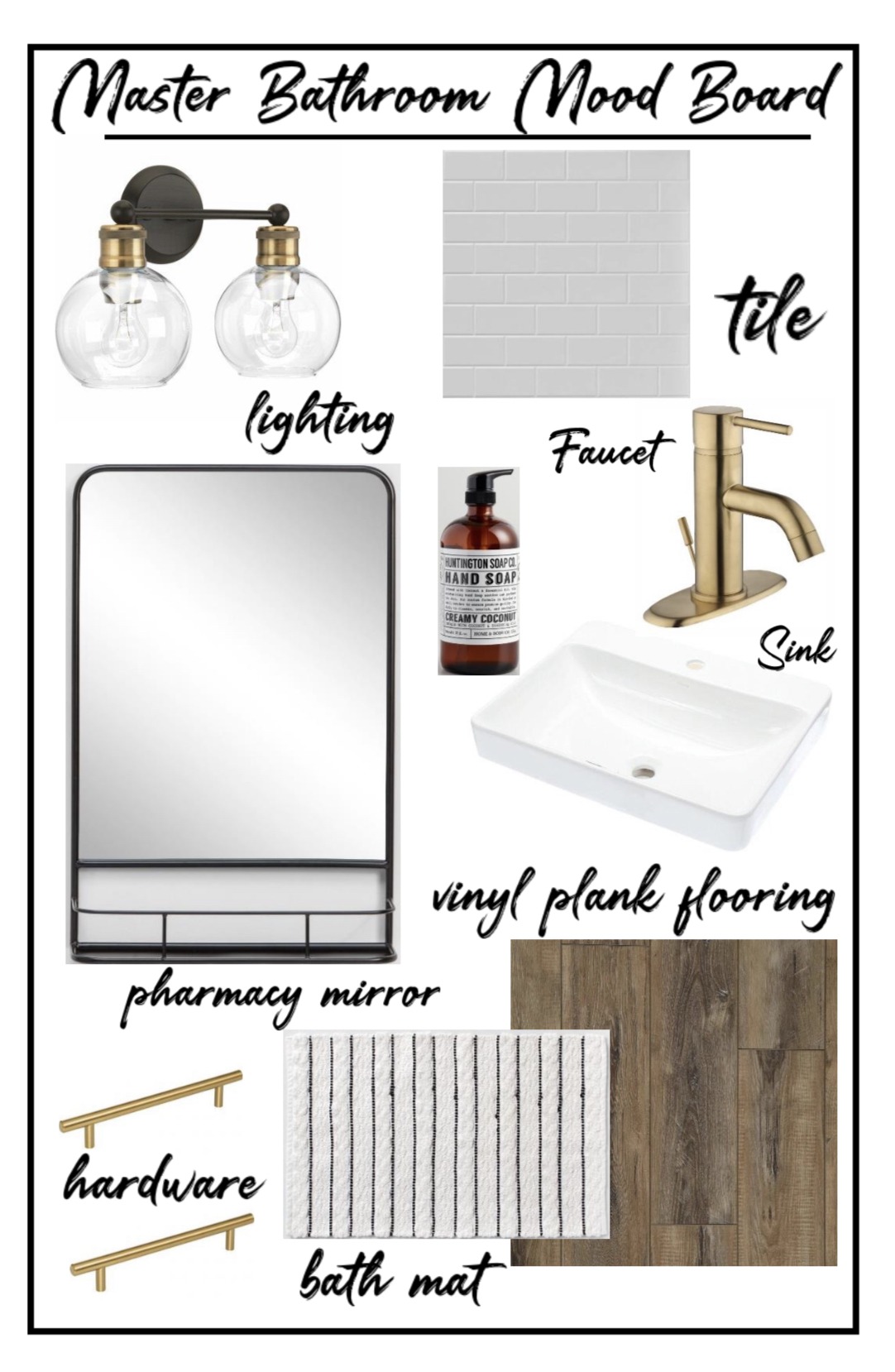 Here's what we bought for our bathroom:
Budgeting for an addition is no joke so we try and cut costs when we can. (Like on labor) My husband found this site to order our cabinets from and we were very pleased with them. They come in boxes and my husband put them together. One of the items was damaged and their customer service we great, they sent a replacement piece out no problem. It saved us money and for a smaller space like a bathroom it worked out perfectly. Kasey also made some minor adjustments on ours to create a sitting/vanity area with the cabinets. We have the same vinyl planking in our bathroom as our bedroom. It is linked here. This Vinyl looks so real, it has a nice texture to it and can withstand the elements. I definitely recommend this flooring. Another great perk is that its still soft and warm. If that makes sense, soft in the sense that its not hard to stand on and warm in the sense that it doesn't make your space super cold like hardwood can. Hope that makes sense.
The Details:
I went back and forth so much when deciding what finish for the faucet. My heart told me gold but sensibilities told me to go with something more neutral. But, I was taught to follow my heart so gold it was. Our light fixture ties gold and brass in perfectly and I plan to mix the metals up. The pharmacy mirror is one of my favorite finds. I can't wait to put a (faux) plant in it. I only keep humans alive. It is such a great price and it goes in and out of stock at target so keep your eye open if you're looking for something like that. I also linked up some similar options too. I haven't officially decided on my cabinet hardware yet but, I will do either a brushed bronze or gold.
Mirror Options:
Faucets + Hardware + Sink
Flooring + Lighting
Textiles
Inspiration:
If you want to see some more inspiration here are a few bathrooms i'm loving. Lynzy's farmhouse bathroom makeover is absolutely stunning. Check it out here. You can also check out my Home Ideas Pinterest Board to stay up to date with what's inspiring me. If you want to see the rest of our master bedroom check that post out here. I can't wait to share once the bathroom is complete, stay tuned!