I'm not going to lie before I started using Beautycounter one year ago my skincare routine was nonexistent. I used a moisturizer and cleanser and not even daily. But, then I realized I'm getting older and I need to find products that will help combat my hormonal breakouts & fine lines that keep creeping up on me.
I also started to learn more and more about the lack of regulation and laws on personal care products and knew I wanted to make safer switches. You can read more about that here. Since making the switch my skin has improved dramatically.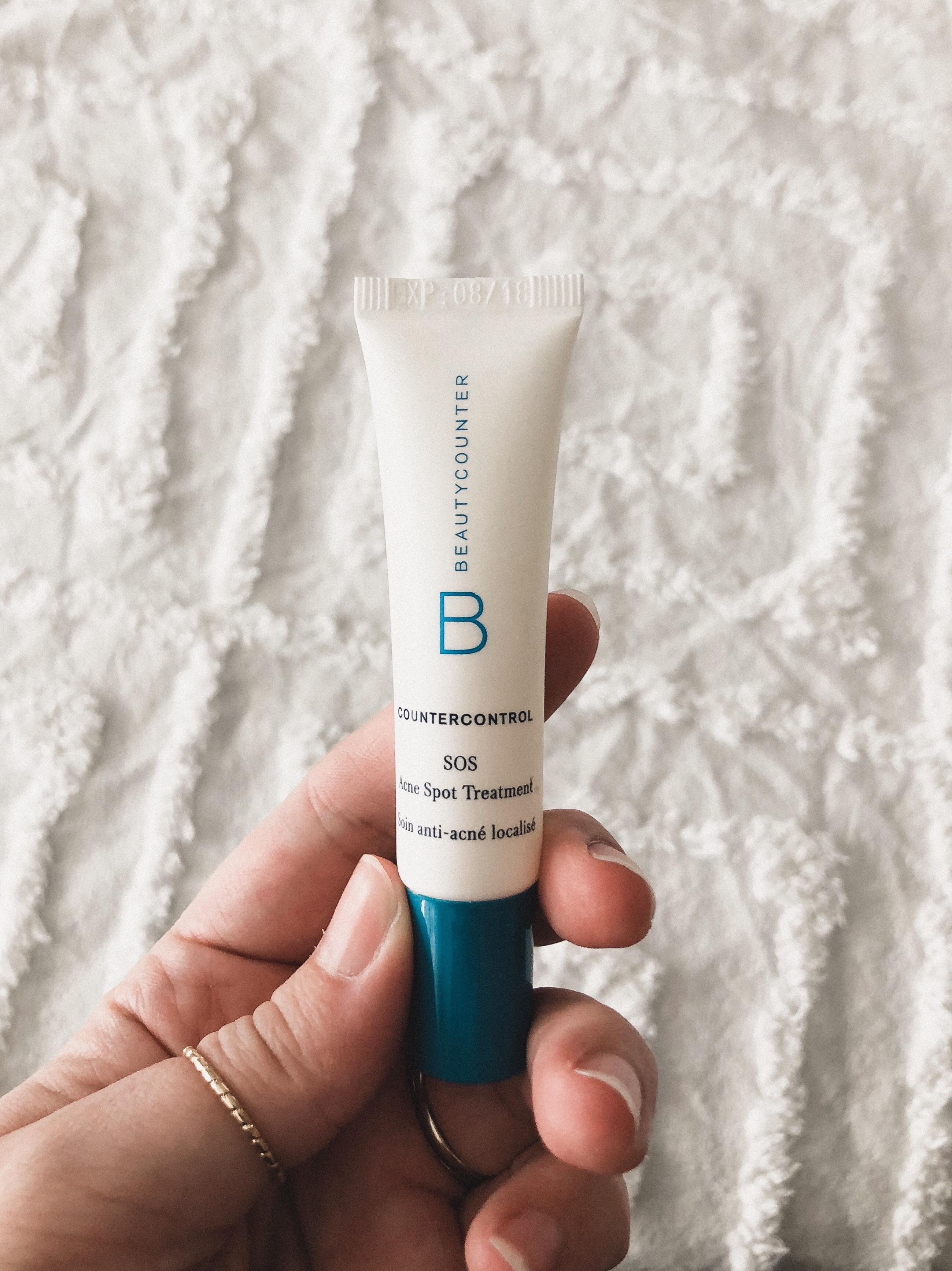 This is a little miracle worker!
I am blessed with pretty good skin but, I am starting to age and would typically break out monthly. Now, my breakouts literally don't happen. (knock on wood) When a random zit pops up I use this and it seriously clears up within a day or two. Okay, but let's dive into my skincare and makeup must-haves.
Skincare: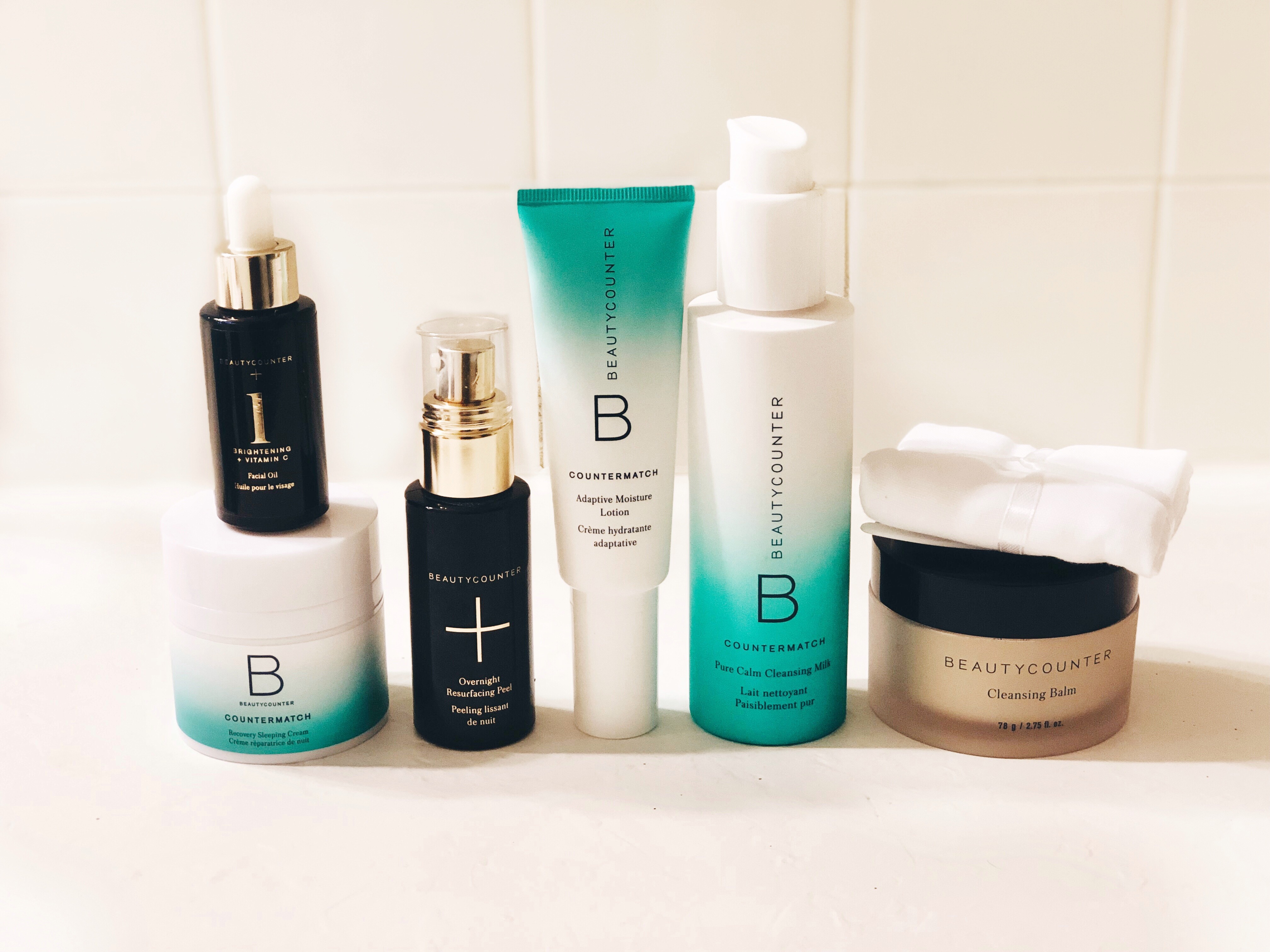 1.Countermatch Adaptive Moisturizer: this is the daily moisturizer I use. I put it on after cleansing my face. I rotate cleansing with the Countermatch Pure Calm Cleansing Milk (perfect & gentle enough for that morning wash), Cleansing Balm, and One-Step Makeup Remover Wipes (the lazy way). I love the Countermatch lotion because it is lightweight, not greasy, and made with safe ingredients.
2.Countermatch Recovery Sleeping Cream: this product is my #1 ride-or-die haha! But, for real when I sleep in this stuff I wake up and my skin is so moisturized and bright. I use this most nights and I have actually been considering using this during the day too just because I love it so much but, I'm such a rule follower so I'm hesitant to use it outside of the recommended nighttime use. Either way, this is one of my most highly recommended products.
3.Overnight Resurfacing Peel: this product is a miracle in a jar. It is on the pricier side but because I don't use it daily it will last six months to a year. I pair it with my favorite facial oil which I will discuss next. When I use the peel I typically do it overnight and when I wake up my fine lines are seriously reduced and my skin is so much tighter and just overall better. I know the nights that I use it the next day my makeup just goes on better. This is definitely an investment skincare choice but it's almost like treating yourself to a facial and it's much cheaper than actually going in for a facial. (Can you tell I'm used to convincing my husband about why I purchase what I do!?)
4.No. 1 Brightening Facial Oil: this product has gotten me through the winter dryness but I also love using it after too much sun. So, it's definitely used year-round. When paired with the peel overnight I wake up and feel like a million bucks. It is lightweight enough that it can be worn under your normal moisturizer and then makeup. When I use this my skin feels like silk.
Makeup: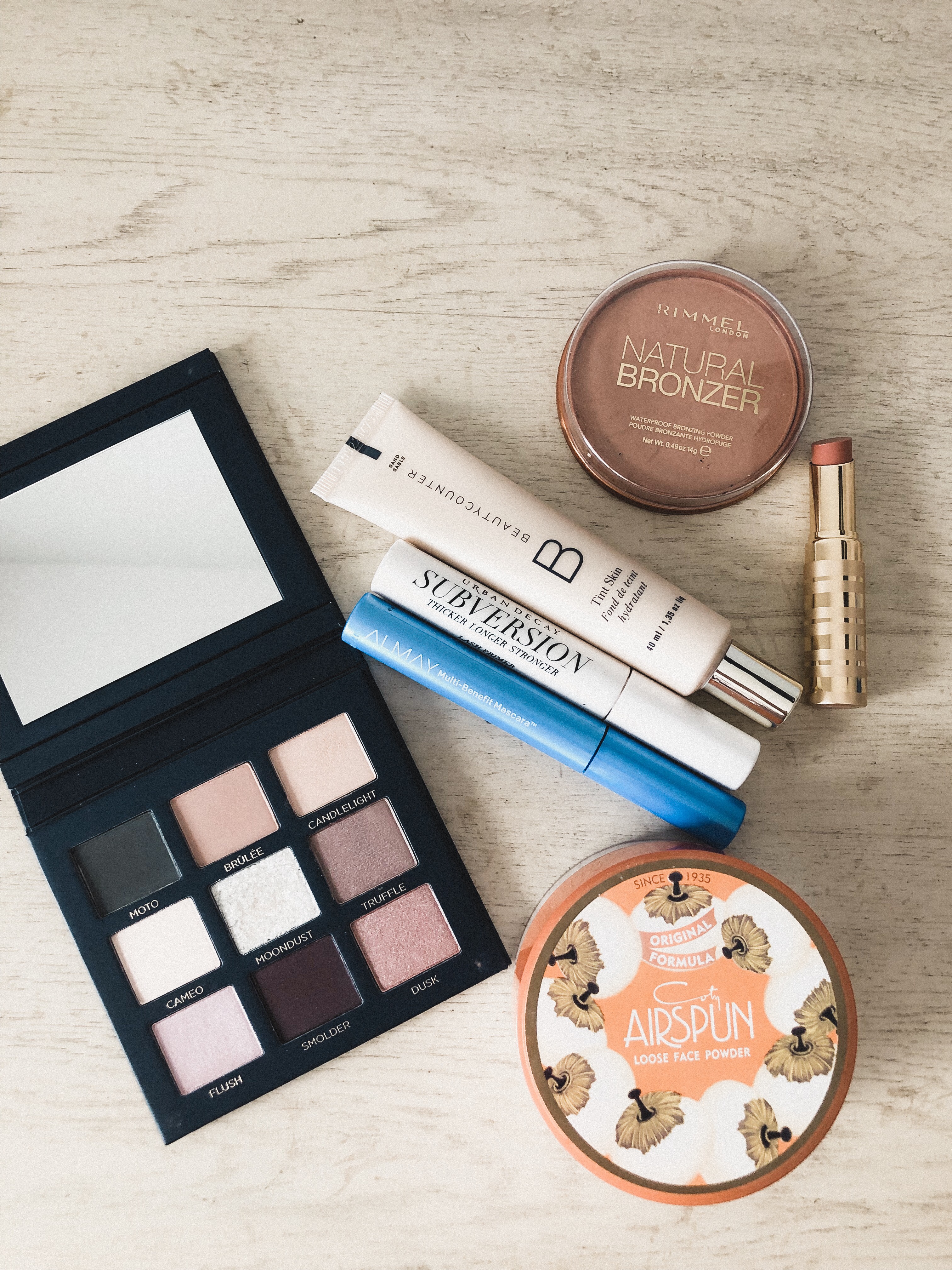 1.Tint Skin Hydrating Foundation: I love that this has buildable coverage. So, when I'm needing a bit more I can layer up. I use my damp beauty blender to apply and it always leaves a smooth flawless finish. I even use it as my under eye concealer. This foundation is not flakey and doesn't increase fine line visibility like some coverage can. The last perk, it is all safe ingredients. Your skin absorbs what you put on it and it is transferred into your bloodstream so I think it's especially important that the lotions and creams you put on your face are safe from harmful ingredients.
2.Rimmel Natural Bronzer: this is one of my favorite drugstores finds. I've been using this bronzer since high school and if it ain't broke don't fix it. I've tried other bronzers but this one just goes on the easiest for me. It's affordable and lasts all day. It's not shimmery and has a matte finish.
3.Urban Decay Subversion Lash Primer: my eyelashes are basically nonexistent. This primer helps lengthen and nourish my lashes so much. It's like a conditioning treatment before your mascara. It is a bit pricier but I've had such success since I've started using it. I may try cheaper options once this one runs out but for now, it is my go-to.
4.Almay Multi-Benefit Mascara: another one of my tried and trues that I've been rocking since high school. Because my lashes are so short I have tried so many different expensive and inexpensive brands but Almay is my favorite. It gives me the longest, flake-free lashes out of all of the brands I've tried.
5. Airspun Loose Face Powder: this product I recently incorporated into my makeup routine and it's helped so much. When you're rushing to get ready (which is the story of my life as a mom) this powder is the perfect finishing touch to even everything out and keep it lasting all day. It's so cheap and another drugstore find.
Bonus Buys:
1.Velvet Eyeshadow Palette: I recently scooped up two shadow palettes in romantic and classic. They cover all of the neutrals needed for shadows. Since eye shadow is not a daily use I consider this more of a "bonus" or "splurge". I absolutely loooove how easily they apply. I am the opposite of a makeup guru but I feel like with these colors you cannot mess it up. I've used other shadows and I feel like they would leave a "dusting" of shadow on my cheek and these do not do that at all.
2.Cleansing Balm: I've raved about this product since I've tried it and it is still one of my favorites. It is the multitasker. I use it as a hydrating mask, cleanser, makeup remover, cuticle fixer, kids temporary tattoo remover, basically everything under the sun this can fix! It is pricey but it lasts forever and has so many uses so I think the price is justified. Side note, the scent of it is amazing.
Disclosure: I am a Beautycounter consultant and I will make a commission on any purchases made through my site, similar to my affiliate links. The commission I make is small and does not change the price you pay for products. It helps support my blog & I appreciate your support. If you have any questions I would love for you to reach out to me directly, through my email or Instagram DM!