Doing my Brother's home makeover was a total passion project for me. It is something I've wanted to do since he moved in a couple years ago. So, while he and his family were out of town I rallied my troops (aka my family) and we all worked together to completely transform his house. I like to say we made his house a home.
A little back story; my brother is a UPS driver and sole provider for his family of six. Needless to say they have their hands full, and home decor is the last thing on their minds. I am a firm believer that you should love the home you live in. Whether you own your space, rent it or whatever, I think loving the space you live in is so important. I was so excited to give my brother this home makeover.
If you've been following along for awhile you know, I am all about making the most of every square inch. I love adding shelves, storage, hooks and anything I can to create more functionality and coziness. If you're looking for more home inspo, check out my Home Decor section of my blog here. So, let's get into my brother's home makeover!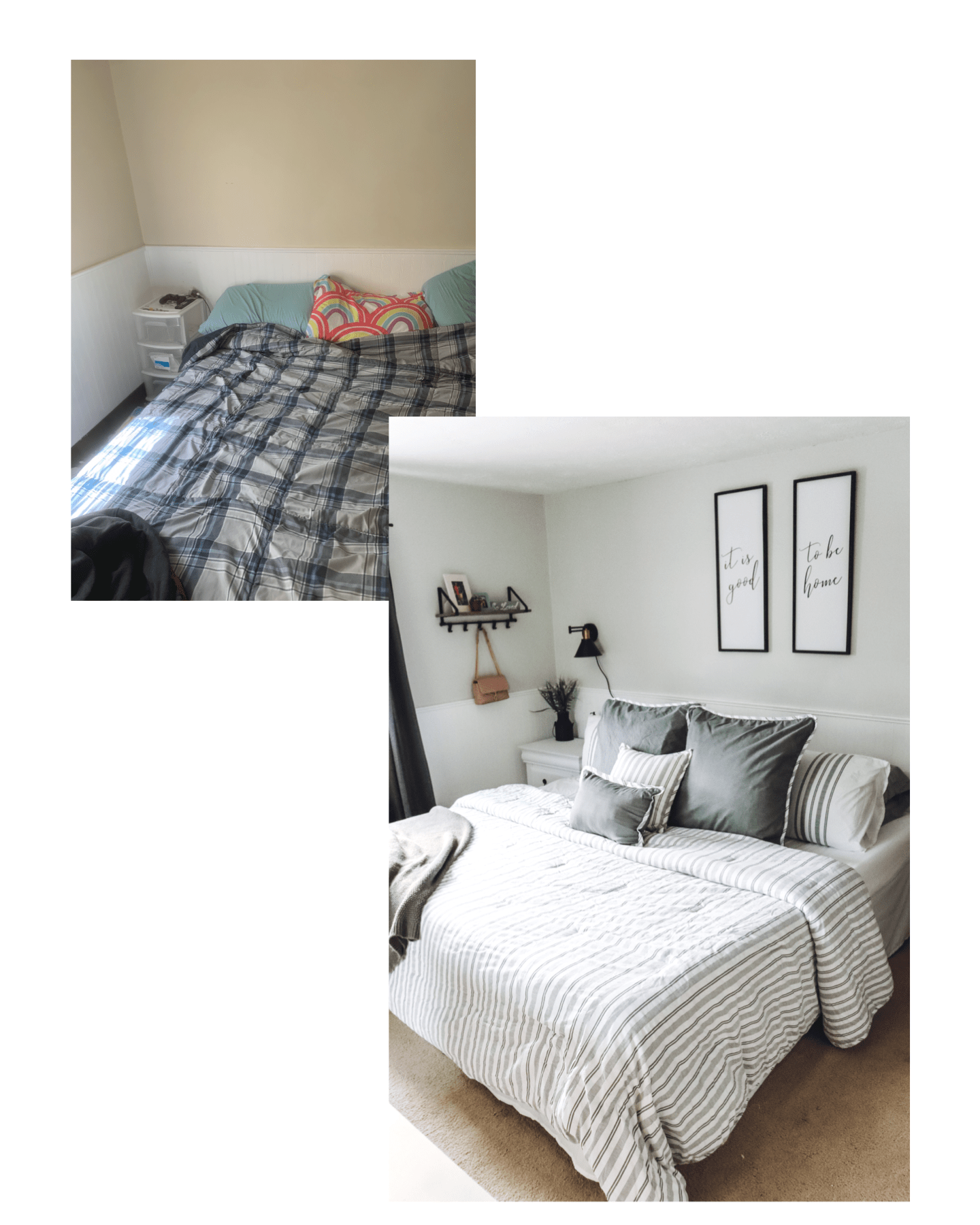 Master Bedroom
My main focus at my brothers house was: the master bedroom, dining & living room. After working long hours at UPS and raising small children I think a master bedroom should feel like a little escape or oasis. I wanted the space to feel larger, brighter and a place where you could truly rest. I painted the walls Penthouse Grey c/o Clare paint. We are so grateful they sponsored this project. A fresh coat of paint can change your entire home. We were on a very tight budget for this project and tried to reuse anything we could.
The bedroom suite was donated by my sister and I chalk painted it with Rustoleum Linen White. I did the chalk spray paint for the large dresser and I would not recommend it. Maybe it was me but I had a very difficult time getting it to go on evenly and I spent $50 on paint. If I would have stuck with traditional Rustoleum Chalk paint I would have saved time and money. I did this on the taller dresser and nightstand and I like the finish much more.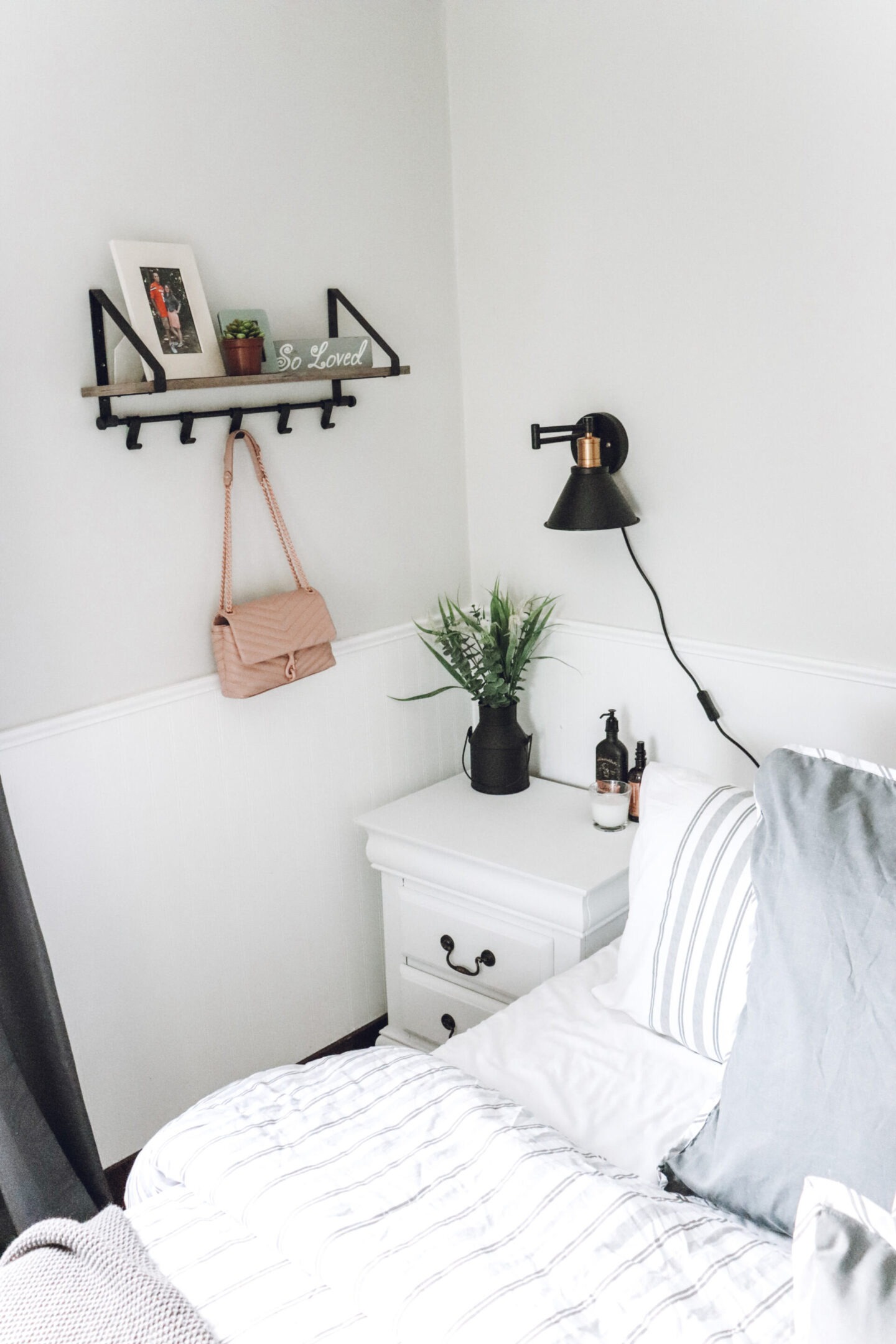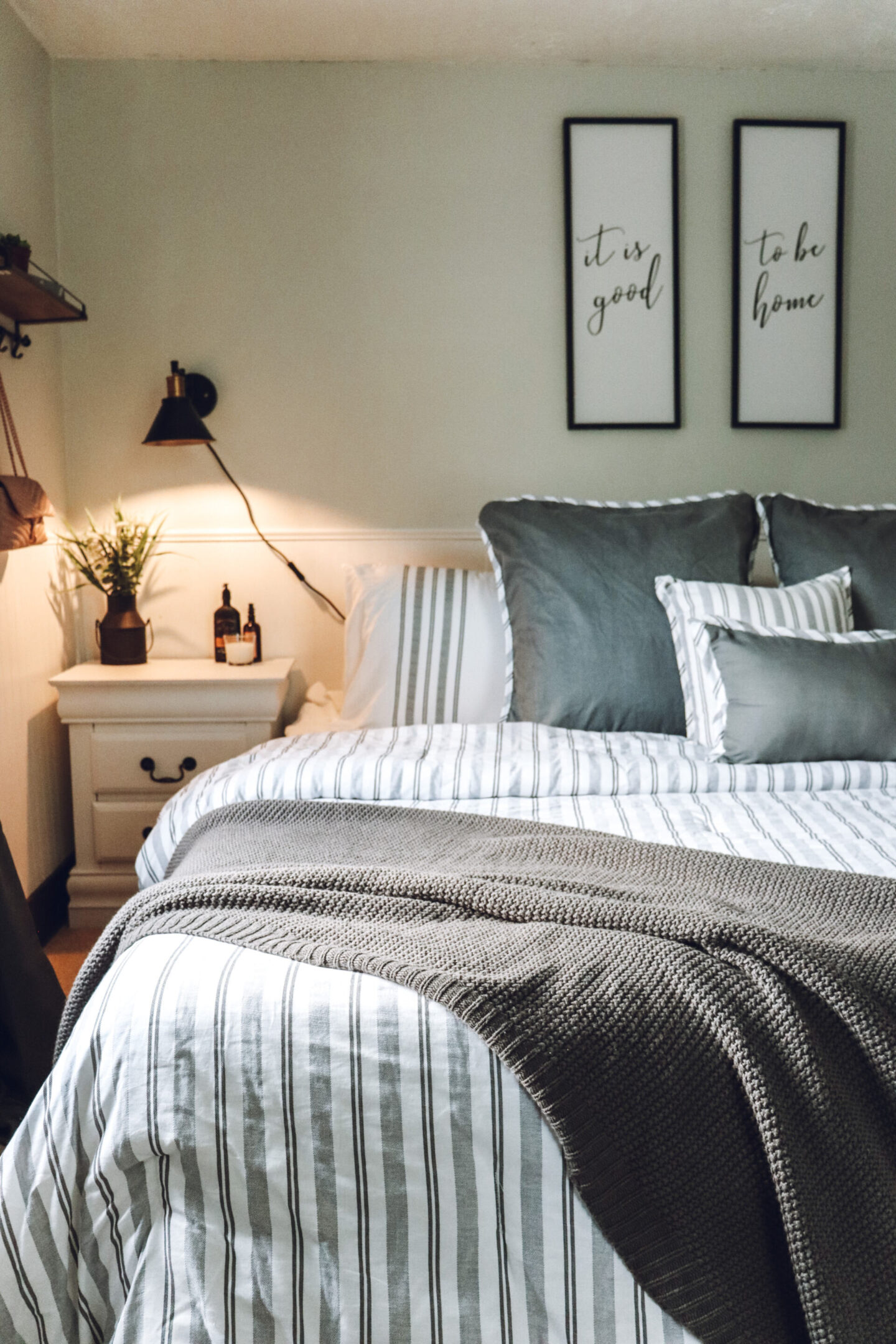 Bedroom Details
New bedding was also a huge game changer in this space. I love that Target offers a bed in a bag and has everything you need, even throw pillows. It was also on sale making it $77 for the whole king size set. A few finishing details I love are the artwork above the bed from Hobby Lobby, which is very reasonably priced.
The wall shelf is Better Home and Gardens from Walmart, also super affordable. On the taller dresser I created a space for Sara to have all of her "girly" items. I wanted it to feel like a little corner for her. Lastly, and maybe my favorite finishing touch is the plugin wall sconce. I love how cozy and homey it feels. A huge perk to a sconce is the fact that it clears up space that a lamp takes up on a nightstand.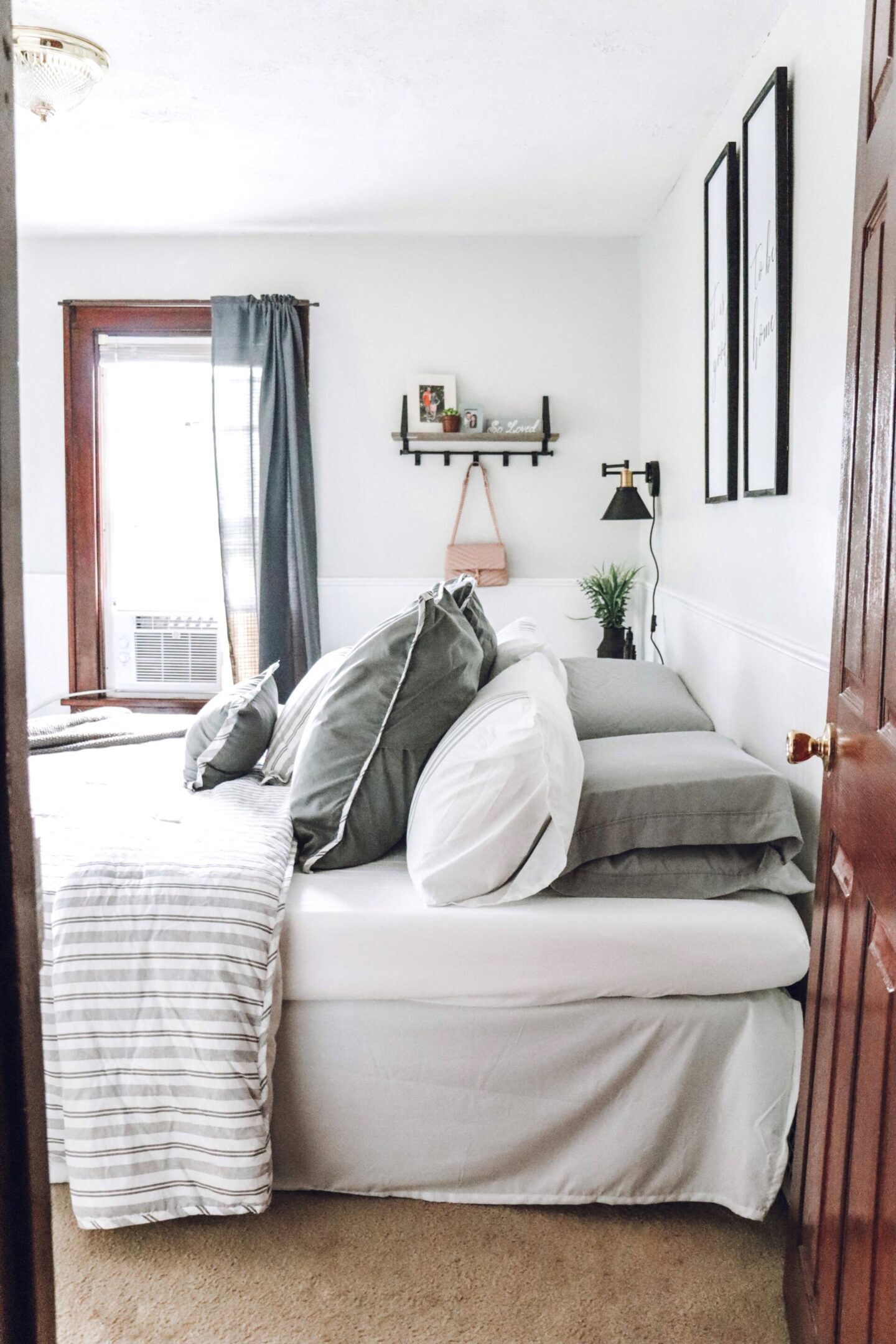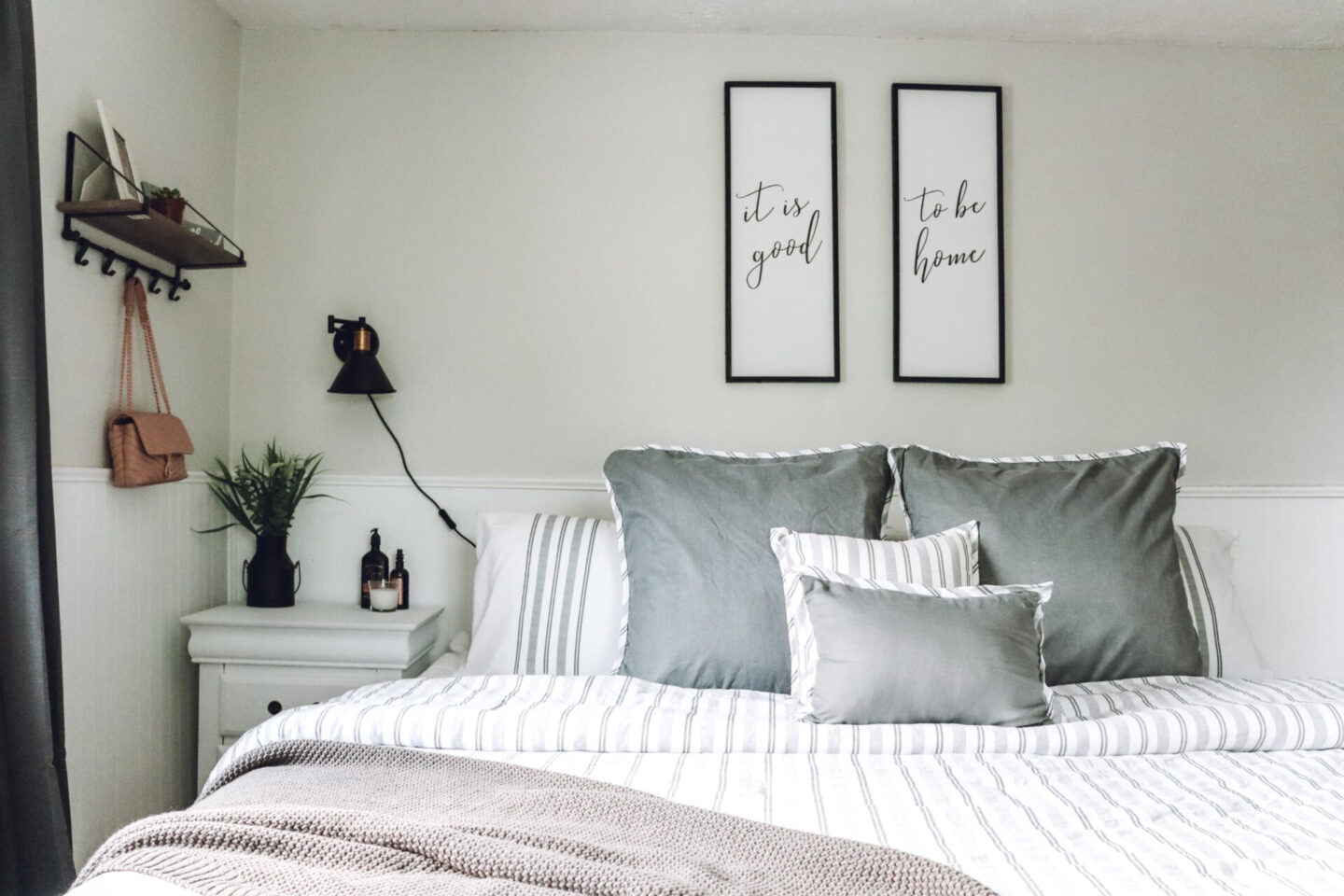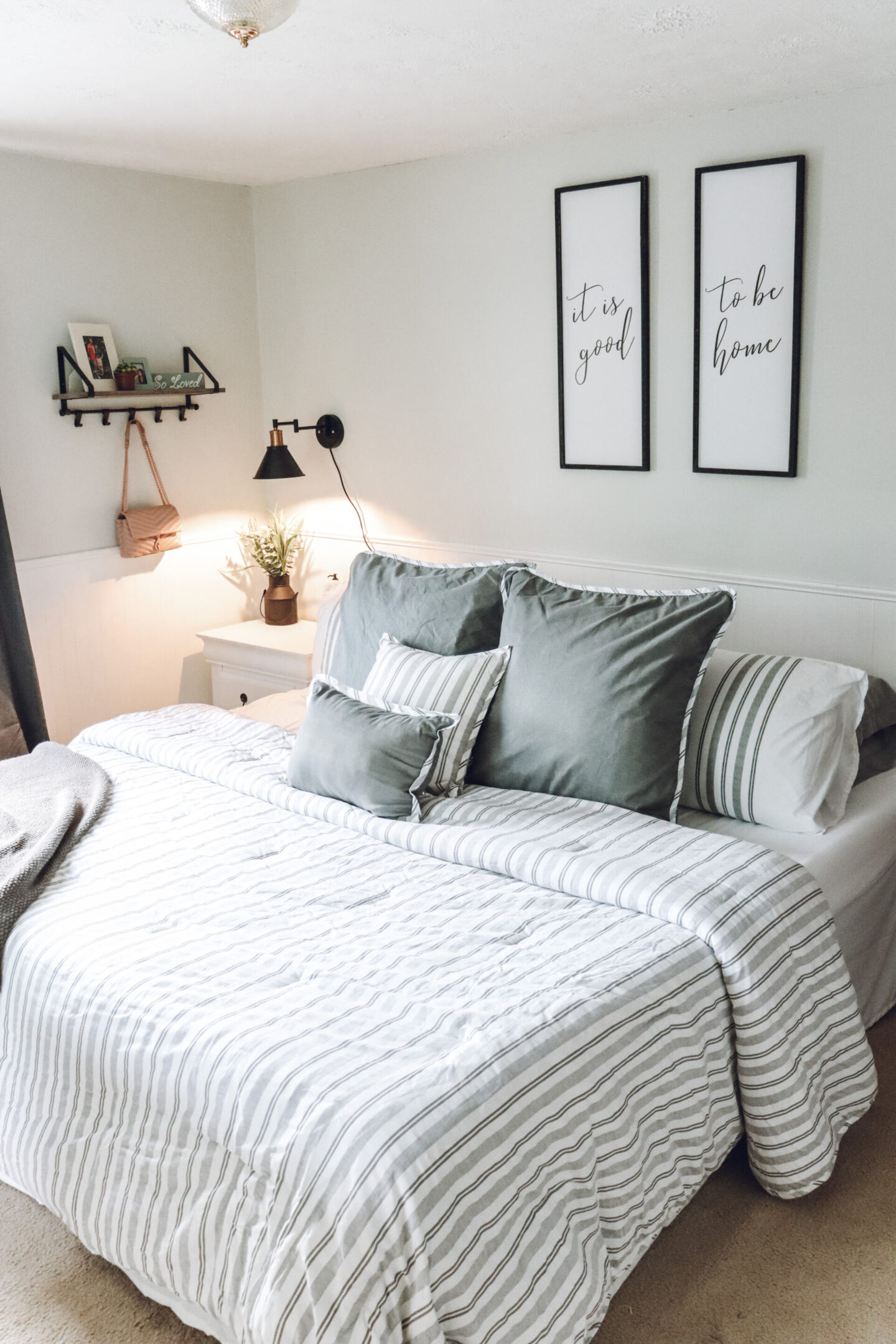 LINKS TO SHOP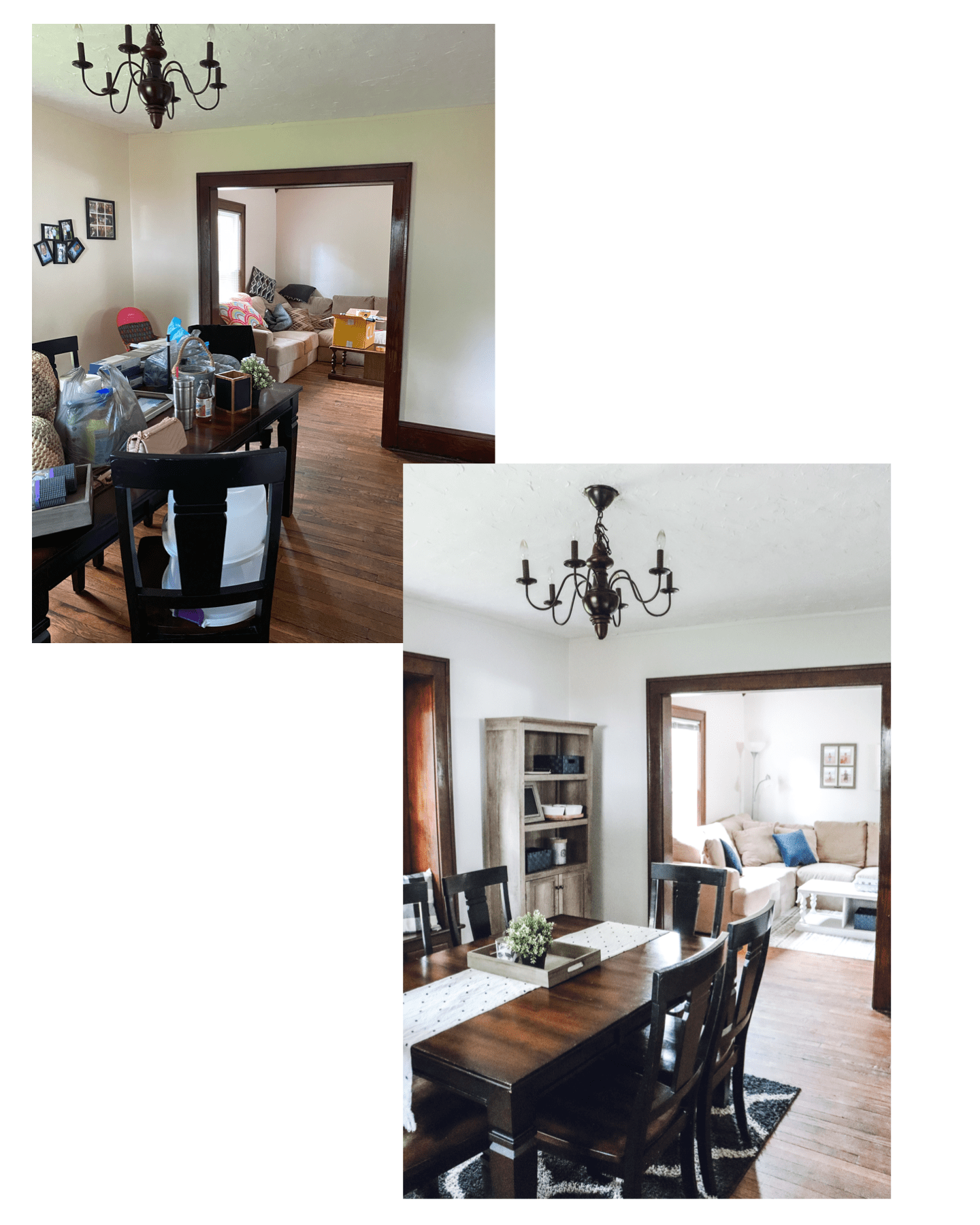 Dining Room
The dining room is one of my favorite spots in his house. I love the window with the seat and the pretty wood molding. This space was currently serving as a catch all and it just needed some better organization. Also, I learned my brother is at total mail hoarder so I was determined to find a solution for all the mail. Hobby Lobby for the win on this one, they had the three tiered metal wall shelf. I maximized the space by taking out a leaf in his dining table and putting the rolling island into the kitchen. It fit in there perfectly once we moved the fridge over.
The dining room is where they host birthday parties so adding in the bench was functional for shoe storage and extra seating. The corner is where they keep their computer and I wanted it to feel more intentional so I added in the shelf for some of their art supplies too. Placing pillows in the window seat and a rug under the table made the space feel so much homier. I also felt like the room needed some height and extra storage, so the taller hutch/cabinet was a perfect addition. My brother is not crazy about knick-knacks or lots of decor so I wanted to keep the shelves very simple.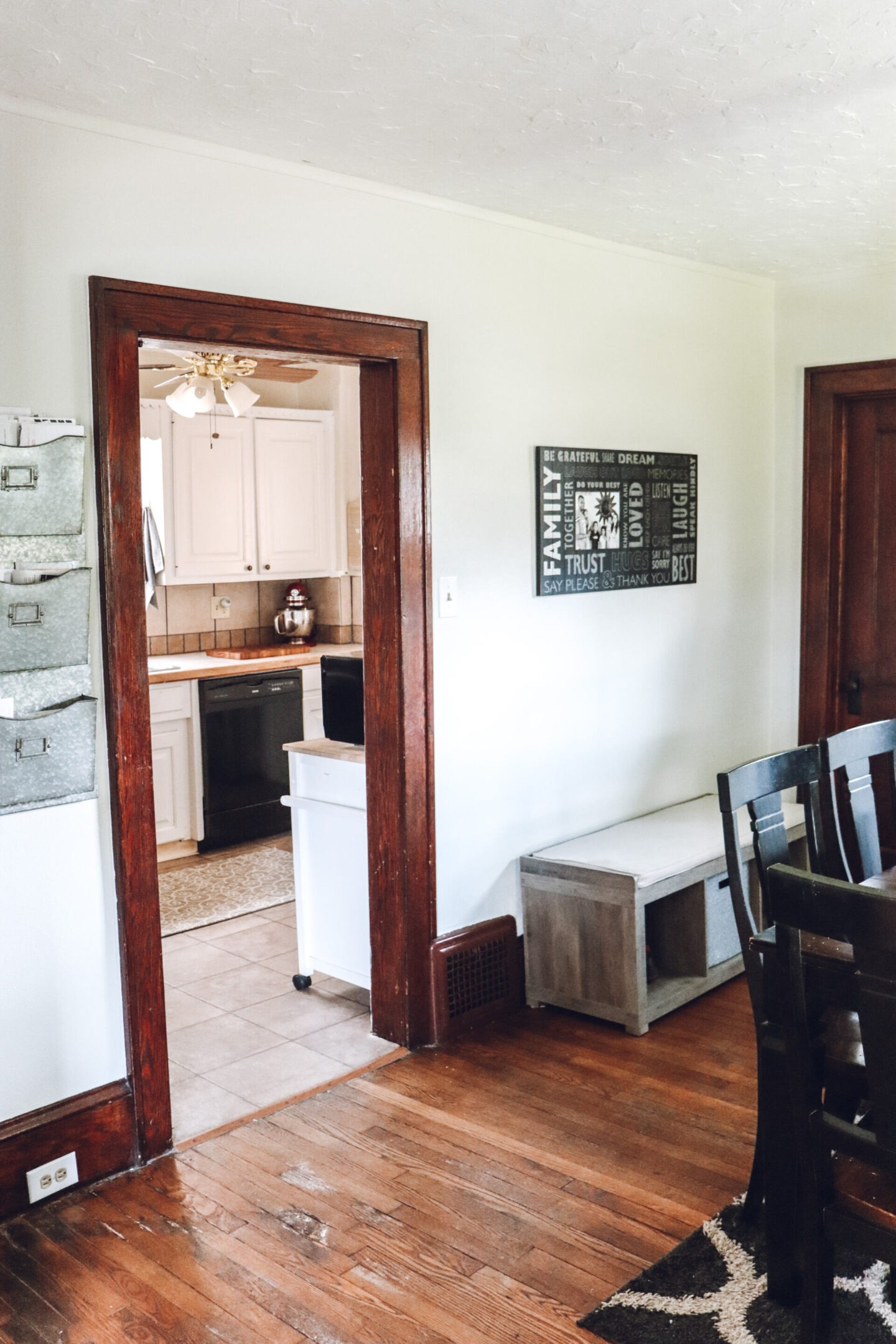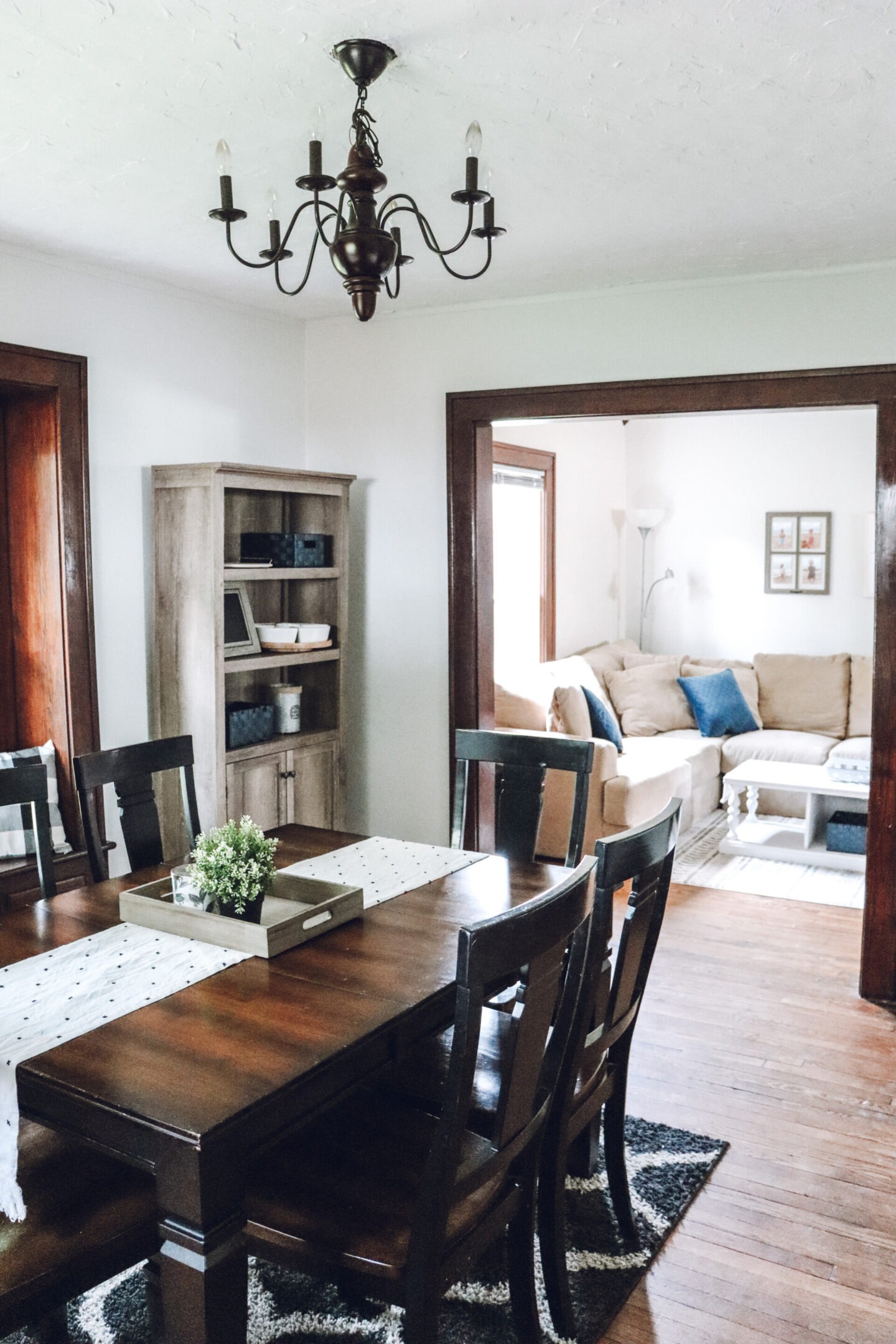 Links to shop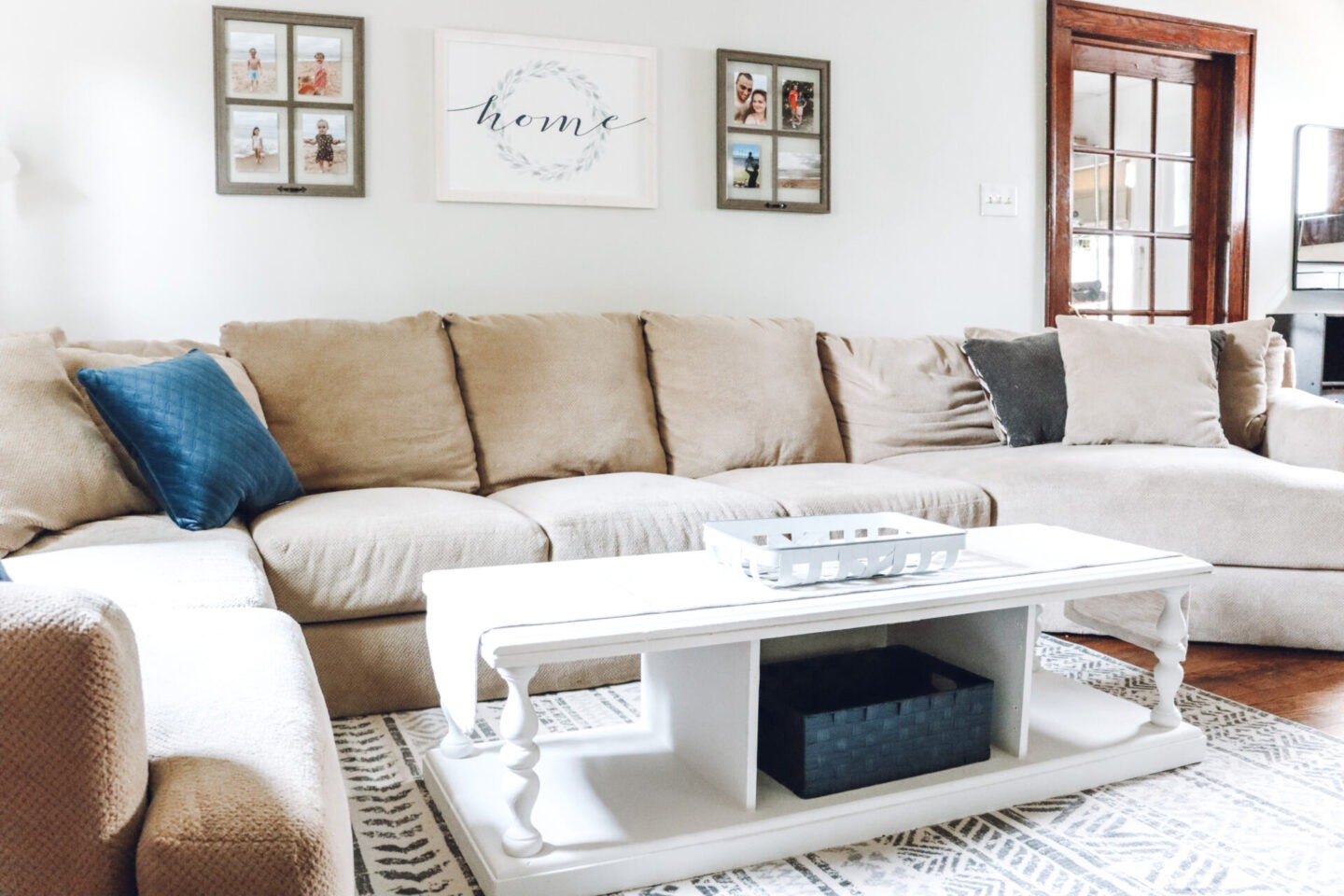 Living Room
In this space they have a GIGANTIC couch and it is sooo comfy. I wanted to add a few functional pieces and some decor to make it feel like a home. I chalk painted the table again in Rustoleum Linen White, it's so wild how much better it looks! My sister snagged this rug, how perfect is it!? We added a few larger pieces above the couch and BOOM it looks like a home. I'm obsessed with the window pane frames and I added in photos they sent us while on vacation. I thought that was such a fun finishing touch.
The large home sign was another Hobby Lobby find. We added a larger cube shelf under the TV. I felt like it was more balanced than the smaller one they had before. It is also a lighter wood which was a better contrast than the black shelf that was there. What's great about cube shelves is that they are functional and lots of extra storage.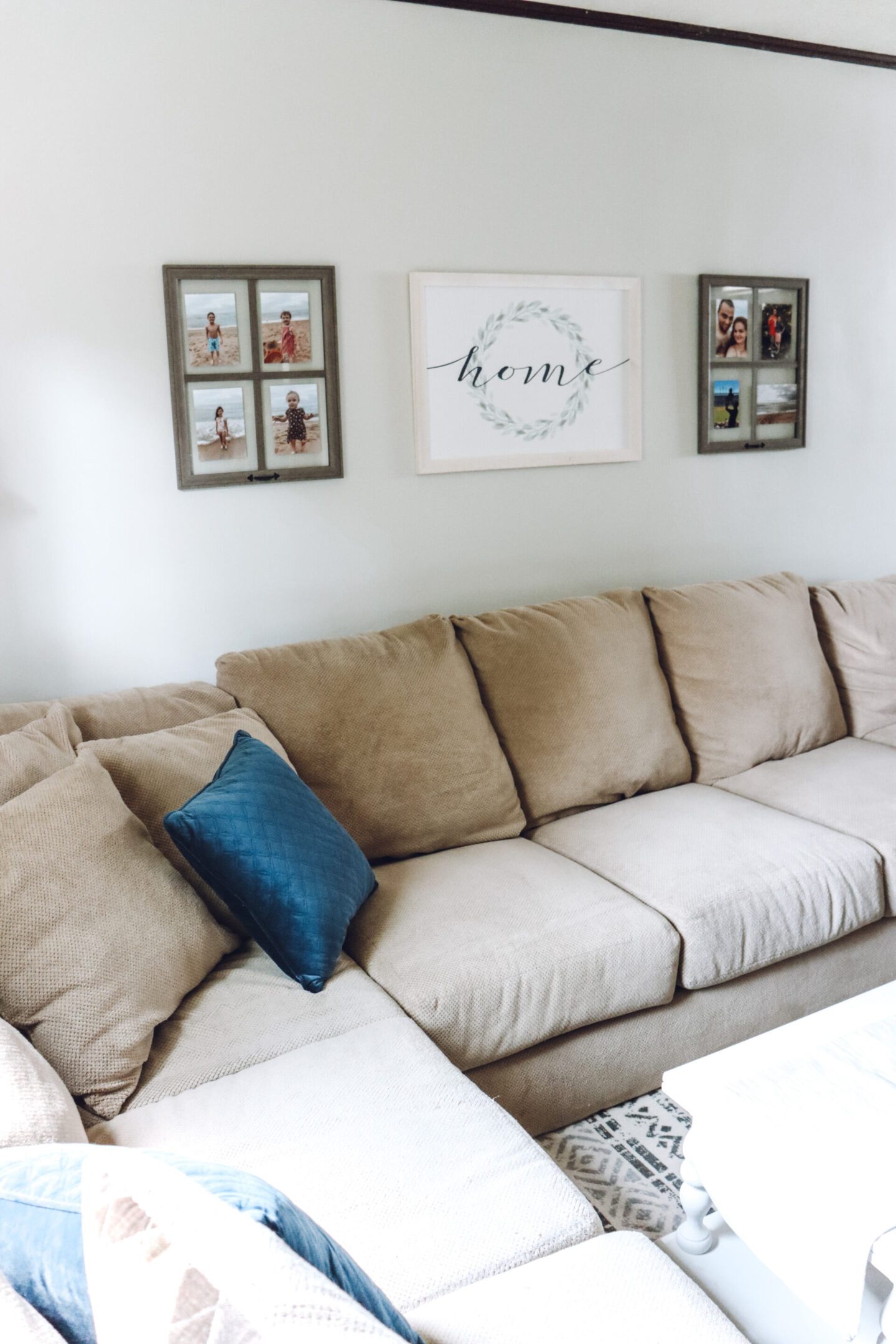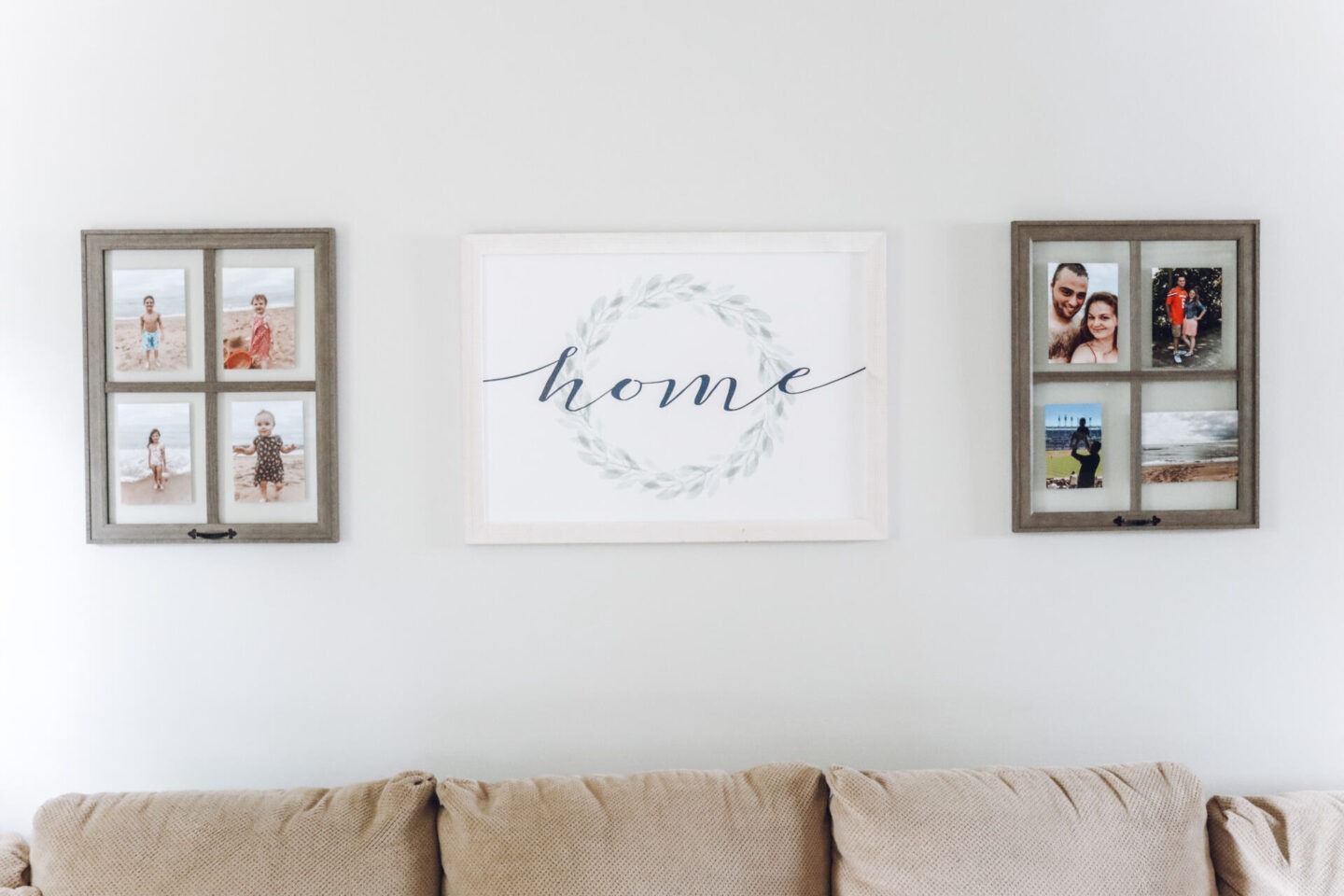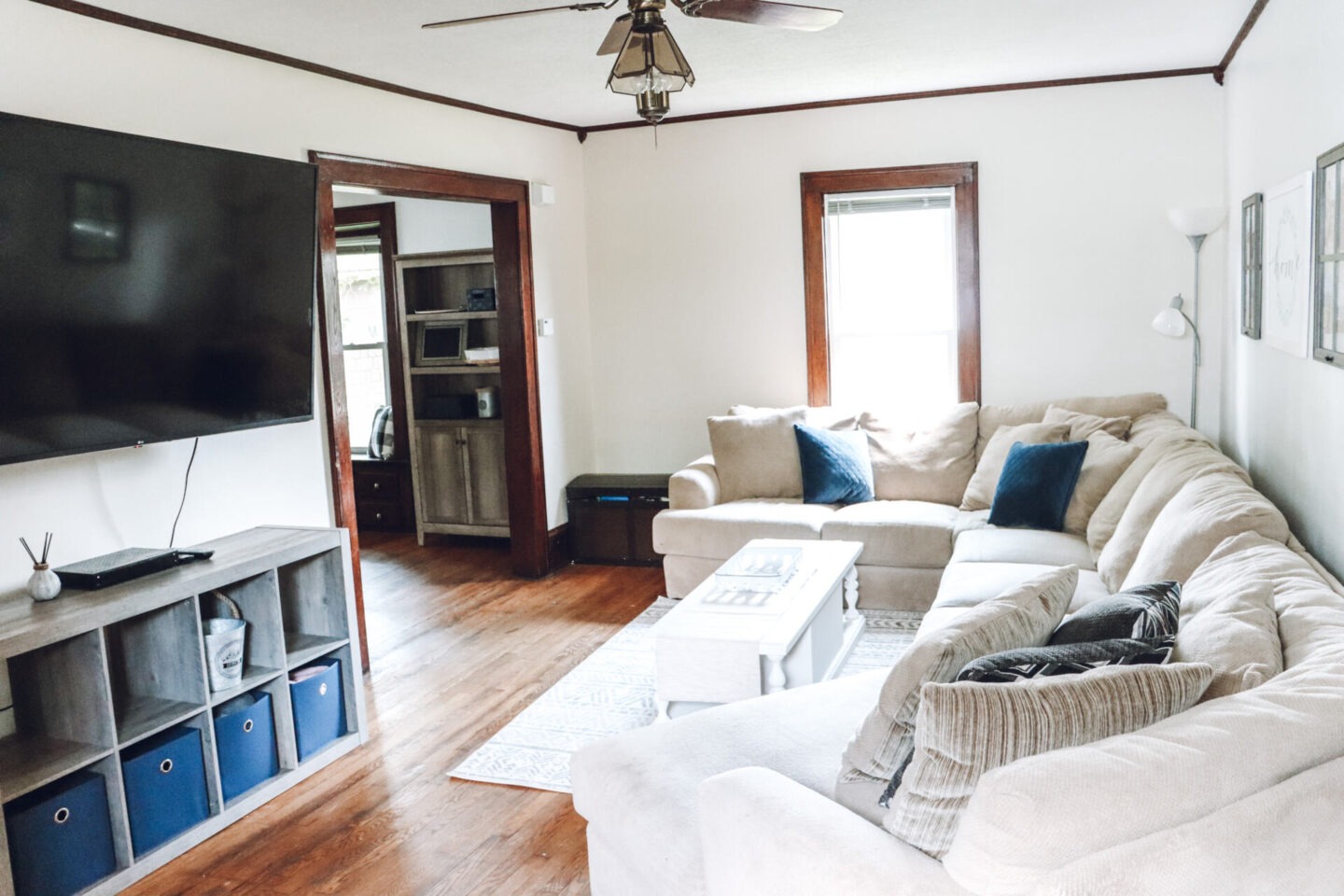 Links to shop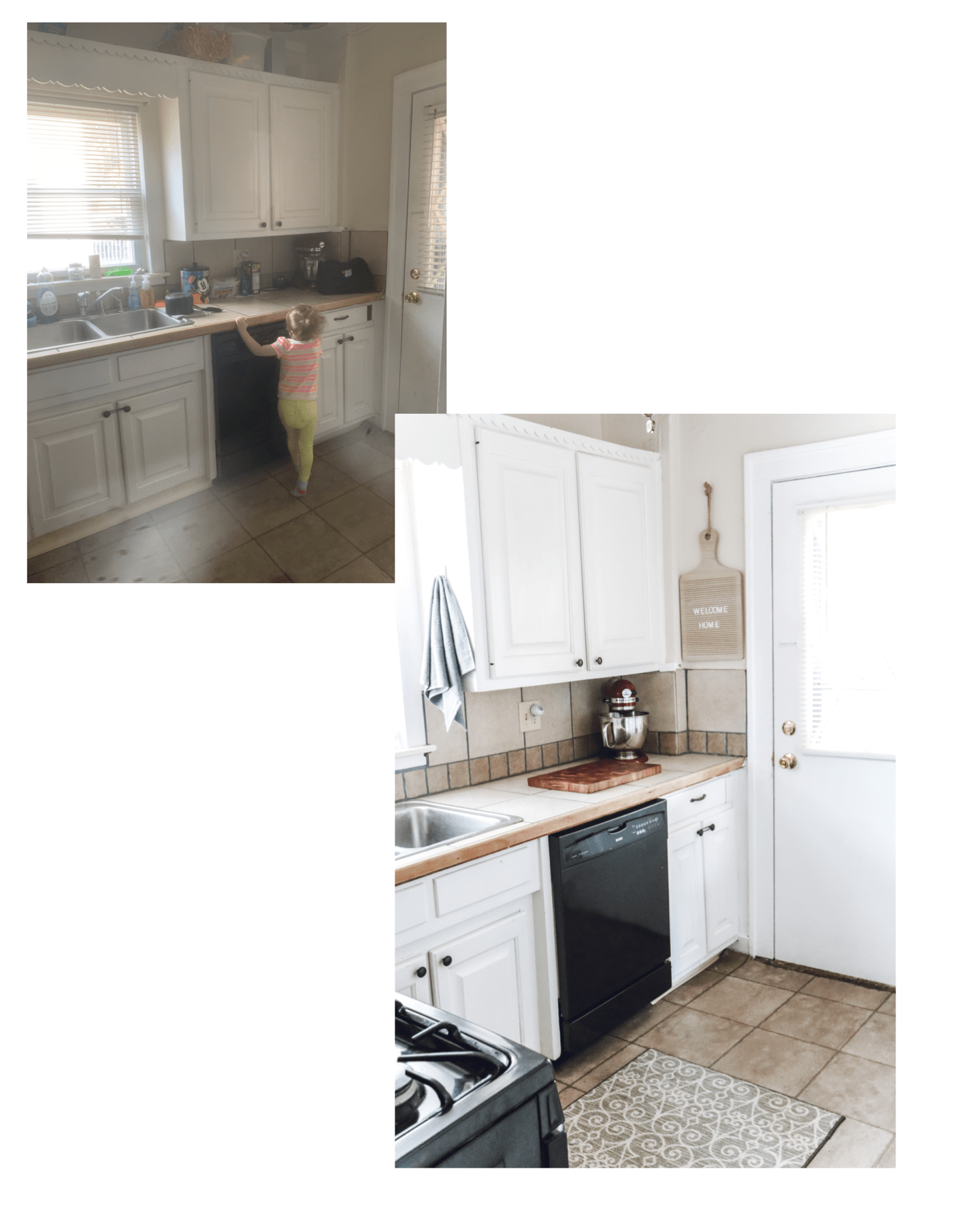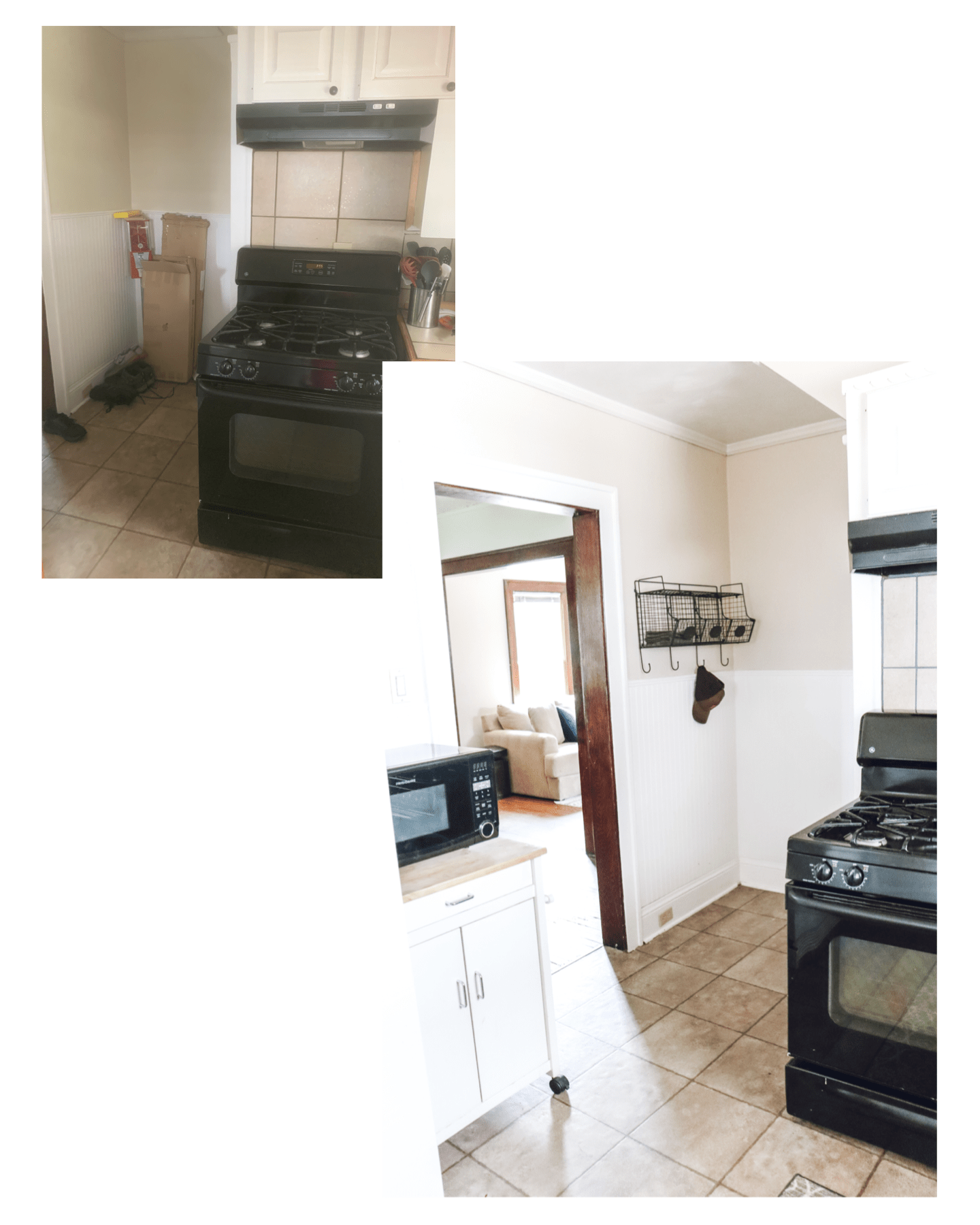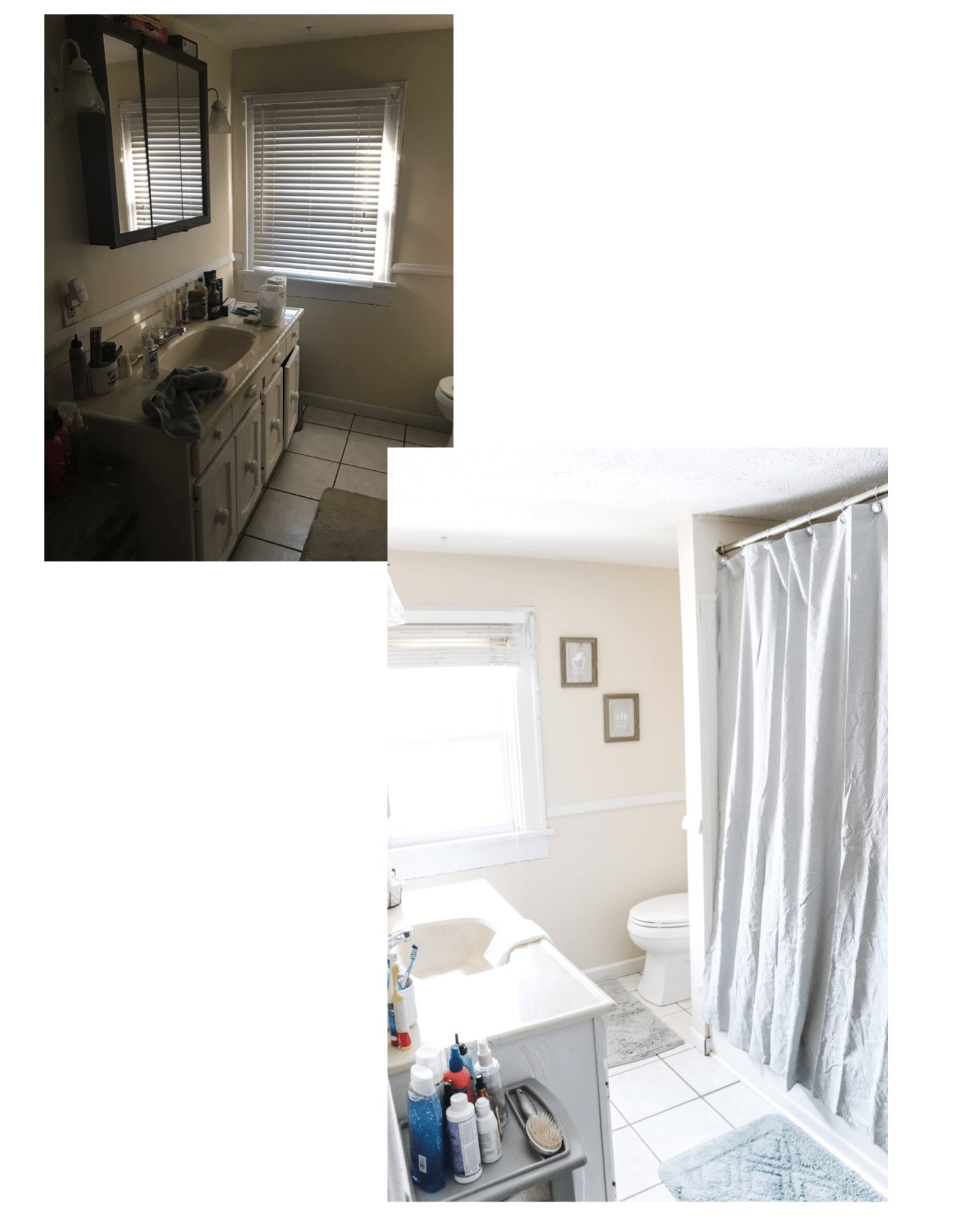 Kitchen & Bathroom
In the kitchen and bathroom we mainly just cleaned it up, organized and added in just a few items. I added hooks on the side of the cabinets for kitchen towels. I have something similar in my kitchen and I love it. One of my favorite things to do is to use the "dead space" to add functionality. We also organized his kitchen soaps, sponges and utensils to clean up and organize the space. A rug made the kitchen feel homier. I also added in the metal shelf from Hobby Lobby to provide a little extra storage in the kitchen. For the bathroom we added a wall decor, a new shower curtain, rugs and hand towels. It totally brightened up the bathroom and made it look fresh! All of the little details added up to be a huge change in this home makeover.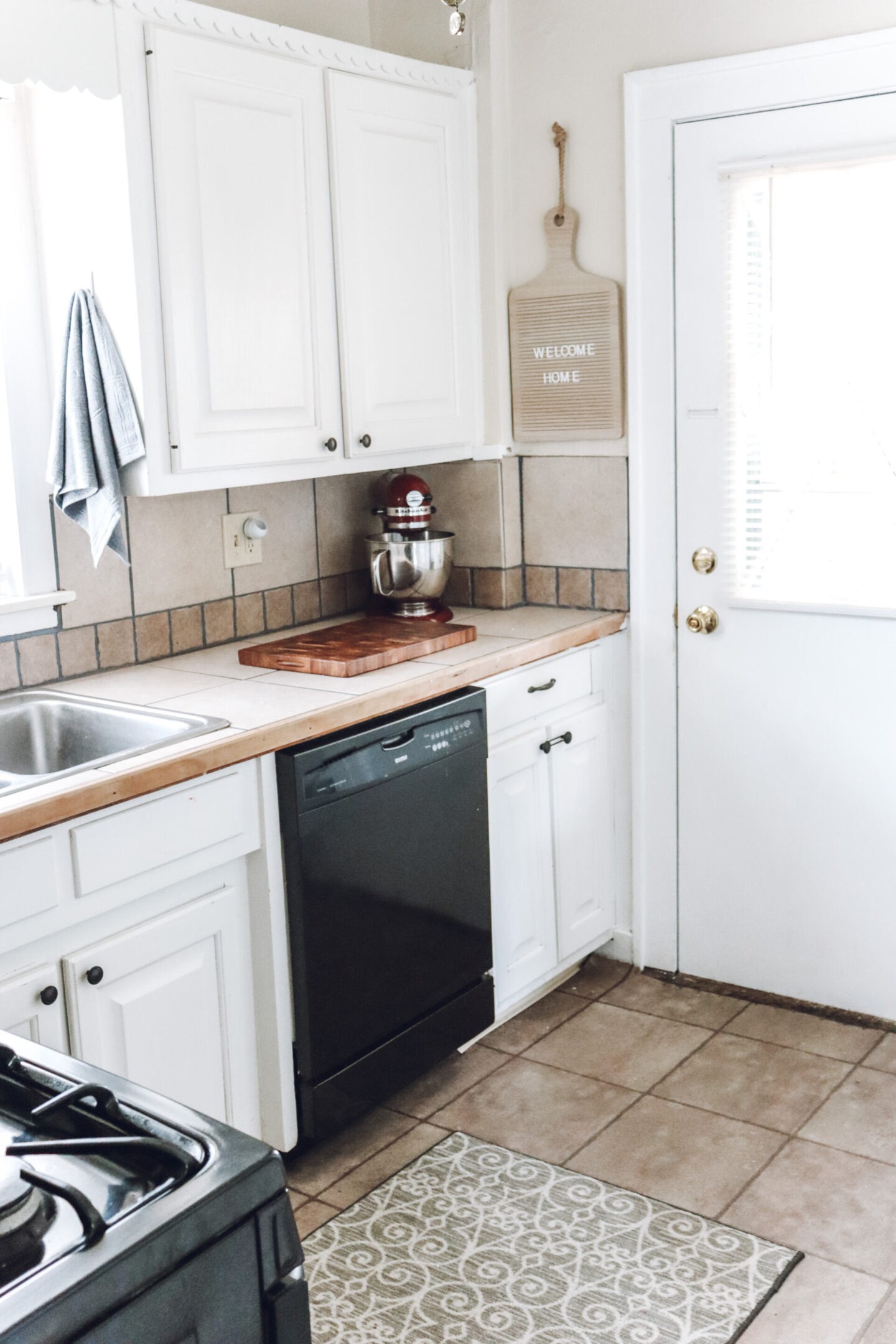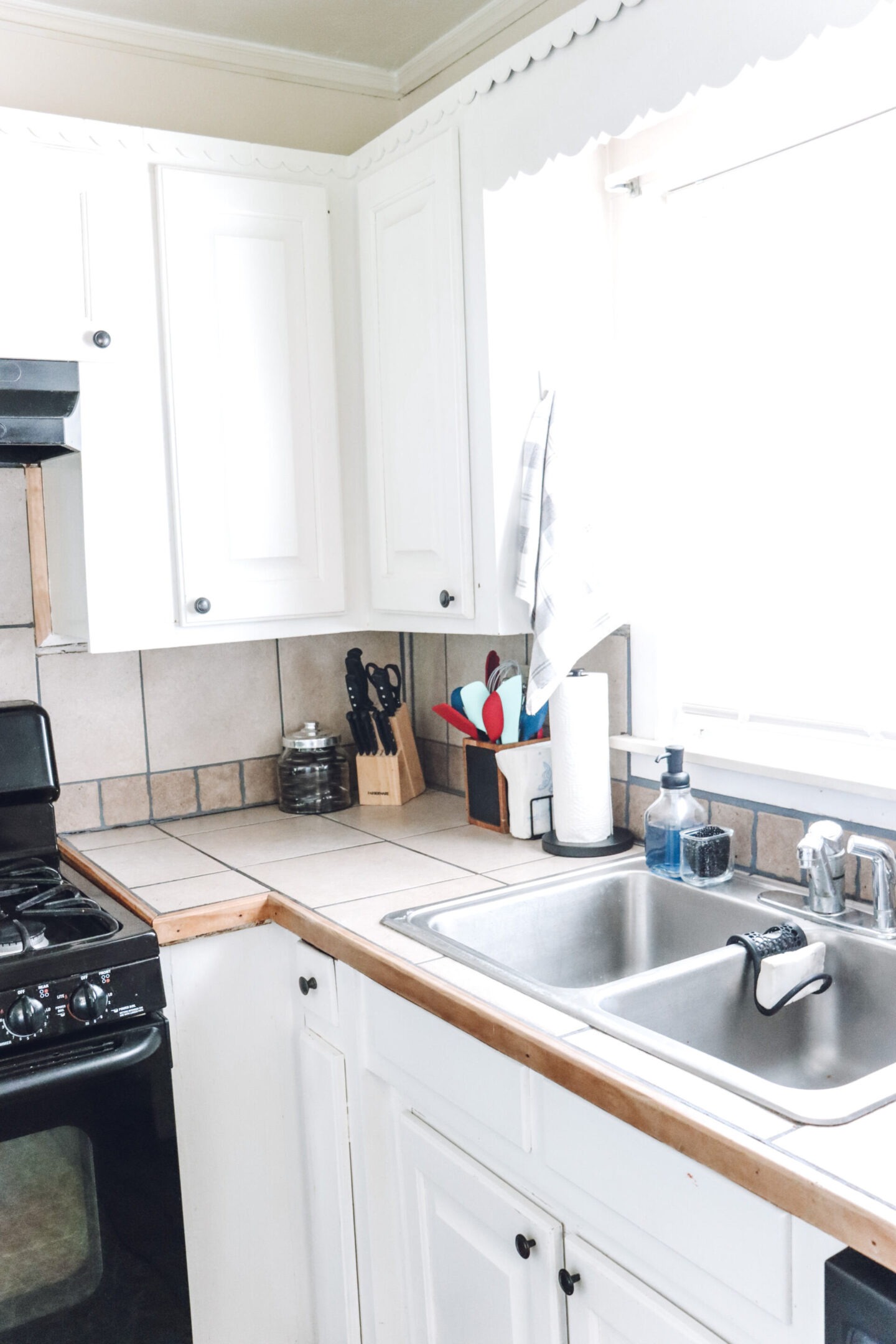 Takeaway
If there is anything you takeaway from this home makeover post I hope it's that no matter how big, small, new or old your house is; there is always a way to make it feel like home. I know if you search Pinterest "affordable bedroom decor" or "affordable home ideas" everything is the opposite of affordable and attainable. Suddenly, you feel like it's a lost cause. But, I hope this realistic home makeover leaves you inspired to turn your house, no matter what it may look like; into a home! I enjoyed every minute of this project and I am currently thinking of ways to be able to do this again.
links to shop
What's to Come?
I would love to be able to do this more often for families in need of a little TLC in their homes. Ideally, I would like to choose a family in need each month (or as often as we can) to makeover a room in their home. I love the idea of YOU guys (my community here & on instagram) nominating a local family and then setting up a fund that everyone can donate monetarily to and items as well for the home makeover. For example, my sister donated her bedroom suite that I chalk painted for my brothers.
If you don't have decor/furniture or aren't local; small monetary donations would be a huge help too. Hopefully I can get brands on board to help sponsor projects as well! Basically, I just know that this is something I feel called to do and I hope I can make it happen more often. Stay tuned for what's to come!