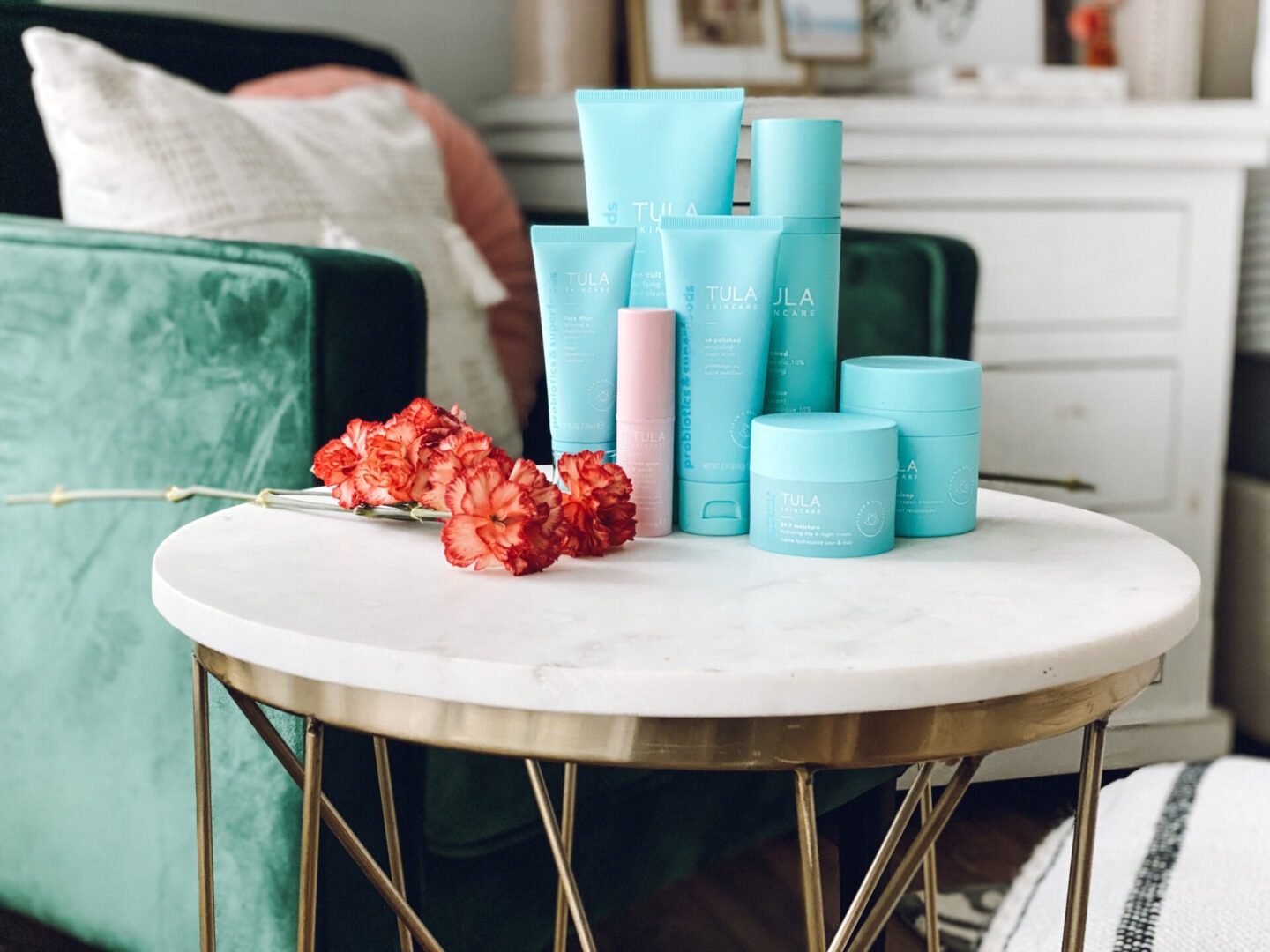 One of the perks to being a blogger is getting to try out new products. Even though I do try new skin care and beauty products pretty frequently, I only share about the products and brands I truly love. Today I'm bringing you my favorite Tula skincare choices.
Probiotics & Superfoods
Tula skincare is formulated with probiotics. Basically, probiotics are a healthy bacteria that is good for overall health and wellness. Their products leave my skin more balanced, refreshed and reduces redness. I also love that Tula uses superfoods when creating their skincare. Blueberries, flaxseed, watermelon, white tea and turmeric are a few examples of superfoods Tula uses as ingredients. Want to read more about these ingredients and what they do for your skin? Click here.
Safe and Clean
I am an advocate for safe and clean skin care and beauty. Tula is a great option for safer and cleaner skincare. Tula leaves out: parabens, toxins, mineral oil, phthalates to name a few. They are certified cruelty free, which at this point all of the personal care products we purchase should be. The ingredients they are using are safe and effective, which is HUGE for skincare.
Fully Transparent
I hope you guys know that I only take the time to write these posts and share these products when I genuinely love them. I do use affiliate links: which means if you do decide to purchase something based on my recommendation I will earn a small commission at no cost to you. Also, using my discount code: TEEENZY will earn you 15% off and I'll earn commission too. I like to be totally transparent with y'all!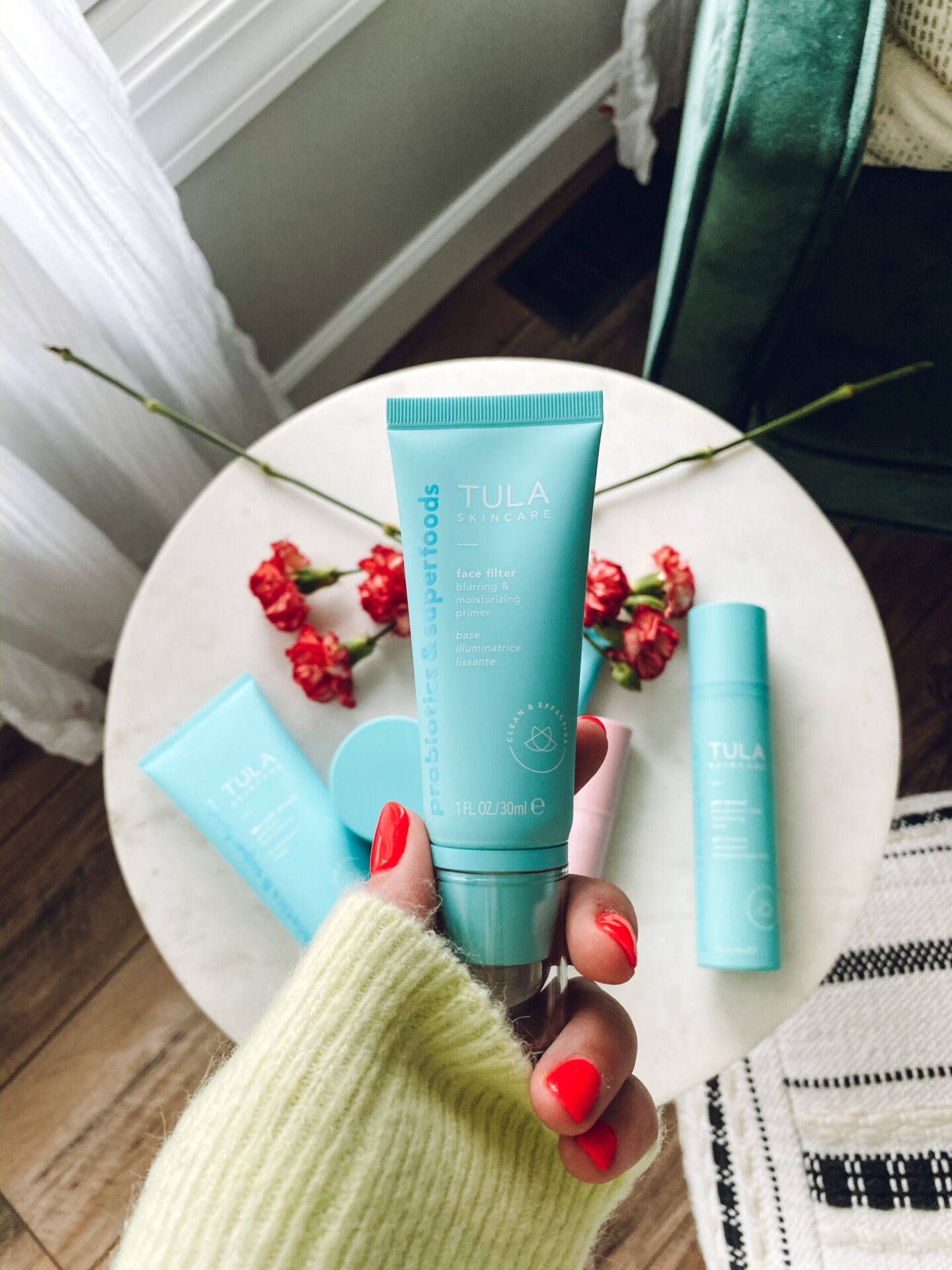 Products
Alright guys, lets get into the good stuff! The products. The Tula Primer is my current obsession. It is called the Face Filter blurring & moisturizing primer. It has been a total game changer in my skincare routine. It feels like you put a filter your face. It evens your skin tone, reduces redness and is totally subtle. If you're a minimal girl, this is for you! However, if you like full glam this is a great base for you. It's so good every time they restock it sells out, so make sure you scoop it up while you can. The next product I've been loving The Cult Classic Purifying Face Cleanser. This is a gel based cleanser that deep cleans without drying and leaves my face feeling so tight and radiant. Confession: I don't wash my face often. I typically use makeup remover wipes but every time I use this cleanser I notice a huge improvement in my skin.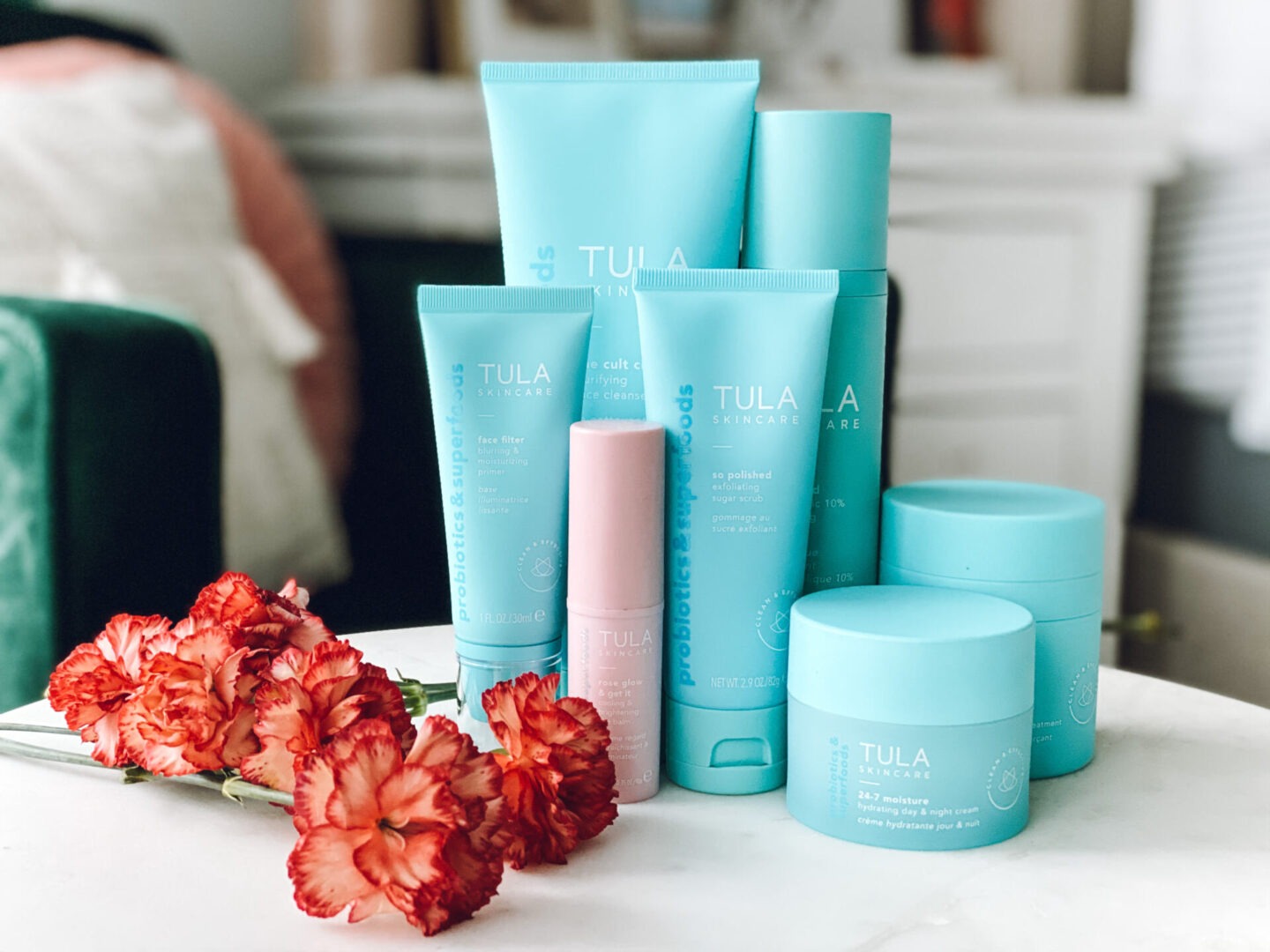 rose glow & get it
cooling & brightening eye balm
The eye balm is my second favorite Tula product. If you suffer from dark under eyes-you need to add it to your skincare. Even if you don't, still a great addition. I don't really have dark under eyes, I would say dull if anything and the rose glow eye balm totally brightens them up. I like to put it on over my makeup to really brighten my eyes. Keep it in your purse and use periodically throughout the day. Bonus: I imagine this will last a long time, since you only use just a little swipe under each eye.
Hydrating Day & Night Cream
Love that this is a dual cream and can be used day or night. It also has the freshest scent. It is super hydrating and lightweight. Definitely, one of my favorite Tula products. Pro Tip: a little goes a long way with this cream!
Honorable Mention
You know what makes a huge difference in our skincare but never gets enough mention!? TONER. If you're not using one, you should be. Tula's Pro-Glycolic 10% PH Resurfacing gel is where it's at when it comes to toners. I love that it is a gel, you can feel it working. Toners balance skin tone, restore the PH, exfoliate and leave your skin brighter. The last item I want to mention is the So Polished Exfoliating Sugar Scrub. I am obsessed with how soft this leaves my skin. I love to use it when my face needs a refresh. It deep cleans and leaves your face refreshed, soft and your pores smaller. I love using this right before I apply make up.
Takeaway
Switching up your skincare periodically can be just what your skin needs for a refresh. If you're looking for a new skincare line or even just a primer I highly recommend giving Tula a try. Use my code: TEEENZY for 15% off your purchase. Want more beauty posts check them out here. Also, if you have any questions or need recommendations shoot me a DM or comment on here. I love talking skincare and I am here to help.