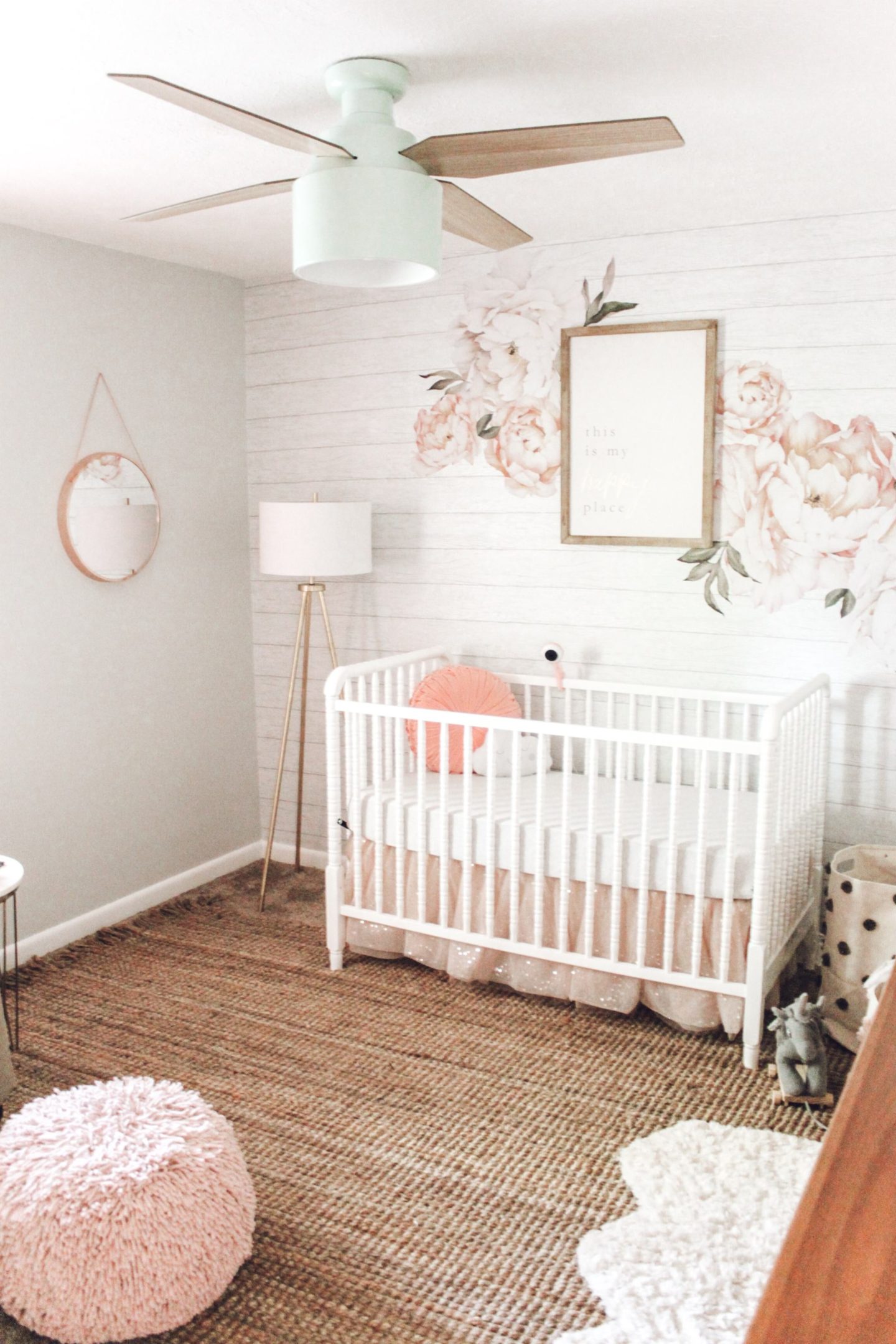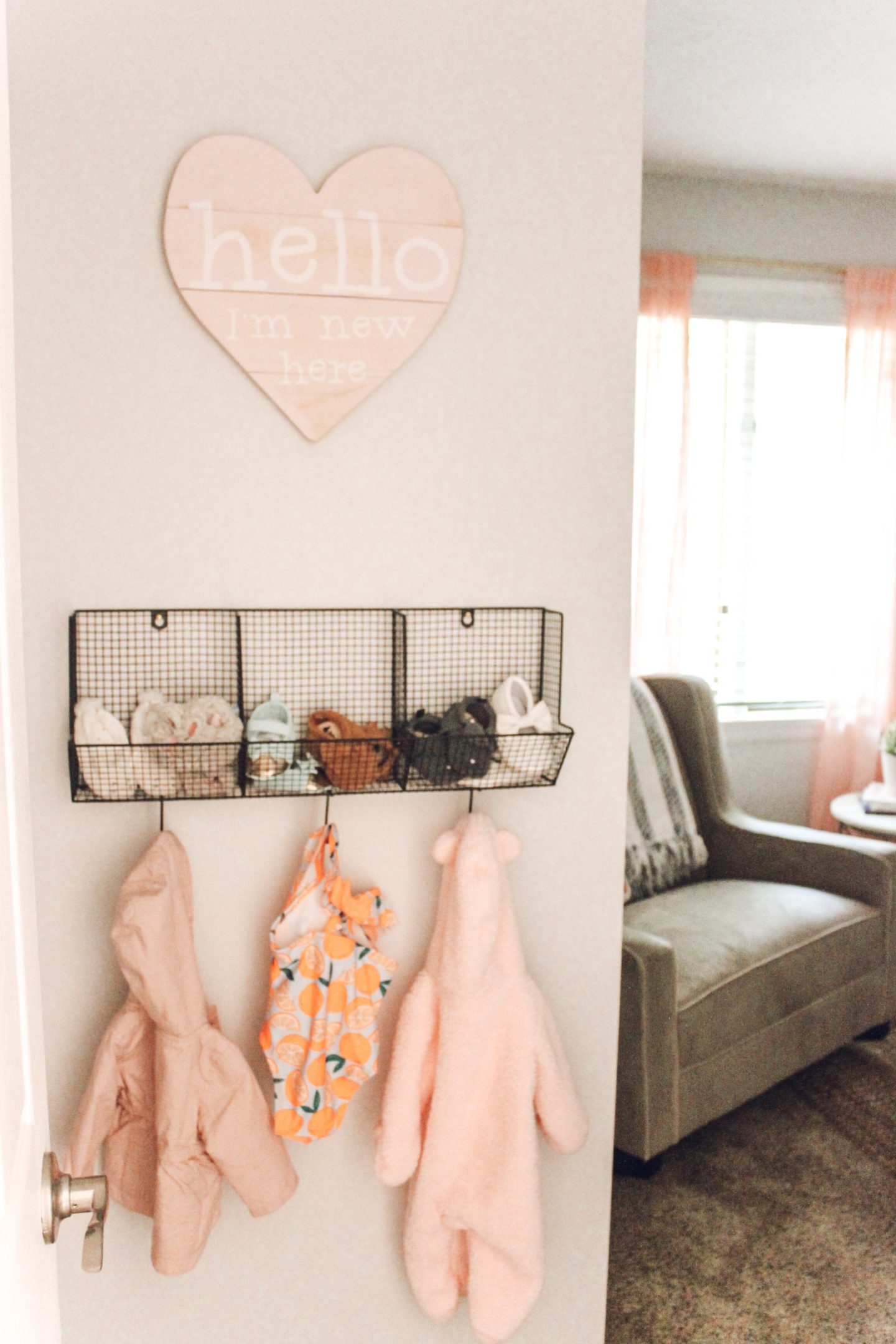 Designing Holly's nursery was a labor of love. I was so excited to design a baby girl's nursery. I had a vision of peachy-pinks and something really feminine. Fun Fact: Her nursery is actually what our master bedroom was, only cut down a little bit smaller. Part of what was our room became the hallway to our new master bedroom addition (post on that coming soon). So, with the room being shrunk down it also lost a window. So, it only has one north-facing window which means the natural light is minimal. Because of that, I wanted to add as much brightness as possible.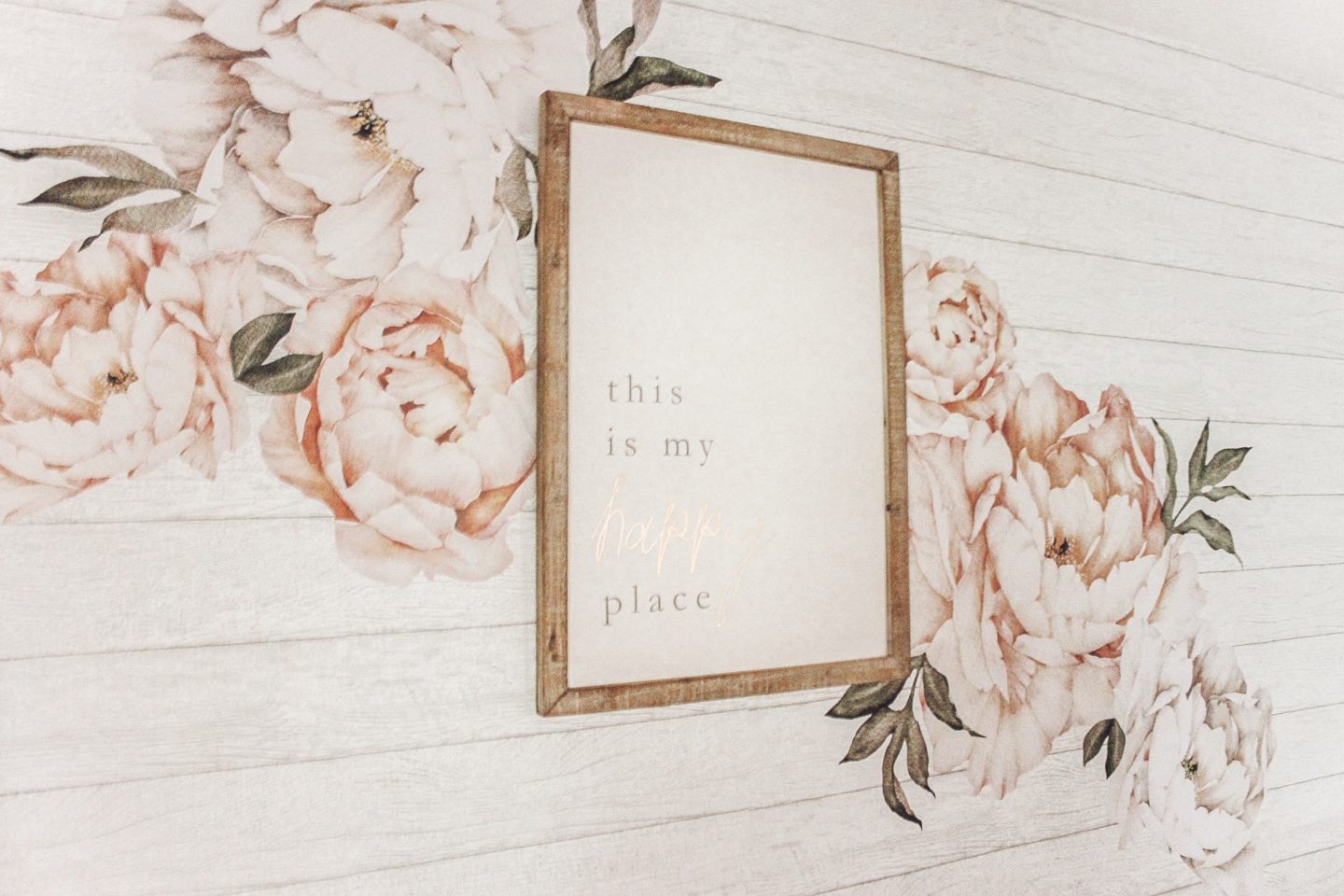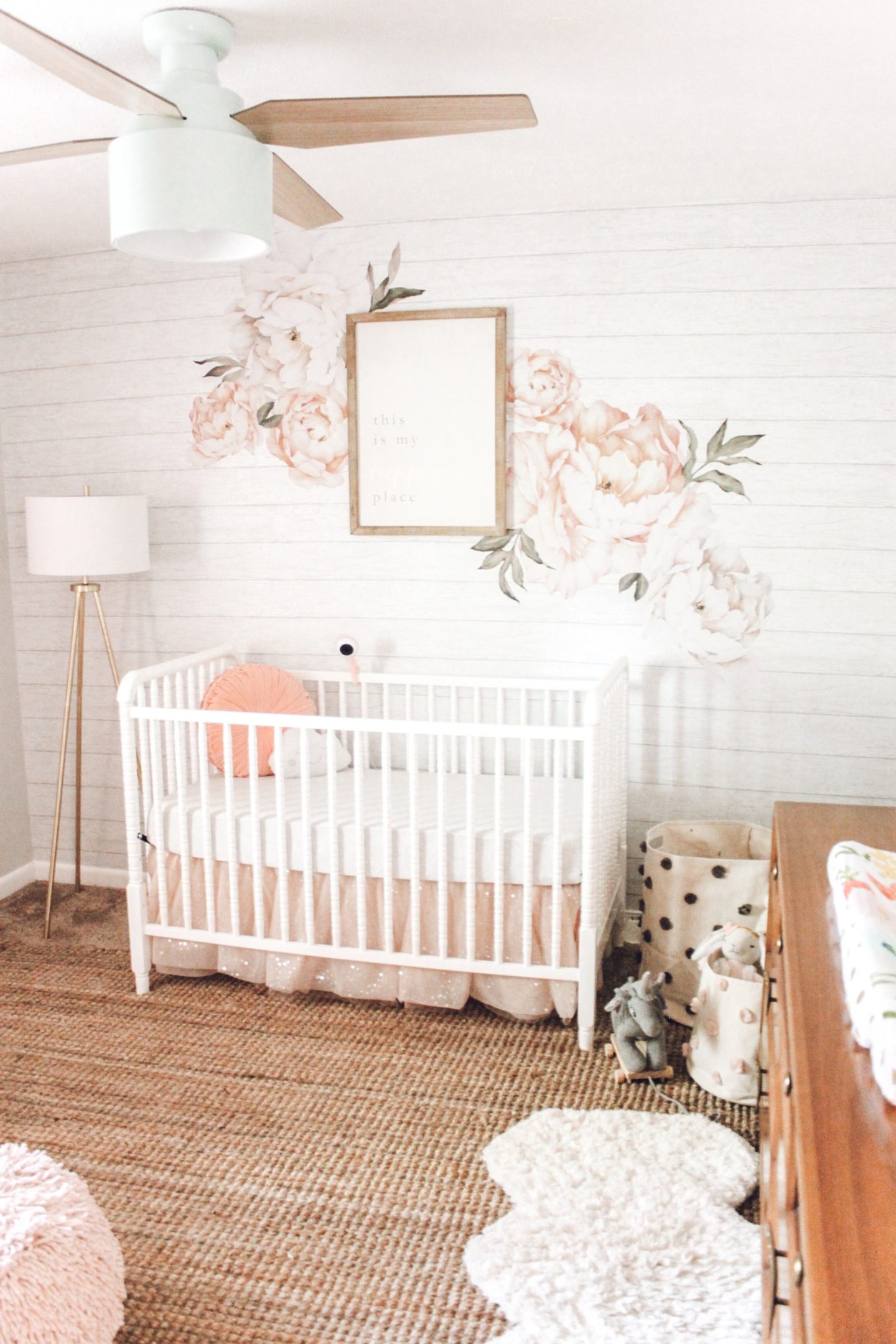 My husband sent me a photo of a nursery that had the shiplap and floral design and I fell in love. Like usual he made my vision a reality. It was the perfect accent wall for her room. Both the shiplap and floral are wall stickers. So amazing right!? When you first enter the room there is a metal basket to store shoes, bows, tutu's, or whatever other accessories she accumulates over time. I loved the idea of being able to display all of the different glittery adorable-ness that comes along with girl's items.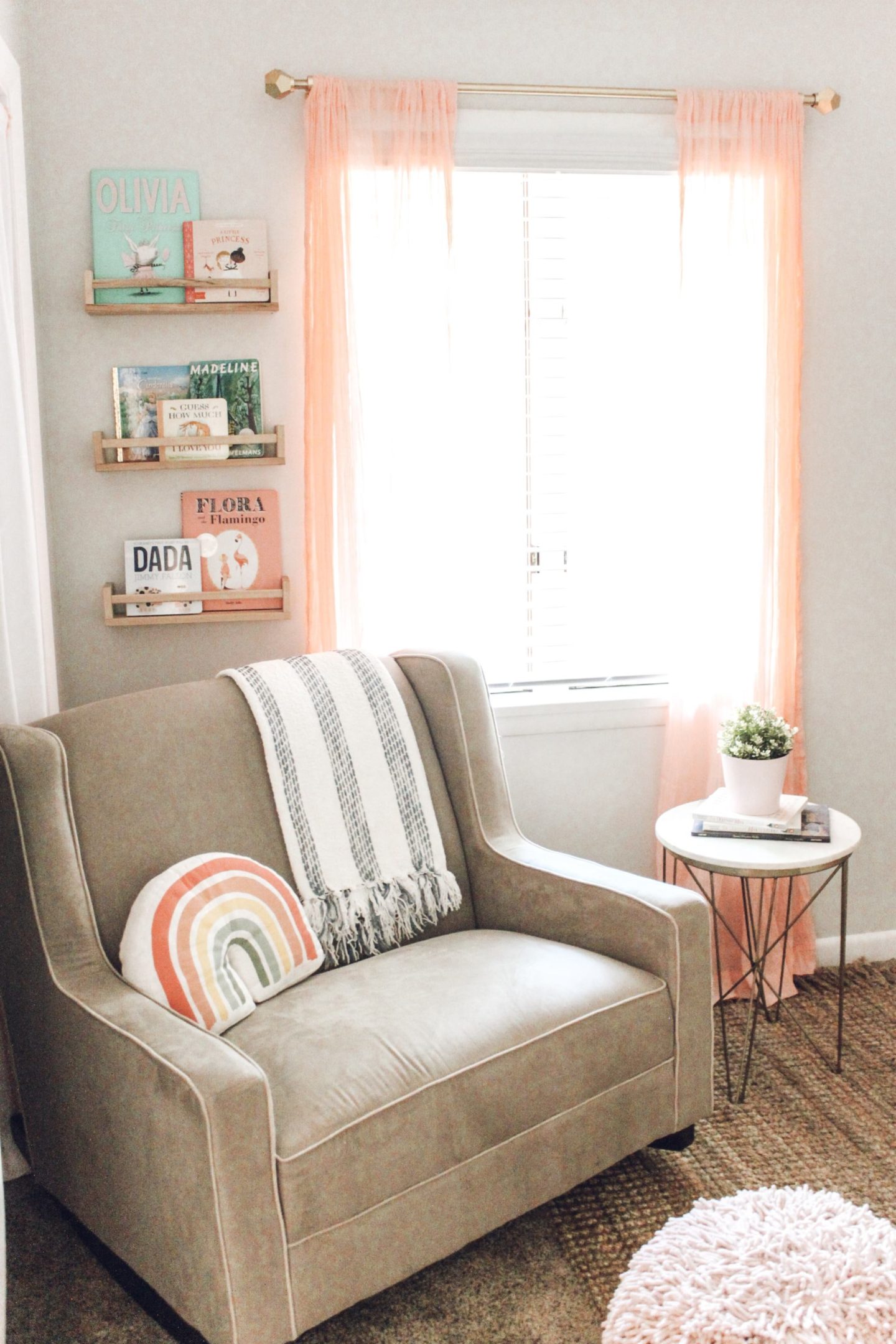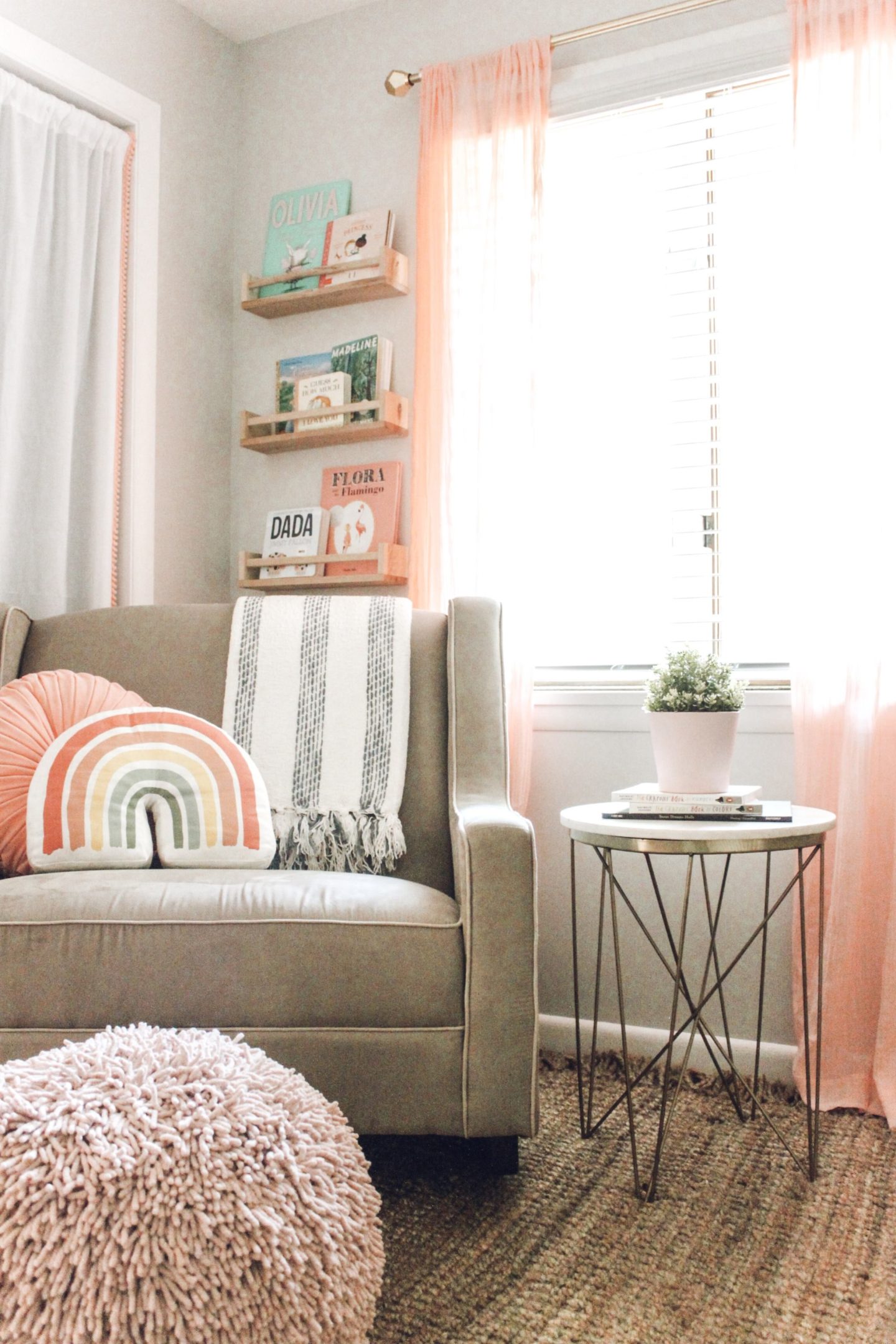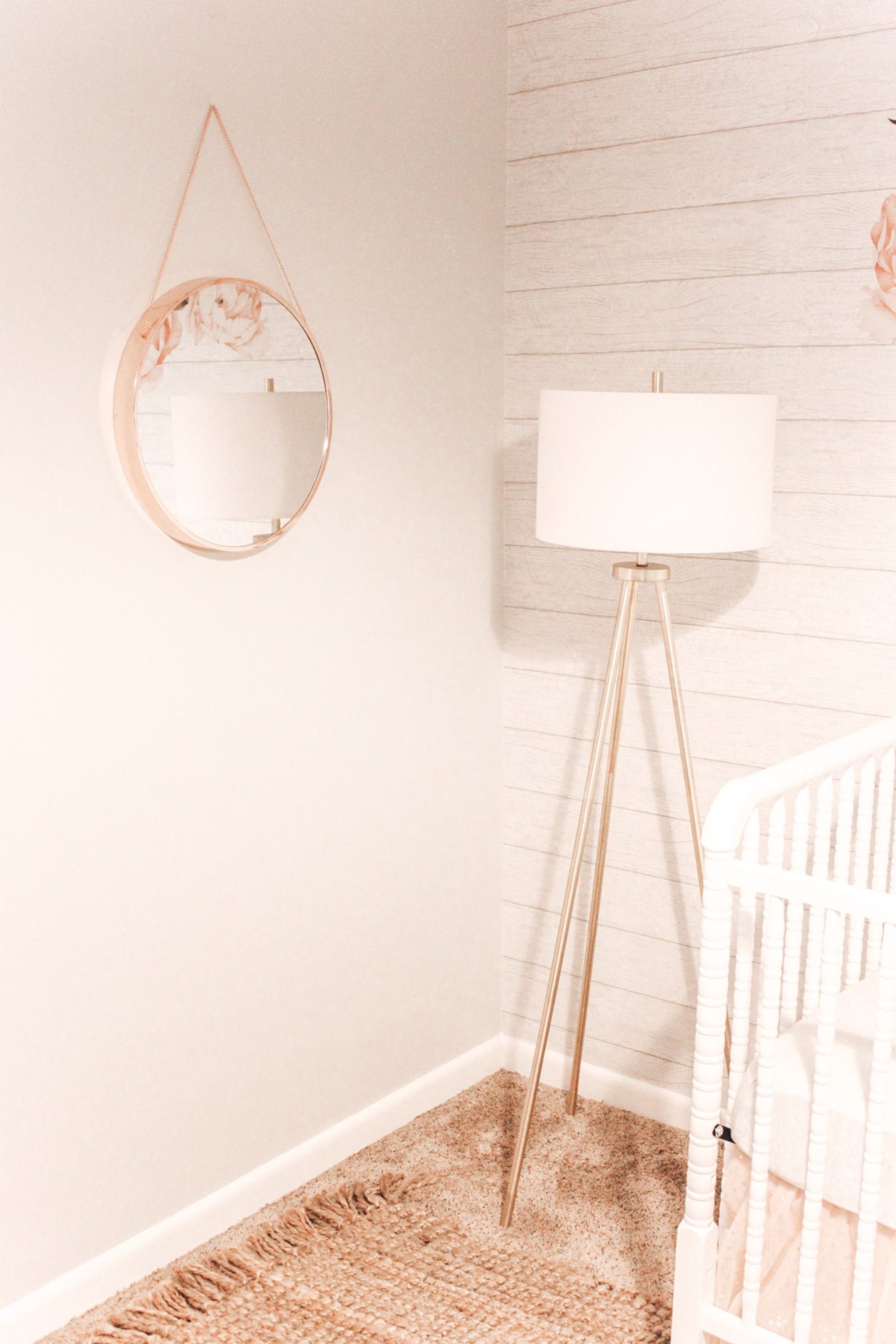 More thoughts on designing Holly's nursery..
The reading corner was a must for me. I love displaying books in my children's rooms. Reading is so important and we try and instill it at a young age. Vinny absolutely loves storytime before bed. Cece thinks when you read you open a book say "read read read" close it and grab the next book, she's still a work in progress haha! Holly is along for the ride and enjoys being read to. We moved the oversized rocker from Cece's room into Holly's and it is perfect to get the whole crew snuggled up and read a book. I love to change the books up seasonally in the bedrooms too. These shelves are actually Ikea Spice racks but they are the perfect size for a small corner. They do have large ones available too. The pink shaggy pouf was an adorable and functional accent. It's perfect to put your feet up on but also super cute.
Check out my Instagram here and stay up to date with me and my crew.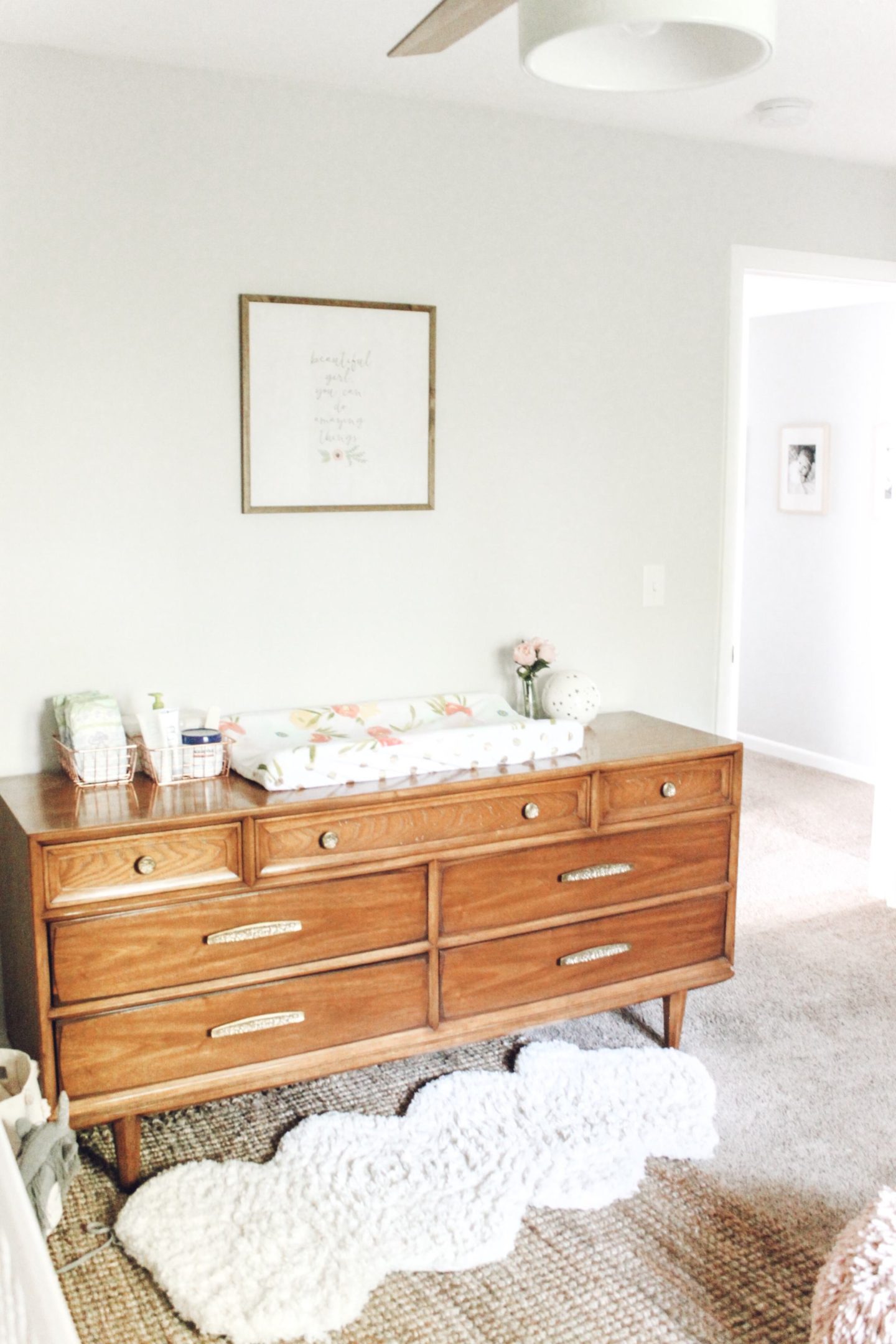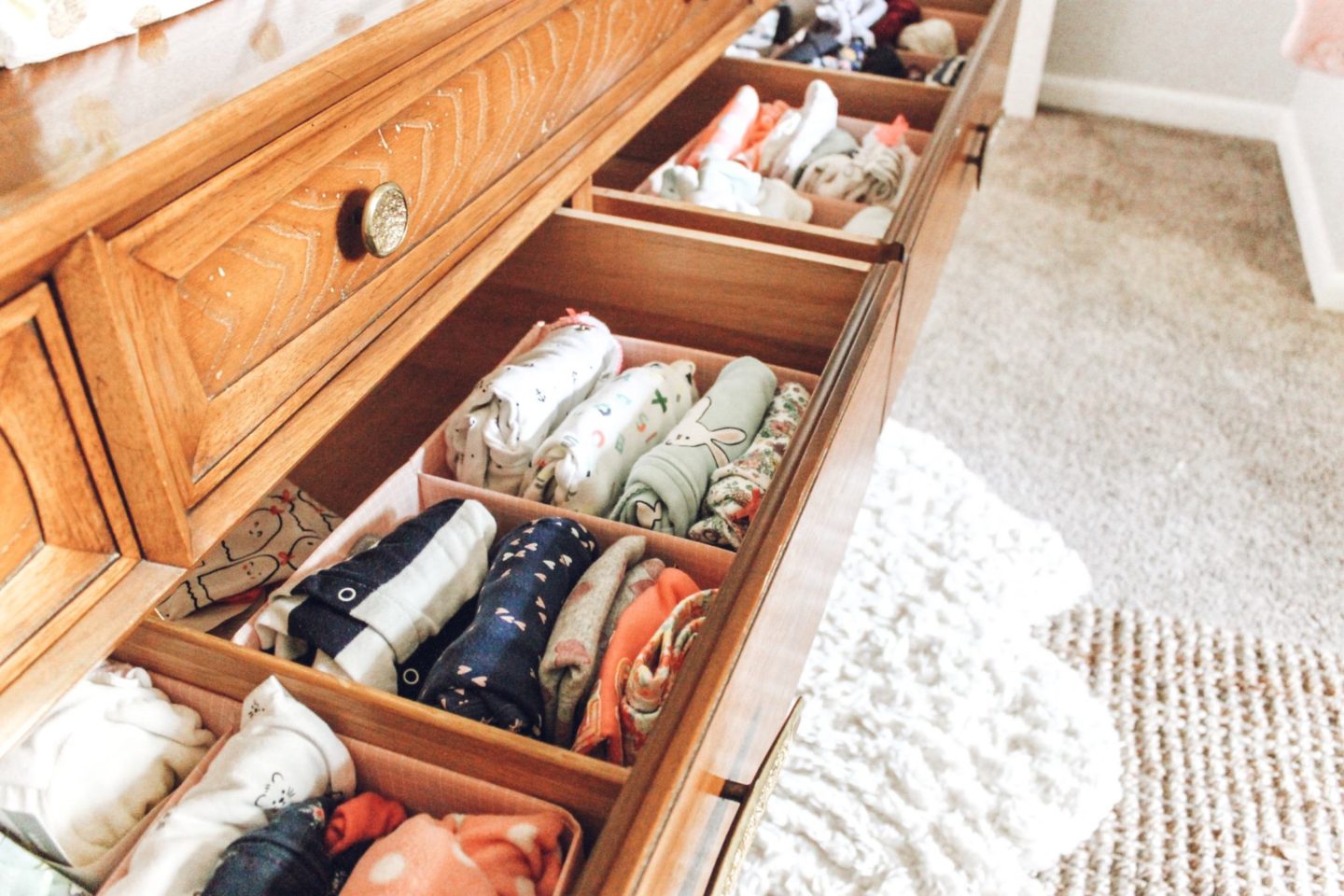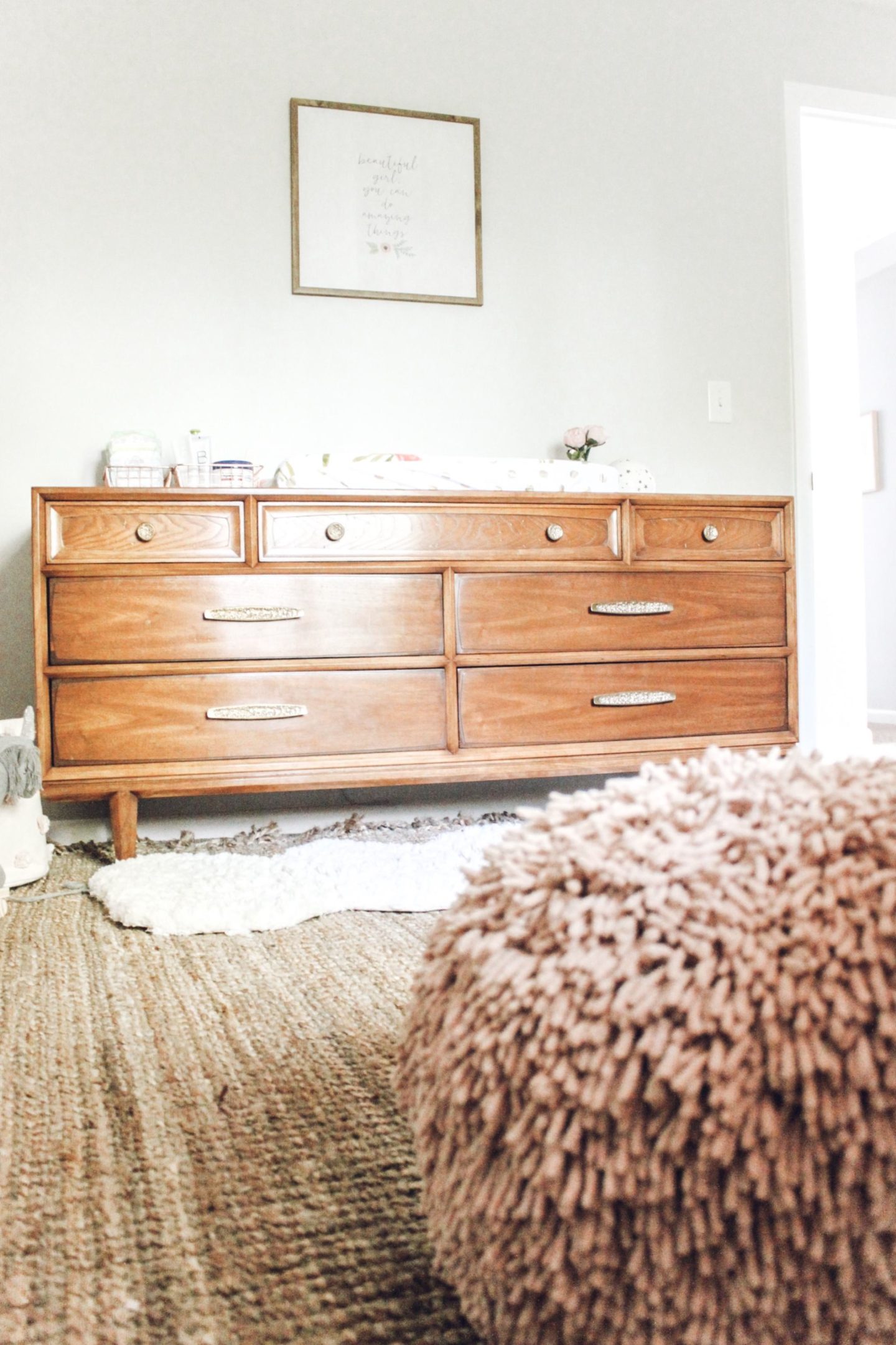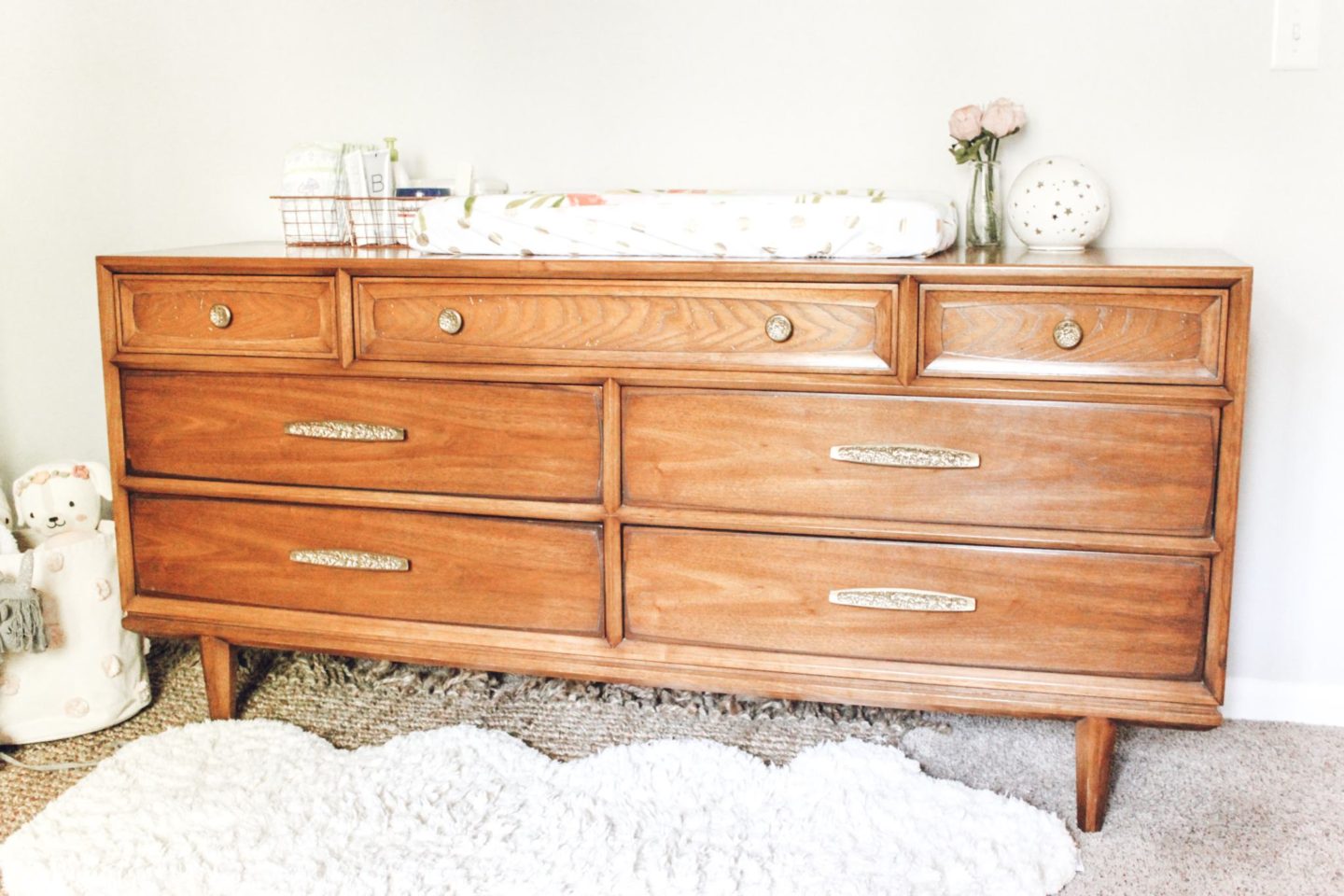 Incorporating new & old to create a timeless space.
The marble and gold table, gold curtain rod, and rose gold mirror were fun ways to accent with gold. I also through in a few rose gold metal baskets to help organize on top of her dresser. I liked the idea of having gold and rose gold and not limiting myself to just one of the colors. Holly's crib was the first piece I ordered for the nursery. I love its classic and feminine look. Holly's dresser is an antique piece from my mother-in-law. My original vision was to paint it a peachy pink but once we got it in the room I loved the original wood color. The gold hardware is original too. We used the matching nightstand as an end table in our playroom. It is the perfect eclectic style. Mixing woods and whites has become one of my favorite decorating styles lately. I wanted to keep the wall art pretty simple since we had a lot going on with the accent wall. We got all of the wall art from Hobby Lobby.
Check out Vinny's bedroom here.
Creating her space was such fun and once I was done it inspired me to update Cece's space. I'll have a post on that coming soon! Holly's nursery is sweet and calming and Holly is such a chill baby. Her nursery fits her perfectly. I hope this helps you design your baby girl's nursery.