I am so excited to finally be sharing Vincent's bedroom makeover. Let me just start by giving a little prelude as to why we decided to do it now. Stick with me it's kind of a lot! So, when we found out we were expecting our (unexpected) third child, we decided to start our master bedroom dream addition. We have always talked about, it was one of those things we wanted to do but never had a real reason to. Well, once we knew we were short one bedroom we decided to add on another room and give the baby our current room. I know the two baby girls could share a room but we thought it would be really tough in the beginning and the two would be waking each other up frequently. Cece is a light sleeper, to begin with so it just wasn't ideal.
I know sharing rooms is still very likely for the two girls once they are older and want to share a room. But, for now, separate rooms were going to work best. Once we decided we were going to add on a master we planned to upgrade from a queen bed to a king and that is how the ball got rolling on Vinny's project. We decided it made the most sense to give Vinny our queen mattress and upgrade his current room. Another reason being, our room will be under construction and with me being pregnant I need a place to sleep. So, I will be sharing a room with Vinny for a few weeks *cough cough months* while our room is finished.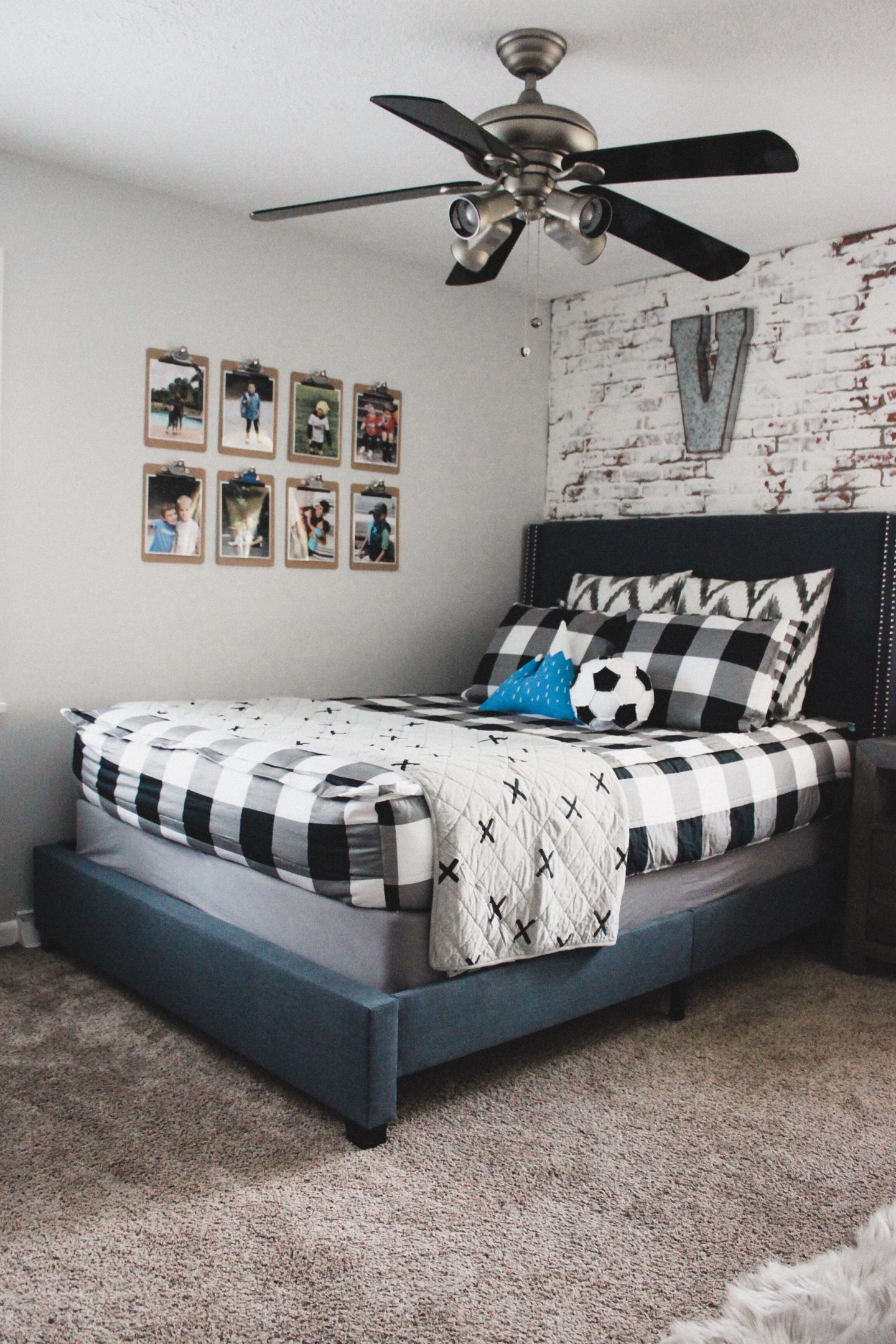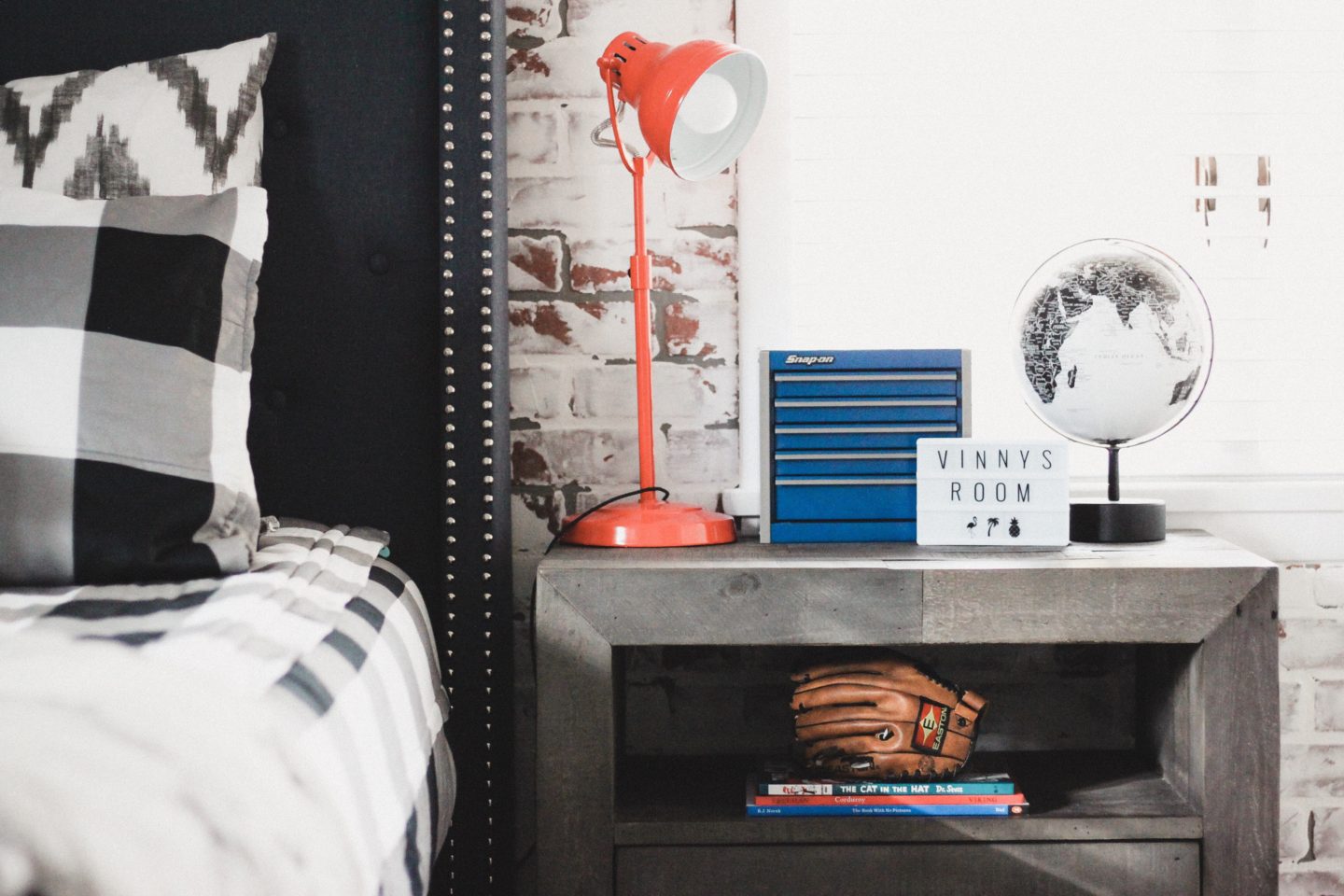 Upgrading his room was a bittersweet feeling. His room was so him. He loves decorating just like his mama and he put a lot of his own personal touches in the space. So, it was sad to let go of it. But, I know he will do the same in this new space as well. I found that decorating this room was especially challenging because he is at an age where he has an opinion. For example, we wanted to do a brick accent wall with german smear and he did not like this idea at all. I felt bad doing too much that he wouldn't like. Ultimately, we ended up doing the brick wall and he loves it.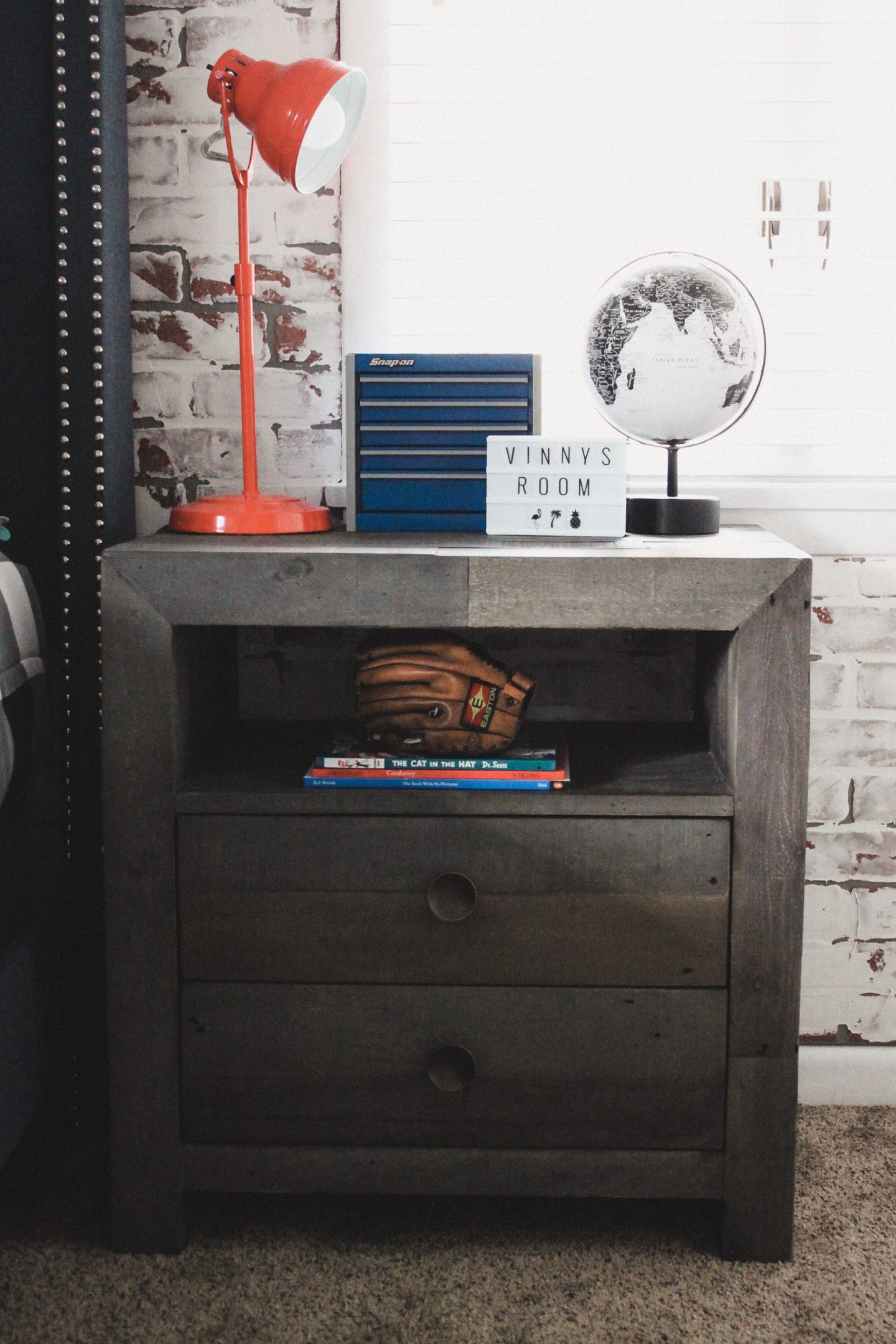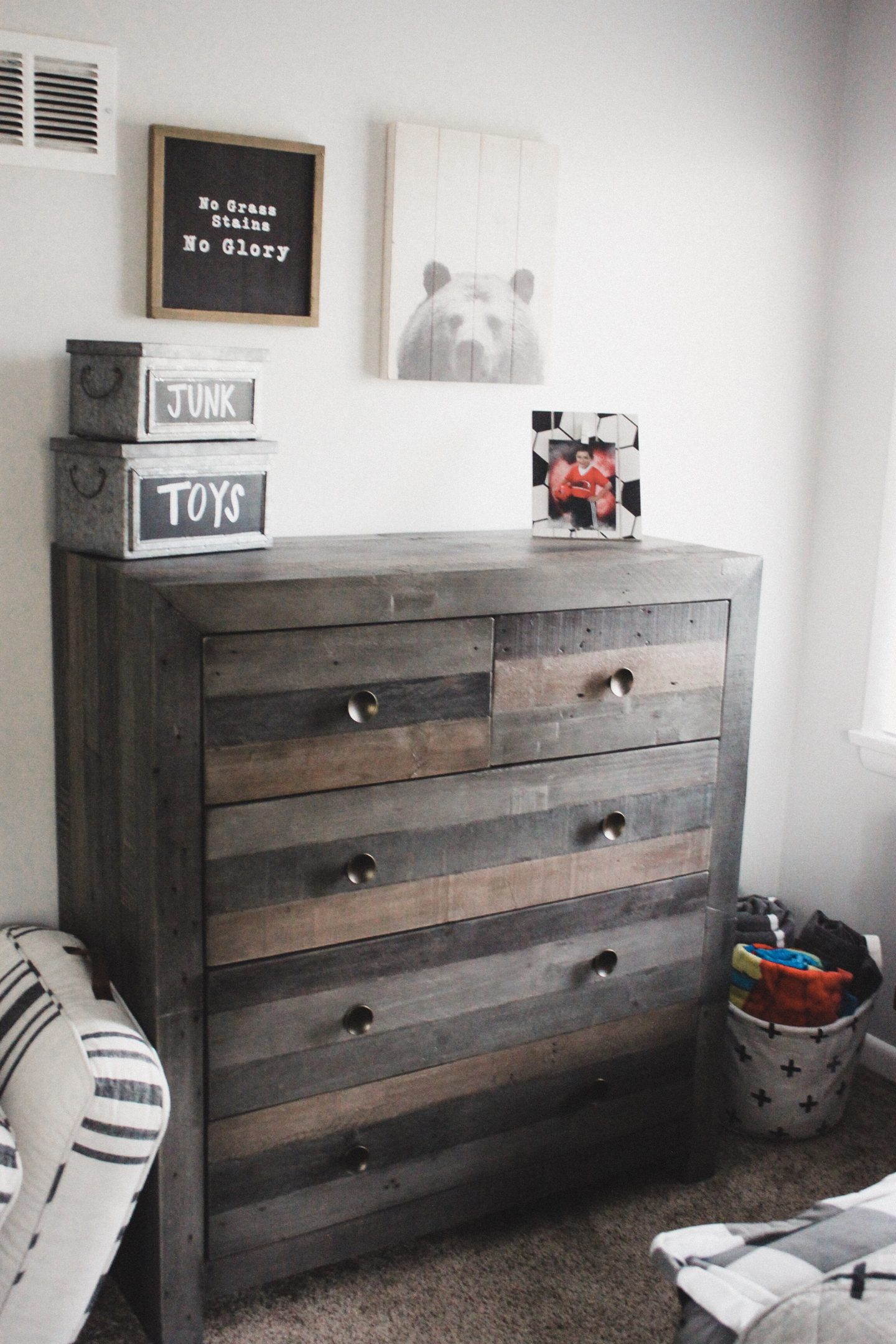 His previous furniture was basically "junk" from Target and Ikea. However, I will say the Ikea cube shelf held up really well. The Target dresser not so much. But, they got the job done. Now, that he was older we wanted to get quality furniture that he could grow into. Let me just tell you that was not easy! Finding solid wood furniture online in a style I liked was close to impossible. But, after lots of searching, I found this dresser and nightstand made with reclaimed pine. The quality is great and I love the design. I think it is the perfect masculine touch for his room. Blue is his favorite color so we decided to do this denim colored upholstered bed. We showed him a few different beds and that is the one he picked out. For a lot of the pieces, I would give him options and let him choose between them. It actually worked out really well because I had it narrowed down to items I approved of and he got to put his own opinions into it.
Reclaimed Wood Dresser // Reclaimed Wood Nightstand //Blue Upholstered Bed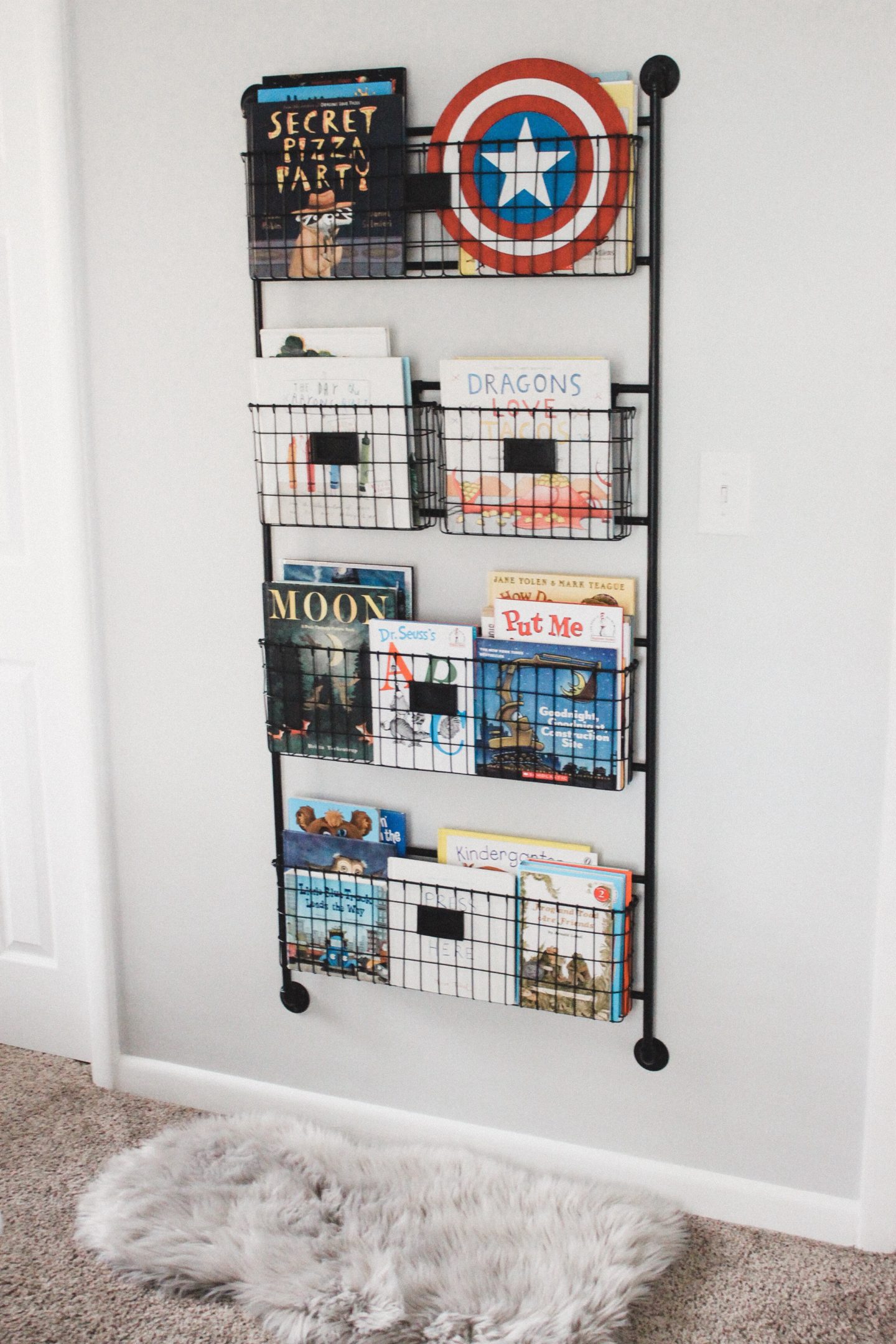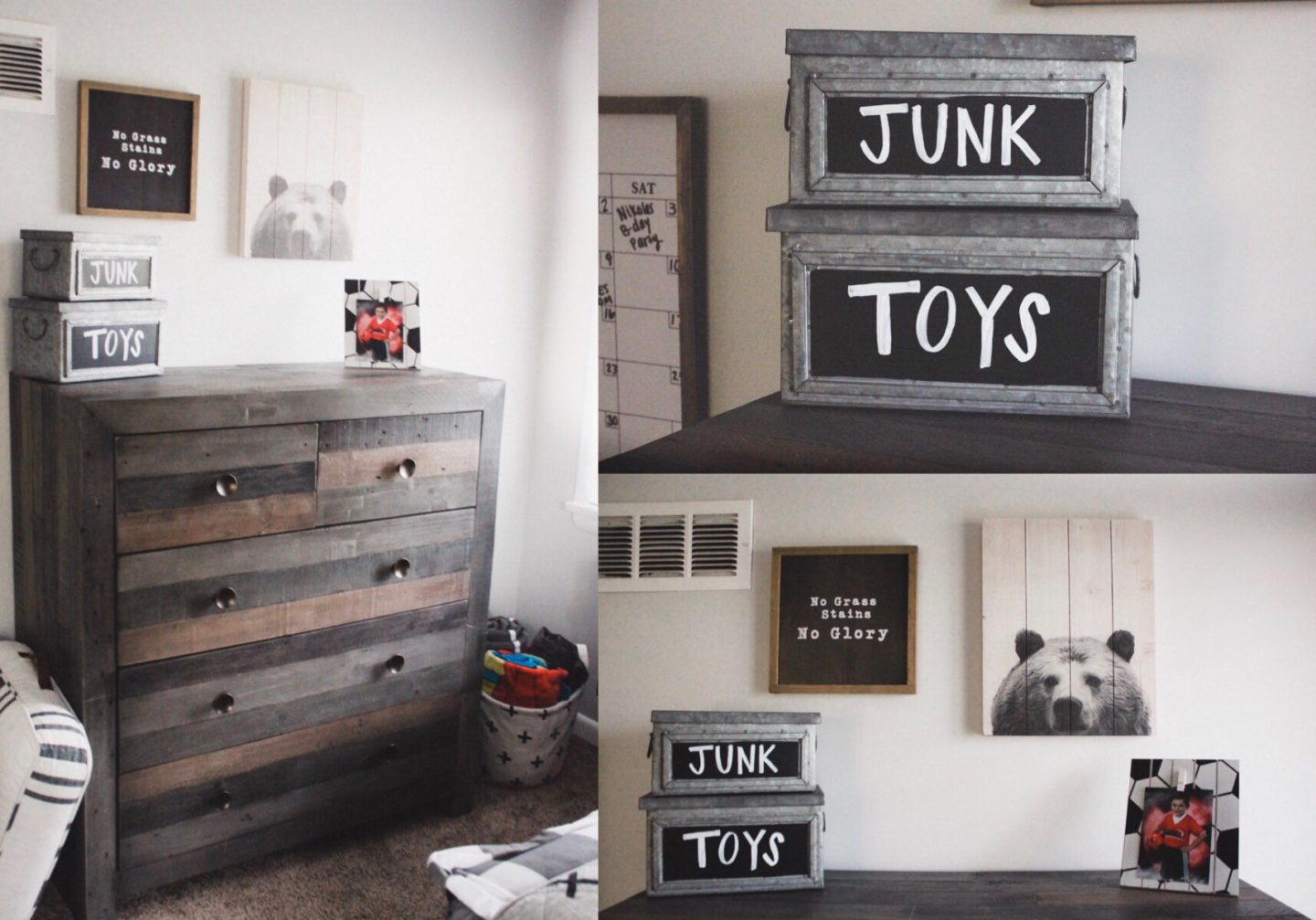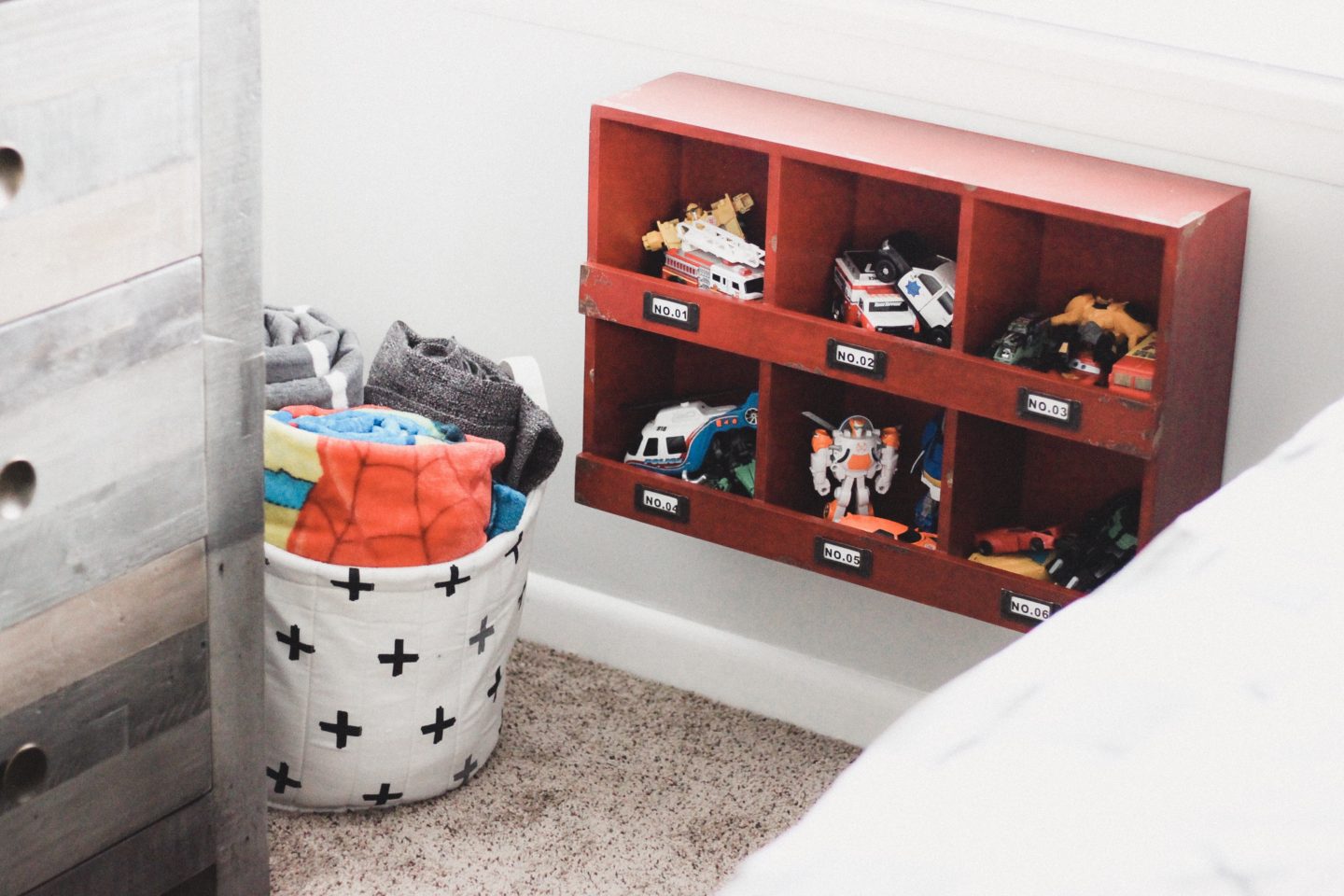 Reading is something that we do nightly and is very important to us. I knew the floating bookshelves he had were not going to fit the new space aesthetically speaking. So, when I found this metal shelf it was the perfect industrial style to fit the space. I also love that it will still display the books. We like to change the books up seasonally so I am really happy I'll still have a spot to do this. I didn't want a cut and dry "theme" for the room because he is ever-changing and it is so hard once you are limited to something like sports or sharks. So, even though there is not one specific theme we did use our hometown team of Grizzlies and soccer (the sport he plays) to guide the design process. So, we threw in little accents like the Grizzly art print, soccer ball throw, and soccer frame. I love how it ties it all together but can be easily changed out. Especially, since he just said he wants to wrestle now haha!
Metal Book Shelf // Red Lamp // Clipboards // Black and White Globe // Light Up Letter Box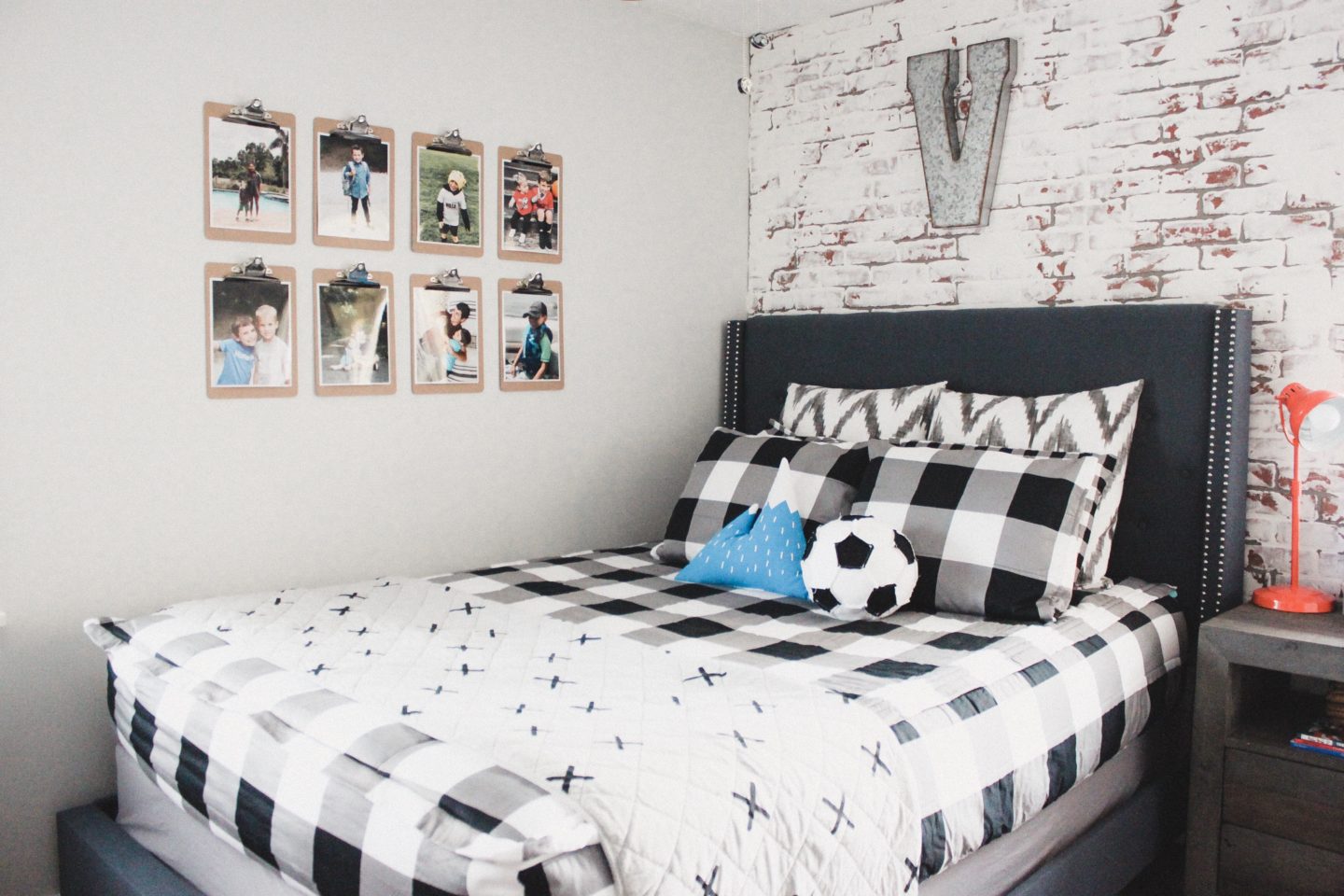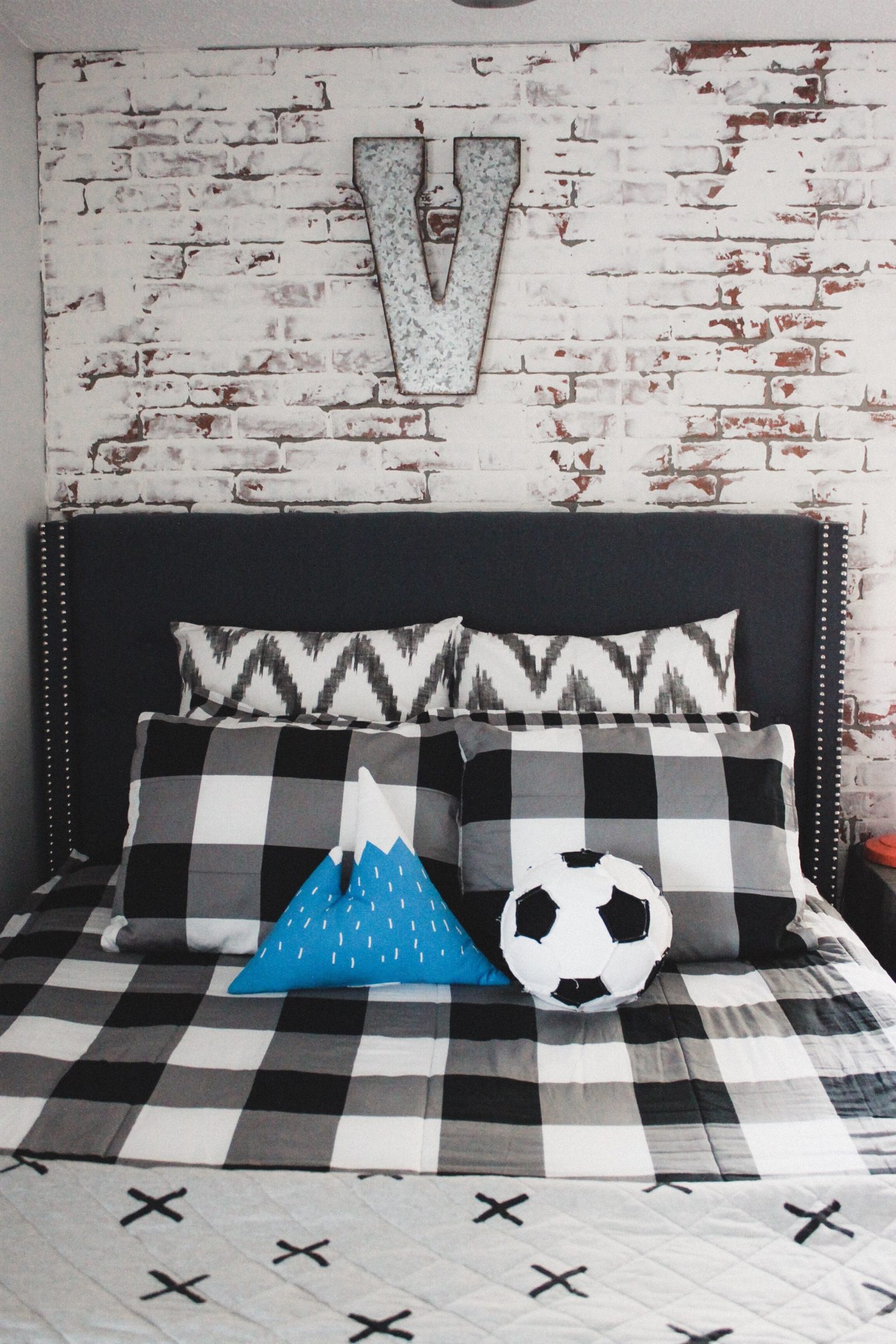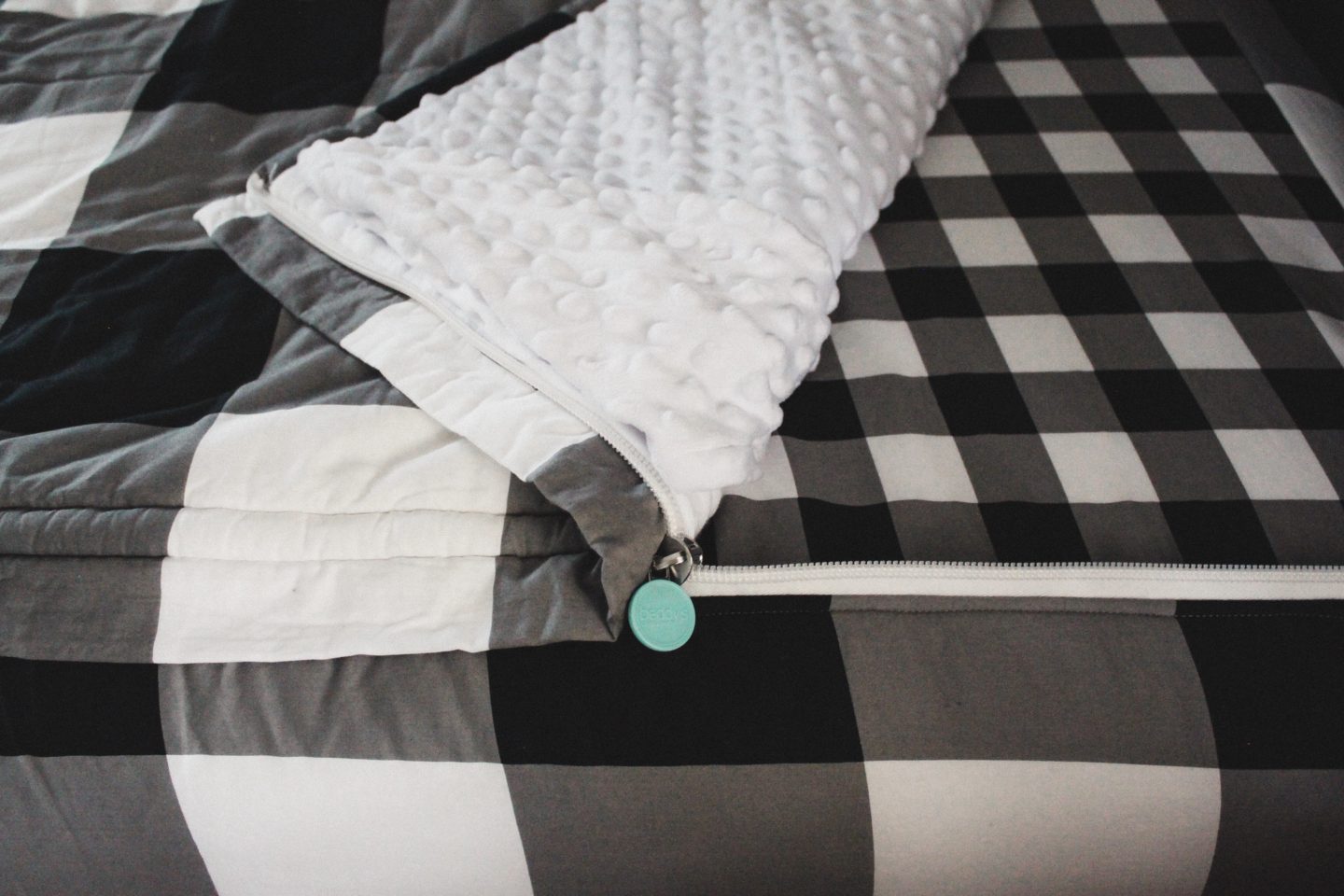 Lastly, and maybe what I am most excited about is our new bedding. I really wanted a buffalo check bedding for his room and throughout my searching, I stumbled across Beddy's. Not only, did they have the most adorable buffalo check bedding but their functionality was unmatchable. It comes as one piece that fits over your mattress like a fitted sheet, which is awesome because it keeps it snug. Built into the bedding is the fitted sheet and a super soft blanket. It is all one piece and easily made by zipping it up. The built-in blanket is also detachable which is nice for anyone who doesn't want to feel totally "zipped in". To make the bed all your kiddo has to do is zip the zipper up and BOOM it's done. This is every mom's dream. It was especially nice because Vinny's bed is pushed up against the wall which makes it hard to make the bed but, with Beddy's is super simple to zip it up. Use code TINAC for 20% off your Beddy's Purchase. Another thing I totally love about this company is that it was started by two moms. I love supporting other moms and their businesses. Vinny is at an age where learning responsibility is very important and Beddy's will be great for that. He will be able to successfully make his bed with no fuss.
Buffalo Check Bedding // Mountain Throw Pillow // Soccer Throw Pillow //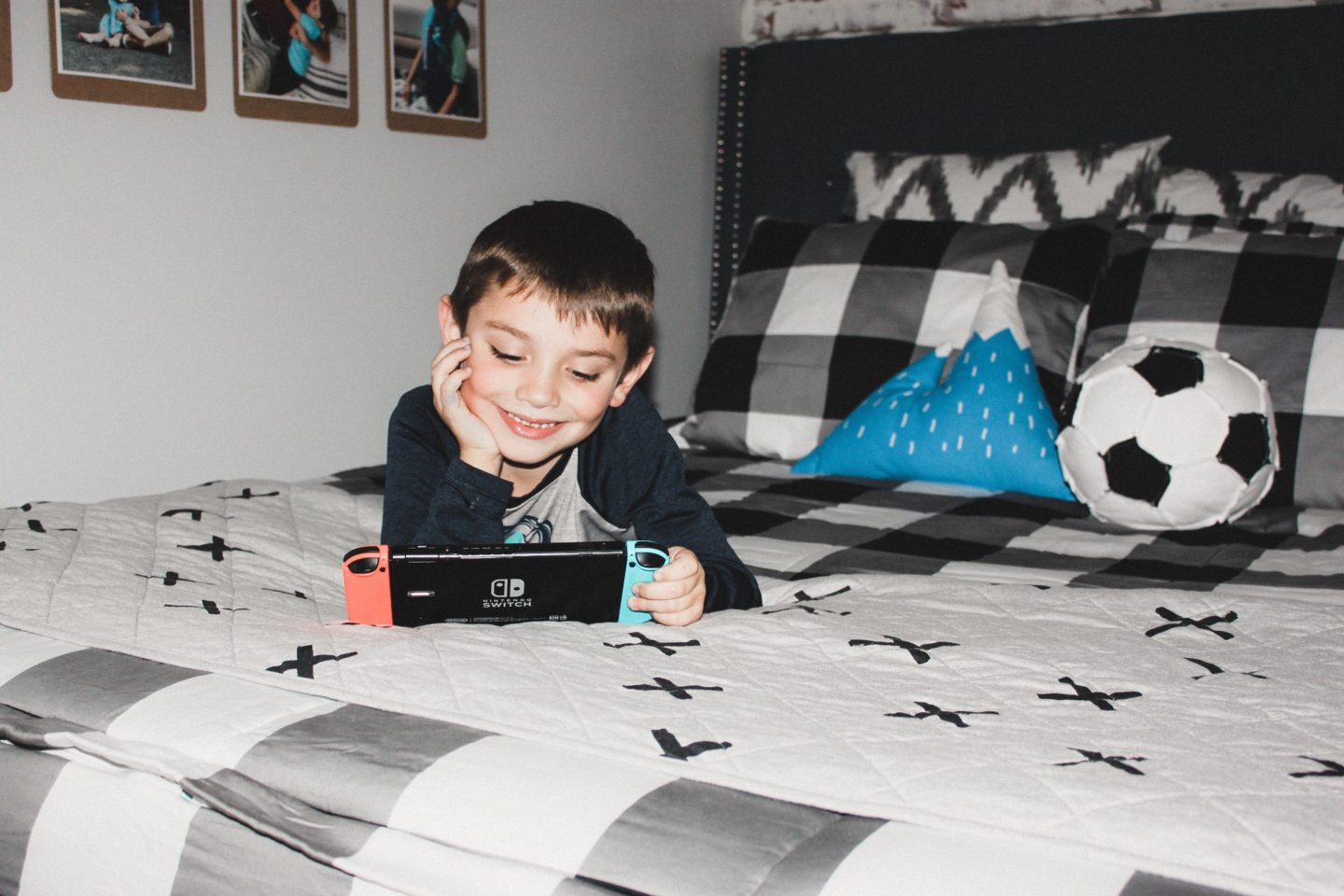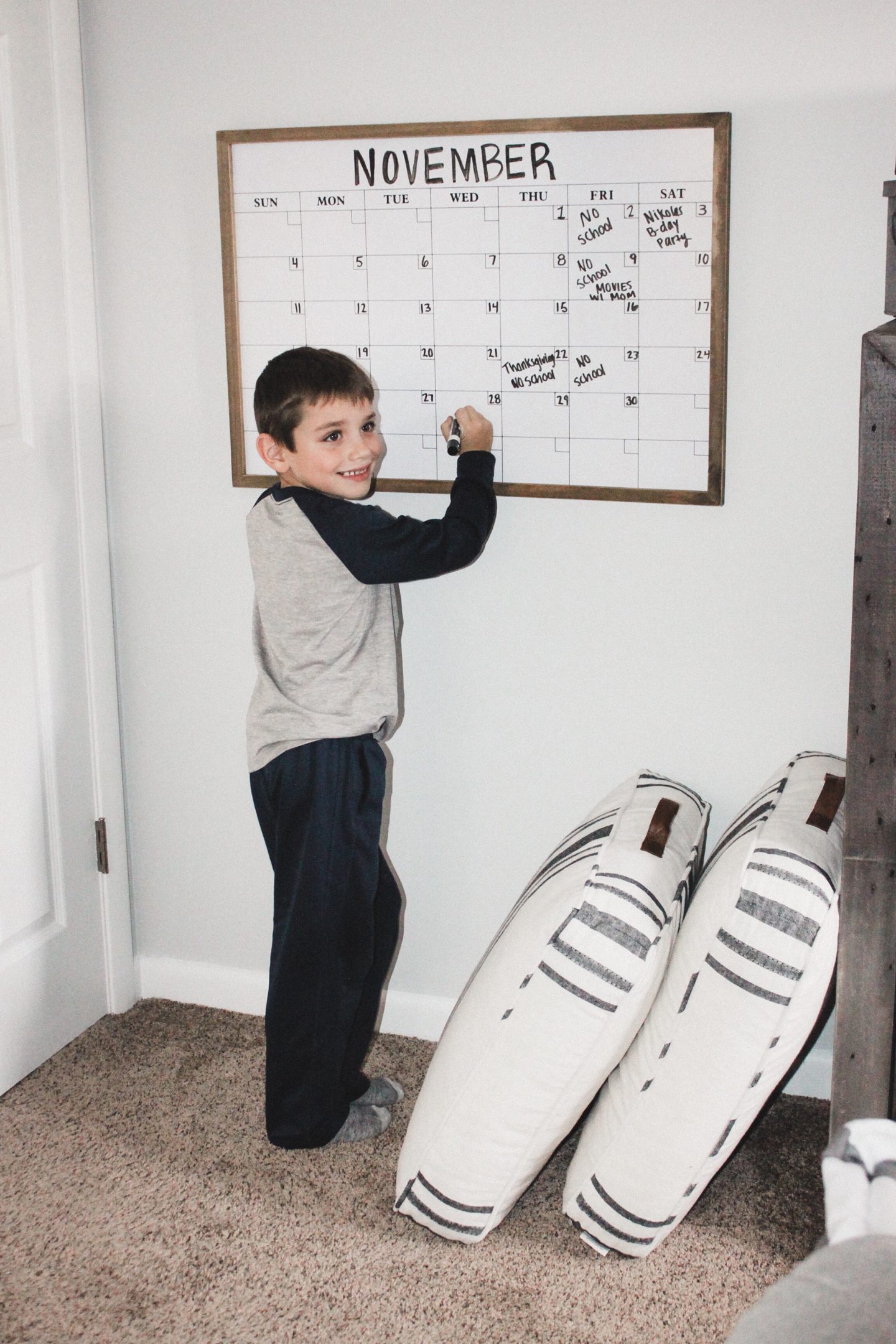 Overall, I am really pleased with how his big boy room turned out. It is something he loves now but can also grow into. Functionality and longevity were two very important qualities the items in his new room needed to have and I think with the solid wood furniture and beddy's zipper bedding we totally achieved that. I hope this helps inspire you for your next kid's room makeover. If you're looking for more kids bedroom inspo, check out Cece's big girl room here.