Today I am sharing tips for photographing your kids. This post is for everyone who has littles they want to take pictures of, not just bloggers! Since I became an aunt in 2002 I've loved capturing beautiful photos of kiddos. Now, as a mom of three I love to capture mine. I also love to send out holiday cards for every holiday. You can check out my Christmas cards here. The reason behind the photos I'm sharing today was for our Valentine's Day card. Scroll to the end to see, it turned out BEAUTIFULLY. I absolutely love all of Shutterfly's designs.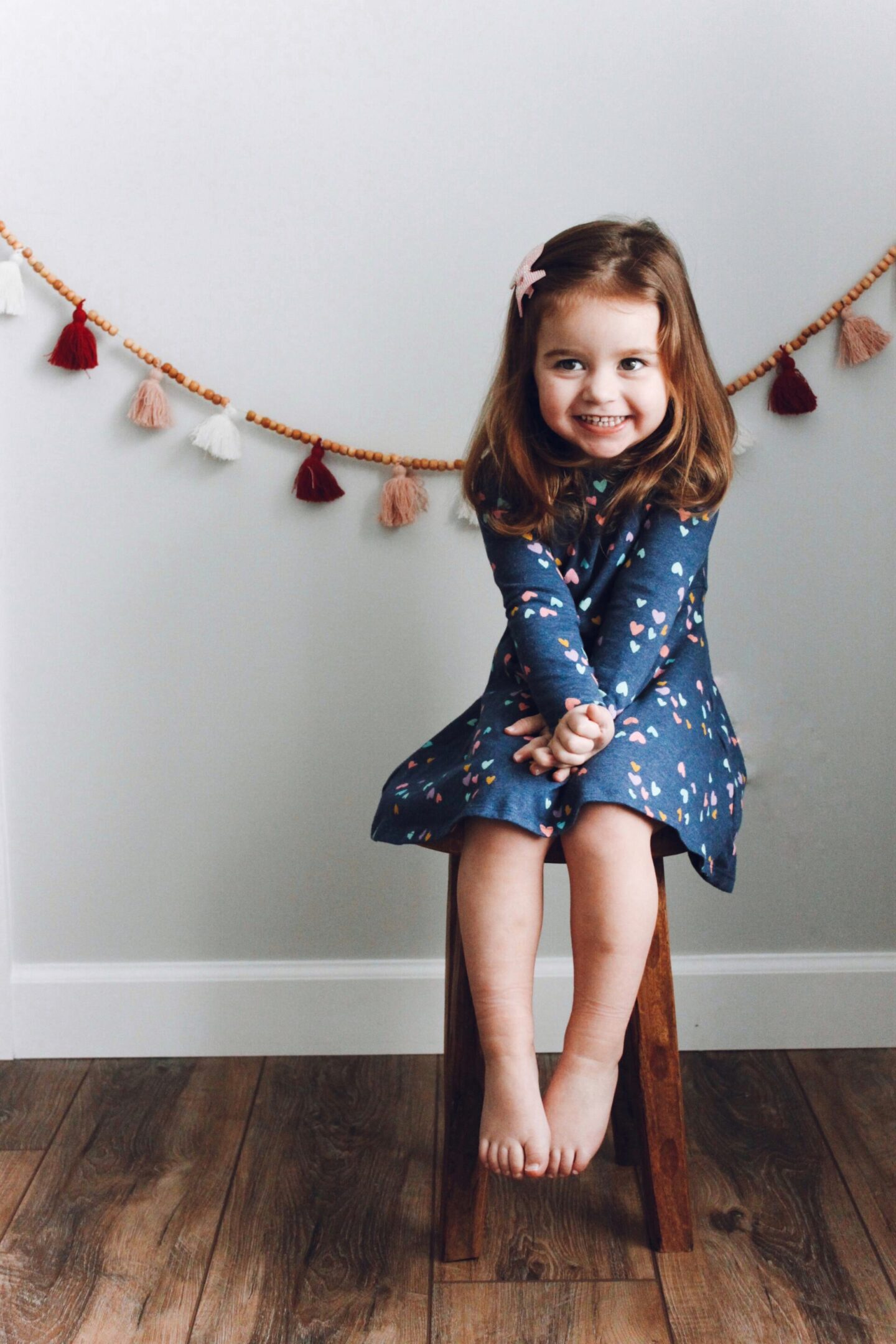 Tip #1: Shoot in Natural Lighting
Shoot in natural lighting. This is probably the single most important tip for taking photos. Since, you probably don't have an elaborate lighting system I cannot recommend enough shooting your kids in a bright well lit space. Photos with flash can leave really harsh shadows so I try not to use the flash unless absolutely necessary. I shot these photos on my DSLR Canon Rebel but, even an iPhone would do great in this space because of the natural light.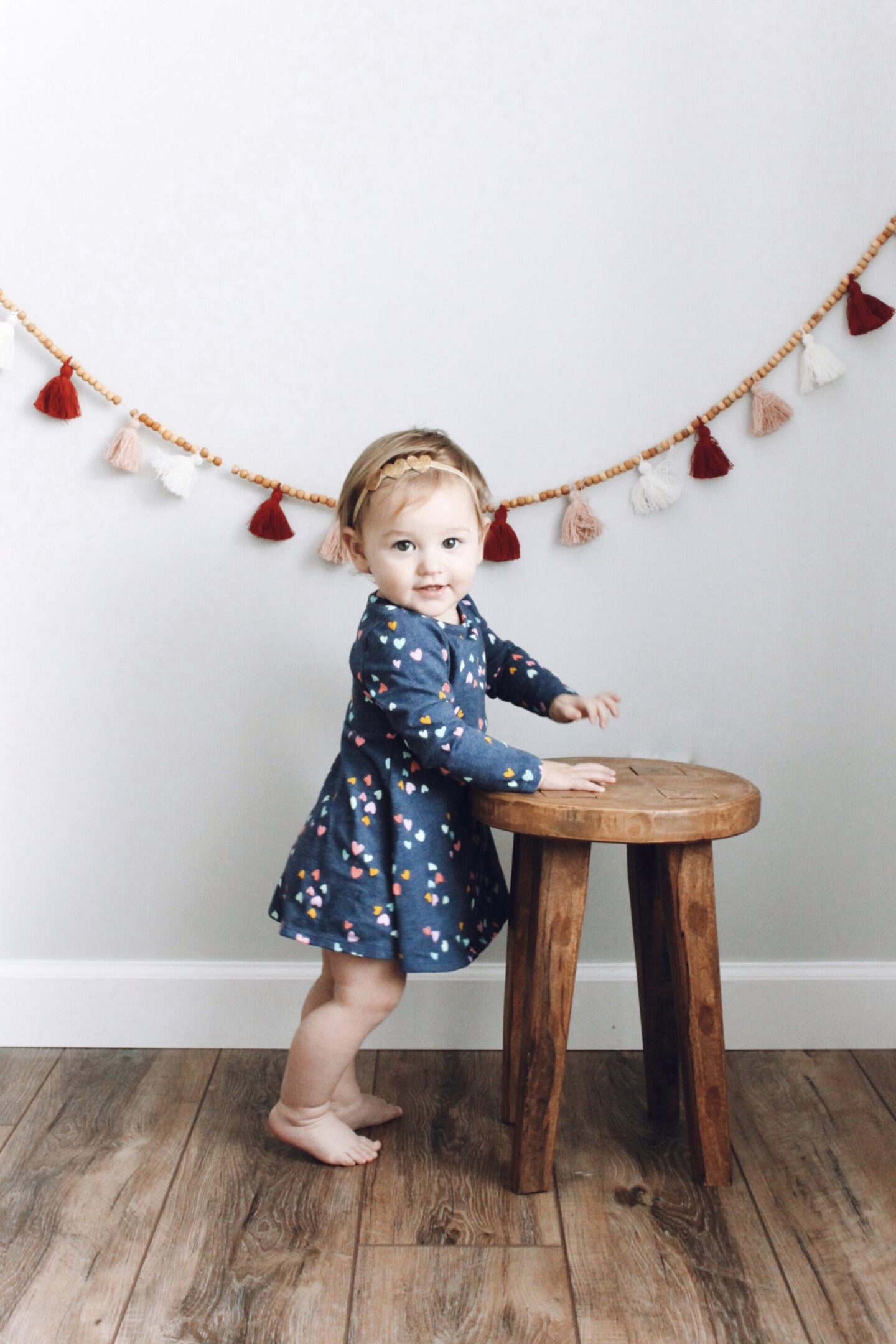 Tip #2: Take Individual Shots First
If you want individual shots of each child, start with those. The reason I recommend this is because once you have all your kiddos together, chaos will ensue. For these, I started with Holly and had Vinny behind me getting her to smile. Bonus Tip: using your older children to get the smaller ones to smile works great!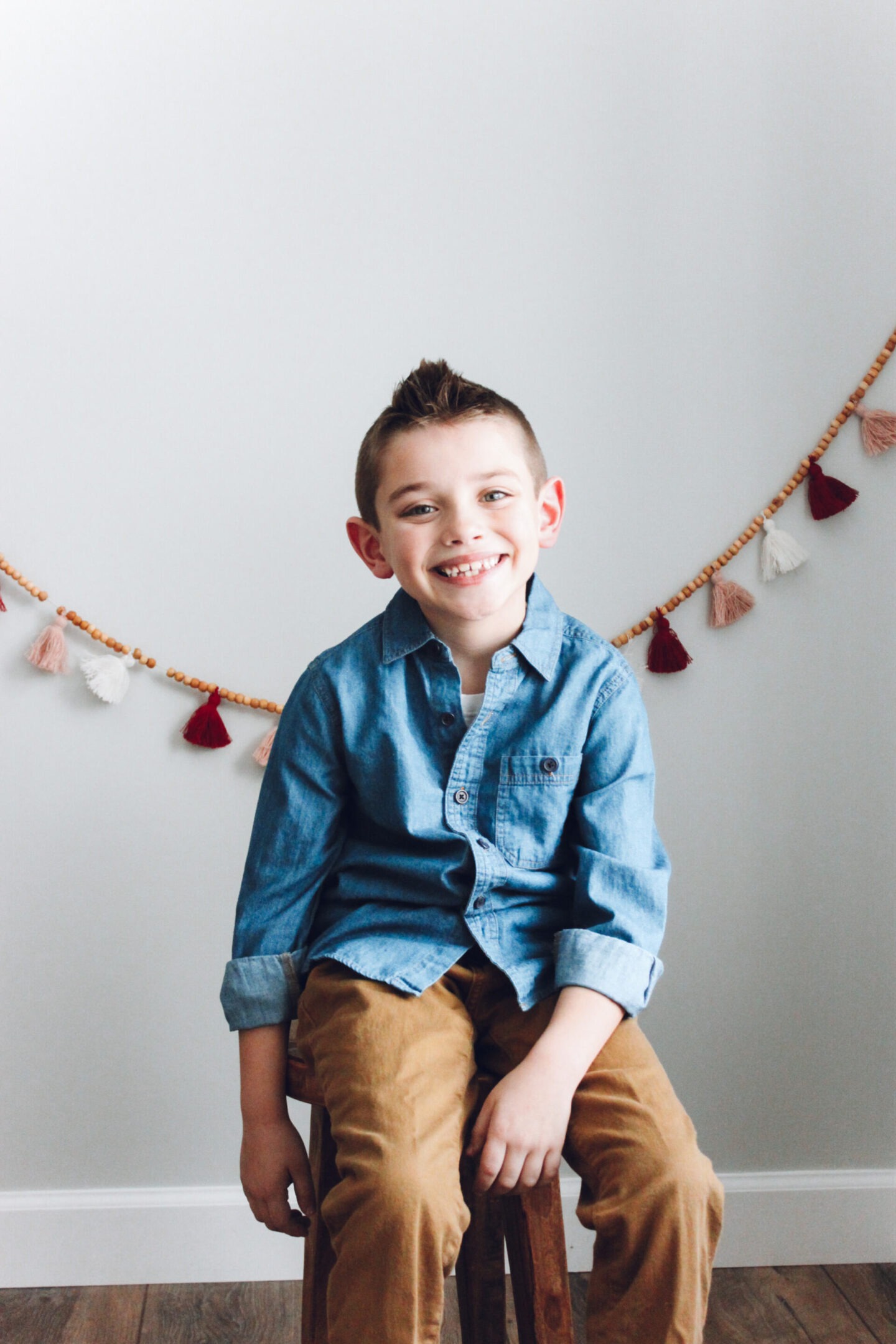 Tip #3: Keep the Background Minimal
If you want professional looking images you have to remove all of the clutter and try and have your space as simple as possible. For these photos I moved my large mirror out of the way and used this little corner next to a window to shoot. Look for a space in your home that has a blank wall, if you don't have that I also love making my bed and shooting the kiddos on that!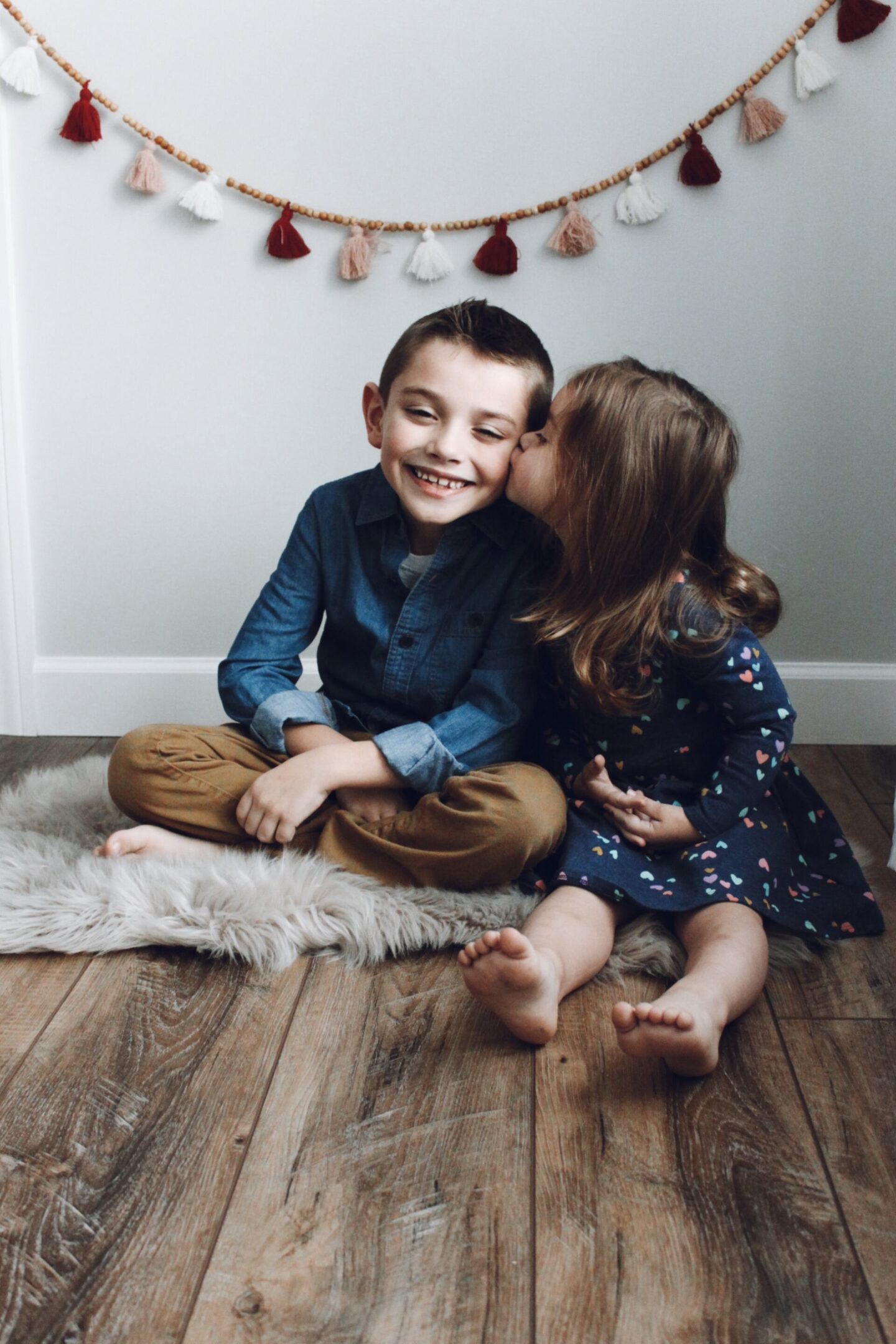 Tip #4: Props
Use fun props to really step your game up. In these photos I used a bead and tassel banner, a furry rug and a wooden stool. I love that they are minimal but definitely better than a plain grey wall behind them. Other prop ideas: simple chair, having them hold a stuffed animal or favorite toy, balloons or any other seasonal items.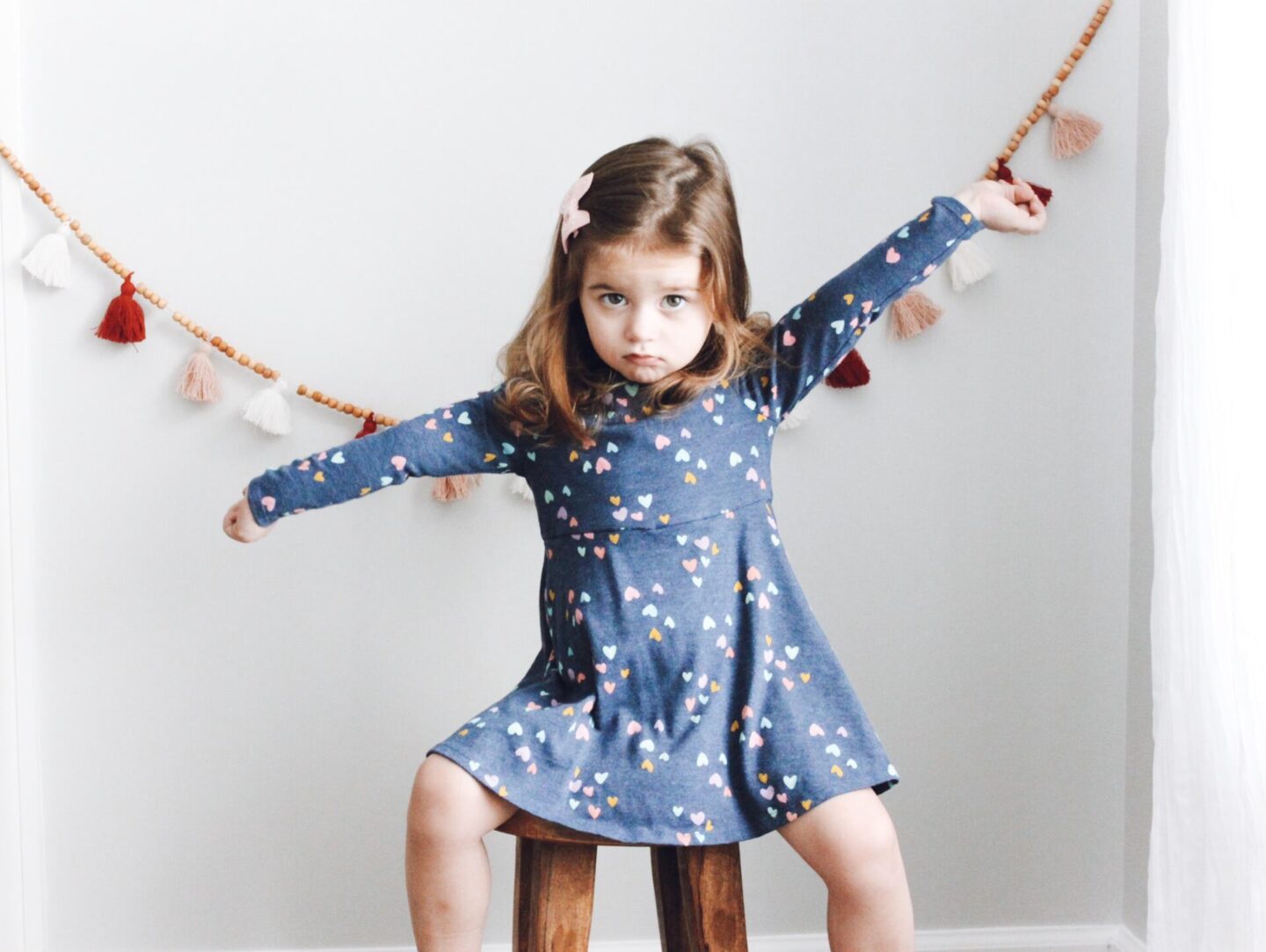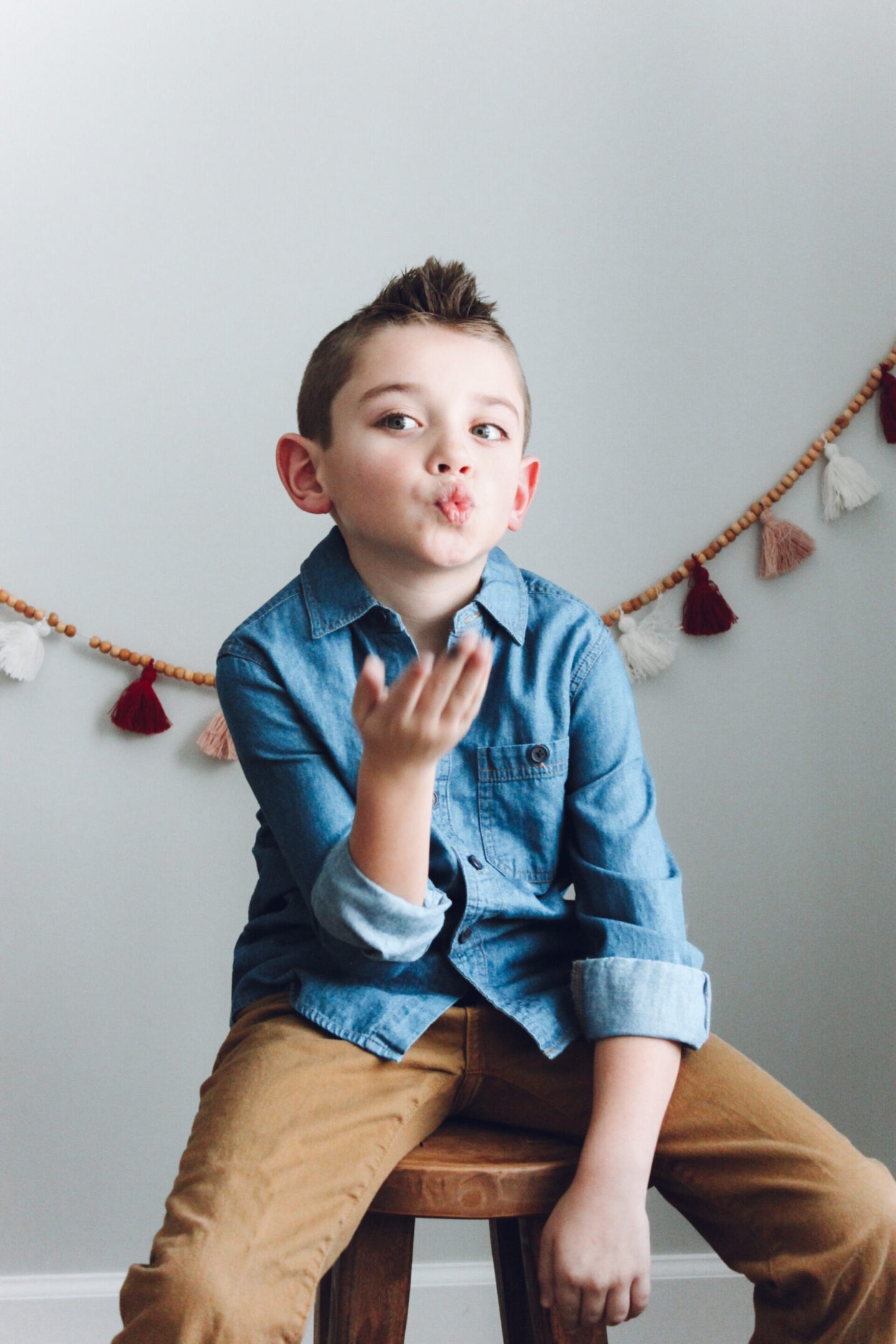 Tip #5: Let Their Personality Shine Through
They might not be staring at the camera smiling in every photo but sometimes it's the unique little faces that make for the best photos. Also, when they are relaxed and being themselves the photos always turn out better. Which brings me to my next tip!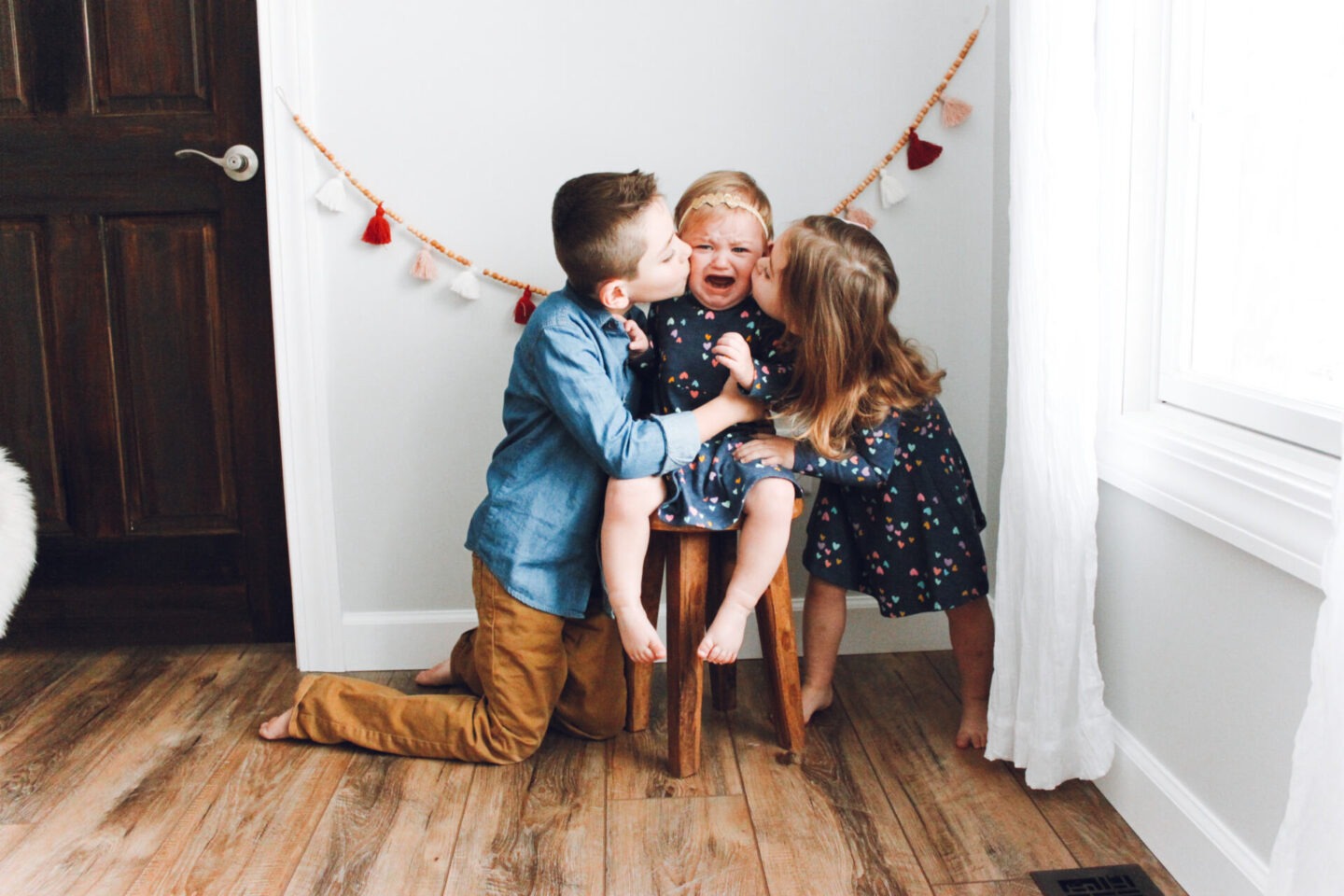 Tip #6: Take the Pressure Off
This is something I really struggled with and continue to. But, the photos where I don't put a huge pressure on the kids to smile or look perfect are the ones that turn out the best. As a content creator it can be hard when I "need" the perfect photo for a campaign but, for these photos I was taking them for myself so I didn't feel that pressure and they turned out so good. The crying photos almost always make for a good laugh too!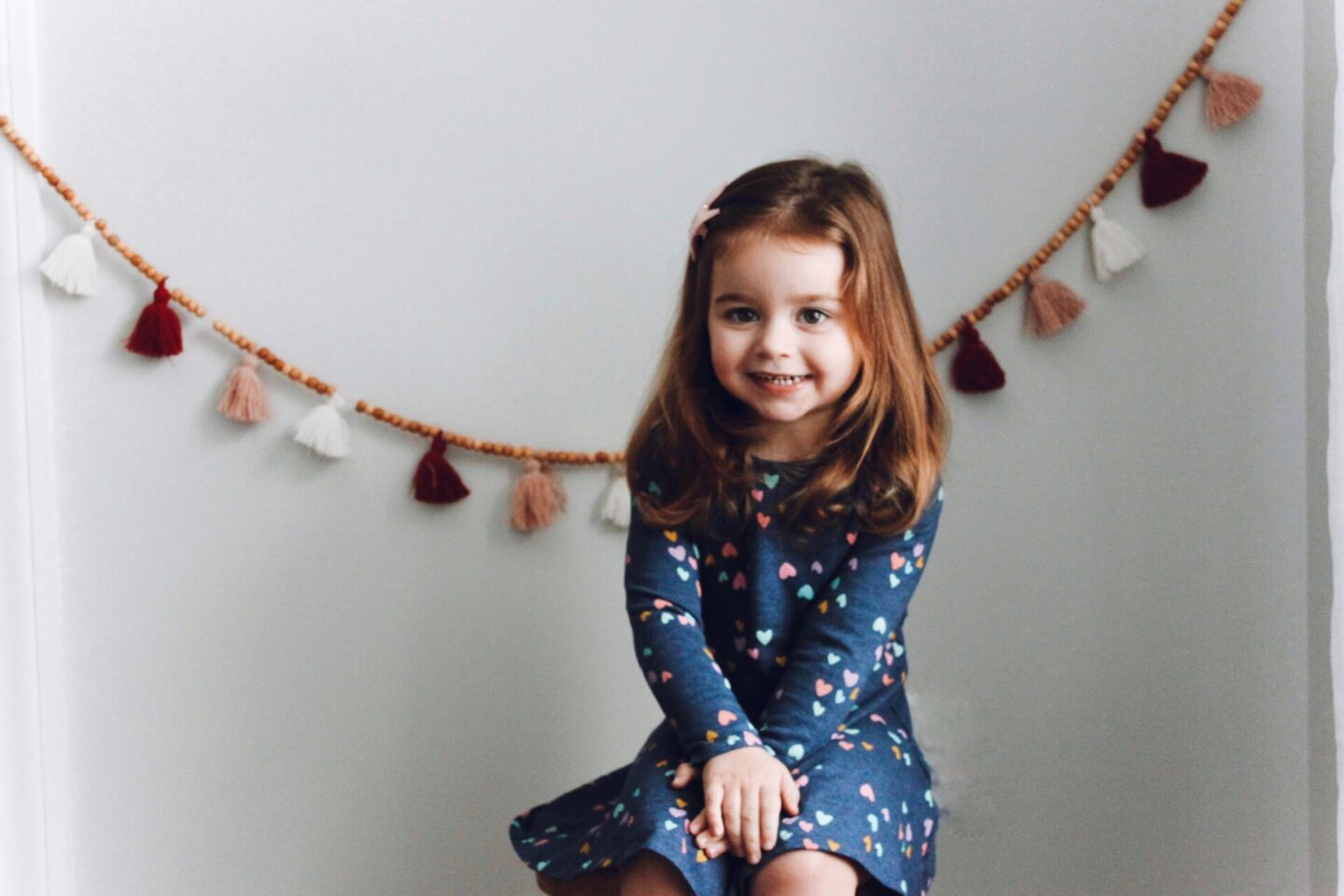 Tip #7: You Can Always Edit Later
What I mean by this is don't worry about having your camera perfectly straight or zoomed in just how you want it. These are all things you can edit and get right after the fact. Even if the photo turns out a little bit too dark you can always adjust the brightness after too. I use presets to edit all of my photos and then fine tune them as needed.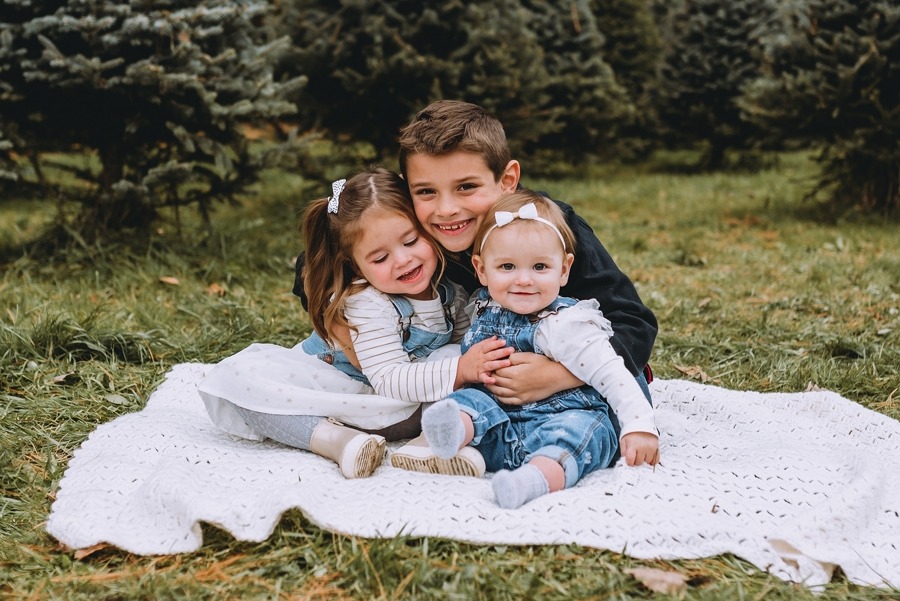 Tip #8: Coordinate Outfits
I absolutely love matching my girls, so for these they had matching dresses and Vinny's outfit just coordinated. I also just love when outfits are similar and coordinating. So, pick a color scheme. You can check out this post for more tips on that. Above is how I coordinated their outfits for Christmas photos. Make sure you also keep their outfits simple, no character shirts please!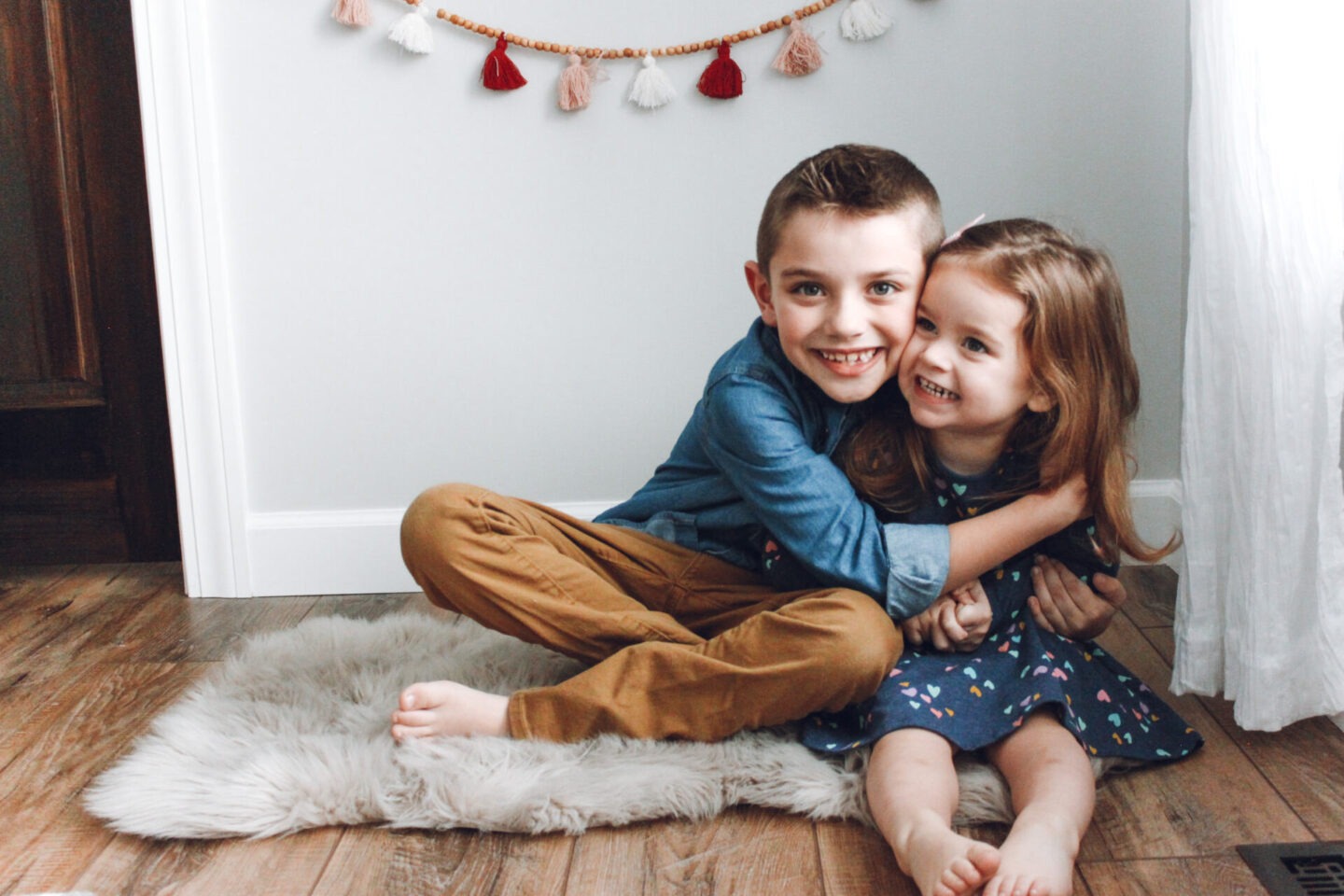 Tip #9: Make Weird Sounds
This one is going to sound totally crazy but if you want to get their attention you have to do something out of the norm. I'll make sneezing noises, animal sounds… whatever I have to do to get them giggling and looking at me.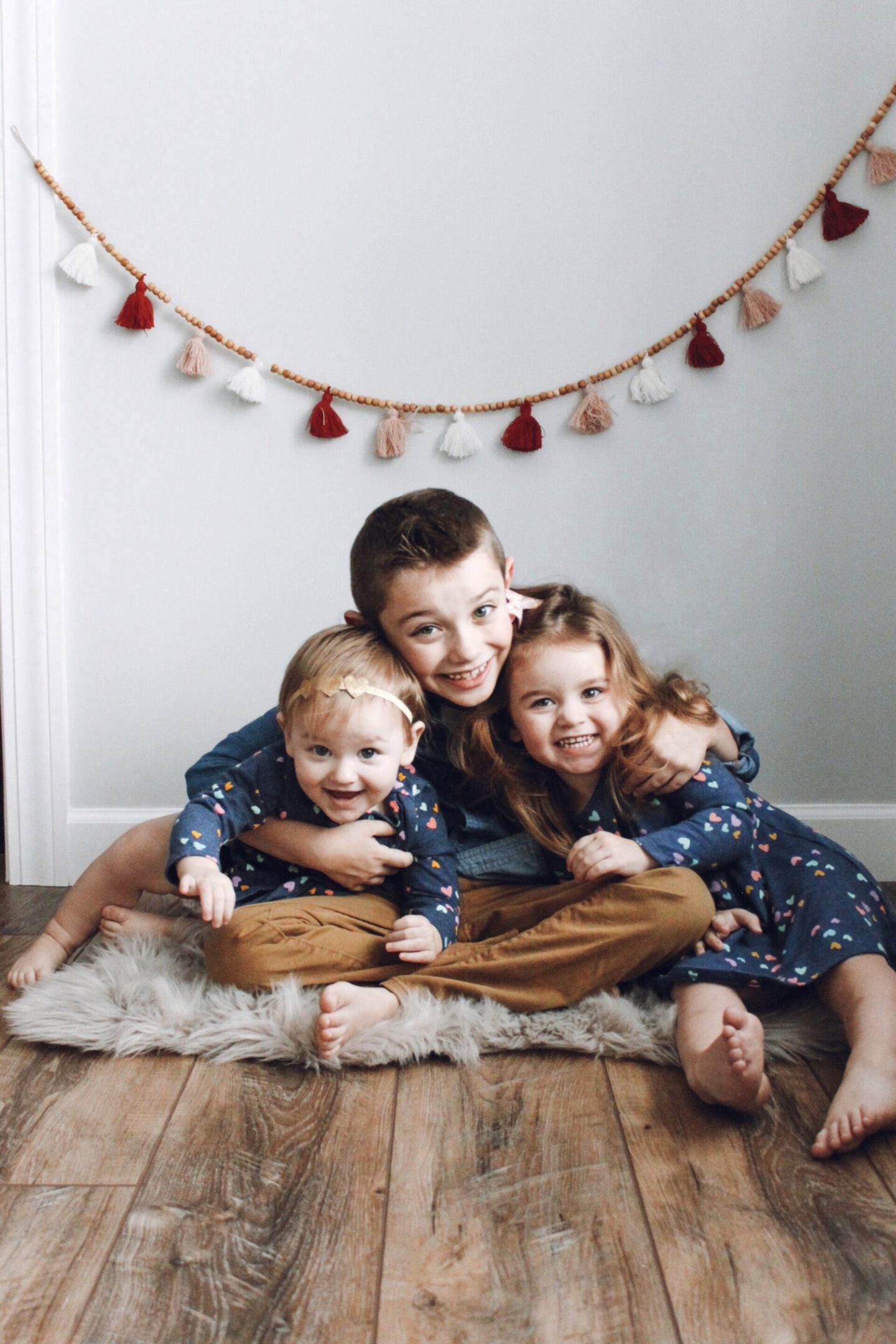 Tip #10: Bribery
I am not above bribery. After my kiddos take photos I will always reward them with treat and continually remind them of said treat during photos. That's why you may notice suckers in some of the pictures. Cece's is the trickiest to get to smile for a photo so sometimes she has to get her sucker first.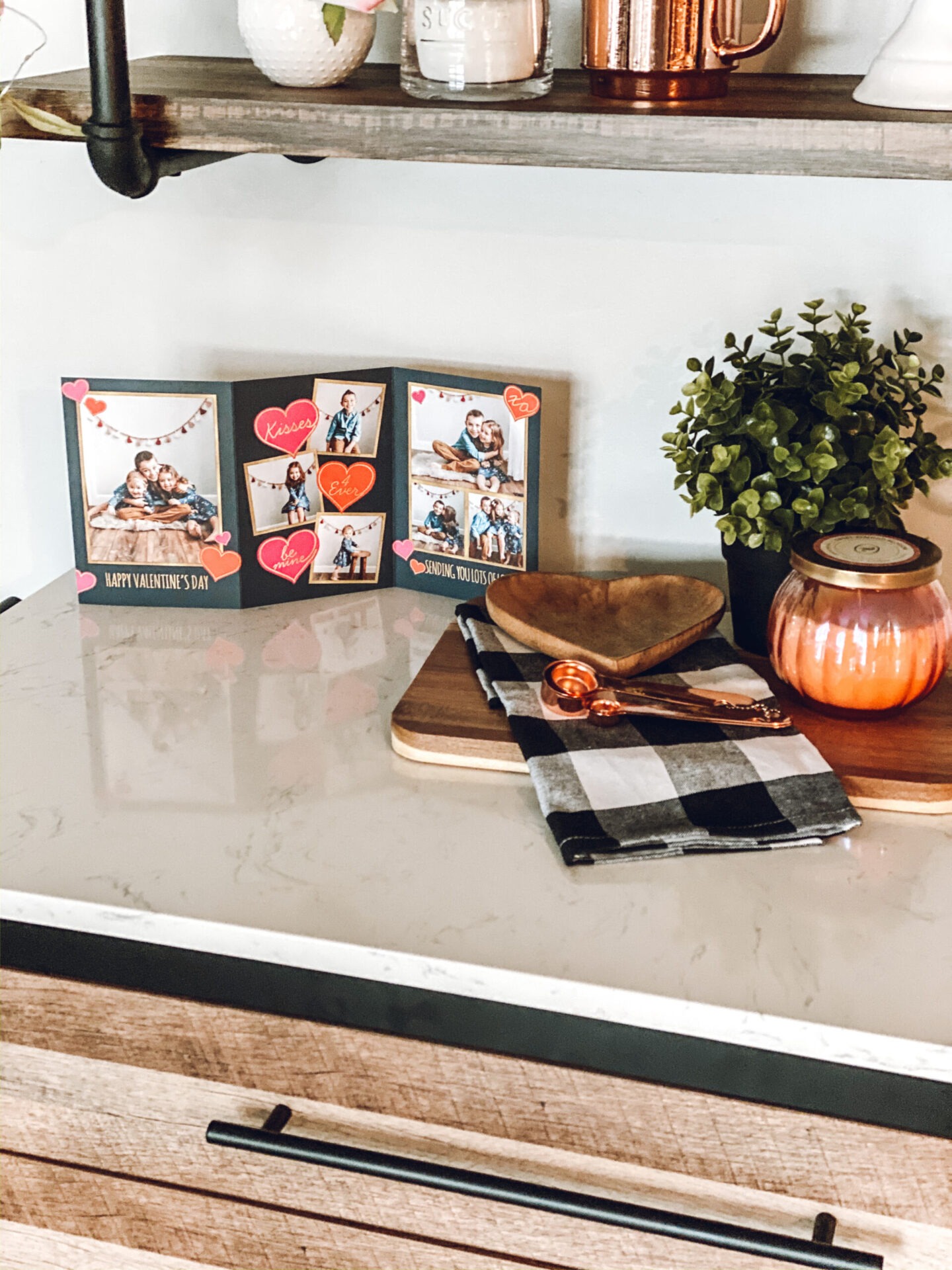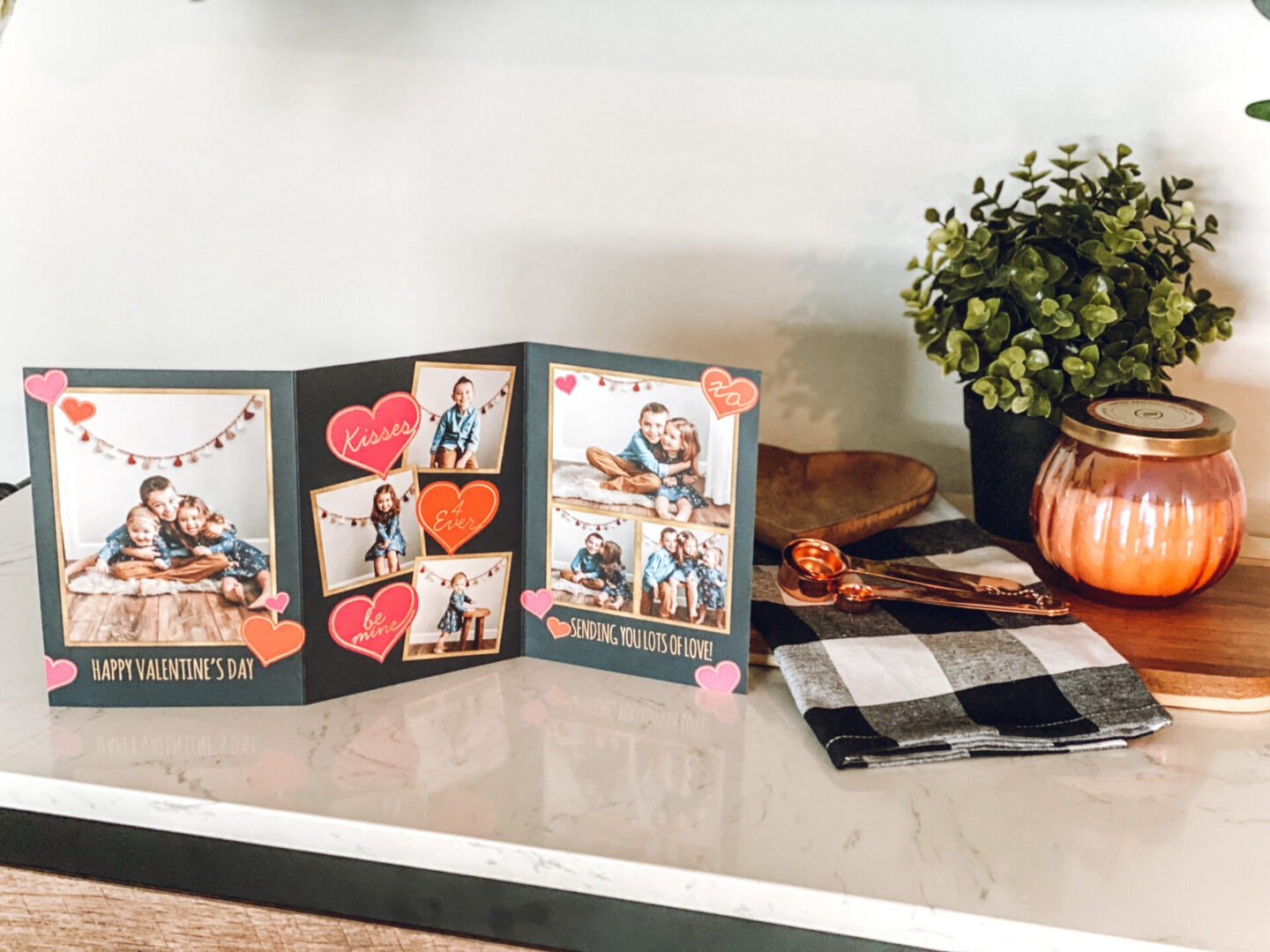 Links:
My Preset.
This is our Valentine's Card this year. I went with a larger tri-fold card because I had so many cute photos I wanted to add. Whether you need them for photo frames, seasonal cards or just to have I hope these tips help you get really cute photos of your kids. Want to see more of my photos? Check out my Instagram here.