In honor of our one year anniversary which is this Monday, Labor Day, I wanted to share our wedding details. I had the absolute best time planning our wedding. We had a longer engagement (18 months to be exact) and because of that I never got overwhelmed or stressed out while planning. My husband is very laid back and basically put the ball in my court, which I was totally fine with. I guess you could consider me to be like Monica when it came to planning the wedding
My first step in the process was finding the perfect wedding dress. I began the search online and came across what I thought was "the one". Once I was able to locate a boutique that carried the dress, I went to try it on. And guess what!? IT WAS THE ONE!
Next, I started searching vendors. A friend gifted me The Knot magazine and in it I saw my dream wedding. It was at The Arcade, downtown Cleveland. A historical building with character, oh and it happens to be the countries first indoor shopping mall. As a proclaimed avid shopper it just felt like it was meant to be. I did some price comparisons and realized this could be an option with a few modifications. They had a really affordable Friday/Sunday package. We ended up picking Labor Day weekend and had it on Sunday. It worked out really nice because rehearsal dinner didn't inconvenience anyone who worked on Friday.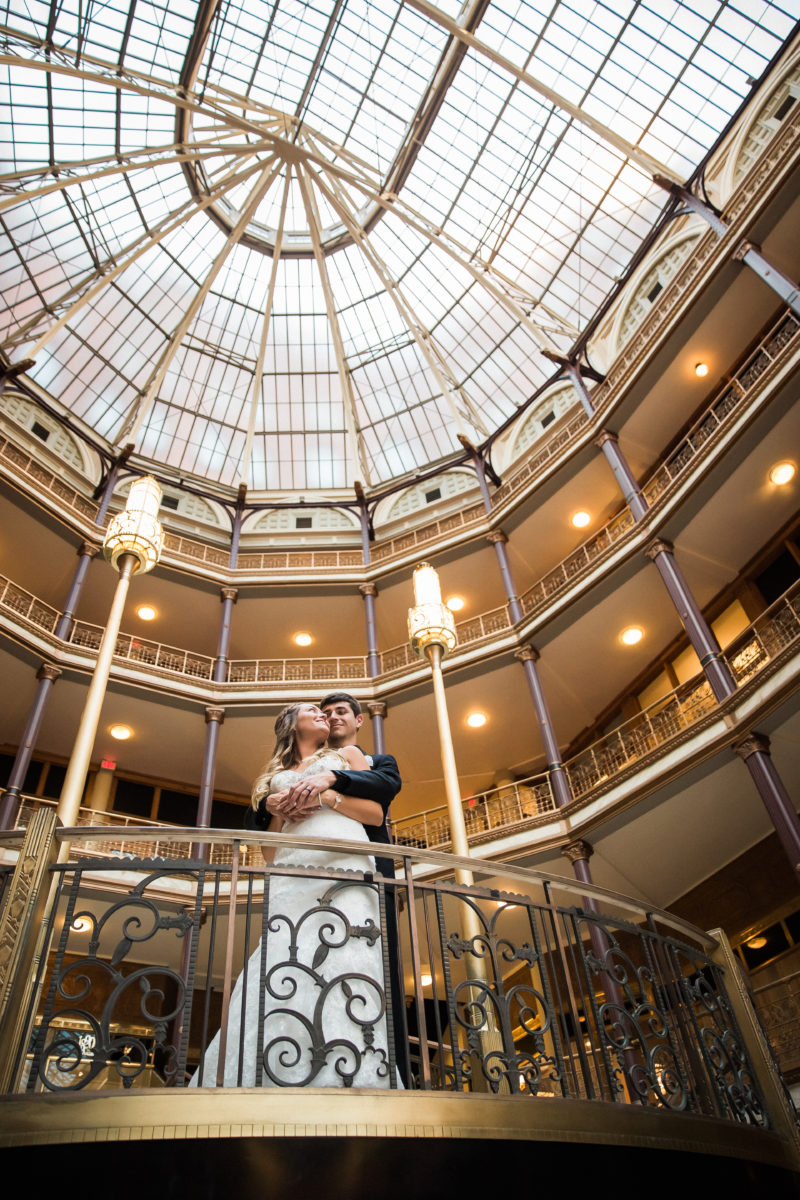 For our invitations I used Wedding Paper Divas. They were high quality, trendy and affordable. I was able to customize our save the dates, invitations, table numbers, placement cards, and our guest book all on one site. They were also unique and I got many compliments on them.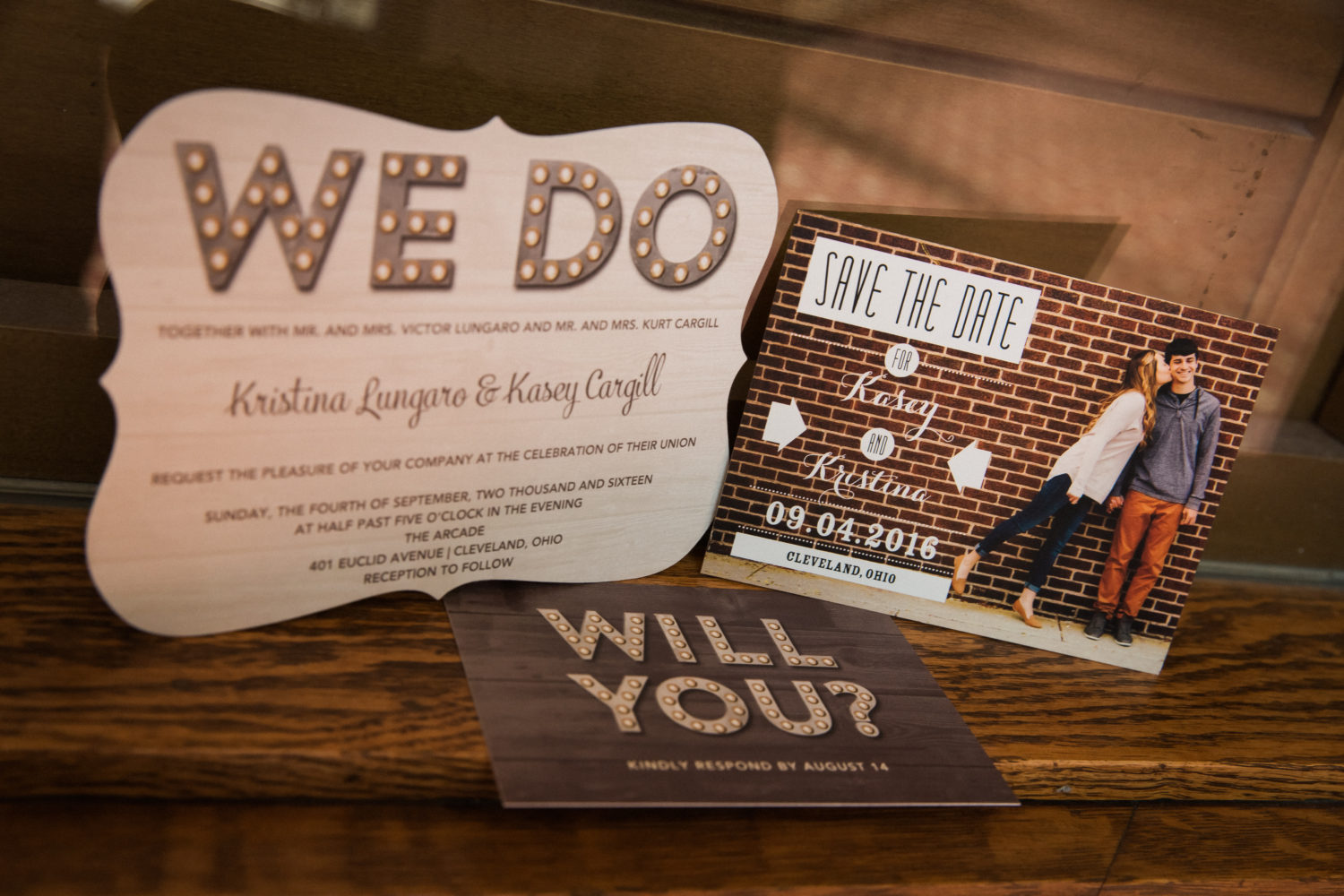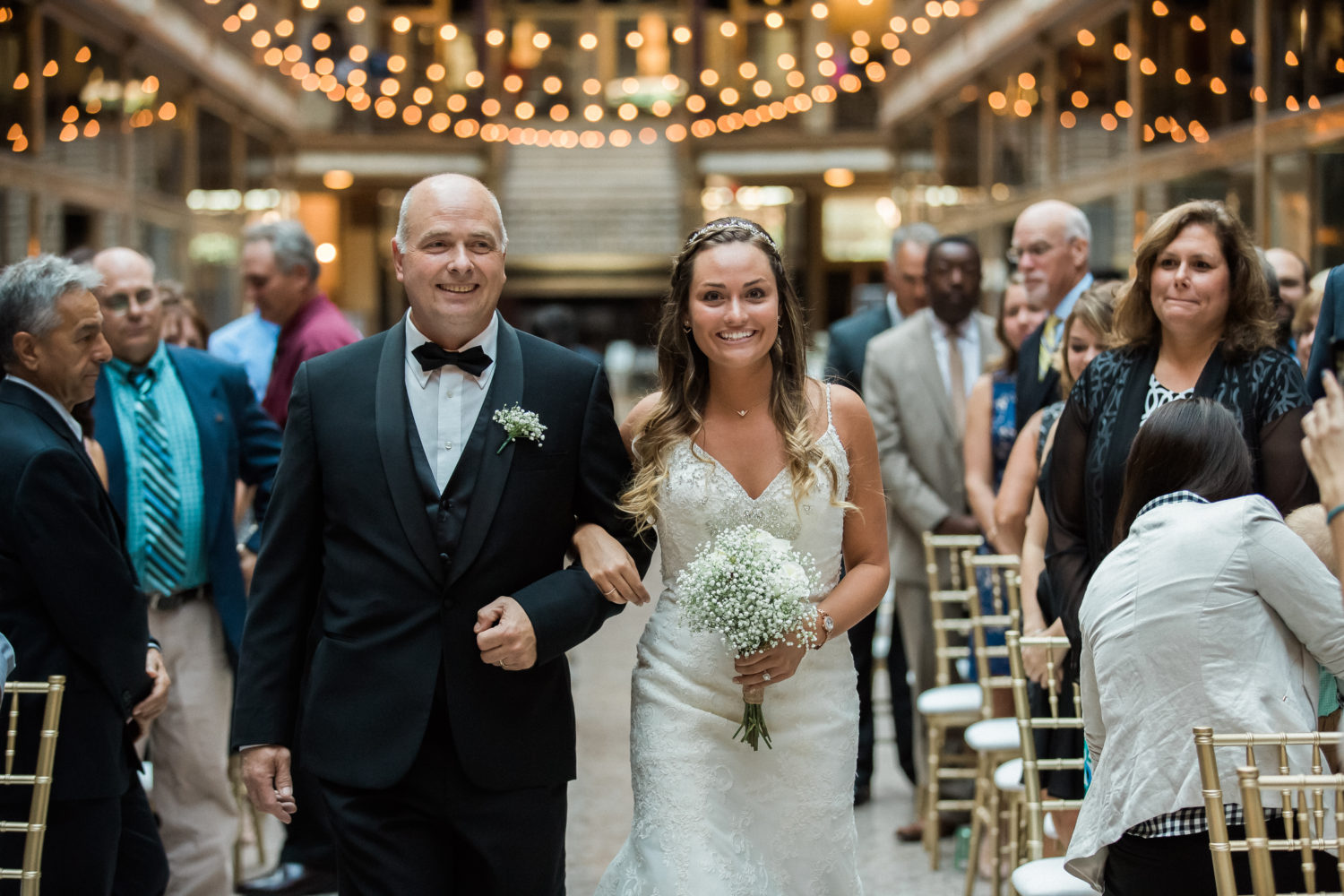 Some of my favorite details are a hand painted wood sign from my friend/bridesmaid and my coffee bar setup. Since I am a pumpkin spice latte finatic, I knew I had to offer it to our guests. We put out lots of different syrups and toppings for our guests to enjoy.
Link: gold love balloons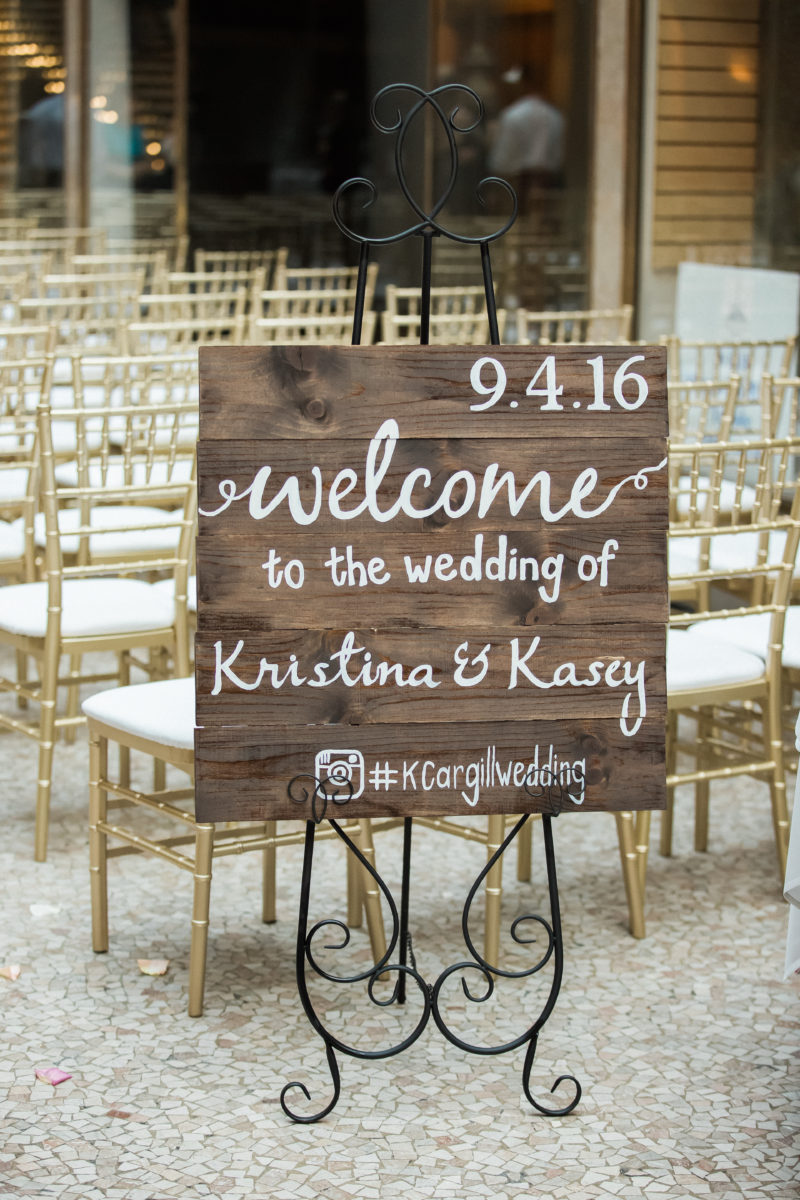 I love to gift pretty things, so I had so much fun finding the perfect bridesmaids gifts. After seeing so many adorable bridesmaids robe pictures, I really wanted to gift them to my girls. But, I didn't want to break the bank. I found these awesome robes on Amazon. They had lots of good reviews so I felt like it was a safe bet, and they were definitely a hit. Other gifts included in the box were a chunky J Crew necklace and matching earrings, and (my favorite) a Minimergency Kit. I also customized cards for each bridesmaid on shutterfly, it gave a personal touch to the gifts. I used a photo/memorabilia box from Hobby Lobby to put the gifts in. I rarely use gift bags and boxes instead I will use totes or photo boxes so they can be put to good use. I also gifted my bridesmaids, Mom, and Mother-in-Law   stress relief lotion and Alex and Ani bracelets at my bridal shower. I really love any excuse to give a gift. Another gift I had so much fun putting together were the gift bags we left in our guests hotel rooms for when they checked in. It was complete with water, a little something stronger, snacks, a do not disturb hanger for their door, and of course a hangover kit. I had a few girlfriends over and we did a little assembly line putting them together.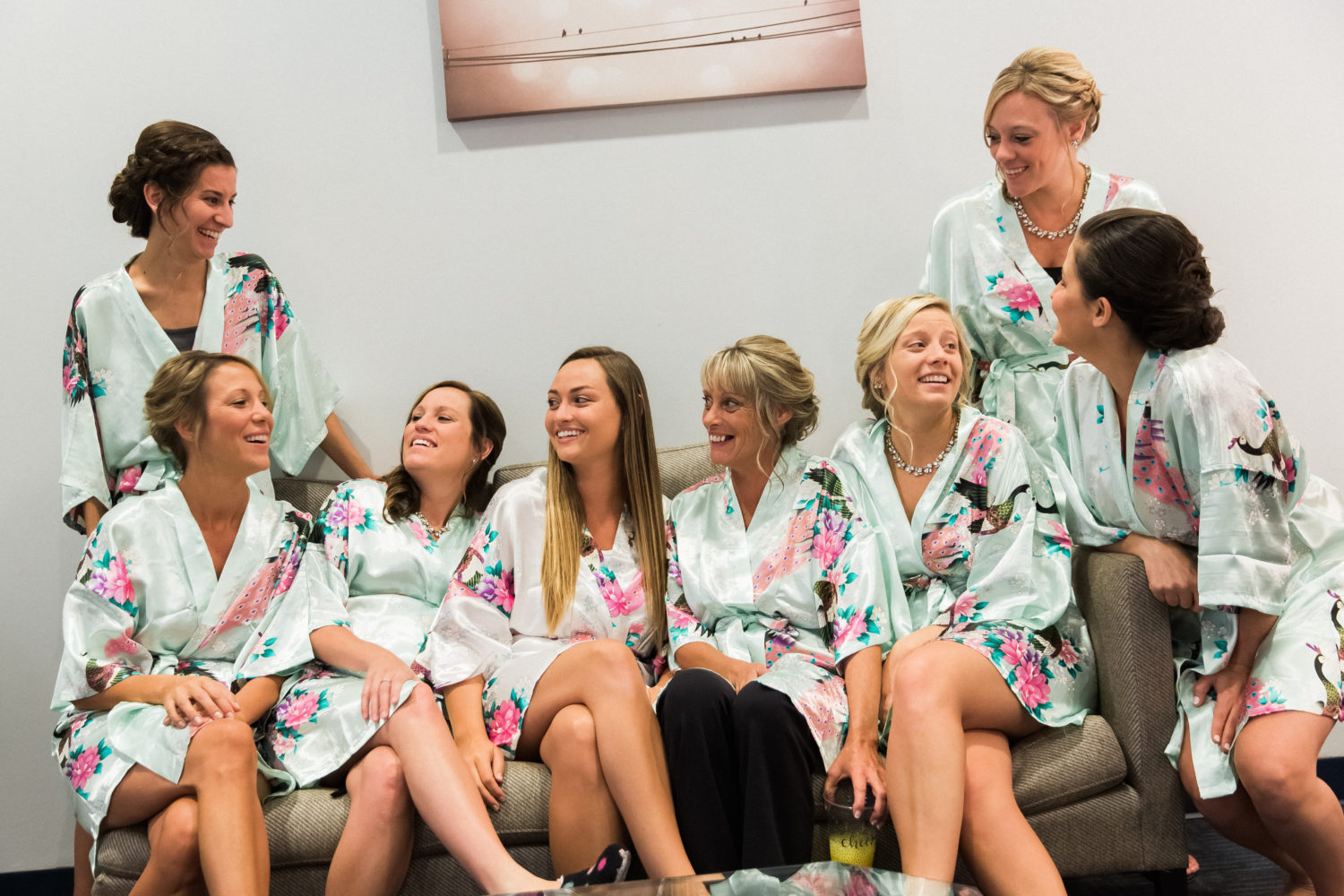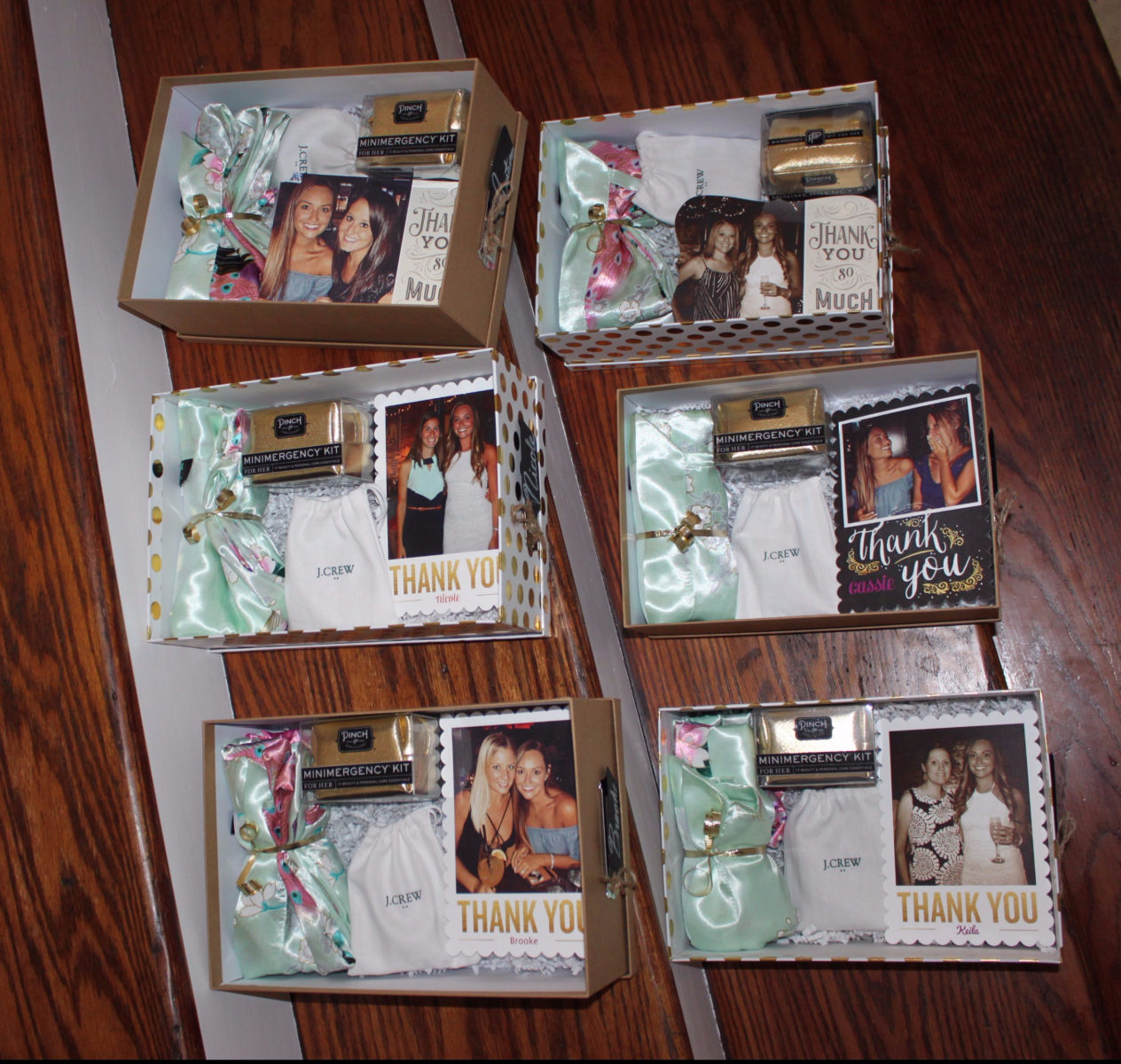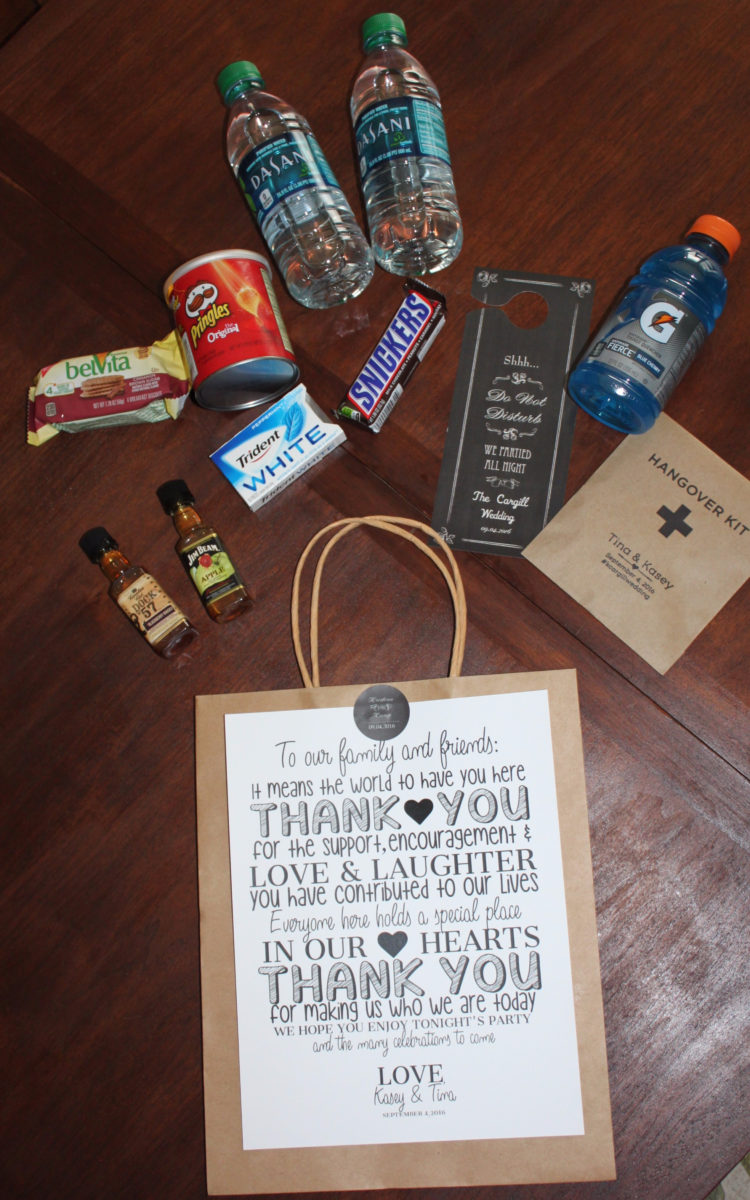 I stamped the hangover bags with a custom stamp I had made on Zazzle.com I also used this stamp on the sleeves for the to go coffee cup sleeves at the coffee bar. Above are the printables I made for the thank you bags, bridesmaids gift bags, and signage around the wedding. I really poured my heart and soul into the small details and it turned out perfect.
Lastly, are my centerpieces. I knew I wanted something with minimal flowers because I just couldn't justify spending thousands on something that would die within a few days. So I ended up choosing a mixture of wood, metal, glass, and babies breath. I was extremely pleased with how they turned out.
I know this post isn't exactly what I'll usually be sharing about but it was the best day of my life (okay third best to the two days I welcomed my children) and I really wanted to share all of the small details in hopes to inspire anyone who may be planning a wedding of their own! Now here are a few of my favorite photos from the day.